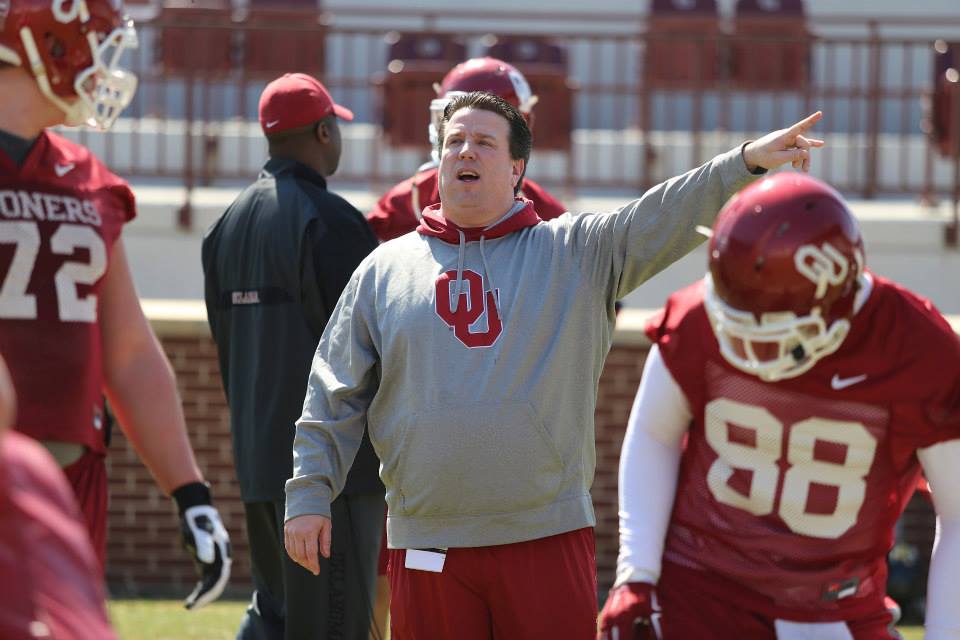 Spring Notes/Open Post – Thursday, March 13th (UPDATE 5:15 pm)
Posted on: March 13, 2014
Image from Soonersports.com
– We've got some offensive spring notes from Tuesday's practice.
– We'll start with the OL. A couple things of note there. Tyrus Thompson is still out, so in his place starting at LT was Derek Farniok. Much like JY has said in the past, our guy felt like Farniok would still be better suited as a RT. Our guy said he is a real road grader. He's a mauler and he's got some real nasty in him. He's also pretty technically sound and has good knee bend for a kid that tall. However, being that tall it's just tough to get the kind of knee bend you need to play LT.
– Ty Darlington looked good at center. He's still undersized, but he's technically sound and that makes up for some size issues. He commands the huddle well and was also able to get to the second level.
– A lot of people are very interested in seeing how Blake Bell is going to do at TE. He is currently running with the 1's, while Isaac Ijalana and Taylor McNamara are splitting the 2nd team reps. It's still too early to make any blanket judgments about what Bell can be as a TE, but all we can do is pass along our notes. And this will probably go against some of the other reports that have been out there. But, again, we're just sharing what we know to this point and what our guy witnessed during Tuesday's practice.
Bell has average route running ability right now, but he does seem to be improving. His blocking ability looks good so far. For a tall guy, he has a low center of gravity and his feet looked good in blocking situations. However, he struggled a lot catching the ball on Tuesday. He didn't do the best job of adjusting to the ball and had a number of drops. The potential is there but, as expected, it's going to take some time to really see where this can go.
– Ijalana looks good at a lot of things, but doesn't necessarily stand out at any one thing. McNamara looks like he's put on some weight, but still appears to be a below average blocker. There has been some improvement, but that part of his game still needs some more work. He is an above-average route runner. McNamara's reps were limited because he took a crack back shot at Dom Alexander. He got chewed out and really didn't get many reps after that.
– Dimitri Flowers looks like a guy who is going to contribute right away. He was being used as the H-back and looked pretty good. Showed a lot of the same tools that Trey Millard has, which is why that was such a popular comp during Flowers' recruitment. Not on Millard's level of course, but he showed flashes.
– Trevor Knight was of course 1st team QB, and he looks fantastic. He looks very comfortable commanding the offense.
– Baker Mayfield and Cody Thomas split the 2nd team reps. Both guys were able to move the ball, and Mayfield actually threw a 60-yard TD bomb to Austin Bennett.
– Justice Hansen had a few reps as well. He's diagnosing pretty well for a kid his age, but there are still some concerns about his throwing motion/mechanics. "He kind of shot puts it" was how our guy described it.
– 1st team RB was Keith Ford, and he looks like a stud. He got a lot of reps and we were told he looks "tremendous."
– Alex Ross got the second most reps. He looks like he's added some weight in his lower body. He looks very explosive, but had a little trouble with his vision in practice. A few times he just couldn't find the right crease, but that's just going to take reps.
– The third most reps went to Daniel Brooks, followed by David Smith. Ed. note: Bare in mind, this was simply one practice and shouldn't necessarily be used as an indicator as to where a particular guy (aside from the obvious, say like with Trevor Knight) may or may not fall on the depth chart at the moment.
– Derrick Woods really stood out at WR. He had a great practice. He's very good route runner and has excellent ball skills. Looked like one of the top 2-3 receivers at that practice.
– Durron Neal looks like he can get open at will. He played some slot and some on the outside.
– Sterling Shepard looked excellent. He really stood out. He has unbelievable ball skills…will catch anything thrown in his vicinity. He's incredibly quick and cannot be pressed/jammed at the line. He caught a 25-yard back shoulder pass.
– Dannon Cavil appeared to struggle some. Just seems to have difficulty getting in-and-out of his breaks.
– Austin Bennett is also starting to stand out. He's got great straight line speed, and he can high point the ball. He had two TDs during the practice.
– The Sooners will practice again today (Thursday). Expect 2015 WR Ryan Newsome (Aledo, TX) to be at practice with his parents today. We asked him if he had any plans on committing today and he said no. Said he just wants to get his parents up there to see things.
– UPDATE (5:15 pm): We're getting a few live notes from today's practice/scrimmage. We'll have more tomorrow. Dakota and Stanvon are running 1st team CBs today as Sanchez appears to be out today (nothing serious). Stanvon not looking great early but is starting to play better. He did just get beat on a shallow cross but should have had LB help. Dakota has looked good all around and Cortez also looks more comfortable.
– Also, they're holding out Knight today (not injury related…they just want to give Cody and Mayfield some reps).  Told that Thomas is moving the ball well.
– Bond is working 2nd team Jack LB behind Geneo. This Geneo to Jack LB move is starting to look more and more serious. Bond with another sack today…"dude is a freak" is what we were told.
– Ross looking really good as 2nd team RB. David Smith is getting reps at 3rd team RB.
– Also, interesting note…Mike Onuoha is getting 2nd team reps today as a 4i DEnd instead of a stand up guy.
– Farniok still at LT. O-line seems to be winning battles as of right now.
– Sterling and Daniel Brooks taking punt returns.