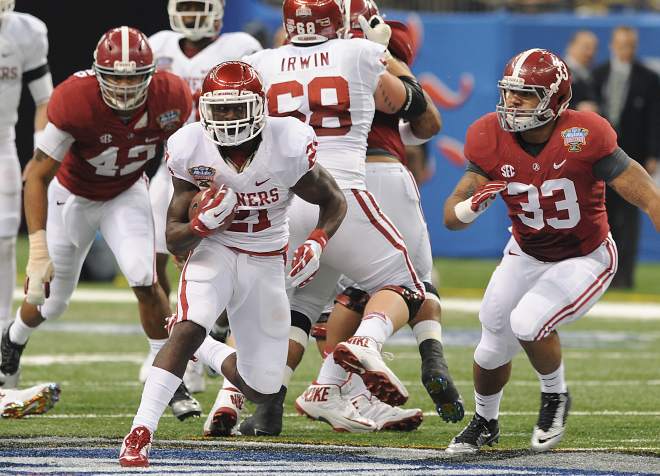 2014 Red/White Game | What To Watch For | LBs & RBs
Posted on: April 9, 2014
Image via theadvocate.com
Okay, I had hoped to have this out sooner (no pun intended) today, but my head feels like a speed bag right now.  It's been a barrage of meetings, more meetings, and "did you get the e mail on that meeting we're having?"  Seriously though, I'm glad I can sit down for a minute and knock this out.
What I want to talk about today is the linebacker and running back groups.  When you look at both groups as a whole, they both kind of mirror each other.  You have a lot of talent coming back at both positions, but besides Eric Striker, and maybe Dominique Alexander, there really aren't a whole lot of household names.  Keith Ford made some noise last year, as did Frank Shannon, but overall both groups still have to take that next step to become dominant.
From a linebacker perspective, it starts and ends with Striker.  Either you got it or you don't sometimes and as an edge rusher, Striker has it in droves.  In the Alabama game, he singlehandedly dropped Cyrus Kouandijo's draft status by half a round.  What was scary about Eric's year is that most of the teams we played schemed against him.  However, now has has picked up a couple of 'partners in crime' this offseason in Devante Bond and Curtis Bolton.
We won't see the latter this spring, but look out for him in the fall.  Meanwhile, the buzz coming out of practice is that Bond has just been explosive off the edge.  While he may not have grasped the defense completely thus far, Coach Mike is a whiz at getting his guys in the right position to make things happen.  And I have no reason to believe he won't do the same with Bond.  While we were running with just part of a pass rush last year, in 2014, with the d-line collapsing the pocket from the middle, Striker and Bond get to be (another Goonies quote) the 'pincers of hell.'
To get us to third and long we'll see Shannon and Alexander in there, but another player we are extremely high on is Jordan Evans.  Most people don't realize he was sick for quite a bit of the season and, as a result, lost a lot of weight.  When K had talked to him a while back, he was barely over 200 pounds.  Getting him up to about 220 with his length and mobility will be a mismatch for any offense, and it will allow our defense to be multiple without substitution with him in there.  A guy who can stop the run and cover is rare. So this Saturday, I'm looking for three things from the LB group.
1.      How much have Evans, Alexander and Shannon progressed?
2.      How comfortable does Bond look?  Is he a liability in the run game at this point?  What can he do in long yardage?
3.      How are we using Striker?
I don't expect Coach Mike to reveal a whole lot about what he's doing with Striker, but it will definitely be interesting to look for those little clues that might be there.
As for the Running backs, I gotta admit, being an o lineman, I love my RBs.  Among other things, I'm very excited to see Alex Ross.  Talking to a friend of mine who is close to the program, he has constantly raved about what he's seen and heard from Ross. He is a rare talent with both size and speed.  While he's been knocked for his maturity to this point, that's pretty normal for most kids his age.
What I'm looking for Saturday is whether or not he is able to be the guy who plays with a chip on his shoulder, though is also able to keep his emotions in check.  Also, I want to see how sound he is in passing situations. Because we all know that Gundy won't let you on the field unless you can keep the QBs clean.
Next, I'm looking for Keith Ford.  I absolutely LOVE a guy who runs as violently as he does.  Ford is definitely a grown ass man in both his attitude and toughness.  You don't see guys very often who run with the speed and power that he does.  Had he been able to hang onto the rock last fall, we would have seen a lot more of him. So, obviously, that is another thing I'm looking for on Saturday.  Like Ross, I'm looking for his pass blocking and blitz pickup skills as well.
Finally, I want to see David Smith.  David is a guy who I've heard compared to Chris Brown.  He is a high character, big back, who does everything right from what I've heard.  Brown was that guy a few years ago who was highly productive for us, so when you're looking for a darkhorse to step up and take some snaps in the fall, my money is on Smith.  I want to see how he looks this spring, who comes in the game first, and the rotation of how Gundy uses his backs in general.
Don't forget about Daniel Brooks either.  If we can get him out in space on some screens like we did Roy Finch (at times), he has speed that can break the back of a defense quickly.
Alright fellas, hopefully that helps and this finds you all well!