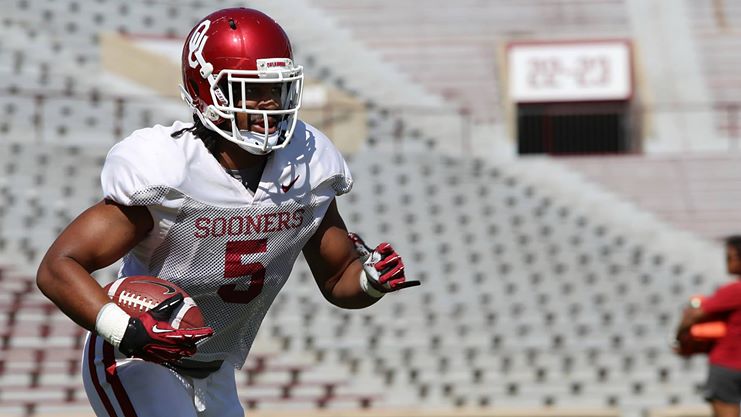 Red/White Game First Half Defensive Notes
Posted on: April 21, 2014
Image via Sooner Sports
I know we're now over a week past the actual spring game, but seeing as we'll be without CFB for the next four plus months I figured any football related post would be more than welcome. As has been well established, the coaches were very vanilla but even allowing for that caveat there were still some things to be learned from what we saw.
I am going to try and touch on some of those now that I've had some time to go back and watch the replay more closely.
1st Half Notes
Q1, 11:36 – This is picture perfect defense and a great read by the linebackers. When I was a down at UTSA, you could not over coach footwork. Day One you will spend 10 to 15 minutes simply doing one steps. Kish looks to take a similar approach. Bond does excellent job on two gapping this play, he crushes Ijalana into the C-gap allowing no space for the tackle to reach the second level and seal off the backside linebacker. Franklin is the force player and setting the edge against the pulling guard. He looks to really be too high in his technique, but he is still able to allow Ruben Hunter (walk-on So. From PC North) a clear lane, in what now is the D-gap, to have the initial hit and allow Bond to help clean the mess up. Bond has a chance to be really special.
The ILBs seemed to be playing a lot more man and overall, I thought they looked really good at it. We had written an article on how good Jordan Evans could be, but after rewatching the spring game he is already ahead of schedule. He is becoming a three down linebacker in what seems like overnight. Evans was asked to man up a lot with running back and was even able to run stride for stride on a wheel route with Alex Ross.
He is so explosive for a player his size, it's no wonder he had seven kickoff returns for touchdown during his h.s. career. But just in this one play at the 9:06 mark of the first quarter you can see the extra nasty in him.
And, of course, you also can't miss Striker on this play as well. I hope you can appreciate just how perfectly he times his rush. Few players in the entire country have his explosive first step, but what makes him really incredible is just how well he can time his blitzes.
Bond looks to have shown a lot of improvement since he arrived on campus. He was (and in some respects still is) so raw at first that he really struggled with the zone read. The coaches now have helped him to improve his technique and it shows on this play at the 8:23 mark in the first quarter.
Granted, Cody Thomas does not pose the same threat to run as Trevor Knight or Baker Mayfield, but this is textbook technique from Bond. Thomas is playing off him (Bond) to determine his read. But Bond is such a good athlete, he is able to slow play Thomas and just slowly shuffles down, sealing off the C-gap.
When you're playing against the zone read, you have to fool the QB. Bond plays it so slow that there is no real read, which forces Thomas to go ahead and hand the ball off since he is not near as dynamic a runner as Daniel Brooks. Bond is now free out in space and able to wrap up Brooks for a loss on the play. At times he'll need to to keep his shoulders a little more square to the LOS, so he can hold up better against the run. But as of right now, he might be the more explosive pass rusher as compared to Geneo Grissom. That said, Grissom is no slouch and with his experience in the system, he's a better run defender than Bond right now.
One thing I did notice about what the OU coaches asked of their inside backers. It seemed as though they liked to get them out, almost like a Tampa 2 look, when there was a trips set to their side. It will be something to watch for this coming year, because in the past OU did have a tendency to get picked on with crossing routes (and the like) from that same look defensively. It seems that the ILB, whether that is Evans or Alexander, is asked to carry #3, but they get out so early that underneath routes could potentially be problematic.
Lastly, I believe Dominique Alexander is going to be a stud this year. I think it's fair to say Evans probably had a better spring game, but word is Alexander has been consistently dominant in practices. I can't remember when a Stoops defense has given so much pass responsibility to its inside linebackers. They will man up with a running back, carry receivers, even Grissom has pass coverage responsibilities, though it looks to be more of covering the flats on the boundary side.
—
Alright, that's all for now but I (and some of the other guys) hope to have some more to help you get your CFB fix in the relatively near future.