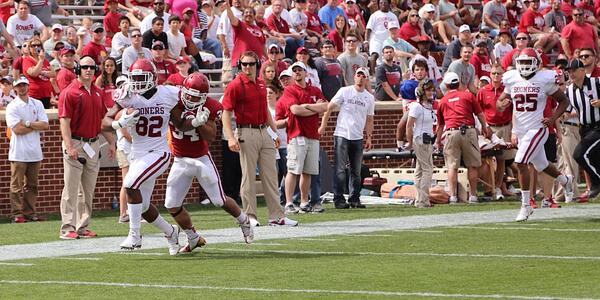 Defensive Line Notes From The Red/White Game
Posted on: April 19, 2014
Image via @OU_Football
Can you say DEPTH!  I'll be the first to admit that I'm an offensive lineman through and through, but you can't deny the amount of players we have on the defensive side of the ball this year. There are so many guys who we'll be able to rotate in and keep everyone fresh as the season wears on. The fact that guys can get some rest in between plays, and even a series, is a luxury we haven't had in a very, very long time.
I thought the D-Line and Linebackers played an outstanding game last Saturday. Even though this is meant to focus on the defensive line, I have to include the linebackers because of how they stood out. Eric Striker, Devante Bond and Ogbonnia Okoronkwo all made plays at different times during the scrimmage. And even though he doesn't play on the line of scrimmage, did anyone have a better showing on Saturday than Jordan Evans? Seriously, how are you going to keep that guy off the field? Shades of Torrance Marshall on the screen pass that he broke up to help Jordan Wade get the pick, not to mention his other multiple tackles for loss and pass breakups. He looks like a more active, more athletic Travis Lewis.
The thing that really stood out to me the most was not that they're in the second year of this system, guys are really flying around and getting comfortable in their roles. There isn't any confusion or indecision, instead you see guys are attacking. Time after time and hit after hit, the defense was disruptive, fast, active, and nasty. Perfect example: 'Obo' covers Daniel Brooks in the flat, picks a pass, and darn near runs it back. Think about the flexibility and size defensively that gives us, when your one-two at the Jack backer is the aforementioned 'Obo' and Geneo Grissom (who looked pretty good in his own right before that cut block ended his day). You just gained a few inches of height and 30 or so pounds a piece over Eric Striker. Then, with Striker at Nickel, you can blitz him from anywhere. Also, with Bond over there, you have a guy that can flat out move. Both he and 'Obo' met at the QB after about a two count on one play. Granted, the guys weren't going against the first team o-line, but even with that said you could still see the potential threat they present off the edge. How many times have we seen an Oklahoma defense in the past few years not dominate an under-matched opponent because of indecision? Or maybe just not having the horses to keep fresh bodies on the field? Well, barring injury, that definitely should not be an issue in 2014.
Guys who stood out to me, in no particular order: Striker, Bond, 'Obo', Jordan Wade, Charles Tapper, DJ Ward, Torrea Peterson, Charles Walker, and Matt Romar. When you only have three true down linemen, your depth increases significantly. With the hopefully expected return of Jordan Phillips as well, it just makes me all warm and fuzzy thinking about how we can literally field a defense this year that won't give up jack squat against anyone. Coach Mike is a savant at stopping an opponent's passing games, and now we have a d-line that should be able to control the line of scrimmage as well.
What may get lost in translation is that guys like Striker or Evans can stand out the way they did last Saturday, because of the one-on-one match-ups the other horses up front were dictating for them. Which means opponents won't be able to double Striker or anyone across the front like they did at times last year. Put a guy like Tapper singled up with your average offensive tackle, and he will have a field day getting after the quarterback. But it's not just that, what should have you so excited about this defense is just how multiple it can be. Because of their personnel and, perhaps even more importantly, because of their depth, if we need to stop the run, the ability and conditioning is there. But they have the ability to go smaller, when they need to pin ears back in 3rd or 4th and long, and put Bond/Striker one-on-one outside with Grissom in the middle. That's just unfair. The reference may be a tad painful, but that Boise State hook-and-ladder play never happens with this defense since their QB is likely staring out his earhole.
Then, on top of all of that, you put a guy like Evans in the middle who is athletic enough to both cover like a beast and defend sideline-to-sideline. He's fluid, tall, physical, and has great ball skills. While the defensive linemen in front of him are tying up blockers, he is free to run around and crush people. Not many backs are going to be able to 'out-athlete' him either, by the way.
I'm just thankful that I am not an offensive coordinator in the Big 12, or in thinking ahead a potential CFB playoff opponent, trying to figure out how to move the ball on this team next year. With them being a bit of a hybrid defense, Coach Mike and company have devised a way to stop the run with minimal defensive linemen, generate max pass rush without blitzing, all while getting guys on the field who can run, cover and stop the pass. Mike Stoops takes it personal when people move the ball on him. His guys are chippy, aggressive, fast and just plain nasty.
I give credit where credit is due and barring a full on meltdown this year, this could be one of the best Stoops defenses we've ever seen.
I can't wait until September!  I'm not sure how I am going to hold up for another four or five months.