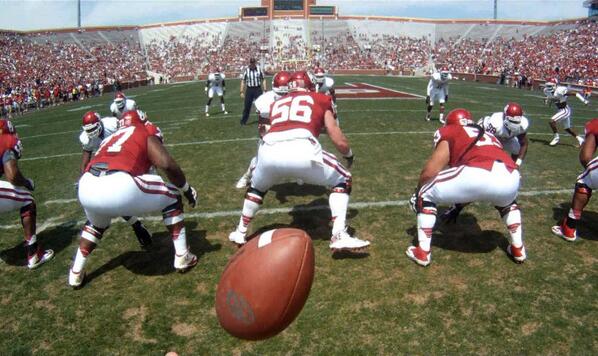 Offensive Line Notes From The Red/White Game
Posted on: April 18, 2014
Image via @OU_Football
Hey everyone, I hope you're all having a good week.   Thanks to HolaKyle, I've been able to get caught up on the spring game. K and the boys wanted me to focus my attention on the trenches, so I'll have some notes on both the offensive and defensive lines.
Right off the bat, I noticed a few guys have made some good progress during the offseason. Kyle Marrs looked really solid running with the second team.  On Daniel Brooks' long run to the left side during the first quarter, Kyle made a text book cutoff block up on the linebacker that ultimately sprung Brooks for the big gain.
(Ed. note – Marrs is at right guard, No. 78)
I was a fan of Kyle during his recruiting, and while a lot of people were (maybe even still are) down on him, in my opinion he's right on schedule. He's in his 3rd year, and in a healthy program, you don't want true freshmen or even redshirt freshmen starting and/or playing a lot. There are exceptions to that of course, but for the most part if a guy is playing a lot in his first or second year then one of two things is happening.
1. The guy is a special talent and just that good.
2. You don't have enough depth and/or someone got hurt, so the guy has to play.
I always thought that he was going to be a guy who needed to develop a bit, but could be a two year starter and maybe get playing time as a redshirt sophomore, which is where he's at now. People think because a guy is going to OU that he should be a world beater from day one. Offensive line is a lot more about attitude than it is aptitude, and while some guys develop quicker than others, you need people who are willing to come in and earn their spot.  Ultimately, the product that you put on the field has to be consistent and right now Bill Bedenbaugh is still building that. You obviously want your offensive line to be really good across the board, so you have to be less concerned with what year a guy is and more concerned about keeping the stockpile going to be able to consistently reload.
Anyway, another guy I looked at was Dionte Savage. He's a guy I just can't help but root for out there. He seems to have a great personality, and man is he huge. In looking at how his body has changed since last summer, he has leaned up quite a bit yet also retained his size (he's listed as 335 lbs). Maybe it was a little bit of going against your teammate, but I still need to see Dionte finish a little bit more. There were a couple of blocks I'd like to see him drive his legs on, and use his whole body. He's a guy who, if he's willing to be nasty all the time, he'll be in the league for a while.
Josiah St. John was another guy I wanted to see. To me, he still doesn't have the finer points down just yet. His hand and head placement (i.e getting your head across) leaves a little to be desired, and right now he's just not ready to be the 3rd or 4th tackle, in my opinion. So this fall, Tyrus Thompson and Daryl  Williams will obviously be your starters, and I expect Derek Farniok to be at the 3rd spot. One of those big freshmen may even come in and challenge as well.
One guy who has come along quite a bit in my opinion is Christian Daimler. He was always a lean guy and at 6'7″, he just looks thin. He's up to 286 pounds now so as he grows and matures, he's going to be a guy who could turn into a late bloomer. Kind of like a Lane Johnson, but that would be a lot work from now. Sam Grant has moved over to tackle, from tight end, full-time now and is another 6'7″ guy. He's listed at 273 pounds right now, but is a part of Bedenbaugh filling the cupboard with some depth. They aren't ready this year and probably are at least another year away from being able to come in and do what we need them to do. So going along with my thought of replenishing the stock, you can see what Coach B is trying to do.
Bring in young, talented guys to push your veterans. Make them feel a little uncomfortable, so they know if they let up their spot isn't safe. Bring in some developmental guys who as redshirt juniors or seniors could eventually be solid starters. Then you always have a mix of talent and blue-collar guys. It forces your talent to work as hard as your blue-collar guys, so the attitude seeps through the entire line. It also humbles some of these young talented studs who come in and think they may just be handed the job. You heard a little of this when Gabe Ikard and some other veteran players tweeted about guys who are coming in thinking they have it figured out, but need to be ready to work.
So, anyway, there wasn't a whole lot you could derive from the spring game that will resemble anything close to what the starting lineup will look like come fall. Thompson, Adam Shead, and Tyler Evans were all out, so there are still going to be some battles to determine who will be the man come fall. It may be a blessing in disguise because it allows the young guys to get some reps this spring and raise their level of play. By design, there is pressure in the spring for young guys who aren't ready. Guys are asked to perform just like normal starters and the bar is set very high. People rise to the occasion or they don't.  Ultimately, your team gets strengthened from the inside out.
Even though it was just a scrimmage, I was really pleased with how well the offensive line performed as a unit. Both lines were able to move the ball, and you can tell the guys are much better schematically than they were last spring. They know what they need to do, and they get there. Coach B is a great coach and it shows. I'm really looking forward to seeing what we can do with these young, bruising backs come fall. It's gonna be fun this year.