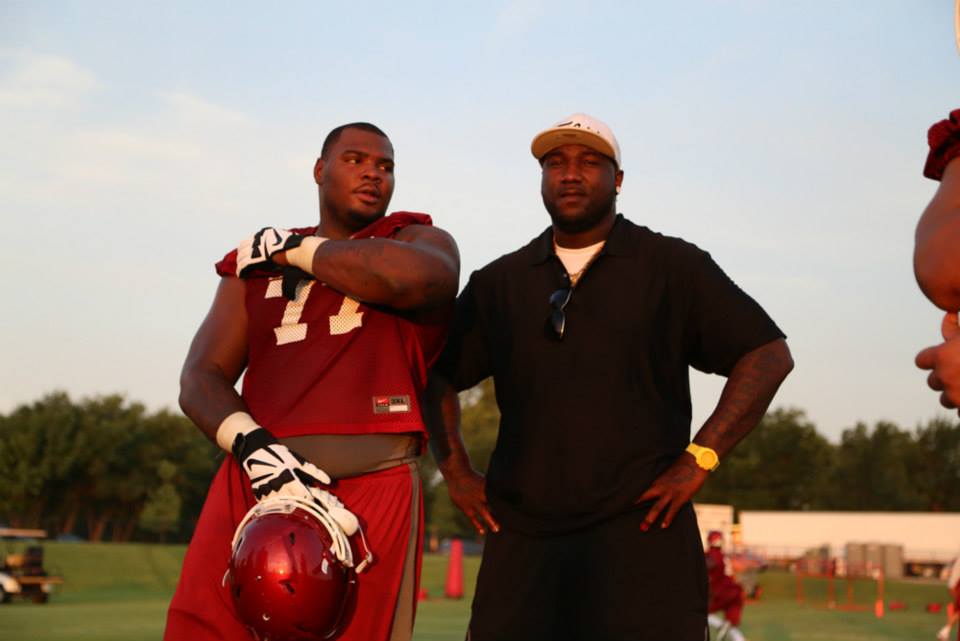 2014 Red/White Game | What To Watch For | Offensive & Defensive Lines
Posted on: April 8, 2014
Image via Sooner Sports (Dionte Savage w/ former Sooner great Jammal Brown)
Heyyyyyyy youuuuuu guyyyyyyyys!!!!!!
Seriously, I had to start it off by quoting one of my all time movie favorites. If you all haven't seen "The Goonies" then we probably can't be friends. Word on the street is a sequel or remake is in the works.  Since I won a hundred bucks one time in a costume contest for Sloth, I couldn't resist.
As many of you know by now, I'm in the process of relocating to Chicago right now.  Before the promotion came up, the executive committee (mama) had approved some travel for me down to Norman to catch the spring game.  Being the Sooner junkie I am, I enjoy the spring game every year.  I like to sit in the end zones and move around based on where the action is happening. As, you know, you really can't do that at regular games.  I had it all laid out on how I was going to do it this year, but with me being in the Windy City now, unfortunately I can't make it Saturday.  That said, I wanted to let you all know what I'd be looking for if I were there. And if any of you are going, maybe you could check it out for me and report back after.
First and foremost, you have to start off up front. And I mean up front on both sides of the ball.  I really want to see how Ty Darlington is progressing, as well as Dionte Savage.  Dionte is a guy who came in over the summer last year, and eventually worked his way into a starting spot for the Alabama game.  I really want to see how an off-season has affected his development, as well as seeing his grasp of the offense.
I haven't heard a lot about how Tyler Evans and Adam Shead are doing, so I just wanted to look and see how they would be walking around on the sidelines, etc.  Tyrus Thompson is another guy who was out for the Sugar Bowl who I wanted to see as well.  While a number of these guys not taking part in the spring game and/or being held out may cause concern for a lot of people, remember that the season is five months away.  You'd rather be out during spring, if you're a veteran, than during the season.
Also, with these guys out, it really allows some of the young guys to get more reps and aids in their development.  Guys like Derek Farniok, Tony Feo, Kyle Marrs and others will benefit greatly from the additional reps.  I also wanted to see how much Nila Kasitati would be playing at center too.  If Tyler, Adam and Dionte are all good-to-go come regular season time, someone's going to be the odd man out.  Also, with Darlington and Kasitati on the interior, it really creates a big of a logjam Or as I prefer to see it, an embarrassment of riches for Coach B to work with.
Something else that will be nice is that guys like Alex Dalton, Natrell Curtis and Jonathan Alvarez won't be pressed into service before they're ready once they arrive later this summer.  Hopefully Josiah St. John will be ready to go in the fall, Tyrus will be healed up, and we'll have a legitimate two deep at tackle. Which will allow us to get redshirts for Orlando Brown and Kenyon Frison.
At this time last year, everyone was freaking out about the lack of depth up front defensively. Fast forward a year later, and you have a situation that may have previously been starving for depth line turn into a position group that could potentially be loaded for years to come.  As you all are well aware, we've heard Charles Walker's name come up repeatedly.  We've heard about Matt Romar some as well, but I wanted to see Walker and some of these other veteran guys really take a big step forward.  Guys like Tapper, Chuka and Geneo, really needed to have a great winter to step to the forefront of the team.
Geneo played out of his mind against Alabama, and I wanted to see if the light came on for him for good.  For a lot of guys, going into their last season is the kick in the pants they need to have to get prepared to perform consistently.  So I'm hoping that Torrea Peterson and Quincy Russell have taken advantage of the extra time as well.  Quincy has been someone who everyone around the Sooner junkie community was expecting big things from, so I'm interested to see if he's capable of breaking into the rotation. Last but definitely not least, I really want to see the additional weight that Jordan Wade put on.  Kid's up to 312 pounds and is still just a redshirt sophomore. Called upon before many expected him to be last year, he played very well but took a pounding at times.  The physicality and toughness you need to play with at that position cannot be understated.  Potentially getting Phillips back this year could give us a 1-2 punch at the nose that could be the best in the country.
Just like running backs benefit from a great o-line, linebackers are better as a result of a great defensive line.  In my many years of following the Sooners, I don't know that we've had as much talent and depth up front on both sides of the line as we do this year.  If Montgomery and Bedenbaugh can get them to prepare like champions every day, this team could be one that plays stifling defense.
I'm excited to see what the RB's and LB's bring to the table, so I'll be outlining some things and names to look for on Wednesday.
Ok guys, we're getting close to some more Sooner Magic. So let's be ready for it Saturday! A big Boomer shout-out to everyone and it's good to be back!