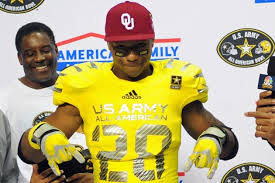 To Shirt, Or Not To Shirt
Posted on: June 16, 2014
Image via Bleacher Report
With a majority of Oklahoma's incoming freshman class now on campus, I figured it was as good a time as any to start speculating who may redshirt or who we'll see on the field this fall. In the past, I've typically been an advocate of redshirting guys unless the time they're expected to see will truly benefit them from an experience/learning the scheme standpoint. I've just always felt it makes more sense to save a year then it does to "waste" the year. And I qualified that term, waste, because in my opinion playing a kid a handful of snaps and/or almost exclusively on special teams throughout the season and essentially burning that year of eligibility is a waste to me.
It's a bit of a double-edged sword in that there is an argument to be made, at least in my opinion, both in for and against their method. I've already made the argument against, but in favor of the practice I'd say is two fold. First, if a kid is practicing on the scout team as a redshirt then they're not really learning your system. Rather they spend the better part of practice running the system of that week's opponent. Second, seeing the field early is something Stoops and his staff have used to sell the program to recruits. Telling a kid they'll have a legitimate chance to play as a true freshman can go a long way. But it means very little if it's simply lip-service, but Stoops and company have the track record to back up their words.
My stance on things is obviously irrelevant as last time I checked Bob Stoops and/or his staff haven't been beating down my door to get my opinion on how they manage their roster. So as I put these 'predictions' together, know that I'm doing so from their side of things and based on recent history.
So we'll just run through the class one-by-one and put a percentage on the chances of a redshirt. As always your input is welcome, so feel free to add your take on things in the comments below.
OL Jonathan Alvarez – Chances of a redshrt: 100%
Barring some significant injuries (*scrambles to knock on wood surface*), it's pretty difficult to envision a scenario in which Alvarez sees the field in 2014.
WR Mark Andrews – Chances of a redshirt: 25%
If I were a betting man, I'd say there will be TE talk for as long as Andrews is on campus. The idea of a guy his size (6″6″ 200+ lbs) working out of the slot, as I've seen some predicting he could do at times this year, intrigues me very much. This offense needs some size regardless of where it lines up, and of the three 'big' receivers OU signed I think Andrews is easily the most ready to go from a physical standpoint. Frankly, 25% is probably too high.
LB Curtis Bolton – Chances of a redshirt: 35%
The difference between where I want this percentage to be and where I just put it differ significantly. If you assume he plays a similar role to that of Eric Striker last year and/or the role we're all expecting Devante Bond to play this year, then a redshirt would seem like a no-brainer to me. However, if you're a believer in the message board speculation that the coaches may actually see Bolton playing in the middle then maybe the odds of him seeing the field are a little greater. Either way I'd prefer a redshirt year versus a handful or so of snaps in mop up duty and almost assuredly a spot on kick/punt coverage. But there are already whispers of Bolton 'wowing' early on in summer workouts, so I suspect he'll find his way onto the field.
LB Devante Bond – Chances of a redshirt: 0%
Been on campus since the spring, played in the Red/White game, he's obviously not redshirting. Moving on.
OL Orlando Brown – Chances of a redshirt: ???
As most of you know, there is some uncertainty at the moment whether or not Brown will qualify. I know what others have reported and while I certainly cannot say they're wrong, I just know from past experiences if you think you know what the NCAA Clearinghouse is planning to do you're typically wrong more often than not. Hopefully he has done the work he needed to do, gets cleared, and makes it to campus sometime this summer. Even with OU's lack of depth at the tackle position, and combined with his expected late arrival (if he makes it at all), I think a redshirt is pretty likely.
OL Natrell Curtis – Chances of a redshirt: ???
Very similar situation to Brown although their doesn't seem to be quite as much optimism with the recent news of Curtis signing with a junior college.
OL Alex Dalton – Chances of a redshirt: 85%
One would have to hope the staff will learn from their mistake of last year in (foolishly, in my opinion) playing Ty Darlington just enough to cost him a redshirt year. If Dalton is the center of the future as many expect him to be, then OU should be able to make due with Darlington and/or Nila Kasitati this season (barring injuries of course).
LB Tay Evans – Chances of a redshirt: 100%
Linebacker is not a position with great depth, but Evans likely benefit from a year in the weight room. Bright future though.
FB Dimitri Flowers – Chances of a redshirt: 0%
Has been a standout almost since his arrival and the coaches clearly love the versatility he brings to this offense from the fullback/H-back position.
OL Kenyon Frison – Chances of a redshirt: 55%
I know he's not on campus yet, but everything we've heard is that he will be relatively soon. So I'm obviously working under that premise here. In an ideal world you would redshirt him, but 2014 does not appear to be an ideal world for this OU team when it comes to the offensive tackle position. With two seniors ahead of him, Frison — who if he lives up to expectations — could be expected to start in 2015. And you're not going to want him doing so with no snaps under his belt. So I'm betting the coaches work him in at times this season to try and get him some experience before heading into next season.
DL Courtney Garnett – Chances of a redshirt: 100%
Unlike at linebacker, the defensive line is a unit in which OU does have a considerable amount of depth. I think it still remains to be seen exactly where Garnett winds up playing, be it as a 3-4 DE or if he can grow into more of a true NG.
DB Marcus Green – Chances of a redshirt: 90%
In my opinion this one probably should be 100%, but I think back to somebody like Dakota Austin last year and it makes me hedge just a bit. Green could be a guy like I was describing above, plays very little on defense but "wastes" a year on special teams.
QB Justice Hansen – Chances of a redshirt: 100%
I honestly believe if it came to actually having to make a decision on this, they'd move Blake Bell back to QB before burning Hansen's redshirt. I could be completely wrong, but if you're looking at a scenario in which Hansen would have to play then the season is likely a total loss and what sense would make putting him out there? Oh, and this is also assuming on my part that Hansen doesn't beat out Cody Thomas for the backup QB spot which I suppose could still happen.
LS Wesley Horky – Chances of a redshirt: 40%
Maybe I'm just over-thinking it, but I found this one to be a little difficult. I suppose it's not as though this team had some glaring need at long-snapper, but if you're considered the best in the country at something that certainly makes you valuable. Physically, he could probably benefit from a year to bulk up but I'm leaning towards the coaches playing him in 2014.
TE Isaac Ijalana – Chances of a redshirt: 0%
If recent history is any indication, the time he or any TE actually see may be limited but the JUCO transfer is already on campus and will almost assuredly get some snaps this season.
DB Vontre McQuinnie – Chances of a redshirt: ???
I know there is one report out there that McQuinnie will have to go the JUCO route, but I've yet to see anything definitive from a source I trust. So I'm holding off for now, but even if he were to make it to campus a redshirt was pretty much a certainty.
WR Jeffrey Mead – Chances of a redshirt: 85%
I've seen some say Mead may have the highest ceiling of the three 'big' true freshman wideouts OU is bringing in. Only time will tell whether or not that proves to be the case, but what is not disputable as far as I'm concerned is Mead needing a year to add some weight before he's truly ready to be a consistent threat at this level.
TE Carson Meier – Chances of a redshirt: 80%
Given the depth chart ahead of them, as far as I'm concerned this should be 100%. And the Union product may very well sit this year, but for some reason I have a feeling the coaches might play him. But that's just a hunch on my part.
RB Joe Mixon – Chances of a redshirt: 0%
If Keith Ford didn't redshirt last year with three seniors ahead of him, then it's almost impossible for me to envision Mixon being held out. If for no other reason than his versatility and exceptional ability to catch the ball out of the backfield.
DL Dwayne Orso – Chances of a redshirt: 100%
Remember several months back when Charles Walker was getting all that hype? I think Orso is that guy at the same time next year. If he puts in the work, with his size and athletic ability his ceiling could be just about as high as he wants it to be.
DB Steven Parker – Chances of a redshirt: 0%
By all accounts Mike Stoops absolutely loves Parker's potential and from the second he committed, I believe the plan has been to play him from Day One. Now that doesn't mean he'll start right out of the gate, but if he can pick up his assignments it's not unfathomable to imagine him as a starter mid-to-late in the season. Which is not meant as a knock on some of the other guys in the back end of that OU secondary — I've been a proud member of the Hatari Byrd fan club since his arrival and nothing has changed on my end with that — so much as it's a compliment to the ability I believe the coaches see in Parker.
OL Joseph Paul – Chances of a redshirt: 100%
Like a lot of young offensive lineman, he'll benefit greatly from a D-I strength program and coaching from one of the better guys in the country in Bill Bedenbaugh.
RB Samaje Perine – Chances of a redshirt: 0%
The guy has the build of a third or fourth year guy. He's physically ready to play at this level, which for any true freshman is quite a statement. Cale Gundy will have his hands full distributing touches and keeping all of these backs happy, but it's one of those good kind of problems to have.
WR Michiah Quick – Chances of a redshirt: 0%
As far as I'm concerned, OU has one of the better slot receivers in the country in Sterling Shepard. Quick has elite athleticism and will be a nightmare match-up on the inside. He may struggle with routes some early, but I'd look for Jay Norvell and Josh Heupel to give him some simple things early just to get him on the field and the ball in his hands.
DB Jordan Thomas – Chances of a redshirt: 100%
Whether he settles at corner or safety, Thomas looks to have a bright future playing and learning under Mike Stoops. I just think it'll be a year from now before he will see any action.
WR Dallis Todd – Chances of a redshirt: 45%
Falling somewhere between Andrews and Mead in terms of being physically ready to play at this level, Todd possess an elite ability to high point the football which could prove invaluable for an OU offense that could use a big target on the outside. If Dannon Cavil and Jordan Smallwood were to emerge as consistent threats, I could see where Norvell holds Todd out this coming season. But I'm betting on Todd playing in 2014 and hoping that Heupel utilizes his size down in the red zone.
DB Tito Windham – Chances of a redshirt: 100%
Very similar situation to Jordan Thomas.