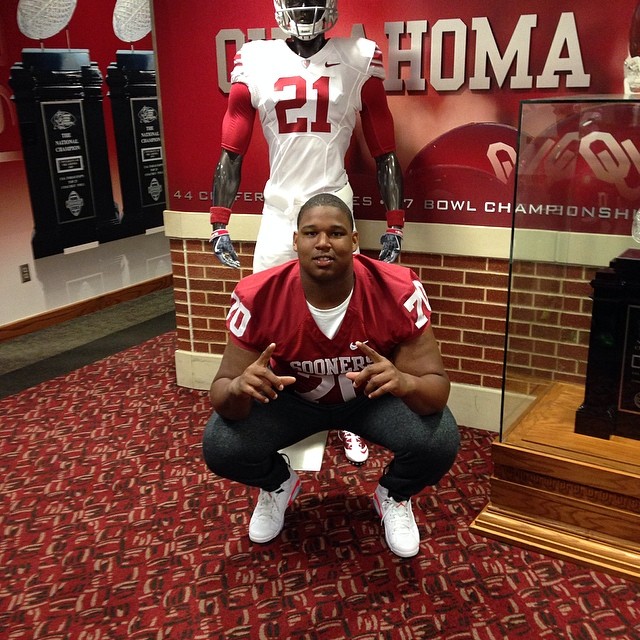 Open Post | Monday, April 21st
Posted on: April 21, 2014
Image via Instagram/tim_settle
– This is K. I'm still over here in the UK on business. Will be heading back to the states tomorrow, but I've got a good internet connection here now so I figured I'd add a quick open post. That way you (our readers) and the other fellas can update throughout the day if anything of note comes about.
– Let me start with a bit of Tim Settle news. As y'all probably know by now, he visited OU twice on unofficial visits last week. I had a brief exchange with Tim before I left on my trip, but I hope to catch up with him more when I get home. However, what I did find out is that he enjoyed Oklahoma enough to not only take two trips, but apparently he also wants to take a third. The plan is he will use one of his official visits to come to Norman this fall. It's too early to know where we stand at this point, but stars like Settle can take official visits anywhere so an official has to be seen as a good sign.
– For those who didn't see it, OU safety target Keivon Ramsey committed to Texas over the weekend. Based on what I know about Keivon, it didn't surprise me one bit. When he got the UT offer we kind of figured he would end up committing there. Keivon had visited Oklahoma for a jr. day, but as some of you may recall he was the player that didn't seem to warm up to Oklahoma's "pitch."
I am a fan of Ramsey's game but OU's top two targets, Will Sunderland and Kahlil Haughton, are still on the board and Oklahoma is very much in the mix. In fact, some might even say we lead for both.
– Speaking of the Texas spring game, I didn't get a chance to watch it but would love to hear comments below from those who did. Everything I heard while I was over here indicated there were some struggles but I'm looking forward to watching it myself.
– Another note of interest that I caught while I was checking college football news over the weekend was Alabama landed five recruits over the weekend. Not necessarily OU related, unless we meet them in the future again and they are the next batch of top Alabama talent to fall to the crimson and cream 😉