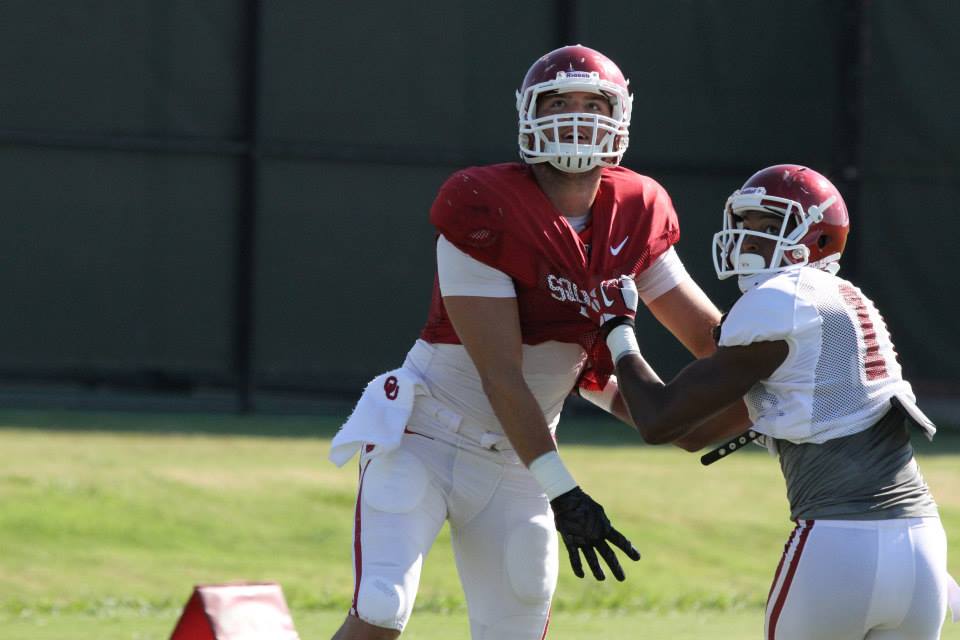 Open Post | Weekend, August 15th – 17th (UPDATE Sun., 1:45 pm)
Posted on: August 15, 2014
Image via OU Football Facebook
Happy Friday y'all!
The recruiting front has been a little quiet lately as the coaches focus right now on getting the team ready for the season opener. But we've managed to gather a couple nuggets we'll share with you now.
– Anthony Wheeler: We checked in with 2015 OU LB target Anthony Wheeler to see if he was any closer to making a decision. Earlier in the summer, Wheeler was considering making his decision before the season and it looked like OU and Texas were in the best spot to win his services. But now Wheeler says the decision will come "after my officials." He did say that OU is a school he is planning on taking an official to and would like to attend the Tennessee game, but nothing has been set up yet. According to him the three officials he is looking to take are to Oklahoma, Texas, and Baylor.
– Darius Anderson: Recently, 2016 DL Darius Anderson from the Houston area mentioned that he'd be taking an unofficial visit to OU this summer. With high school practices starting and school close to opening, that trip did not happen. But Darius told us earlier this week that even though he wasn't able to make it down, he's "still gonna get down to a game" this season. It's interesting how many 2016 athletes actually want an OU offer and are looking to make the trip up to Norman to get it.
– Mike Williams: Related to the point above, another 2016 DL that really wants an OU offer is Mike Williams from Ft. Worth. Williams had been trying to get up to Norman all summer and finally did a couple weeks back. The Oklahoma staff told Williams they'll be down to see him early in the season. Last night Ohio State extended an offer to Williams, so it'll be interesting to see if OU decides to go ahead and get in a little quicker since he seems to be drawing so much attention. With last night's Ohio State offer, Williams is now holding nine offers including one from Michigan and TCU. But in chatting with Williams last night it seems clear an OU offer would be big to him.
– Malik Jefferson: We haven't managed to squeeze any information out of Malik Jefferson lately, but in a slow recruiting cycle we thought Jefferson's Twitter reply to TAMU commit Daylon Mack was Open Post worthy:
There was a time when it seemed that Malik's commitment to Texas A&M was simply a when not if, and even though most feel Texas is the school to beat after TAMU, Malik's recent trip to OU really did open his eyes. In fact we got word that Malik's mother made it a point to get in touch with one of the coaches, and express how much of an impression they had made on her and her son. So while OU's chances may still be somewhat slim, the above tweet a couple weeks after the OU visit perhaps gives a glimmer of hope that the window is at least open for someone.
– Scrimmage Notes: Yesterday was Oklahoma's final fall scrimmage. Today, OU players will have their last fall practice. They'll break for the weekend and then come back and start their normal fall semester practice regime and La Tech prep on Monday.
– Firstly, we were told the scrimmage and overall execution were MUCH better than last Sunday. We were told that while they still has some cleaning up to do, they looked like a totally different team. Both sides had some big plays. Receivers were more consistent overall, but the coverage was also pretty tight.
– One of the coolest things we heard about yesterday's practice was that Julian Wilson apparently locked up Dorial Green-Beckham. Wilson didn't play for too many series, but apparently when he did he was matched up with DGB and gave him all he wanted. We were told he was very physical with Green-Beckham. Wilson worked extensively with the REAL DB guru, coach Chip Viney, in the offseason and word is that showed up in fall camp. It'll be interesting to watch him go against the smaller quicker outside receivers, but we continue to hear good things.
– Alex Ross and Keith Ford alternated and took most of the first team reps. Samaje Perine's reps were somewhat decreased this past week, but that really isn't because of anything wrong he's doing. Our guess is that they'll likely work him into the rotation gradually. But it sounds like the staff is very happy with the RBs they have. We expect Ford and Ross to take most of the early season snaps, with Samaje getting more and more reps as the season goes on. Depending, of course, on how he looks when he's in live game situations.
Overall though we heard that the RB's still seem pretty even. We were also told that if the RBs continue to get better at the rate that they are, then OU will be able to beat anyone.
– Word we got is that Jordan Evans did not scrimmage yesterday…no worries though it's not an injury thing.
– Earlier in the week there was a lot of praise from the coaches for freshman CB Jordan Thomas. We asked a source how he looked in the first scrimmage and apparently he looked really good. The only knock on him at this point is his strength, which is not really a surprise for a freshman. Thomas is running behind Julian Wilson on one side, and Dakota Austin took 2nd team reps behind Zack Sanchez on the other.
– Geneo Grissom, once again, was virtually impossible to block in yesterday's scrimmage.
– Heard that Blake Bell is performing in scrimmages like he's been playing TE for years.
– True freshman Justice Hansen ran some second team QB and just appears to be a better fit for the offense OU is running when compared to Cody Thomas. Nothing is written in stone at this point, and when/if Baker Mayfield were to be cleared there is very little question he'd be the primary backup to Trevor Knight, but Hansen has performed well enough he could legitimately pass Thomas on the depth chart.
– Michiah Quick and KJ Young were the two names at WR we were told stood out in yesterday's scrimmage. Between those two and Sterling Shepard, OU will have a potentially lethal trio of slot WRs at their disposal this season.
– Also were told that Eric Striker and Taylor McNamara seem to go back and forth quite a bit and it has become quite the competition. Heard Striker blew McNamara up yesterday on one particular play, but overall we're told that Striker has made McNamara a tougher player. Which is obviously a good thing and is exactly why each side helps the other…iron sharpens iron.
– Steven Parker apparently ran with the first team quite a bit yesterday and once again looked really good. We continue to hear that both he and Ahmad Thomas have had great camps. We get the sense that Q.Hayes will start the season at SS with Thomas at FS, but Parker will absolutely get his opportunity. We suspect in the nickel package, when Hayes comes down to Wilson's old spot, Parker will start to get reps at SS.
– UPDATE (Fri., 1:15 pm): This isn't really team (current-wise) or recruiting related, but figured you all would like to know.
Rookie WR Jalen Saunders was involved in a single-car accident this morning on the way to the Jets practice facility…

— New York Jets (@nyjets) August 15, 2014
…Saunders was taken to the hospital & is being monitored as a precaution. He won't travel to CIN and is out for Saturday's game.

— New York Jets (@nyjets) August 15, 2014
– UPDATE (Fri., 2:40 pm): There are now a plethora of reports that the Cleveland County DA has charged OU running back Joe Mixon with one misdemeanor count of 'outraging public decency' (or acts resulting in gross injury). Still no official statement from Oklahoma, though one has to assume they knew this was coming so we could have something before the day is out. We'll continue to provide updates as they become available.
– UPDATE (Fri., 4:05 pm): Official statement from OU (which doesn't say much, but it's what we're getting for now).
Statement from OU Vice President for Intercollegiate Athletics Programs and Athletics Director Joe Castiglione: pic.twitter.com/yQxDZpuAnh

— Oklahoma Football (@OU_Football) August 15, 2014
– UPDATE (Sat., 5:50 pm): Last night former OU commit and Tulsa player Dalton Rodriguez tweeted out:
Blessed with a new opportunity to be able to play at the University of Oklahoma

— Dalton Rodriguez (@DaltonRod96) August 15, 2014
We've been able to confirm that Rodriguez is in the process of trying to transfer to OU but whether it comes to fruition will just depend on if it works out academically. If it does work out, he is being brought in as a defensive lineman. He was originally recruited by OU as an offensive lineman but now that OU has moved to an add front he fits better.
– UPDATE (Sat., 6:26 pm): Just checked in with Dalton Rodgriguez and he says that it is official. He has transferred to OU and has moved in today and is ready to start classes.
– UPDATE (Sat., 6:28 pm): Also, Dalton tells us that he will be a walk-on and will attempt to earn a scholarship. This sounds like a win win for OU.
– UPDATE (Sun., 1:45 pm): I (Jordan) suspect most of you could care less — and I'm right there with ya — but for those who may, OU checks in at No. 4 in the first AP Poll of the CFB season.