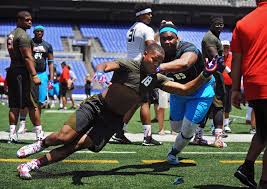 Open Post | Wednesday, Sept. 3rd
Posted on: September 3, 2014
Image of Rahshaun Smith via Baltimore Sun
– Rahshaun Smith: If you thought OU had all the top recruits they could possibly be bringing in to one game, you thought wrong. Star 2016 DE/OLB Rahshaun Smith (Baltimore, MD) will be heading down to Norman for the Tennessee game. Smith has offers from just about every school in the country including Alabama, Florida State, Ohio State, etc. OU is a major player in Smith's recruitment thanks, in large part, to Jerry Montgomery and to Smith's connection with Charles Tapper.
This is a big time visitor!
– Obi Eboh: A player we're going to be watching closely is 2016 cornerback, Obi Eboh out of Southlake Carroll. We talked to Obi earlier this week, and he let us know that he was in attendance last week for the La Tech game. Sounds like he had a great time in Norman this past weekend and told us that he's hoping for an offer. It's still early but Obi already has three offers, including one from Mississippi State. He's a long cornerback, which is what OU is recruiting right now almost exclusively. In fact, we've been told that OU really isn't looking for smaller CBs anymore.
– Arthur McGinnis: Finally, a top recruit that isn't going to be visiting for the Tennessee game. 2015 OLB Arthur McGinnis (New Orleans, LA) let us know he has confirmed that he'll be visiting Norman for the Bedlam game. He'll be joining another excellent pass rusher in Takkarist McKinley who will also has plans to be at that game.
– Caleb Kelly: Star 2016 LB Caleb Kelly (Fresno, CA) said he still isn't sure if he can make out to the Tennessee game, but definitely said he wants to. We try to stay in touch with Kelly quite a bit and always come away feeling like Kelly is OU's to lose. Kelly has already visited OU once. He came out last spring for the Red/White game and had a great time. It's a little early but don't be surprised if OU wins big time 2016 commitments down the road from both Kelly and Rahshaun Smith.
– Dallis Todd: Wanted to pass along an interesting note about the big true freshman wide receiver from California. We've been told OU is really looking for a big outside WR threat this year. And it sounds like if Jeffery Mead isn't able to take that next step in the next game or two and/or Jordan Smallwood continues to have problems catching the ball, Dallis Todd could be the next big WR to get his number called. Really amazing to see how many different guys OU is willing to play this year as opposed to the more conservative approach in years past.