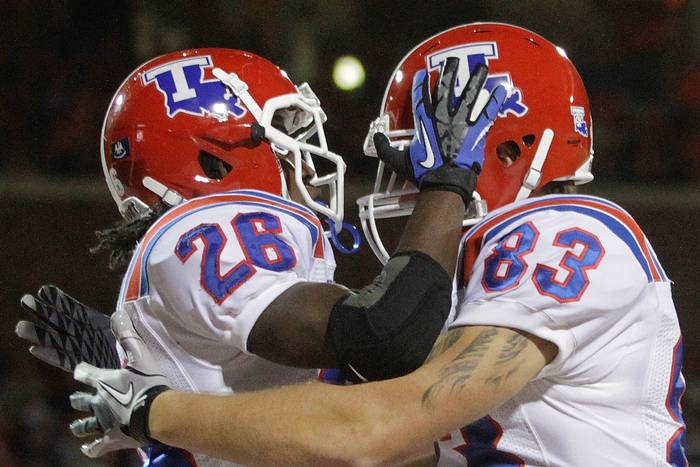 Louisiana Tech Preview
Posted on: August 30, 2014
Image via Lost Letterman
Louisiana Tech is coming off a dismal season, which was a far cry from their 2012 campaign. Fast forward to present day and the Bulldogs are entering the 2nd year of the Skip Holtz era. While much can be said about last year's 4-8 record, you have to remain optimistic that failure is a great teacher. When you're that bad, you should be extremely familiar with a list of what not to do on Saturdays in the fall! One of things on that list should have been traveling to Norman. Rest assured no one down here in Louisiana expects anything remotely close to an upset come Saturday.
Offense:
Louisiana Tech uses a balanced attack on offense that typically has multiple receivers and one feature back. They are in 10 personnel primarily, but are balanced in their play calling. It is very common for the Bulldogs to run the ball with four receivers spread over the field; however, they use tight ends and fullbacks randomly as well. This balance is crucial, because former Iowa quarterback, Cody Sokol, replaces the incumbent starter Ryan Higgins under center. Throughout the summer he showed really good command of the ball and has been really comfortable with the wide open offense. His ability to keep his team in manageable down and distances will ultimately determine just how successful he can be.
They return their star running back, Kenneth Dixon, who was a 2012 freshman All- American. Dixon put up big numbers despite being featured in a pass happy offense, which ranked in the Top 5 in passing the entire year. He spent much of last season battling nagging injuries, but still managed just shy of 1,000 rushing yards on a decreased number of carries. I have seen him carry the ball live, and he is definitely worthy of the defense's respect. No matter the opponent, tackling him coming downhill is definitely a business decision. He is one of only six returning starters on offense, but carries the flag as their best player on that side of the ball. Based on his body of work, no one will doubt the talent of Dixon, but his ability to wear down that improved Oklahoma front seven will be an interesting battle on the gridiron. Look for the Bulldogs to lean on Dixon heavily in order to ease the transition of Sokol's first start on the road.
Defense:
The Bulldogs run a base 4-3 defense that returns eight starters from last year. The secondary returns a lot of experience and will be the strength of the defense in 2014. The defensive backs are sound, but how well they will hold up against the Sooner's fast tempo offense is questionable. They will need plenty of production from the front seven and junior defensive tackle Vernon Butler. The defensive line also will have the services of Illinois Transfer, Houston Bates, who they hope will cause havoc off the edge. The defense is expected to be improved, but depth is an issue that will be on full display against Oklahoma.
My thoughts:
The drop off between first and second team defense is a major concern. Expect the Sooners to get big plays, but how fast this defense grows up in the awareness department will be the difference between a competitive game and a cake walk. On offense, I don't know if Sokol is the answer to their offensive woes from a year. He has the talent to be the next great gun slinger from LaTech, but if the running game stalls that may have to wait to be seen. The wide receivers feature no major stars, but have had moderate success from Hunter Lee and Trent Taylor. They hope LSU transfer Paul Turner can play to his potential and give the offense a spark. Louisiana Tech doesn't have the horses to match up with the Sooners, but a moral victory may be at hand if they can manage to limit turnovers and the big play.