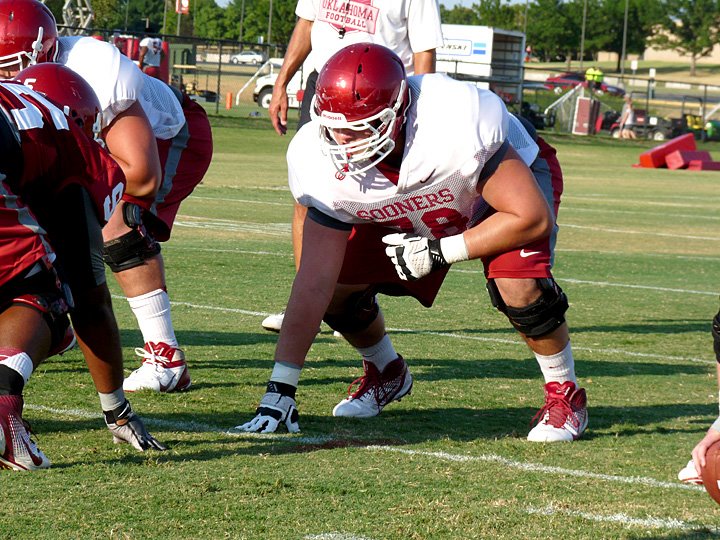 Offensive Lineman Kyle Marrs To Transfer
Posted on: May 8, 2014
Image via Sooner Sports
The Tulsa World's Guerin Emig has now confirmed something we dug up yesterday, thanks to the wonderful world of Twitter, that third year sophomore offensive lineman Kyle Marrs will transfer from the program.
With the expected return of senior Tyler Evans, who is still working his way back from a torn ACL suffered in spring ball last year, this isn't the blow to OU's interior line depth it might have been at one time. And while Marrs has drawn mixed reviews from some OU fans, both prior to and during his time in Norman, the San Antonio native has worked hard in his three years to develop his game. Additionally, there is still some lingering concerns about Adam Shead's back issues and his availability for this coming season. So at this point it would probably be fair to consider both he and Evans somewhat of a risk, at least in terms of how much you can rely on them and their health.
As it stands today, you're looking at Dionte Savage and Nila Kasitati as your starters. With Tony Feo behind them and, if you can count on them, the Evans/Shead combo. But that is also without taking into account there really not being a true backup at center behind Ty Darlington, which in all likelihood is probably Kasitati. So if something were to happen to Darlington, who will be a first year starter by the way, and you have to move Kasitati to center things could be looking a lot less rosy at one guard spot. Pending the health of Evans and/or Shead, you could be looking at the possibility of turning to a true freshman in Jonathan Alvarez or Natrell Curtis, both of whom have yet to arrive on campus.
All of which is to preemptively respond to the portion of the OU fanbase who will quickly dismiss this with a "who cares" type of mentality because Marrs had yet to really ever see the field. Maybe it will eventually amount to that, "who cares", but on paper right now things are looking somewhat dicey.