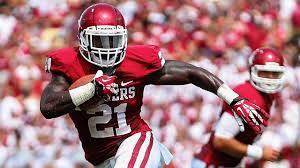 Constructing A Team – Running Backs
Posted on: July 31, 2014
Image via rantsports.com
As you all know by now, today's is the first day of fall camp. And the two positions where there are probably the most question marks due to inexperience are cornerback and running back. There are going to be some battles at both of those positions between a few players. A couple weeks ago we focused on the cornerbacks (HERE). Today we'll look at the running backs.
The RB position obviously took a strange turn this past weekend, but despite the fact Joe Mixon won't currently be participating in activities the running back position is still very deep. I'm sure we'll here more as camp gets going, but here is what we've been hearing throughout the summer:
Keith Ford – Of all the RBs on campus, Ford is the only one to have receivee any significant playing time last year. Everyone knows he had a few fumble problems at certain points in the season, but we also know Bob Stoops trusted him enough to give him some carries in the Sugar Bowl (though the dismissal of Damien Williams probably had something to do with it as well). And even though he only got three carries in that game, he ran for five yards per.
Ford is a physical back that isn't going down with an arm tackle. The word out of summer workouts was that he is a constant worker. When a lot of guys will go half speed during drills or are just trying to get through the workouts, Ford is always giving 100%. He is a tireless worker, understands the opportunity in front of him, and is trying to take full advantage of it.
Alex Ross – Ross has tremendous size, speed, and athleticism. Unfortunately, Sooner fans didn't get to witness much of that last season. After Ross' temper got the better of him on the field early last year, he wasn't really seen again. Talking to most folks, the word was Ross had a little growing up to do off the field. And talk to know anyone who knew him before he got to college, they'll tell you Ross has always been a fierce competitor. Maybe sometimes a little too fierce.
Ross has a unique blend of size and speed, but for whatever reasons it just hasn't shown up on the field yet. Due, in part, to his size he was known as more of a one cut back even going into this past spring. But during spring practice Ross showed off a lot more wiggle and ability to make guys miss. This will probably surprise many of you, but after a great spring there were actually folks inside that program that felt Ross may have earned the 1st team spot. However, most of what we heard about Ross in the summer was a bit up and down.
There were points during the summer when we heard he was looking tremendous and working hard. One person told us that "if he stays healthy, he's going to eventually win that starting spot." Obviously that's one person's opinion, but just an opinion nonetheless. As the summer went on we started hearing less about Ross, and the word we got is he might have taken a bit of a step back.
Joe Mixon – Mixon may not be practicing right now but he definitely put in work in the summer and impressed a lot of people. The way he was described to us during the summer was like a bigger version of Roy Finch, a much bigger version (obviously). People were clearly impressed by his explosiveness in tight spaces. And while he moves like a smaller guy, he's a big big back listed at 6'2 211 lbs! He moves incredibly well in space and has the best hands out of all the running backs on the team.
Samaje Perine – While Mixon may have been the highest profile recruit coming in, Samaje was the name we heard perhaps the most over the summer. Mixon and Ross may be big backs, weighing in well over 200 lbs, but Samaje is a HUGE back weighing in at nearly 250 lbs! One of the things we've heard that surprised folks inside the program about Perine was his lateral quickness. Because he's so big, folks just didn't think he could move side-to-side that effortlessly.
Another underrated aspect of his game is speed. Word we got is he ran a 4.47 forty in summer testing. And while Mixon may have the best hands, we've heard Perine is more than capable of catching the ball out of backfield. Perine is also one the most mature freshman you'll come across, in terms of the way he approaches each day. Everyone has been really blown away by his work ethic and daily approach to things in football, school, and life.
David Smith & Daniel Brooks – Both Smith and Brooks looked good in the spring game. And in talking to someone familiar with the RBs, we were told that both might prove to be victims of the talent ahead of them, they are hard working, talented backs that may actually be starters at other D-I programs. We love guys like Smith and Brooks. Guys who do what is asked of them, don't necessarily get the pub, but they'll give you everything. So we are certainly hoping they see the field some this year. Brooks is a quick cut guy with good vision who really did stand out in the spring game at times.
Depth Chart Speculation:
We will update this as we get more information coming out of fall camp, but for right now my best guess would be:
1. Keith Ford
2. a. Samaje Perine b. Alex Ross
3. Mixon – Mixon's situation is obviously up in the air and missing a week of practice for a freshman isn't good but this is where I would have had him even before his "situation." This certainly isn't because I don't like Joe and his upside – I do. If Mixon gets a chance to for some in-game reps at the college level, and finds that comfort that he clearly had in high school, he can be a game-changer. And at that point, his reps would likely increase as they year went on. But Samaje feels like a kid who is just ready for this level right now. He feels like those big SEC backs you see come in and just know how to play fast and "heavy." And for those guys, the transition time is a little shorter.