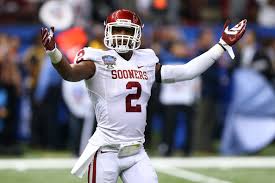 CB Options – Julian Wilson In Focus
Posted on: June 30, 2014
Image via zimbio.com
Back in April, we first mentioned that we'd heard Julian Wilson was looking to compete for the open CB position (here). The players that will be competing for that starting spot in fall camp are Wilson, Stanvon Taylor, Dakota Austin, Cortez Johnson and Tito Windham (we're assuming). We thought we'd look at some film on Julian and offer up a few observations, then open things up for discussion.
The question I'll try to offer up an informed opinion on is…can Julian Wilson play corner? I went back and watched some film on Julian from the Baylor and Texas Tech games. Obviously, the film I reviewed was from last year and by all accounts Julian has been working hard this offseason and looks better than he did a year ago. But this is what we've got to work with for right now.
SIZE
Julian has been playing nickel for Oklahoma. He's got tremendous size for a CB/NB at 6'2″ 201 lbs. Compare that to Richard Sherman's listed height and weight at 6'3″ 195 lbs.
SPEED
Baylor has one of the fastest receiver cores in the country. Julian has always been known to have good long speed going all the way back to high school. But even a CB with great speed can't stay in phase, or in position, to make a good play if he can't turn and run on a dime. Below is an example of Julian playing over on future 7th round pick, Tevin Reese.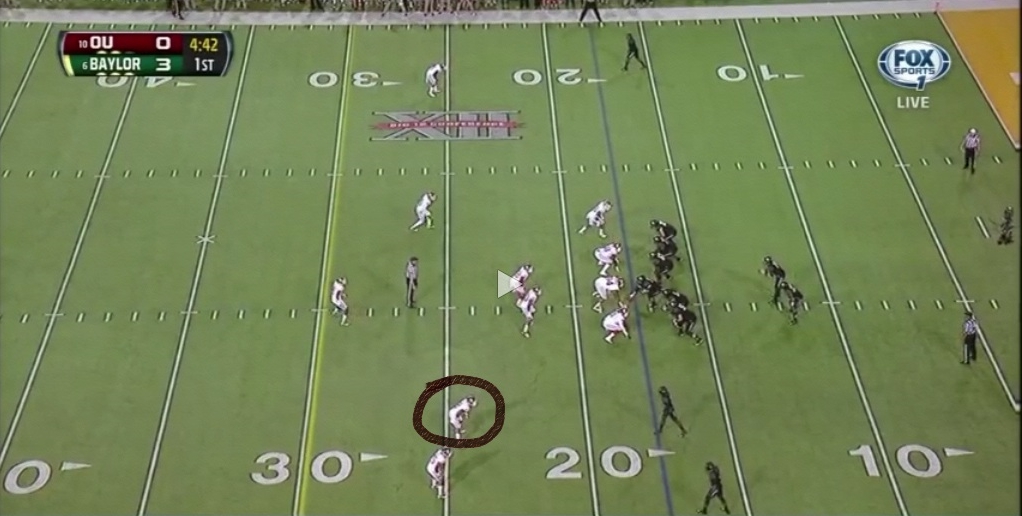 Reese's NFL Combine 40 time was 4.46 with a 41 inch vertical and 11 ft broad jump. Needless to say he is about as explosive an athlete as you're going to find. He's going to run straight up the seam on Julian, and OU is going to be in man free with Gabe Lynn manning the deep middle.
Here you're going to see him open up and run with Reese. He does a nice job initially being on top of the route.
As you watch him throughout the course of the route, he does a good job of staying with Reese but there is a point at which Reese gets a step on him and it happens, in my estimation because Julian takes just a split second too long to open up. I don't mean that he waits too long. I think he just can't quite get himself turned around fully.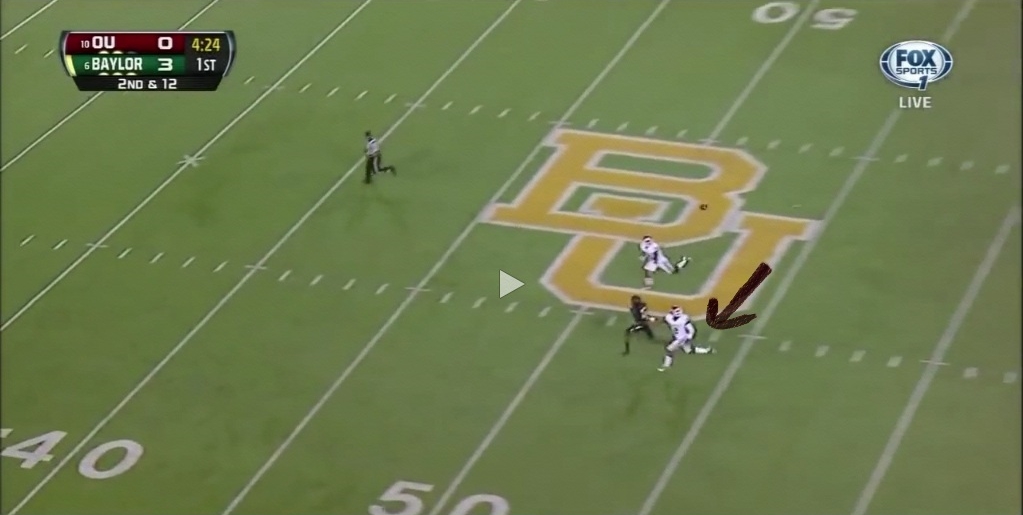 He does a great job of turning around to locate the ball. Even though he's beat by a step, there are a few things you want to keep in mind:
1) I know a lot of you are think "he's got help over the top here but he won't on the outside" and you're right but consider point No. 2.
2) When you're working against an outside receiver, you've got the sideline to work with, as an extra defender of sorts, on a nine route. And with Julian's size, he'll hopefully be able to really force smaller, speedy receivers outside (you'll see him do that later).
3) There is great play on PJ Mbanasor's film where a receiver has a step on him, but you get to see the benefit of his length when he jumps up and bats the ball down, displaying the difference between taller and shorter corners. Had this ball been throw on the money, Julian being only an arm length away, he may have been able to use that 6'2″ frame to break up the pass.
4) Again, Julian is going up against one of the most explosive receivers Oklahoma will face on any given Saturday. And that's not meant to be an excuse, so much as a reminder that even the best corners are going to get beat from time-to-time. It's simply the nature of the position.
DRIVE ON THE BALL
This section is related the one below titled "Short Area Explosion." As an outside CB, Julian would be facing a lot of curl and hitch routes so he'll need to the ability to change direction and drive on the ball. Bigger CBs tend to have less start and stop explosiveness, and they're also a little slower in their turn, so they'll give a bigger cushion making it even harder to handle comeback routes.
Here you're going to see Julian matched up with another very explosive WR, Corey Coleman. Coleman has good short area explosion. Coleman is going to start to run a wheel route: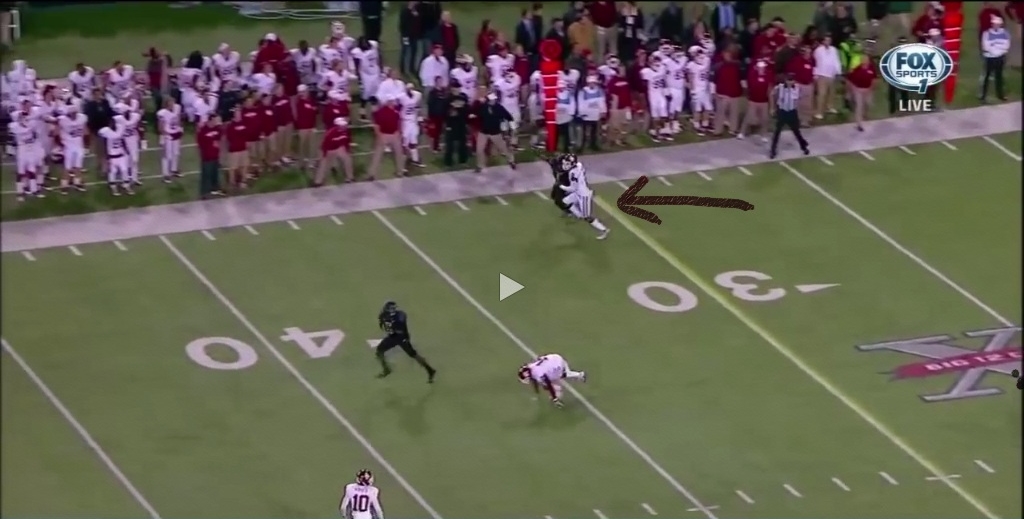 Firstly, you're gonna see that Julian is stride-for-stride with Coleman. I don't have the picture, but he's actually going to use his size and the sideline (as I mentioned above) to squeeze Coleman outside. Coleman is going to end up stepping out of bounds and because of the pass protection breakdown, Coleman is going to turn around and come back to the ball.
The image below shows where Julian turns and drives on the ball.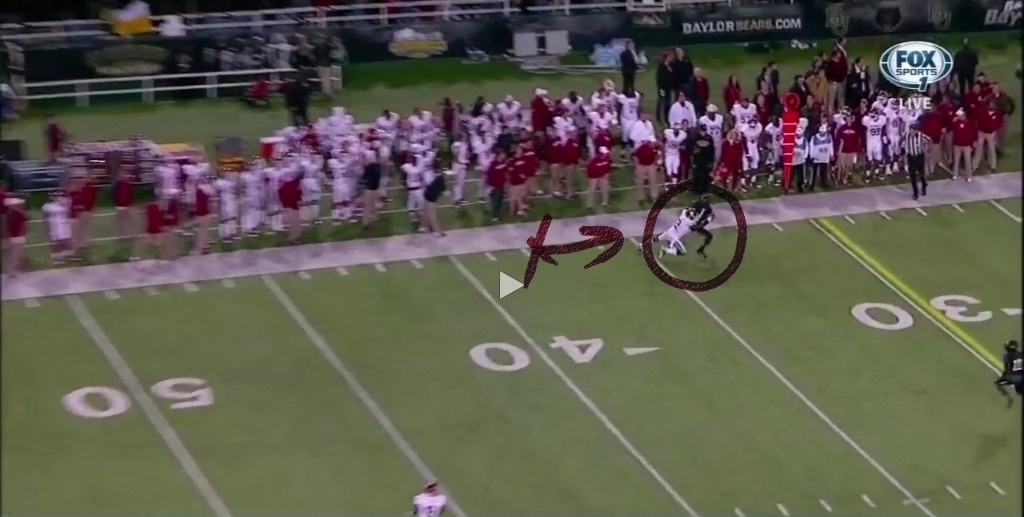 I marked the "x" where he turns and drives. He closes the 4-yard gap pretty quickly, but he's a half step too late and the pass is completed (Coleman stepped out of bounds so the completion doesn't count).
SHORT AREA EXPLOSION
In this play Julian is going to be matched up against yet another explosive Baylor WR, Levi Norwood (coach Norwood's son). Of all three WRs I've mentioned in this post, Norwood might be the best route runner and the most fluid. He's a difficult receiver to guard in tight spaces.
As you can see below, Baylor is going to have their No. 3 receiver (most inside receiver on the trips side – side with the three WRs) run straight up the field. They're hoping to get a little pick on Julian as the No. 2 receiver (Norwood) runs a slant to the inside.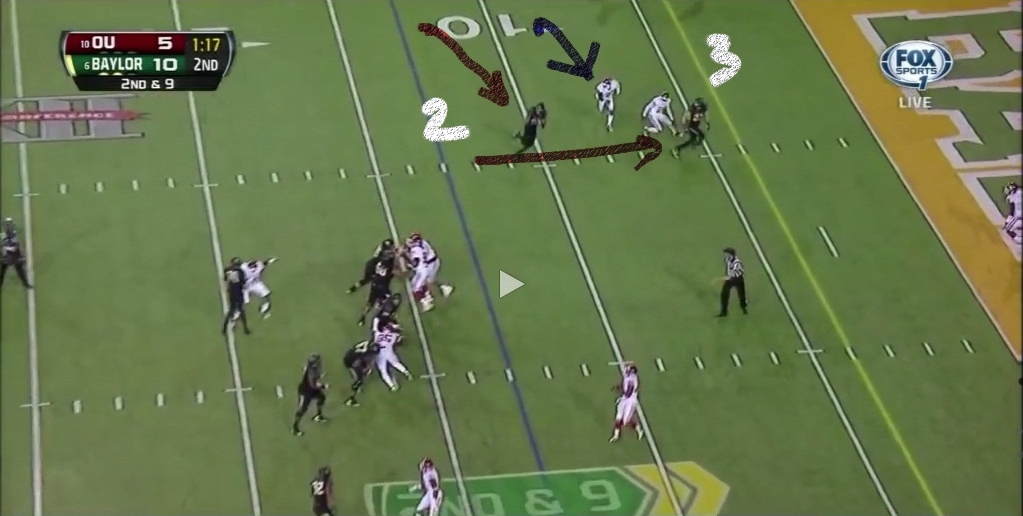 Julian was playing off, so he's given up the inside release. The hope though is that he can close that space quickly enough to bring Norwood down after a 4-5 yard gain and bring up a 3rd and medium. He's in fairly good position to do just that. In the image below you're going to see that he does indeed close the gap only 2-3 yards later: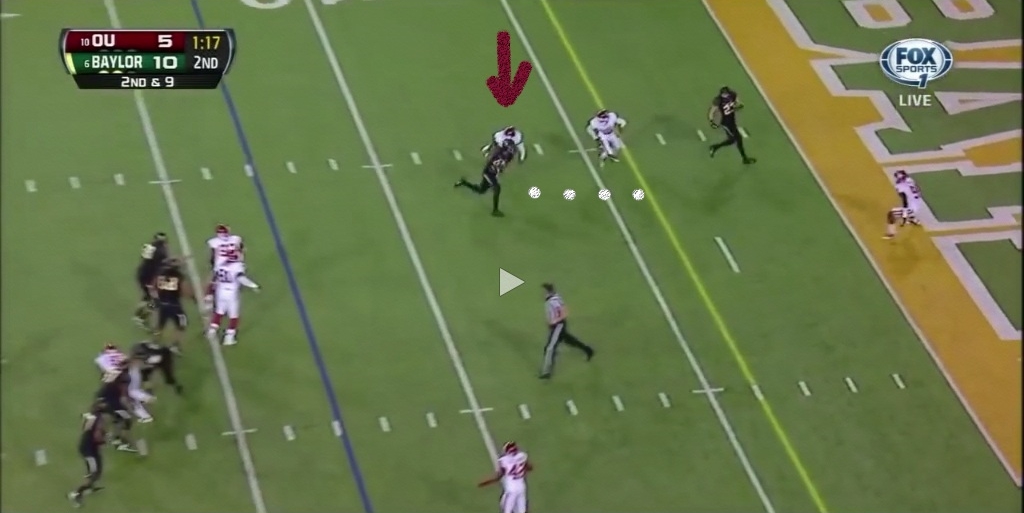 He's going to get his hands on Norwood here, but he's just a step too late and Norwood's momentum carries him forward for the first down.
SUMMARY
There are a number of other plays I reviewed from this game and others as I was writing this, and my general sense is that Julian probably wasn't quite ready to play corner last year. But what I also saw is someone who isn't far off in terms of development in his footwork and flexibility. Julian regularly does a good job of turning and finding the ball. He has good long speed and drives on the ball much better than I would have expected. I also think he turns his hips well, but he sometimes drops out of phase through the turn which can cost him a step. He seemed to have a tendency to stop his feet once he put his hands on a receiver to redirect, which is a very common mistake for bigger CBs.
In the film I reviewed however, Julian really does seem close. He might turn a half second too slow or or be a half step late. In other words, there aren't any major issues that I can see that would prevent Julian from developing into a CB this coming season. With all the work he has put in, I believe you're going to see a player with even quicker feet, more flexibility, and greater short area explosion.
All that will equal a 6'2″ DB that may very well win a starting CB spot and, assuming he's made some developmental strides, I feel confident that he can indeed find success at the cornerback position.