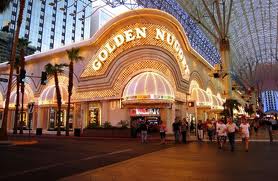 Golden Nugget Releases Their Early CFB Betting Lines
Posted on: June 13, 2014
Image via bettingtalk.com
I have to confess, this is one of my favorites days of the offseason. If we're going to be deprived of our Sooners for the entire summer, then I'll take any excuse I can find to talk and/or write about college football. And one of said excuses annually is the day the Golden Nugget releases their (ridiculously) early CFB betting lines. And I call them ridiculous because setting a line, let alone nearly 200 games as the Golden Nugget will do this year, this early can only be referred to as such. But it's still something fun to discuss in the doldrums of what is the CFB offseason.
So without further adieu, here are a sample of what was released. I'll give you all of the OU games/lines — in which they are a favorite across the board, though that's not really a surprise — and after some of the more interesting/relevant other Big 12 games/lines.
OU (-19) vs. Tennessee – Prior to these actually being released, I saw a projection that had this as high as OU (-26). That would have been way too high in my opinion, and while 19 is still a pretty big number against an SEC team it's at least more reasonable that nearly four touchdowns would have been. I'd also expect this number to come down, perhaps considerably, as I've read more than my share of crazy Vols fans who not only think they'll at least keep it close in Norman, but many who believe they're leaving with a victory. I called them 'crazy' for a reason.
OU (-17) @ West Virginia – Maybe it's just because of the last trip to Morgantown, but that feels a little high. I know WVU isn't supposed to be world-beaters this year, but I just have a feeling that road trip could be a tricky one.
OU (-14) @ TCU – Again, maybe a little bit high for what I'm expecting to be a hard fought game down in Fort Worth.
OU (-9) vs. Texas – Rarely would a double digit line (or something approaching that as it does here) make sense to me when it comes to this game. Obviously, the final margin routinely eclipses that mark but to predict that kind of win/loss always makes me nervous. It's just such a difficult game to project every year. I mean who the hell saw that coming last year? I know I didn't.
OU (-14) vs. K-State – If the Purple Wizard's squad lives up to expectations, then I could see this number settling somewhere closer to 10 (or possibly even lower) by game day.
OU (-22.5) @ Iowa State – That's a reasonably big number for a road game, even if that road game is in Ames. Still, unless something goes horribly wrong you'd have to think (or at least hope) OU can cover that.
OU (-11) vs. Baylor – If you can be surprised by a betting line put out this early, then this line surprised me. It seems pretty high, even considering the game is in Norman, when both OU and the Bears are considered to be the two clear conference favorites. Which is in no way to say Oklahoma is incapable of covering that number, but if you're asking me to put money down today (you know, if gambling were legal and all) I'm not entirely sure I'd feel comfortable doing so at that number.
OU (-10) @ Texas Tech – The game is being played in Lubbock. Strange things happen in Lubbock. That is all.
OU (-11) vs. Ok. State – Put a zero on the end of that number and it still wouldn't equal what I want to beat OSU by every year.
Other Big 12 lines:
Ok. State (+17) vs. Florida State – This isn't much of a surprise as their has been a line out on this game at online sports books for some time. Still, it's interesting to see just how little faith Vegas appears to have in the Pokes versus the defending national champs.
Texas (+8) vs. UCLA – The Horns nearly a double digit dog in their home state (game is in JerryWorld)? Ouch, bro.
K-State (+13) vs. Auburn – A little surprised this number isn't larger. Not saying it should be necessarily, just thought Vegas might have it there.
Texas Tech (-1) vs. Texas – Man, if you're one of those people that think the Horns are going to have a big year there is a lot of money for you on this board. Vegas is clearly not buying Texas stock this year if these early lines are any indicator.
Baylor (-9) vs. Ok. State – Seems low based on some of the other lines for these respective teams.
—–
So there you have it. Anything in particular stand out to you? Lines that are too high or maybe too low? Have at it in the comments below!