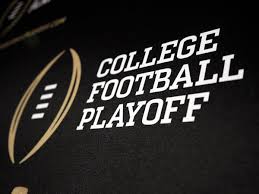 OU On The Outside Looking In Of CFB Playoff According To Latest Odds
Posted on: May 28, 2014
Image via fanspeak.com
So apparently if you tweet, even infrequently, enough about betting odds/lines, you to could find yourself on a gambling related email list including yours truly. Or at least that's how I assume I wound up on it. It's certainly not any great distinction mind you, but it does come in quite handy when odds are updated and/or new odds are released (you know, if you're into that sort of thing).
Today I received an email stating that Bovada, a prominent online sportsbook, had released their odds for this year's college football playoff.
| | | |
| --- | --- | --- |
| Team |  Will they make the Playoff? |    Will they not make the Playoff? |
| Florida State |  -350 (2/7) |    +225 (9/4) |
| Alabama |  +125 (5/4) |    -160 (5/8) |
| Oregon |  EVEN (1/1) |    -140 (5/7) |
| Ohio State |  EVEN (1/1) |    -140 (5/7) |
| Oklahoma |  +175 (7/4) |    -260 (5/13) |
| Auburn |  +175 (7/4) |    -260 (5/13) |
| LSU |  +225 (9/4) |    -350 (2/7) |
| UCLA |  +240 (12/5) |    -380 (5/19) |
| Michigan State |  +225 (9/4) |    -350 (2/7) |
Clearly, the defending national champion Seminoles are an overwhelming favorite to make the playoff. And, as you can seen, Oklahoma is sitting on the outside as the No. 5 team — from an odds perspective — tied with Auburn.
Ultimately, these odds could prove to be meaningless although as we sit here today not having played a single down that Top 4 seems pretty reasonable. It could also eventually prove just how slim the margin of error may be for any of the teams listed (or those that are not), but perhaps especially so for the Sooners.
Based on preseason rankings (which, again, are pretty much meaningless) and the general national perception, it doesn't seem as though many expect the Big 12 to be a particularly strong league in 2014. OU and Baylor enter the summer as the two clear favorites and while anything is possible in terms of others exceeding expectations, because of the Big 12 round-robin schedule one team performing better than expected almost has to mean another performing worse. Couple the league as a whole (assuming it's not the strongest of years) with a relatively lackluster non-conference slate for OU — barring an unexpectedly miraculous season from Tennessee — and a strength of schedule component might not offer the favor it has in years past for the Sooners.
The way the schedule sets up in 2014 for Oklahoma should lend itself to a legitimate shot at 12-0 or 11-1. Kansas State, Baylor, Oklahoma State, and the aforementioned Tennessee game all in Norman. But we are all too well aware that shady suspect cheating funny things tend to happen in Lubbock, so a late season trip to West Texas looks somewhat ominious. And we're coming to learn strange things can also happen in Morgantown as well. A road game at TCU doesn't figure to be a walk in the park either. And then of course you have Texas. Annually one of the most difficult games on the OU schedule to predict due to the nature of the rivalry. I mean who in their right mind saw last year coming? I know I didn't and I sure as hell don't have any interest in reliving it, so I'll spare all of you and myself by simply moving on.
Of course this is all speculation and there is almost no conceivable scenario I can envision in which OU goes undefeated and doesn't make the playoff. Then again having that zero in the loss column come December tends to have a way of sorting out your postseason plans for you.