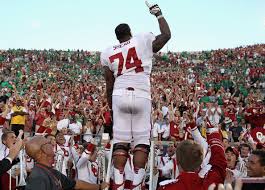 Bringing It All Together | Offensive Line
Posted on: August 26, 2014
Image via zimbio.com
LT: Tyrus Thompson
Redshirt Senior
6'5″ 336
Tyrus went down late against K-State in the 11th game last year due to a leg injury. He missed a couple of our biggest games in Oklahoma State and Alabama, but up until that point he was playing really well. In the first half against K-State we had run for over 200 yards, and before Tyrus hurt his leg it looked like we were going to run all over K-State at will in Manhattan. At that point it was the first game Trevor really looked good, and that game in my opinion was a precursor to the sugar bowl. Once Tyrus went down, the offense kind of went with him. Derek Farniok stepped in and for his first significant playing time, didn't play bad, but Tyrus was playing on a very high level to that point. His absence was really noticed against Oklahoma State, but by the time the Sugar Bowl rolled around Daryl Williams moved over to the left side and Bronson Irwin kicked out from his guard spot to play the right. With Tyrus healthy again, Oklahoma has a pair of potential All-Conference tackles in he and Williams. I look for Tyrus to have a big year. He's that typical left tackle who has a cornerback mentality of being on an island and locking down defenders.
LG: Adam Shead
Redshirt Senior
6'4″ 339
When Adam was a redshirt freshman, in my opinion he was hands down our best offensive lineman. On that power play, he was a force to be reckoned with pulling around into the hole. Blake Bell got a lot of publicity when we introduced the "BellDozer", but during that time it was often Adam who was leading the way while Blake was racking up those scores from close range. The next year, Adam hurt his back and was a warrior his sophomore year playing hurt for most of it.  In the big overtime win at home against O-State two years ago, it was rumored that Adam was really having a hard time walking in the second half. Like a true O-lineman, he fought through it and helped us pull out a big win. Adam is one of those guys who, when healthy, is a truly special player. He has those sledgehammer hands you hear me talk about all the time, and if he's finally healthy could really flourish in the scheme that Coach Bedenbaugh has now. I'm hoping he has a great year for the team and for sentimental reasons too. If Adam returns to form, there's no telling how good he could be. With him on top of the depth chart, he's for sure someone I'm going to be watching.
C: Ty Darlington
Junior
6'2″ 286
Ty is now in his 3rd year in the program. Like Gabe Ikard before him, he's a major brainiac (no pun intended, lol). Ty scored a 33 on his ACT, and a 2060 on his SAT. Typically your centers need to be the smartest guys on the team due to line calls and stuff, but with Gabe the last four years and now Ty, the center position at Oklahoma has stepped to the forefront of leading the nation in cerebral ability. Like Mark Stepnoski, who used to play center for the Cowboys, Ty is the small guy among a group of gigantic offensive linemen for the Sooners. Ty wrestled in high school, understands how to use leverage, and may be a bit more powerful than Gabe. While you can't replace the savvy and leadership a guy like Gabe brought to the table, I look for Ty to have a solid year in this his first as a starter.
RG: Nila Kasitati
Redshirt Junior
6'4″ 315
Nila's a guy that has played at left guard, center, or on the right side for the last three years. He's on top of my list of guys on the team I'd least like to meet in an alley, just because of the warrior reputation of the Polynesian people.  Naturally, Nila plays with a lot of pride and from time to time you hear little snippets coming out of camp about how he's just one of those guys who is for no better way to put it, a grown ass man. Nila spent time at both guard positions last year and is backing up the center position this year as well. That versatility is going to serve us well in case of an injury. His ability to slide to center or another guard spot while having Dionte Savage or Tyler Evans step in, depending on what the situation, is hugely valuable.  Next year, with three starters graduating, his leadership and experience are going to be what could possibly hold the o-line together.
RT: Daryl Williams
Redshirt Senior
6'6″ 329
Daryl is a guy, like Nila, who can play a lot of different spots. Unlike most right tackles, Daryl is a guy who is plenty athletic enough to play on the left side. Sometimes guys just feel more comfortable playing on one side or the other, and over time the word has been that Daryl prefers to play the right side. With Tyrus over on the left, and Lane Johnson before that, Daryl has quietly become one of the better offensive linemen on the team. Honorable mention All-Big 12 as a sophomore and 2nd team last year, Daryl is poised to become an All-American this year. His goals are to win the conference, a national championship, and the Outland trophy this year. By all reports, Daryl has worked his rear end off this summer and has been the enforcer on the team if anyone has been slacking in workouts. Coach Schmidt has raved about his work ethic this summer and that's rare praise from a guy who's normally pretty stoic. Once in a while on every great team there's that one guy you don't want to eff with. Forget even getting to the coaches, Daryl's the kind of guy the other players answer to. He's a guy who walks the walk every day and who everyone respects. That kind of attitude permeates through to the rest of the squad, and when you have a bull leading arguably the most important position group, anything's possible.
Backups:
G: Dionte Savage
Senior
6'4″ 343
Dionte started his first game against Alabama in the Sugar Bowl. There's a way to start your career right?! Well Dionte steps in and plays a heck of a game against Alabama, and now finds himself in a very crowded interior of the offensive line. There are four legitimate upper classmen guards who could play the two spots. Him, Tyler Evans and the two starters Adam Shead and Nila Kasitati, make this the deepest interior OU offensive line I can remember. Reports came out last fall about Dionte coming in and asking the other players flat out whose spot he was going to take. At a position where you have to play with attitude and be a guy with that kind of mindset, Dionte personifies the shift in body type and mentality that Coach Bedenbaugh has taken this position group away from since James Patton left town. No longer are the dancing bears en vogue, Bedenbaugh is bringing in guys like Joseph Paul 6'4″ 374, Orlando Brown 6'8″ 340, Cody Ford 6'4″ 340 and even at the center position with last year's Alex Dalton 6'4″ 282, you've got bigger framed kids who can naturally hold more weight. Couple that frame with the hard nosed nature that Dionte has, and you've got something to work with. His brother is a boxer and the guy comes from Flint, Michigan. Dionte strikes me as a guy who just wants to play. He'll fight you for everything he's got, and you can't help but love having a guy like that on your team.
G: Tyler Evans
Redshirt Senior
6'5″ 339
Tyler's another guy who I'm expecting big things from this year. Tyler tore his ACL and missed all of last year, but inadvertantly is a guy that Patton recruited who I think fits Bedenbaugh's system to a tee. He's a guy that has a reputation for being tough, hard nosed, and has been around a while. As a true freshman, he started four games and played in 11. Then in 2011, like Daryl Williams, was honorable mention All Big-12. With the shift away from opening holes laterally and depending on the defense to open themselves up to a more knock you off the ball type approach, Tyler is someone who I think could have been preseason All Big-12 had he played in the system last year. He's just a guy like Wes Sims from a few years ago who wasn't always the prettiest, but just found a way to get it done. While he's not starting, I expect him to get a lot of time and if someone gets hurt it'll be hard to keep him off the field.
T: Derek Farniok
Redshirt Junior
6'9″ 329
Derek got his first significant playing time last year when Tyrus Thompson went down against K-State. The following week against Oklahoma State he got his first start and played well enough for us to come out with a win. Given the interior depth we had with Savage and Nila, Bronson was able to show his versatility and kick out to right tackle while Daryl popped over to the left side against Alabama. I think it was more of a situation that you wanted to get your five best offensive linemen on the field against Alabama, and while Derek's no slouch, it gave you a guy in Bronson who was athletic enough to play right, who had a ton of experience. Daryl sliding over also gave you the most athletic, healthy tackle we had on the left. Now for Derek himself, he's obviously a giant. At 6'9″ he's got a reach that won't quit, and to me is a perfect fit on the right side, which is where he shows on the depth chart. Derek's hand usage and learning to unload those tree trunks is where he needs work. Being a technician with his hands is where Derek needs the most work. Watch the Tunch Punch videos if you have time to see what great hand usage can do for you. Derek is athletic enough to be a good tackle and if he learns how to work those hands, he could be a fortress. You know how those NFL guys love that size he has. Cock 'em and unload 'em, my man.
T: Kenyon Frison
True Freshman
6'6″ 300
Kenyon is the true freshman I see with the most chance to get playing time this year. With both tackles graduating and Farniok's move to the right side, both in the spring as well as on the depth chart, Coach Bedenbaugh needs someone to step up and take that left tackle spot next year. You have Daimler 6'7″ 300 and Grant 6'7″ 281 who are also gonna be in the mix, but I just think that Frison may get some time to get him ready to be in the mix mentally. He had most OU fans and coaches sweating up until the end of the signing period last winter, and he's someone who could be a great one with the right mindset.  With Orlando Brown being a guy who is a right tackle, Kenyon is a prototypical left tackle.  He's a knee-bender who looks more comfortable in pass protection and is just more of a natural athlete. Word out of camp has been that he's a young guy who has impressed early on. It wouldn't shock me to see him step in next fall and be the guy on the left side with Farniok on the right.
—-
Overall, this unit is the deepest I've seen us have in recent memory. Coach Bedenbaugh is truly an architect when it comes to building an offensive line. He knows the mindset and the skillset he wants, and he loves those versatile guys on the inside. Alex Dalton and Jonathan Alvarez who can both play guard or center, and guys like Bronson Irwin who play guard yet are athletic enough to slide out and play tackle in a pinch. You see that with Cody Ford in the upcoming class as well as Joseph Paul in last year's. He (Bedenbaugh) is a savant when it comes to getting it done up front, and I have to say that I'm more excited about the depth and production we could see from this o-line than I've ever been before.  There's a plan and clear vision in place, and I for one hope that Coach B sticks around for years to come.