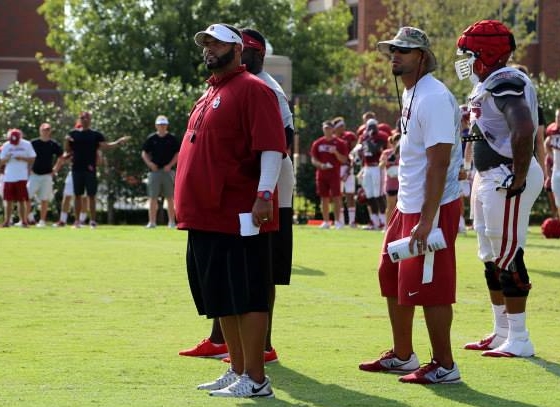 Bringing It All Together | Defensive Front (Updated 11:31 am)
Posted on: August 25, 2014
Image via Sooner Sports
So now that the off-season is finally over and OU's first game is upon us, I'll summarize what we've heard about the players from inside sources, media opportunities, etc. I'll go through each position group throughout the week starting with the defensive front.
Defensive Line:
– OU's starting 3-man front is Charles Tapper (DE), Chuka Ndulue (DE) & Jordan Phillips (NG).
– Tapper is a guy everyone expects a lot from, but he's also a guy who came to OU as a raw but athletic prospect. So it'll be interesting to see just how big of a jump he has made as he enters his junior season.
– Phillips, as you all know, was injured last year but towards the end of fall camp was taking more and more reps and will continue to do so leading up to La Tech. The big question is going to be how quickly he can get back to last year's form and then, how many snaps he can take? The coaches really feel like Phillips is a difference maker in the middle, and with some of the concerns about size and physicality at the inside linebacker position, Phillips' presence really helps OU's defense on the inside run game. Additionally, he gives Oklahoma a legitimate three points of pressure (both ends of the 50 front and in the middle).
– With Jordan Wade getting a ton of snaps last year in Phillips' absence, he should make for a solid back-up/rotation guy in 2014. And he actually showed some of the quickness we remember from his HS days in the Sugar Bowl to end the season. Wade looked more like a 1-technique last year instead of a 2-gap NG. He weighed a little under 300 lbs, but he's now up to 315 lbs and I'll bet he's just as quick, if not quicker.
– It's easy to forget that Chuka went from being an even front DE to a B-gap player last year. That's a significant difference and you could see early on him learning to deal with the physicality of play inside. I remember seeing him get washed down a couple times in the Texas game. But now he's stronger, his technique is better, and he's going to have a better feel for the angles that OL are going to attack him from.
– I think we all want to see what Charles Walker can do. He obviously has all the physical tools, but as Mike Stoops has said, he just has to work on being more consistent with his technique and being a player who will consistently make the play he needs to make. Walker, to me, has the look of a gamer. I get the feeling by mid-season he's going to be making a lot of plays. He's just going to need some time to get comfortable.
– Matt Dimon is a guy I'm really interested in seeing. Dimon was difficult (to say the least) to block in high school and even got some reps as a true freshman last year. We haven't heard much about him in the off-season, but I'm excited to see him on the field just because we all know that players can make their biggest jump between their first and second year.
– I haven't heard anything about Torrea Peterson. I liked Torrea in high school. He was quick off the ball and that's always the first thing I'm looking for in a defensive lineman. At times last year he showed that quickness, but unfortunately if you're playing the nose in this front your quickness, when not used properly, can easily take you out of a play which happened to Torrea. I almost wonder if he's quick enough to play strong side DE. He'd obviously bring great size to the position. Again, haven't really heard Torrea's name come up much so we'll have to wait till Saturday to see if he gets in the rotation.
– Another guy I can't wait to watch is DJ Ward. Coming out of HS, Ward was a quick kid that showed some good bend around the corner. Really looked like an even front edge rusher. When OU made the transition to the 30/50 front, I would have guessed that Ward would end up as a Jack LB. But OU has kept him at defensive end. He's definitely undersized and the move there doesn't seem intuitive, but Coach Montgomery has more than earned my respect. So if he's got Ward there, then I've got to think they see something they like. I will add though that it's not always easy for guys who are used to playing with their hand in the dirt to play standing up.
I spent an hour on the phone recently with a young man, who is a friend of mine, whose coaches were trying to explain to him how important it was, based on his body size, that he transition from a DE to a stand up OLB. It's just not something he feels comfortable doing. In the off-season, there was talk about beefing the defensive front up and they've clearly done that. But one of the things I was concerned about was losing some of the athleticism that we had. Some folks may look at the defensive line recruiting, or even look at the variety of defensive line player builds, and think OU lacks an identity there. But I believe, in fact, the diversity is the identity. Neville Gallimore and Gabriel Campbell, for example, have very different builds, but as such they each bring unique and specific tools that can be used in OU's front.
– I know there are some people that think OU might be a little overrated, but I'm not one of those folks. At least not on defense. Defense, as they say, starts up front and it's hard for me to see a scenario where OU is anything less than excellent in the front seven. OU had too many young guys getting serious playing time last year, and too many guys that are going to naturally take big steps forward both in terms of athleticism and technique to not have a great defensive front. And to me, that's going to help mask some of the potential issues as you get further and further back.
– UPDATE (11:31 am): So since this was posted this morning, OU has released a depth chart. A couple interesting things I wanted to comment on:
1. Torrea Peterson is indeed listed as a back up DE. So it appears they do believe he's quick enough to play the position.
2. Jordan Wade is listed fourth as an NG behind Romar and Peterson! I just spoke to a source and was told that Wade has NOT taken a step back. But Romar and Peterson have just gotten better and simply past him on the depth chart.