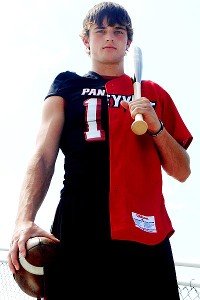 OU Quarterback, Cody Thomas, Expected To Make First Start For Baseball Team (UPDATED)
Posted on: March 19, 2014
Image via espn.com
As many of you know, Oklahoma's Cody Thomas has been pulling double duty this spring. When he's not battling it out on the football field for the backup quarterback job to Trevor Knight, he's on the baseball diamond as a reserve outfielder.
Thus far his playing time for both respective squads has been pretty limited, but word started to leak out Wednesday afternoon that Thomas was expected to receive his first career start for OU Baseball. The Sooners are facing Arkansas Little Rock for a mid-week contest.
The OU Baseball Twitter account typically posts the starting lineup prior to first pitch, but at the time of this post that had yet to occur. However, when they do you can expect Thomas to be included. We don't know yet whether or not that will be as an outfielder or possibly at the designated hitter spot, but OU fans can look forward to seeing their first real extensive action of the dual-sport athlete.
The game will be broadcast on Fox Sports Oklahoma with first pitch scheduled for shortly after 6:00 p.m. (CST).
– UPDATE: Thomas went 1-for-3 in the game, recording his first career hit as a Sooner (a single to right field). He also walked once and scored a run.