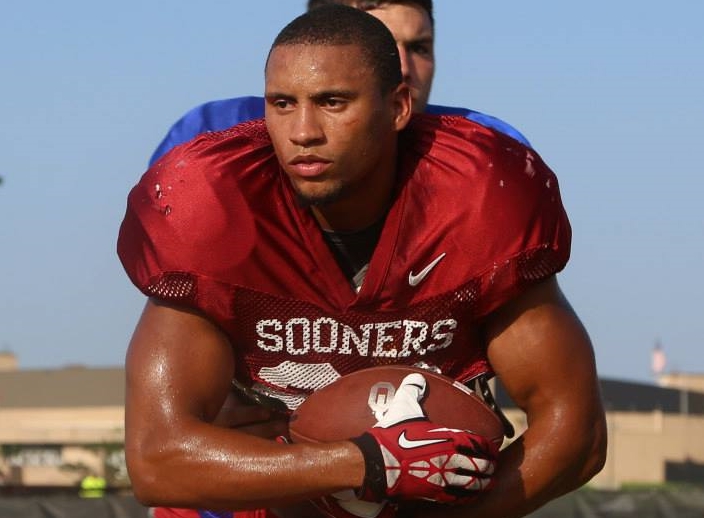 2014 Spring Prediction: The Light Comes On For Alex Ross
Posted on: March 4, 2014
Image via Sooner Sports
Following the departure of three seniors from the 2013 squad, Oklahoma's running back position could not possibly be more wide open as the Sooners prepare to begin spring practice this weekend (March 8th). While the trio of backs OU will have available this spring — Keith Ford, Alex Ross, and David Smith — certainly do not lack for talent, they also do not possess a wealth of experience. In fact, there are just 26 career carries between the three collectively.
After some albeit brief yet impressive glimpses as to his ability to run the football, many are operating under the presumption that Ford (a true sophomore) is the odds on favorite to win the starting job. But the enigma of the bunch remains the third year sophomore, Ross.
There is not a physical talent the Jenks (OK) product lacks in his game. 6'1″ 221 pounds and possessing legit sprinter's speed, Ross has every physical trait you would covet in a prototypical running back. However, since his arrival in Norman the hype of his abilities has yet produce any type of tangible substance. By most accounts, it has been the mental aspect of his game that has frustrated the coaches and been the primary reason for his lack of playing time. There have also been some rumors of maturity issues and one might say we saw a glimpse of that this past year in the ULM game, when Ross foolishly shoved an opponent's helmet drawing a personal foul penalty. Bob Stoops promptly removed him from the game, and Ross spent the majority of this past season almost exclusively on special teams duty.
Having watched this Oklahoma program closely over the past several years, it has become abundantly clear this OU coaching staff values trust over physical ability when/if forced to choose. If the coaches cannot trust you to be where you need to be when you need to be there, then it's going to be very difficult for you to find your way onto the field. Ross' position coach, Cale Gundy, spoke to this very point and in reference to why, as so many OU fans have been wondering, we haven't seen much of Ross to date.
"He's a beast," running backs coach Cale Gundy said on signing day. "He ran a 4.4 the other day and he weighs 221 pounds. He's strong as an ox."

"But there's more to it than running 4.4s and being strong as an ox," Gundy continued. "You have take care of the football and keep people off the quarterback. You have to know your assignments because we play fast." – Tulsa World
It's not all that different really than what happened with Roy Finch, another player OU fans were constantly clamoring to see more of during his time in Norman. Regardless of how talented an athlete you may be, if you're not putting in the work in practice and/or the coaches cannot trust you then, with this staff, you simply will not play.
And this is where we find Alex Ross with spring practices rapidly approaching.
Coming off a season in which he watched a true freshman, Ford, surpass him on the depth chart and receive the carries (even as minimal as they may have been) that he could have just as easily been his. Add to the fact that Oklahoma went out and signed Joe Mixon & Samaje Perine, two of the more highly regarded backs in the 2014 class, and the writing on the wall couldn't be much clearer for Ross.
It won't take very long at a school like Oklahoma and with a position coach like Gundy, both of whom have a long-standing tradition of churning out NFL quality running backs, before you're recruited over. And, if I'm honest, I think that's where Ross finds himself at the moment.
Gundy and OU have almost always used multiple backs, and I see no reason to believe that changes in 2014, but there are always going to be only so many carries for any offense, no matter how proficient. So, presumably, there could be a spot for Ross even if the light doesn't click on this year. But I'm betting the idea of that type of reserve role again in 2014 is leaves a really bad taste in his mouth.
I'll push my chips into the middle of the metaphorical table that this is the year Ross "gets it" and makes the necessary progress in the mental side of his game to pair with all of his physical gifts.
Now that doesn't necessarily mean I'm predicting he relegates Ford to the bench or dictates that Mixon redshirts, but I am predicting that OU fans will get to see the Alex Ross they have expected to see since he signed with the Sooners.
If a combo of Ross and Ford are the players OU fans can reasonably expect them to be, and if Mixon can live up to even half the hype, then Oklahoma should be just fine at running back for not only 2014, but years to come.