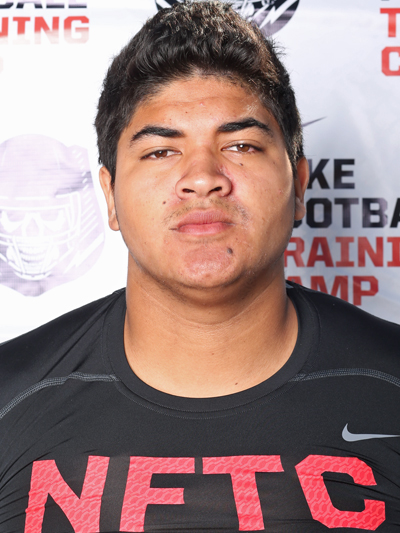 Thoughts On The Breiden Fehoko Committment
Posted on: April 15, 2014
Image from 247sports.com
Yesterday, we posted a note about star DLine Breiden Fehoko committing to Texas Tech. During this recruiting period, I've developed a good relationship with Breiden so I wanted to chime in and offer up some thoughts since he was at the top of Oklahoma's DLine board.
Over the weekend he and I had a few exchanges, and I got the sense that he was having a great time in Lubbock on his visit. I didn't read an incredible amount into the fact he didn't make it to Norman for his previously planned unofficial visit, only because we had discussed the possibility of him not being able to make it in prior to his trip to Lubbock.
The fact that he committed to Texas Tech also didn't necessarily shock me. I got the sense, while speaking with him, it was a very real possibility he would end up committing. But I'd be lying if I said the timing didn't surprise me. I really thought it would be one of those situations where he'd wait and take a few officials before making his commitment. Breiden has told me — and I know he has told Coach Montgomery — that he will take an official visit to Oklahoma. But the question is can Breiden really choose a different school even, if he wanted to?
I want to be clear that as I write this, I do so with Breiden and his family in mind. We are an all-access, free site, and we build real relationships with these players. So I always want to be respectful them, their families, and the things share with me. While at the same time, give our readers insight into the recruiting of a major Oklahoma target.
Fehoko was one of the top DLine recruits on Oklahoma's board, but he was also a guy that Montgomery personally loved and really believed he could get. And Breiden has a tremendous relationship with the OU DLine coach. Breiden often sent me unsolicited notes about Montgomery, like what a great guy and coach he is. Coach Montgomery was always real with him, he visited him and his family on multiple occasions, and he never pressured Breiden. And without going into too much detail, I can tell you that Breiden breaking the news to Montgomery was both incredibly difficult and emotional. He was clearly happy about his commitment to Tech, but also torn as well. It was very hard for him to give the bad news to Coach Montgomery, because of the real relationship they had built.
But the same great qualities in Breiden that made him wake up in the morning and have a very emotional conversation with Montgomery before he committed to Tech, are the same qualities that make Oklahoma's task here that much more difficult. Because, in the end, we can rattle off all the stats about OU's superiority as a defensive program, or a traditional football powerhouse. We can talk about scheme, NFL prospects, the fact that it's getting to be almost impossible to double team any OU DLineman because of the wealth of front seven talent, etc. But at the end of the day, Breiden has family ties to Tech.
Now if those family ties had been limited to a single player, then I think that would be easier to overcome. Especially given the fact that Norman isn't an unmanageable distance from Lubbock. And what I'm about to say may sound like I'm discounting the great time and relationships Breiden has built at Tech, but that is not my intent. I know he has a real love for Tech but putting that aside, it is my understanding that he has an older brother that is a GA on staff there. I can only imagine the pressure that his brother must have been feeling.
I know coaches on various staffs around the country. I also know GAs, and many of them are under a lot of pressure to get recruits. And I certainly don't mean to imply that his brother put pressure on him. I'm sure his brother and family have his best interest in mind. But when you take the combination of the energy on the Tech staff in general, the great time Breiden had, one brother on the team and another on staff, it's a tough combination for any other school to compete with. Put it this way, I would not want to be the GA on staff with a brother who was one of the most talented DLineman in the country that ends up signing somewhere else.
Having said all that, I think if Oklahoma is going to continue to recruit Breiden — and I've been told that they are — they are going to have to win over a family member. I have no doubt that if Breiden makes it to Norman, the odds are good he'd fall in love with Oklahoma. And, in my opinion, he'd probably like it even more than Lubbock. That isn't meant to be an attack on Texas Tech, but the simple reality is there is a reason Oklahoma rarely loses a player to the Red Raiders.
Oklahoma is a traditionally elite football program in every way, and the magnitude of that, in my opinion, would turn Breiden's head. Couple that with the fact OU may have one of the best and close knit teams/locker rooms in the country (in fact, the relationships the players have with each other at Oklahoma was one of the primary reasons Steven Parker signed with them last year),the relationship he has with Montgomery, and you're looking at a perfect program for a player like Breiden. And I have no doubt he would see that. The development at Oklahoma is second to none, and there might not be a better DL teacher right now than Jerry Montgomery.
But even if Breiden fell in love with all that Oklahoma has to offer, he'd still be forced to let somebody down. And in this case, it would be the Tech coaches, and potentially his two brothers as well. So, again, if OU is going to continue to recruit him then the key is not going to be convincing Breiden (I think he'll love OU). It's going to be getting the mother and father to see that Breiden, and ultimately the Fehoko family, will have the best opportunity at Oklahoma. And in my opinion, the key to that is the NFL.
There is no question in my mind that Breiden is an NFL prospect. Heck, he is already NFL strong. But he's also smart, quick, and impressively mature for someone his age. The question is will any of that matter if you play at a place not known to develop NFL DLinemen? Or at a place where there isn't enough help on the line, thus you're forced to eat double teams every play?
If I'm OU, that is my angle. And it is important to note it isn't an insincere one, it's authentic. I'd say the same thing to my own little brother. There are players who could be marginal NFL guys, but they're never going to take care of their whole family. After all, making it to the NFL doesn't just equate to being set for life. Breiden, however, has 1st round, multi-million dollar type talent! OU has to make the sincere case to him and his family that you don't risk that potential on a good sales pitch about the "bright future" a program may or may not have. You don't risk that even for a family tie.
You go with the surest bet…you go to a school like LSU, like Florida State, like Georgia…or like Oklahoma. And we all know "there's only one Oklahoma."