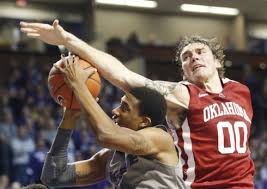 Defense, Not Offense, Will Be The Key To OU Advancing In Their NCAA Tournament Opener
Posted on: March 20, 2014
Image via blogs.kansas.com
Putting aside that for whatever reason North Dakota State has become the media darling and incredibly popular upset pick as most of America has spent the last several days filling out their NCAA Tournament brackets. Oklahoma is the higher seed and a favorite in the game for a reason. The Sooners are one of the highest scoring teams in the country — 7th highest, to be exact — and finished second in the regular season of what was arguably the toughest conference in the country this past season.
However, it is Oklahoma's defense that, in my opinion, will be the most important aspect of their tournament opener Thursday night in Spokane against the Bison.
North Dakota State is the No. 1 team in the entire country in offensive field goal percentage, shooting nearly 51% from the field as a team. That is a pretty remarkable number. And while that should worry any opponent, no matter the difference between their respective tournament rankings, it should be of even greater concern to an OU team that at times this season has offered very little resistance on the defensive end.
NDSU isn't shooting nearly 51% as a team because they're making over half of their 18-foot jumpers every night. They are incredibly efficient with their offensive opportunities and have the ability to get points inside and/or around the paint even while not possessing a ton of height on their front line. Anyone who has spent any time watching this OU team is more than aware that a team with a strong inside presence can give the Sooners fits. Well, that won't necessarily be the case Thursday night. Oklahoma matches up pretty well with the Bison from a height perspective, both along the front line and with each respective starting lineup.
However both in the early part of this season and also again here recently, we've seen this OU team give up uncontested layup after uncontested layup to opponents. That cannot happen Thursday night if Oklahoma wants to have any chance of securing their first post season victory under head coach, Lon Kruger.
As efficient as this North Dakota State team can be, you simply cannot afford to allow them those easy buckets. There will be (and have been) nights where OU is hot enough offensively that they can overcome their defensive lapses, but it's hard to see that being the case if you're giving up uncontested points to a team that already shoots nearly 51% from the field. It's not as though Ryan Spangler and/or D.J. Bennett are going to morph into dominant shot blockers over the course of this past week, but both they and OU as a team will have to match their offensive effort on the other end of the court.
If they don't, it could be one-and-done for the Sooners in the NCAA Tournament much like it was in last week's Big 12 Conference Tournament. But if they can match that effort and the shots are falling, well then the Round of 32 could easily be just the first of several stops for the Sooners in this year's tourney.