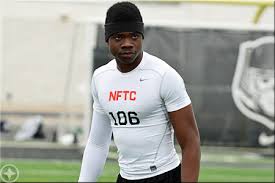 Open Post | Friday, May 23rd (UPDATE 9:20 am)
Posted on: May 23, 2014
Image of PJ Mbanasor via scout.com
Hope everyone has a happy and safe weekend. May God bless all who serve and served. And may He bless their families and our great country.
– Last night a couple Oklahoma targets released a list of their top schools. We'll start with Kahlil Haughton. Haughton's Top 10, in alphabetical order, is: Arkansas, Baylor, Duke, Louisville, LSU, Michigan, Ohio State, Oklahoma, Penn State, and Texas Tech. Not long ago Oklahoma was near or even at the top of that list for Haughton. I spoke to him last night and it sounds like other schools have reasserted themselves. Lately, he's had a little more frequent communication with schools like Texas Tech and Baylor than he has with OU.
He is still looking to make some visits, including over the summer. He's hoping to take a trip to Ohio State in June. His mother is actually from the Virginia area and if Kahlil ends up at a school like Ohio State, Penn State or Duke, she may move back to the area. I say that only to make the point that proximity advantages for schools in the south like Texas Tech, Arkansas, Oklahoma, LSU and Baylor aren't necessarily a factor. Haughton is also planning on making a trip to Arkansas this summer.
– Kahlil McKenzie actually released an ordered Top 12 list. The Top 5 in order consisted of: 1) Tennessee 2) Arizona 3) USC 4) Wisconsin and 5) Oklahoma. A few weeks ago McKenzie told me that OU and UT were ahead of Arizona. And a few weeks before that, he essentially said they were ahead of Wisconsin. I had anticipated Oklahoma would have come in around No. 3, but like most of you for the past month or so it's just felt like Tennessee will be really difficult to beat. McKenzie, as most of you know, has family ties to Tennessee.
Arizona is a school that has simply impressed Kahlil with pure recruiting prowess. He has also always spoke highly, at least when talking to me, of USC. The Trojans have the advantage of proximity, and of course he's built relationships with local Cali players, like Iman Marshall, who are seen as USC leans. Meanwhile, Wisconsin was his childhood home. And the reason he once told me that Oklahoma was ahead of Wisconsin, was because there was apparently a long period where there was little or no communication from their staff. But that appears to have been remedied.
Also, for folks assuming that Oklahoma landing in the Top 5 ensures that OU will get an official visit…unfortunately that isn't the case. McKenzie has told me that is not a certainty since he has already seen OU.
– Coach Bedenbaugh recently stopped by Apopka, HS in Florida to visit fullback Chandler Cox and OT Martez Ivy. OU, of course, has ties to Apopka through C Ty Darlington and his father. At one time Cox was adamant about his desire to take an unofficial visit to OU this summer. I caught up with him recently and while he still wants to take the visit, it definitely sounded less certain than it had in the past.
– One of the top JUCO OTs in the country, Jamal Danley, recently named Oklahoma and Miss. State as his leaders which sounds like good news. However, in talking to Danley it sounds like Miss. State is going to be tough to beat. And I'll be quite honest with you, it's always hard to beat out the two big state schools for Miss. JUCO kids (for a variety of reasons that I won't go into). Danley, however, definitely understands the kind of talent OU has produced at the OT position and obviously there will be a big need in the next year. We'll keep an eye on this one obviously, but it feels like Miss. State the school really out in front right now.
– This past week Oklahoma offered JUCO NG, Deonte Reynolds. I caught up with Reynolds, and he's definitely interested in Oklahoma though he has no publicly stated leaders at this point. After watching a few clips of his film, I thought perhaps the offer was made as an OL. But Reynolds confirmed the offer was made to him by Coach Montgomery and it was for the defensive line. I plan on speaking to him more in the coming week, but had just wanted to initially check in with him.
– Unfortunately, I don't have much great news for y'all and the not so great news continues. I spoke to PJ Mbanasor earlier this week, and he will be putting out a Top 7 next week. And while Oklahoma is still certainly in it, and perhaps even still at the top, there are definitely some other schools that have made an impression on him. In fact, he said the school communicating with him the most right now is Ohio State. And the Buckeyes are definitely a school he is very interested in. I'll leave the rest for us to discuss next week when he releases his Top 7. He does still plan on getting up to Oklahoma next weekend with his parents, and the Sooners are still in a good spot with him. But just not quite as strong as they may been in recent weeks.
– For those of you who missed it, Oklahoma made their first contact yesterday with Spiro ATH McKinley Whitfield. Last night he spoke on the phone with Mike Stoops. McKinley was attending his cousin's graduation in Ft. Smith yesterday, so I wasn't able to get the details of the conversation but I'll definitely catch up with him later. It's hard for me to imagine that OU would see his film (and his frame) and not offer him. He's a no-brainer for just about any program, in my opinion, and certainly for an in-state school. And fair warning, you can expect us to talk about Whitfield a lot. I love this kid's film and I'm going to pump him every chance I get.
– Back in April we were first to report when Kingfisher TE Jace Sternberger was invited to Oklahoma's spring game. Since then OU has been by to visit him and his teammate Kaden Clay Jackson. We haven't done a full evaluation of Sternberger yet, but we hope to relatively soon. We have however had some communication with him and plan on getting to know him even better. Sternberger is really starting to intrigue me. There isn't much film of him blocking, and it appears the reason for that is he just started playing TE last year. In fact, as a freshman he was a 5'8″ QB and as a sophomore he was up to 6'1″. He also recently measured in at nearly 6'4″ at the NFTC!!! And get this, at the state track meet last year he ran the 200 in 21.8 secs!
That length and athleticism alone is very intriguing to me. We look forward to getting to know Jace more and, of course, taking a deeper look at his film. But he's definitely a guy firmly on our radar, and it appears OU is watching him as well. And they aren't the only ones. Missouri, Arkansas and Oklahoma State all dropped by Kingfisher last week to see Jace and Kaden. Jace told me this summer he is working on his stance and being more explosive in the blocking game. If Sternberger adds that element to his game along with his size, athleticism, and hands, he could see his recruiting really pick up going into his senior season.
And nothing would make us happier as we love seeing all these Oklahoma kids get recruited.
– UPDATE (9:16 am): Recent OU offer & 2015 TE Josh Moore tweeted this morning that he'll be making yet another trip to Norman next Saturday.
I will be visiting OU next Saturday ! #BoomerSooner

— Josh Moore (@JoshMoore81) May 23, 2014
– UPDATE (9:20 am): And with the news early this morning of OU not making the Top 5 for Justin Hilliard (one of their top 2015 LB targets), the Sooners have apparently moved on to another 2015 Ohio linebacker in Anthony McKee Jr.
Just got offer by @OU_CoachKish at Oklahoma #TheresOnlyOne #Sooners

— Anthony Mckee Jr (@_xHeSuperSoLo) May 23, 2014