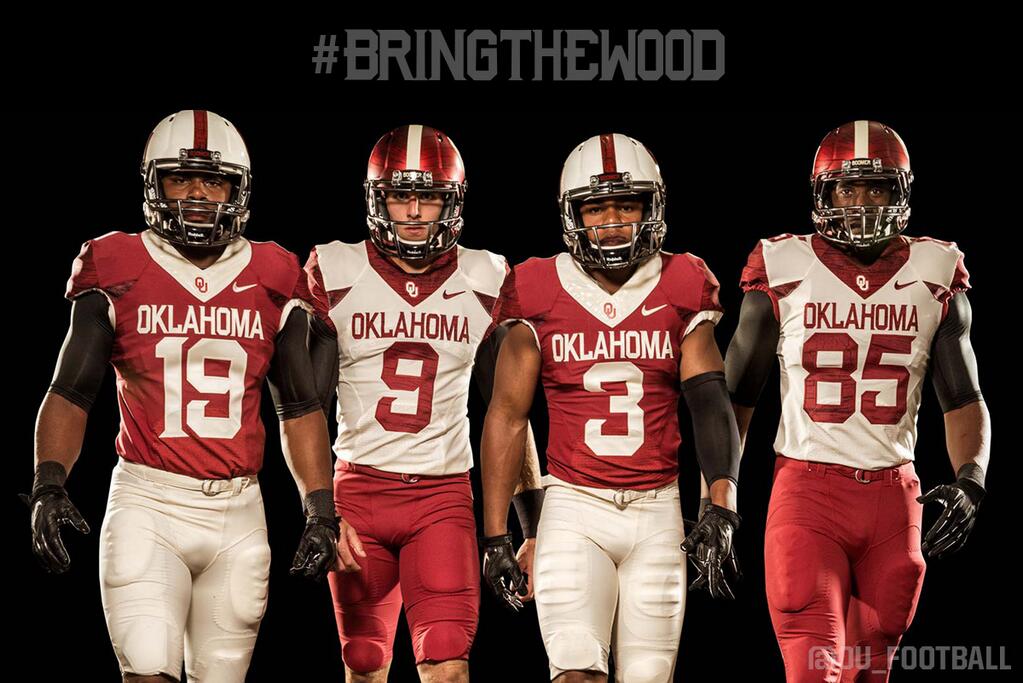 OU Football Announce Alternative Jersey Plans For 2014
Posted on: July 1, 2014
Image via @OU_Football
In an oddly timed announcement, coming in the midst of national attention focused squarely on the U.S. Men's National Team and the World Cup, OU Football released to the public plans for a newly designed alternative jersey dubbed #BringTheWood.
Alternative jerseys has long been a hotly contested subject amongst Sooner Nation with the majority typically falling on the side of unfavorable due to some fear that they would somehow affect the tradition of OU Football. Meanwhile, the simple fact of the matter is these type of things – in addition to something like the also recently announced stadium renovations – are a necessity in the current world of college football. Primarily with recruits who are looking for all different type of reasons to choose a school than they were even five to ten years ago.
If the initial reaction immediately following the announcement are any indication, then the vocal majority appear to be against these new uniforms. However, I'd simply ask you to consider the opinion of those who will be actually wearing said new uniforms. The reaction from OU players has been overwhelmingly positive, and many a recruit have similarly followed suit.
I suppose it's all well and good if you don't like them, and your opinion will and certainly does matter as OU will undoubtedly be asking you to buy these at some point.
As far as I'm concerned, if the players/recruits are on board then that's good enough for me. Nothing about today changes the tradition of OU Football, in my opinion. In fact, I commend those in charge at OU for recognizing they needed to adjust their hard stance against this type of thing.
You can be unhappy that this is a necessary evil in today's world of college football, but I'm not sure I understand how you can be happy that OU is now willing to allow themselves to compete on a level playing field.
All pictures below are via Sooner Sports.