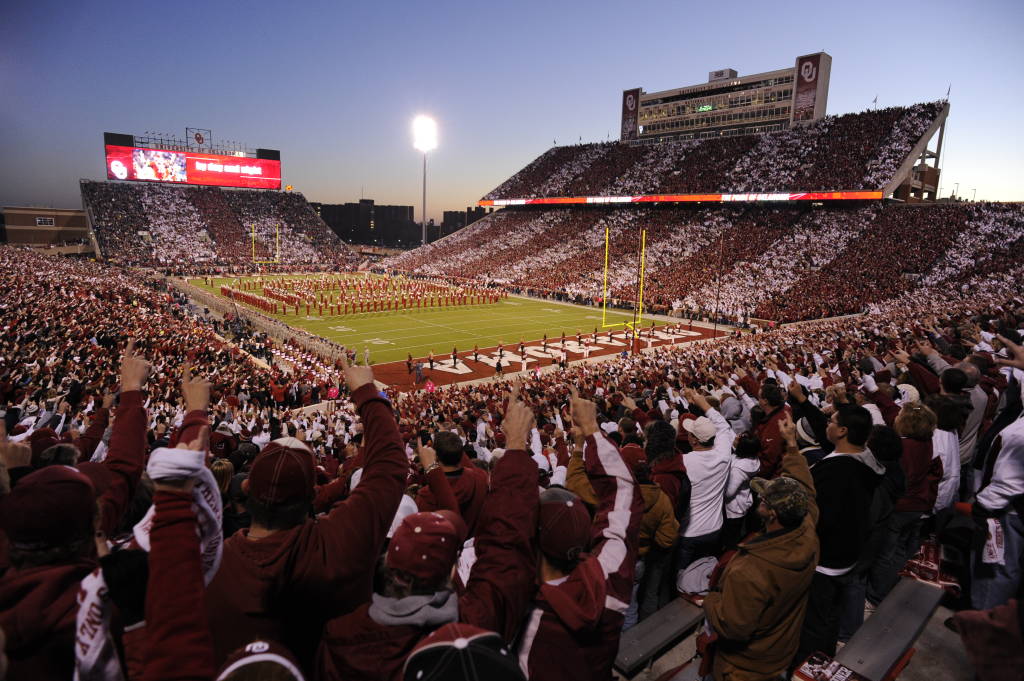 OU Director Of Athletics, Joe Castiglione, Discusses Stadium/Arena Renovation Plans
Posted on: February 27, 2014
Image via Sooner Sports
Oklahoma's Joe Castiglione appeared on a local radio station Thursday afternoon in an interview that centered primarily on the rumored stadium and arena renovation plans OU fans have been so curious about. While — as you would expect — he was unable to get into specifics, Castiglione did speak to what the goals were with the projects and what OU fans might have to look forward to.
Below I've transcribed a majority of the interview that took place, but for those of you with short attention spans here are some cliff notes.
* The goal, in his words, is NOT to expand Memorial Stadium. At least not primarily. That could happen as a result of the overall plans, but they are not going into it with a specific goal of increasing the seating capacity.
* In his words, the two primary goals are (1) "the best possible facilities for our student-athletes", state-of-the-art and (2) improve the fan experience.
(With so many people these days choosing to stay home and watch games on their 50 (or whatever) inch high-definition flat screen televisions, every team — be it college or professional — has to strive to give fans a reason to want to get off their couch and come watch the game in-person. I believe that, among other things, is what he is specifically addressing when referring to the 'fan experience.)
* Direct quote – "The prevailing thought right now is to try and get as close to bowling in the south end zone as possible."
* The south end zone and press box are the focus of their "master plan study", but it will also include a variety of other aspects including the surrounding areas of both venues. He specifically addressed an expansion of the weight room.
* The reference to 'hundreds of millions of dollars' was made, which would be in line with what we told you hear earlier after 2014 commit Jonathan Alvarez shared with us what he was told during a visit.
* Lloyd Noble Center seating will definitely not be increase, almost assuredly will decrease.
* In short, every plan (within reason) is being considered. It sounds like they're in the 'no idea is a bad idea' portion of the planning.
Full transcript of the interview:
– When asked about upgrading LNC & Owen Field:
"Well overall it's to try and create the best on-campus college venues there are, at least take the best of what we have and make it even better. You get into master plan study like we are in, we put everything possible on the table trying to consider what could be done with existing facilities. And some of the ideas may be far fetched when you put 'em on the table, but it has to be examined because some of the great creativity and innovation that serves our fans originates with some outlandish ideas. But in conversations like we're having right this minute, I know our fans would want me to be much more specific than I probably can because to many it's just as easy as "do this" or "do that" but it's not that easy, particularly when you're dealing with facilities of the age we are. In the case of the LNC, you're talking about a 40-year old facility. And in the case of our football stadium, we have one that's inside of ten years of reaching its 100th year.
Over time there have been some great additions and I think when those additions were completed they were significantly helpful to expanding seating capacity or meeting whatever need might have been at the time and that was great, but when they were constructed there wasn't a lot of vision at that time other than just getting that particular part of the project done. So when a stadium gets expanded or modified kind of on a case by case basis or a bit of a piecemeal basis, we understand those decisions were the right one at that time but it does create a more difficult challenge when you want to do something in addition if it wasn't constructed in a way where it allows that to happen easily.
Having said that, I can tell you in the case of both LNC and the stadium there are two predominant goals. 1) The best possible facilities for our student-athletes, state of the art. That's always been our goal. And because in both cases our teams our housed at the facilities where they play and practice that has to be taken into consideration. And the other goal (2) has to be fan experience. So we're talking about access to amenities, to the seating bowl itself, a variety of different things. All the items you would consider in today's electronic age. And it's not just what we know, it's what we can anticipate coming our way in the years to come. We don't want to modify this facility that is obsolete the day we start using it. We're trying to really have that forward thinking."
– When asked about specifics like expansion and the weight room:
"The seating capacity may be altered to some degree, but that is not the goal. The goal is the student-athlete facilities and the fan experience. If the seating capacity gets altered, it will be because we felt like the choice of the fan experience created the altering of the seating capacity. So in the case of the LNC, we certainly aren't looking to make it bigger. If anything, there is a good chance the seating capacity will get smaller because of the alterations we are making to create a better experience for our fans. In the case of the football stadium, it remains to be seen. Obviously with a 90+ game sell out streak, one might think the seating capacity is the driver of all and it's not. It may go up some, but we aren't trying to look to expand like some of the other schools are doing. If you do the market studies, or look at the market studies that are being developed all across the country, there's not a lot of data that supports significant expansion of stadiums in the foreseeable future. More notably, how we localize that is the population of the state of Oklahoma. If we could anticipate a significant increase in population in the state of Oklahoma, then you have some far reaching thinking there that a larger stadium might be, you could make a case for it. People that are coming, people that have bought our tickets all the time want a better fan experience and our surveys support that.
The other piece I mentioned, the state of the art facilities, would definitely include a modification to our weight room. It probably would mean expansion. By how many square feet, that remains to be seen. Dealing with the south end zone right now, could involve a significant modification. I mean completely different seating bowl than what we look at right now, completely different. And obviously we're looking at what it would take to make that happen and what it does to the facilities that exist underneath the south EZ grandstands. The prevailing thought right now is to try and get as close to bowling in the south end zone as possible. The geometric design of the stadium doesn't allow us to bowl it in exactly how it looks on the north end, but it would get very close to looking like it does connect.
Anything as far reaching as making every seat in the stadium a chair back, that is a great goal but knowing the way the stadium is designed right now, easily we would lose seating capacity. And so to recreate news seats for those that might be lost, you have to look into the cost of what that means.
I can just tell you that any kind of innovative or creative idea we can possibly think of, or that we can see happening somewhere else, we're putting on the table to see how viable it is to apply here at Oklahoma. We want our stadium and arena to be considered amongst the best there is in viewing the sports that compete there."
– When asked about the press box and additional suites on that side of the stadium:
"Both the south end zone and the press box are part of the master plan study, as is everything around the stadium. Some are so innovative we don't want to just throw it out there right now because some of the things we're talking about could change the marketplace. And usually, when you talk about Oklahoma, we like to be a first mover when you get to those kind of things, be the innovator. Everything you could think of is being discussed. You're easily talking about hundreds of millions of dollars.
These are transformational kind of decisions. These are not just do something for the next five years kind of decisions. These are 50+ year kind of decisions.
We know everybody wants to know what the end results are, believe me. There's no one moving faster than we are, so we'll be able to announce this as soon as possible at the time when we get through studying it."