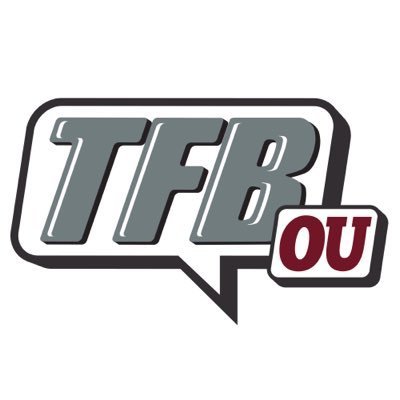 Open Post | Weekend, September 7th – 9th
Posted on: September 7, 2018
Quick Hitter | NewWave19 Star Set To Return To Action?
– Charlie S
– Touched base with the Sooners NewWave19 quarterback commit Spencer Rattler earlier this week and he let me know that he is expecting to return to action for Pinnacle HS this week as his Pioneers take on Jserra HS (CA).
– Rattler hurt his lower leg on August 24th in a game against Mountain Pointe (AZ) and missed his game last week.
– Being the competitor that he is, Spencer simply said "I'm ready to go this week. I feel good".
– I will post a link to view his game on YouTube in a thread on Friday
---
Marcus Stripling Sets Official Date
– Super K
I know it's early but wanted to get this information out to you all. I chatted with 2019 DE/DT, Marcus Stripling and he let me know that he has set up his official visit to Oklahoma.
He plans on being in Norman on October 27th for the Kansas State game.
After watching Perkins, you can see the difference it makes when you land these stud defensive linemen.
---
Where is Levi Draper?
– Super K
I know many of you have asked why we didn't see Levi Draper on the field at linebacker this past weekend. For some, this was particularly surprising since walk-on linebacker, Bryan Mead found his way onto the field.
As you'll recall, before the season, James and I both mentioned that Draper was in a tough spot at WILL with Buzzy and Caleb ahead of him. So, this isn't a huge mystery.
***Based on what I'm told, Levi is on the scout team giving the Sooners offense a good look because the staff feels good about Caleb and Buzzy at the WILL.
***As a member of the scout team, a player isn't being afforded the same chance to take reps and go through film for the actual defensive assignments. As such, it would likely be difficult for Draper to simply be thrust onto the field without more opportunity to take reps in practice and go through film.
***On the flip side, a source said that Bryan Mead is the headiest linebacker OU has. Also, I'm told he knows both the WILL and the MIKE positions inside and out. So, he's actually not only able to play both positions but he can help young guys like DaShaun White learn the position. With the way the Sooner staff feels about White's ability, this makes Mead that much more valuable.
***It should also be noted that Draper was injured in 2017 and missed the entire season.
***Again, it's not a huge mystery. It's a numbers crunch but Levi is young and we surmise he will get the chance to continue to develop this year and be ready to compete for time on the field next fall.
---
Jacoby Jones Update + Insider Note
By: Super K
As you all know, this past weekend, the Sooners hosted 2019 JUCO DE, Jacoby Jones for an official visit. I had a chance to speak with Jacoby on Monday night.
Things went well, "It was higher, you know, better than I expected. But I knew from the first time I had come that it was going to be live and yeah it was".
Jones, as you'll recall made an unofficial visit to OU for the BBQ back in July. He was offered that same evening.
Jones is a big guy at 6'3 250 lbs but said that the Sooners are recruiting him as a "Jack" LB, though with OU showing more four-man front alignments, that's not as surprising as it might seem. "There's definitely an opportunity to get on the field right away at Jack", Jones noted.
The OU staff, I'm told, would like to have Jones in the fold, but they've never been a high-pressure staff, "They didn't pressure me at all. I felt comfortable and they respected my process with things".
In terms of additional visits, Jones says he is visiting Texas (biggest threat) in November. And, in terms of a commitment timeline, he said, "Waiting it out right now. Just playing it by ear".
But could something happen sooner than perhaps Jones is letting on?
If you would like to read Super K's Insider Note on Jacoby Jones, please click the Donor Link!
---
2019 DE David Ugwoegbu Visit Schedule
– Super K
I recently spoke with 2019 defensive end, David Ugwoegbu (Katy, TX). He tells me that his visit schedule currently like this…
*TAMU this weekend for the Clemson game (unofficial). TAMU staff is hosting a ton of recruits this upcoming weekend. They're banking on a massive atmosphere and a solid performance by their squad.
*Return trip to TAMU for an official visit.
*OU official visit for the Bedlam weekend on November 10th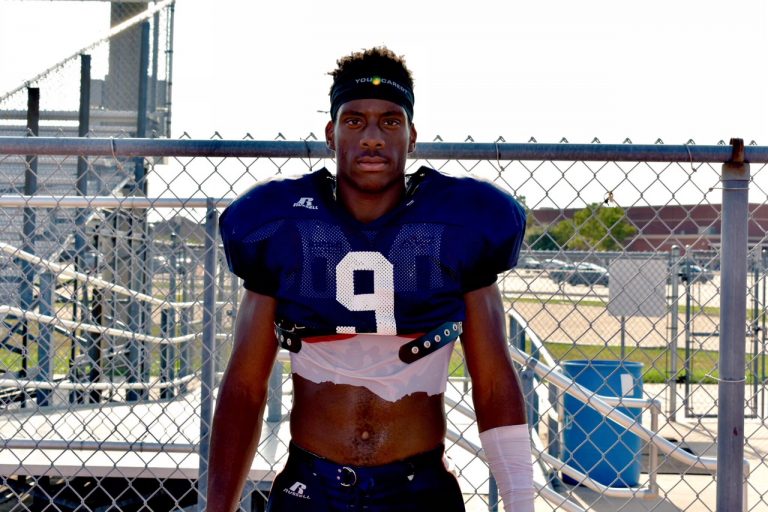 I have also spoken with a source on the OU side and am told that Ugwoegbu is a high priority for the Sooners. So, don't be surprised to see them push for David to bump his official visit up to an earlier date.
Again, this one is an OU vs. TAMU battle with TAMU having the edge right now.
---
Ruth Cooper | A Mother Takes On Recruiting
– Charlie S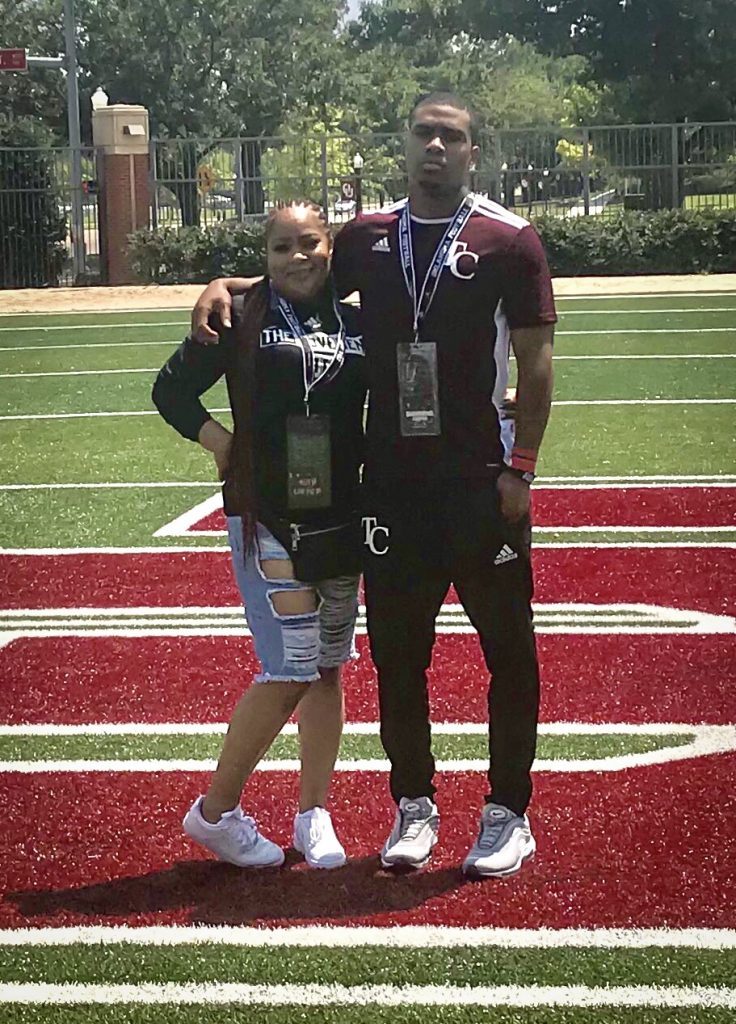 Earlier this summer, the Sooners held their ChampU BBQ mega recruiting event. The event is generally a good indication of who the Sooners are sincerely focused on recruiting as it is an invite-only affair, and typically it is attended by only the commits and top priority targets for the Sooners.
Among this year's attendees were 2019 Linebacker Shammond Cooper and his family out of St Louis. I was able to connect with Shammond's mother, Ruth, who if you recall, provided one of the more memorable quotes in our "TFB Quotables" thread the day of the BBQ when she said:
"FAMILY AFFAIR!! I couldn't believe how ALL the coaches participated in everything! Even the president! Pie and water balloon fights! (three heart emojis)"
Once the BBQ was over and the hype surrounding the event had dissipated a bit, I reached out to Ruth and asked her if she would work with me to help bring you all a look at recruiting through the eyes of a mother and she graciously accepted my request.
The first topic we covered was the recruiting process itself. I asked Ruth if she felt stressed, or if she felt as though everyone was trying to sell her something. She replied:
"No, it's not necessarily stressful. I would say it's exciting and fun for me." She added, "But I am sure to ask Shammond every day, 'where are we going? (which school) and are you OK?' Because sometimes I wonder if it is stressful for him"
Ruth continued by saying "I just started going on the college visits. It was always the boys, Cory (Shammond's former high school coach Cory Patterson who is now at Illinois) and his dad. Now that he's been to a few, it's been all love. She said, "I feel that they (the schools) want Shammond in their program! I don't feel like it's a sales pitch. But there is one school that has me wrapped around their finger!"
I asked Ruth what is the most important aspect of Shammonds recruitment from her point of view. After getting to know Ruth, just a little bit, I was not at all surprised when she said:
"It's really pretty simple. I want Shammond to go somewhere that feels like family (home for him). I want him to go to a school where he can grow to become a productive young man both on and off the field".
The next topic I wanted to cover was how she perceived the relationships with the different staffs which are recruiting Shammond. I wanted to know if the OU staff did anything unique that separates them as we constantly hear from recruits and their families about the feeling of 'family' in Norman. Ruth told me:
"I have only been to Oklahoma and Illinois. When I met Lovie Smith (Head Coach at Illinois) I felt like he's really recruiting Shammond. All the coaches did. As for the OU Staff, Ruth said, "Oklahoma coaches stay in touch a LOT. I only met them at the barbeque and I am looking forward to going back".
Ruth continued by saying "The best part of the barbeque for me was walking up and hearing them announce Shammond's arrival on the intercom. That was really nice. Everything was awesome. The staff, the program, the school, meeting coach Riley and his family. I LOVE OKLAHOMA".
I remained in touch with Ruth after the BBQ, not so much to learn about Shammond's recruitment, as we have that covered quite thoroughly, but rather to get a mothers side of the recruiting game. As I have worked with her, one thing which became incredibly obvious to me is that she is Shammond's biggest fan. As it should be.
And that is among the many reasons I admire her so much.
As a father, as someone who speaks to these young men who are being recruited, and having been a young man myself at one point, I truly believe that all of these kids need support every hour of every day as they go through the process of making what is potentially a life-changing decision as well as with their daily decisions.
Ruth provides that support for her son both privately and publicly.
Whether or not Shammond and the Coopers wind up as Sooners at the conclusion of his recruitment is yet to be seen. However, two things are certain in my mind:
1. Shammond is fortunate to have all the support in the world from his mother and the rest of his family.
2. Ruth Cooper is doing a helluva a job raising her son and that will pay dividends which cannot be measured off of the football field.
---
Quick Hitter | Kelee Ringo 2020 DB
– Charlie S
***Back in April, the Sooners extended an offer to 2020 defensive back Kelee Ringo out of Scottsdale, AZ (Saguaro HS). I touched base with him at the time and he was very excited about having received the OU offer.
***Yesterday, I was checking in with a few 2020 kids and I was able to exchange a few messages with him.
***I asked him if he was still in touch with OU and he said, "Yes, sir, I have been talking to Coach Riley and Coach Cooks".
***I asked him if Cooks and Riley are talking to him about setting up a visit and he said, "Yes, all the time, I definitely will be taking a visit. If not in the spring, then in the offseason".
***Ringo is a 6'2″ 190 lb. defensive back. He currently is designated as a corner by the services, but with his size and physical attributes, he certainly fits the mold of "do everything" defensive backs that the Sooners covet.
I find it particularly notable that Riley is already fully engaged with 2020 kids, in reality, all of the ones which OU is recruiting. Having the head coach involved so much in recruiting kids two classes out is such a stark contrast to the past for the Sooners and every time I talk to these kids I am reminded of that fact. (Not casting any shade at Bob, he did his thing, his way)
Truly is a new age of recruiting for the Sooners.
I'll keep in touch with Kelee and bring you updates from time to time.
---
Jaylan Knighton | Up Close
– Super K
Last Friday I had a chance to see 2020 Sooners running back commit, Jaylan Knighton, in person, as his team Deerfield Beach (FL) made their way up to Georgia to face Buford.
First, I have to say, I completely understand why OU has been recruiting Deerfield. Deerfield is absolutely stacked with speed and talent. They have multiple division one players on both sides of the ball. They've even got guys who are division one players that don't hold division one offers. Buford has plenty of talent as well and they're well coached but it only took me a few minutes to recognize that Deerfield's speed was going to win them the game, eventually. In fact, I told Jaylan's father that.
Deerfield pulled out the win.
Again, the team Deerfield went against is stacked with talent themselves. In fact, OU offer and Duke defensive end commit, Ahmad Craig plays for Buford. So, there wasn't a ton of room to run for either team.
Up close, Knighton is bigger than I expected. He's listed at 5'9 173 lbs. I would be very surprised if that's all he weighs. He's probably 5'10 now and looks much bigger than 173.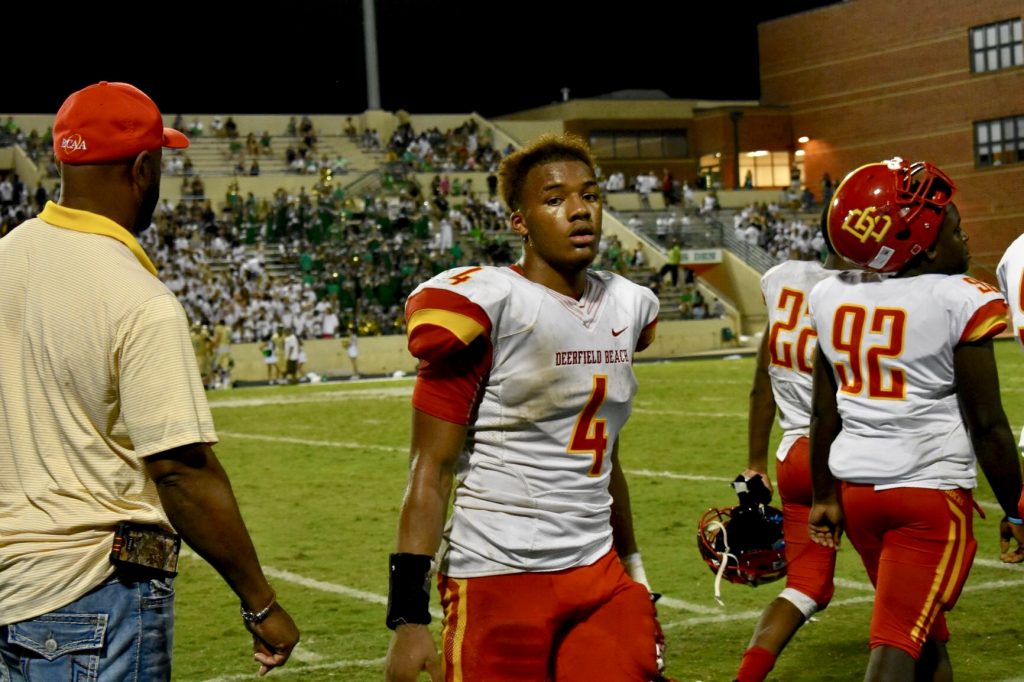 The man who has his back turned in the picture is actually Knighton's father. He's around 6′ and well put together. He played football at Louisville. He looks like he could still play. My suspicion is that Knighton is going to end up being 6′ before it's all said and done. Like I said, he already has a sturdy build and frame, and I think he's going to be a pretty devastating combination of size, speed, and power as he gets older.
On the field, he's vicious. Deerfield threw the ball quite a bit and Buford did a good job against the run but when Deerfield did run, one of the things that stood out to me is how violently Knighton runs and attacks defenders. He throws caution to the wind and when contact is made, Knighton is dishing out more than he's taking. Late in the game, when Deerfield needed to put together a scoring drive, despite all the division one talent on the team, they put the ball in Knighton's hands.
There was one point where I heard Knighton and the defenders make contact and it was so loud I was sure someone wasn't getting up. But Knighton got up before the defenders did. He'll fight for every yard and when he makes a decision to go, he's going without hesitation.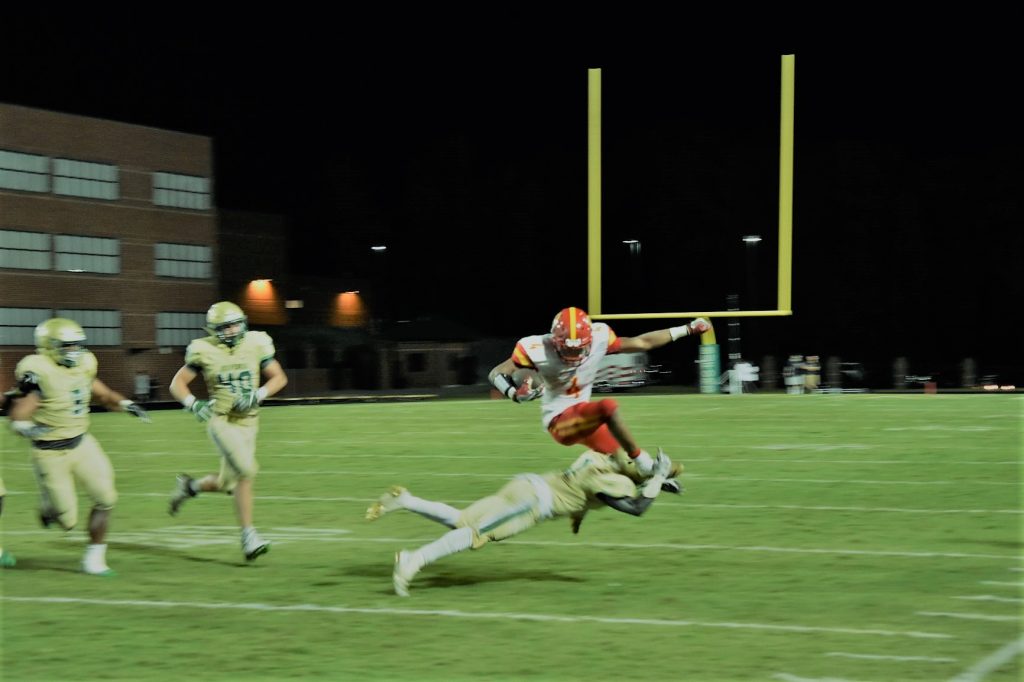 Knighton has that twitch you want in a back. He can explode through a crease or make a guy miss. But what he has that other backs often don't, is the homerun speed. Deerfield put the ball in the air a lot, in part, because I'm sure it was as obvious to the Buford coaches, as it was to me, that number four could house it in one play.
In terms of Knighton's recruiting, he seems to be all OU. He was wearing his OU gloves and at one point between drives when he'd taken them off, he put them back on, unprompted, for the camera.
Knighton is a mature young man. You see it on the field and on the sideline. But apparently, it's noticeable within his recruitment. His father noted that he, himself, felt that it was probably too early in the process for his son to commit. However, he said, Jaylan was confident in OU and comfortable with the decision, so they let Jaylan commit.
From what I can tell you, he's solid to the Sooners, and OU landed a complete back in Knighton.
---
Sourced Notes | Lincoln Riley Scouting Talent
– Super K
I had a very interesting conversation with a source earlier this week about a couple of things related to Lincoln Riley's process/thoughts on recruit evaluations. And to be honest, both of the notes were music to my ears.
***Was told that Riley has the staff actually evaluating walk-on prospects. As in, they treat the job of evaluating walk-ons at the high school level very seriously.
I've already mentioned that Riley meets with walk-ons, individually and had done that back when he was an OC for the Sooners. But apparently, it's not just about what they do on campus, for him it's about finding the right guys to have on campus.
When you're digging down into that level of detail at the place like OU where you get plenty of scholarship talent, it's an incredibly positive sign.
***A source told me that while OU has always had their own evaluation process, independent of the ranking sites/publications, Riley has taken that process to another level. Or perhaps a better way to say it is he's stripped things all the way down and begins the process at the… beginning, independent of the rankings.
In fact, I was told that he will actually pull up a higher rated player and a lower rated player in cases where he prefers the lower rated player and show the guys to the staff just to make the staff aware of the fact that he wants guys that *they* believe can play, independent of the outside perception.
Now, obviously, a lot of times that's going to overlap. But the point is, he's taking more a Nick Saban/Gary Patterson approach which is extremely independent of outside opinions.
Source added, he doesn't care how high Oklahoma is ranked in the recruiting polls.
---
Visitors List | Week Two: UCLA 
– Charlie S
Official Visits:
Stacey Wilkins – 2019 OT – Camden, AR – OU Commit
Jonathan Perkins – 2019 LB – San Bernadino, CA – OU Commit
Marcus Hicks – 2019 DE – Wichita, KS – OU Commit
Kori Roberson – 2019 DL – Manvel, TX – OU Commit added 9/4
Unofficial Visits:
Theo Wease – 2019 WR – Allen, TX – OU Commit
Austin Stogner – 2019 TE – Plano, TX – OU Commit
Trejan Bridges – 2019 WR – Carrollton, TX – OU Commit
EJ Ndoma-Ogar – 2019 OG – Allen, TX – OU Commit
Jaxon Smith-Njigba – 2020 WR – Rockwall, TX