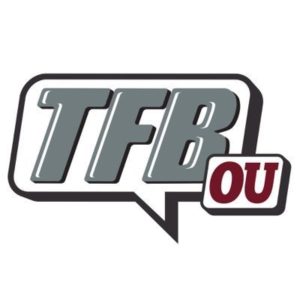 Open Post | Weekend, September 1st – 3rd
Posted on: September 1, 2023
2025 OT Ty Haywood is a Big Fan of Coach Bedenbaugh Early On
– CJ Vogel – Posted on: August 28, 2023
The 2025 class is shaping up to be a strong one in the trenches, specifically on the offensive side of the ball.
Among the top of the bunch will be Denton Ryan OL Ty Haywood. Currently ranked as a top 50 national player, Haywood shined Thursday night in his season opener against New Braunfels.
Thursday was the first time since the spring of his sophomore season that I was able to see Haywood in action. He is up to 285 lbs and college coaches have taken notice.
"I am loving it," Haywood said of the process thus far. "I love the hype."
Haywood said he was asleep when college coaches were able to connect with 2025 prospects for the first time, but he did wake up to calls from anyone and everyone in college football.
The four-star prospect named Texas Tech, Texas, OU and Oregon, and added that "anybody you can name" had some sort of message out to him. Oklahoma's Bill Bedenbaugh has done a great job establishing an early relationship here.
Haywood has taken great notice of what Bedenbaugh has done during his time in Norman. Especially the number of prospects he has developed into being NFL prospects.
"Bedenbaugh is freaking amazing," Haywood said. "All of the guys he's gotten to the NFL – including the greatest, Trent Williams. Creed Humphrey too. All of them."
You can credit Bedenbaugh and the OU staff for instilling the fact that Oklahoma's offensive linemen have generated the most money of any program's offensive linemen in the NFL into the brain of Haywood. That was something he brought up almost instantly when we talked Oklahoma after the season opener.
"Hopefully I get up (to Norman). I have been up there three or four times. I love the environment, it is amazing up there in Norman. I went to the (spring) scrimmage, it was packed out. Freaking amazing, I love it."
Alabama is a school to keep an eye on here. Haywood said that he has been a fan of the Crimson Tide since he was six years old and referred to Alabama as "my school" in the interview postgame.
Regardless, long ways to go here. Bedenbaugh and the Sooners have caught his attention and proximity to home certainly will help in their favor.
Oregon, Texas and Texas Tech are in the mix as well.
---
The Latest | '24 DT Dominick McKinley
– Charlie S – Posted on: August 29, 2023
***'24 DT Dominick McKinley is set to announce his verbal commitment this weekend
***As we have reported previously, most of the chatter we have picked up over the last month or so revolved around Texas, LSU, OU and Ohio State
***I mentioned in the comment section yesterday when someone asked about McKinley that most of the buzz as of yesterday was around Texas, Texas A&M, and Ohio State with LSU fading and no substantial mention of OU.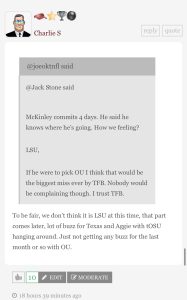 ***Last night, reports started to surface on the scene about the Sooners making a late push with some going as far as having Texas completely out of the picture.
***Unfortunately, at this time, we still have not had any sources pointing us toward OU for McKinley.
***As I mentioned yesterday, we have been told that LSU believes they will not be the pick at this time. But we still think that says less about OU and more about the likes of Texas, TAMU and possibly Ohio State.
***If we get anything pointing to the Sooners, we will bring that to you.
---
2025 DeSoto DB Sael Reyes a Big Fan of Coach Brandon Hall
– CJ Vogel – Posted on: August 29, 2023
A new name to the Texas in-state recruiting scene is 2025 DeSoto DB Sael Reyes.
I caught him in action against Allen on Friday night, in what was his first game of Texas high school football since moving in during the spring from Illinois.
The 6'1″, 180 pound defensive back is brothers with Texas A&M star safety Antonio Johnson meaning colleges were quick to notice the athleticism running through the family genes.
Currently, Reyes holds 25 offers with Oklahoma having been involved since February. Along with Sooners is Texas A&M, Texas, Oregon, Arkansas, Florida State and Michigan according to Reyes. For the time being, every school that has gotten involved in this recruitment has pitched Reyes as a box safety at the next level.
On the Oklahoma front, Reyes' relationship with the staff and more specifically safeties coach Brandon Hall has positioned the Sooners in the front group early on.
"I love the staff at Oklahoma," Reyes said. "Coach Hall, the safeties coach, he is just amazing. When I went down there on the 26th of (July) – he just preached and showed us the defense."
What Coach Hall showed Reyes was defensive scheme that involves four safeties on the field at a time for the Sooners, something that quickly caught the attention of the rising DeSoto star.
"I can get on the field early."
Above all, the relationship with Coach Hall is keeping the Sooners in the top group for Reyes.
"He is a good man," Reyes said of Coach Hall. "He preaches football, but at the same time, he is breeding young men. That is a great thing that he is doing down there."
Reyes said he wanted to visit Ohio State, Michigan, Wisconsin, Texas and Ohio State. He obviously has ties to the midwest, but staying close to his new home in DFW has risen quite a bit on the proximity.
On top of the priority list is education for Reyes who mentioned perhaps going into sports management upon getting to college. Next on the list is staying close to home for his family to be able to come see him each weekend.
Texas A&M already has ties with the family and will likely present the toughest opposition on the road to securing this recruitment.
---
TFB OU Radio | Week 1 of 2023
– The Football Brainiacs – Posted on: August 30, 2023
The offseason is over and college football is back!
Charlie and Ryan are on the mics once again to bring you the latest intel surrounding the Oklahoma Sooners as they begin their 2023 campaign.
First podcast of the season has been uploaded and is ready to roll.
---
Devon Jordan | The Latest
– Super K – Posted on: August 31, 2023
***Checked in with a source regarding Sooners 2024 in-state 4-star DB target, Devon Jordan (Union). Here's what I've heard…
***In terms of a timeline, I'm told he's getting close but still has some visits left in September. Sounds like he is targeting an October commitment.
***I'm told that while some schools including the Sooners were hoping he'd do something a bit sooner, he is fine taking his time with it. But, again, October is the estimated commitment timeline.
***I'm also told that it seems to be a three team race between OU, TCU and TAMU. TCU does have a bit of an inside track as Devon's coach played for the Horn Frogs. Don't know how much that will factor in but I believe Devon is set to take a return trip to Fort Worth in September ahead of his commitment.
***I'll be honest, I didn't think this one would end up being as tight as it is. And nothing so far is giving me enough confidence to trend this in any particular direction including OU's.
---
Arkansas State Visitor List
– Charlie S – Posted on: August 31, 2023
As noted earlier in the week on Monday HERE OU will be hosting a pair of official visitors as well as a pair of important unofficial visitors::
Official Visitors:
OL – Daniel Akinkunmi – London
EDGE – Danny Okoye – Tulsa, OK
Unofficial Visitors:
S – Michael Boganowksi – Junction City, KS
ATH – Terry Bussey – Timpson, TX
Additional Unofficial Visitors OU is expecting to be on campus:
2024
OL – Joshua Aisosa – Edmond, OK – OU COMMIT
DB – Eli Bowen – Denton, TX – OU COMMIT
DB – Jaydan Hardy – Lewisville, TX – OU COMMIT
QB – Michael Hawkins – Frisco, TX – OU COMMIT
DB – Mykel Patterson-McDonald – Oklahoma City, OK – OU COMMIT
RB – Xavier Robinson – Midwest City, OK – OU COMMIT
2025
OL – Michael Fasusi – Lewisville,TX
OL – Owen Hollenbeck – Melissa,TX
DT Ka'Mori Moore – Lee's Summit, MO – OU COMMIT
WR – Jaden Nickens – Oklahoma City, OK – OU COMMIT
ATH – CJ Nickson – Weatherford, OK
DB – Colin Peacock – Gunter, TX
TE – Nate Roberts – Washington, OK
QB – Kevin Sperry – Midwest City, OK – OU COMMIT
WR – Elijah Thomas – Checotah, OK – OU COMMIT
RB – Michael Turner – North Richland Hills, TX
DT – Xavier Ukponu – Denton, TX
DB – Jonah Williams – Galveston, TX
---