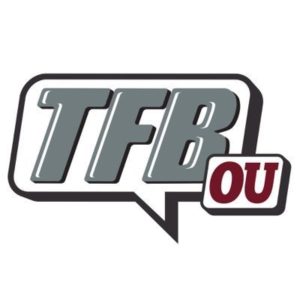 Open Post | Weekend September 15th-17th
Posted on: September 15, 2023
TFB Radio | Week 3 of 2023
– CJ Vogel – Posted on: September 14, 2023
The season continues!
Welcome to week three.
Oklahoma and Tulsa will kick off Saturday at 2:30 pm. Sitting at 2–0 on the season, the last non-conference game of the season gives one last chance for the Sooners to sure everything up. Ryan and Charlie take a look at what to expect this weekend as well as tackling a number of other topics surrounding the Sooners.
---
Quick Postgame Thoughts | OU Beats SMU 28-11
– Charlie S – Posted on: September 9, 2023
Oklahoma moves to 2-0 on the year as they defeat SMU 28-11 in front of a sold out crowd in Norman.
It was a sluggish offensive showing for the Sooners but the defense was stellar.
Some quick thoughts…
***First, I feel like this was a game OU finds a way to lose last year. Simple as that. SMU cut the lead to three at 14-11 at the start of the 4th quarter and if this was last year, we would have known how this was going to end.
***However, the offense found some life and answered the Ponies and the defense stood up and had several important stops which is a sign that this team is capable of playing complementary football. Something to feel very good about even if you are disappointed with how the game played out.
***Gonna share a couple thoughts about the offense while trying not to be too reactionary and I will start by saying…Dillon Gabriel needs to look around. Like, he literally needs to look around the field more. He completed 19 passes and the vast majority of them were to his left. I do not have the exact count, I will wait for PFF for them, but at halftime only two wide receivers had caught balls and Andrel Anthony had 5 of them and the other receiver had 1.
***The offensive groups being on the same page needs to happen more consistently. One drive the offensive line is good but the others are off. Next drive the QB looks good but everyone else is off. Then the Wide receivers are on but everyone else is off…kind of the way it went all night for the offense.
***As far as personnel choices go on the offensive side. I have questions. I am not a coach, I don't pretend to know more than them so there is some reason we didn't see 2 and 27 run the rock tonight, but I can say I personally find that odd and a bit concerning.
***It felt like the offense was playing on half a field with one hand tied behind their backs for most of the night. Late in the game, when Gabriel actually looked to his right, the Sooners found success on multiple plays.
***The offensive line was not good at first look, and neither were the wide receivers as they dropped way too many passes. We will see how good this SMU defense actually is as the season progresses, but throughout the week, we did talk about that being a good looking unit coming out of last week.
***The Sooners defense appears much improved. One of the key moments was when OU up 10 and got the stop after the offense scored in the 4th quarter, Thats a great sign. Last years team did not do that. And they played well for four downs on that drive.
***Good news, in my opinion, this SMU team is about the level of teams OU will see every week. Definitely a middle of the road Big 12 type of team to me and it may actually be closer to the top of the Big 12 than the bottom.
***Thought the defense did a good job of getting some push and making Stone move around, just still coming up short of paying it off with a bunch of sacks and tackles for losses. But OU did a great job defensively, no doubt. Getting off the field on third downs against this offense was very impressive. OU held SMU to 4-16 on 3rd downs.
***One last thing about the offense…if you cannot stretch the field in this offense it becomes pedestrian. The idea is to create splits to put defensive guys in conflict and go vertical. If you cannot, or do not, stretch the field, it's dink and dunk as we saw tonight and it's not very effective.
***OU did get an interception from Justin Harrington late in the game but they dropped a couple other potential turnovers.
***I understand it was a frustrating game at times, and we will go over it this week, but the good news is, I honestly do not believe OU wins this game last year and the defense had a really good night against a pretty potent offense.
***I'm gonna leave it at that before I get too critical of what we saw from the offense tonight because I don't just want to throw something reactionary at you all. Gonna let it digest a bit before I sit down and put it in print…but needless to say, there were some concerning things displayed by both the play on the field and the calling of the game.
---
Position Group Progress Report | '23 Game 2: SMU
– Charlie S – Posted on: September 11, 2023
Checking out how the position groups performed in the Sooners victory over SMU. Coming into the game, OU was a big favorite over the Mustangs and they covered the spread.
This will be the second progress report of the season. I will include the previous week's ranking at the top of each position group's report.
Let's see how things shook out against SMU.
---
QB: Low 4* (Last week 5*)
Dillon Gabriel did a good job of managing the game.
He took care of the ball and wound up being credited with 4 touchdown passes.
Dillon Gabriel was not asked to do anything extraordinary and he had a very average game as he did not hurt the Sooners nor did he elevate the offense to a higher degree than what any other functional QB could have done.
His stat line read 19 of 27 for 176 yards which was good for a 6.5 yard per completion with 4 touchdowns.
The Sooners only attempted 1 pass over 20 yards and 4 passes for more than 10 yards. Gabriels average target was 3.9 yards downfield.
RB: 3* (Last week 3*)
Oklahoma ran the ball 47 times for 189 yards which was good for a 4.0 yards per carry average.
Tawee Walker led the way with 21 carries for 117 yards which went for 5.6 yards per carry. It was fun watching Walker bowl his way down the field.
The rest of the group…very meh.
Marcus Major had 8 carries for 39 yards and Jovantae Barnes and Gavin Sawchuk combined to carry the ball 3 times for 6 yards.
This group underperformed my expectations for them this year and when we asked sources about the situation with Barnes and Sawchuk, they indicated that both are healthy and this was a coaching decision.
For one reason or another, this group has not shown much progress from week one to week two. We will see what week three brings.
WR/TE: 2* (Last week 5*)
Another spot where the personnel use was a bit questionable.
Only three wide receivers caught passes against SMU with Andrel Anthony leading the way with 7 receptions which were good for 76 yards and 1 touchdown. He continues to shine.
Jalil Farooq had two catches for 33 yards and his first touchdown on the season and Drake Stoops pulled in a pair of catches.
Austin Stogner and Blake Smith each had a reception at the tight end spot. There were multiple occasions where Stogner was left wide open, but Gabriel did not get the ball to him. He also missed his assignment on a couple occasions in the blocking game so overall, it was not a great day for him.
This game was very reminiscent of the past few years for the WR room with short rotations, key drops and some key missed assignments. A lot of the goodwill that was created last week was wiped off the board in my opinion.
OL: 3* (Last week 4*)
They were not as bad as advertised, but they certainly did not take a step forward when compared with week one.
The line had several penalties at the tackle spot and left guard had a rough outing overall.
Savion Byrd got yanked after some lazy efforts early on and Troy Everett came in and did a decent job spelling him, but he did struggle in the run game.
However, it was not a terrible outing as it appeared to be while watching it live…it was just…I guess the best way to put it is 'disjointed'.
The big fellas did a decent job in opening lanes, they just struggled at the second level and the timing with the running backs is just not there at this time. Hopefully, the timing starts to come around as they enter game three.
They looked average. That's not the look anyone wants to see.
DL: 4* (Last week low 4*)
Bothroyd, Laulu, Lacey and Down started the game and I really feel like they had a sneaky good game despite the lack of stats.
Trace Ford also stood out to me as a guy who had a nice game.
While the Sooners didn't put up the sack numbers we are all craving, they did a very good job of making Stone move and getting pressure, both from the edge and up the middle for most of the night.
R Mason Thomas and DaJon Terry also flashed.
Overall I think it was a really nice effort for the defensive line as a whole, particularly against the run as they limited the Ponies to 117 yards (3.4 YPC).
Get me some stats and the 5* is near!
LB: 5* (Last week low 4*)
Big day for Danny Stutsman who really looks like the guy who received all the praise from the coaches and sources throughout the offseason.
Stuts was named the Walter Camp National Defensive Player of the week with his 17 tackle, 1 sack, 2.5 TFL performance.
Kip Lewis had 9 tackles of his own and looked really free and loose as he just continues to come in and make plays when he gets his chances.
Jaren Kanak added 4 tackles and had a couple important PBUs. While Kanak had a good game, he still is thinking a bot out there and it shows in his coverage responsibilities at times but his growth and development is evident and he is on a great trajectory.
Really nice outing by the group and when Kobie McKinzie finally got his chance, he came in and made a loud impact.
Cheetah: 4* (Last week low 4*)
With Dasan McCullough out against SMU, the bulk of the work was left to Justin Harrington.
Harrington had a nice day as he picked up his first interception on the season to go along with four tackles despite getting dinged up (knee) early on.
The one thing we are not seeing a lot of this year to this point is the defense dialing up pressure from the Cheetah spot, I think that is something we will see in the coming weeks.
Solid day for Harrington who played through a thin room and an early injury.
DB: 4* (Last week 4*)
Woodi Washington remains steady Eddie over at his corner spot and is rarely challenged. Hes been targeted 7 times this year and has given up 3 receptions while allowing a total of 9 yards after catch.
Gentry Williams started opposite him and he got dinged up early, came back in and then returned to the sideline for the night after taking only 15 snaps.
Kani Walker came in for Williams and did a solid job. Makari Vickers got in the game for 5 snaps as well.
Safety was a bit of a mixed bag as Billy Bowman struggled early in coverage, but Key Lawrence played a solid game and had a forced fumble on a really cool looking play.
Reggie Pearson was better in coverage than Key was (and Bowman at times, particularly early) but Peyton Bowen, the true freshman, looked like the best defensive back on the field for the Sooners.
Bowen was physical, solid in coverage, and taking great angles throughout the evening.
ST: 5* (Last week 5*)
Made all the kicks.
Kickoffs were good.
Peyton Bowen blocked a punt.
No big returns allowed.
Special teams big play and no mistakes makes that another 5* day.
---
Quick Injury Note
– Charlie S – Posted on: September 11, 2023
As you know Justin Harrington was dinged up in the game against SMU.
This afternoon we reached out to sources who told us that he is still undergoing evaluation.
Based on what we have heard, it would not be surprising to see him miss some time.
We are waiting to hear confirmation on the seriousness of the issue, but it was at least serious enough to warrant further evaluation.
---
Developmental Program Showing Signs of Development | Defense
– Charlie S – Posted on: September 12, 2023
Over the course of the first two weeks of the 2023 season, the Sooners defense has certainly passed the eye test and they look like an improved unit.
While the sack numbers are actually down from a year ago, there is one statistic that paints the picture of dramatic development and improvement when compared to last season.
Tackling is an integral part of playing fundamentally sound football, and so far this year, the Sooners are very good at it.
Take a look at some truly jaw-dropping statistics when comparing the start of the 2022 season and the start of the 2023 season.
2022: UTEP 85 plays. 13 missed tackles. Kent State 74 plays. 20 missed tackles.
2023: Arkansas State 51 plays. 3 missed tackles. SMU 84 plays. 4 missed tackles.
For those who want it in more concise terms…OU had 33 missed tackles in the first two games in 2022 while having SEVEN missed tackles in the first two games of the 2023 season.
That, ladies and gentlemen, is the tangible proof regarding development that we like to sink our teeth into.
As I mentioned in last week's podcast, following the Arkansas State game the thing I was most impressed by was the tackling by the OU defense.
Not only did they back that up with another impressive effort against SMU, but I would dare say SMU had the most skill talent they faced in any of the four games we are analyzing. As Captain Obvious would say, better skill position players make tackling more difficult which makes it even more impressive that OU had a better statistical night against SMU than they did against Arkansas State.
Something to keep in the back of your minds as OU heads to Tulsa…last year in their third game against Nebraska, the Sooners had 13 missed tackles in that game.
One goal I would like to see the Sooners meet is that once the dust settles on Saturday night, the Sooners don't even have 13 missed tackles…combined…over the first three games of the 2023 season.
One last thing for those wondering. Last season the Sooners only had two single-digit missed tackle games over the course of the entire year. Those games occurred in back-to-back games in weeks 7 (Kansas with 7 missed tackles) and week 9 (Iowa State with 5 missed tackles).
Very impressive start to the season for the OU defense in respect to tackling.
---
DB Recruiting | Update
– Super K – Posted on: September 12, 2023
The Sooners 2024 DB class currently looks like the following…
Jayden Hardy – safety out of Lewisville (TX).
Jeremiah Newcombe – cornerback out of Queen Creek (AZ)
Eli Bowen – cornerback out of Denton (TX)
Mykel Patterson-McDonald – safety out of Westmoore
It won't surprise you to hear me say that last year's defensive back was, at least on paper (and I'd say will prove to be true on the field), a much better defensive back class than the current one.
Fortunately for OU they did put together some good young talent last cycle and this cycle the focus has been on upgrading the interior defensive line. It appears they have done just that.
As I mentioned last week, Oklahoma is still in pursuit of in-state DB Devon Jordan. I believe he has a trip scheduled to TCU later this month and as I said, I'm hearing a decision will come in October with TCU, TAMU and OU being the schools to watch.
The Sooners are also still waiting on a decision from Michael Boganowski (Junction City, KS).
I did speak to a source about how things are likely to shake out if they don't land Devon and Boganowski. I was told that unless something comes up – a new really talented player they want or they win big and some opportunities come up that weren't there before – they're likely to see where things are later this year in the portal an the JUCO ranks.
They like what they have on campus and don't want to take any reaches. I personally think that's wise as I think they may have one or two in this current DB class as is.
---
Sourced Cheetah Note
– Charlie S – Posted on: September 12, 2023
***Just got off the phone with James who passed along a note on the Cheetah position.
***As you know, OU is dealing with some injuries there to Justin Harrington and Dasan McCullough.
***We do not think it is likely that Harrington go's this week as we first reported on Monday HERE.
***Venables mentioned that he is hopeful that McCullough can go at his presser today, but that is still to be determined.
***Source tells James Reggie Pearson has been and will continue to get reps this week at the Cheetah.
***Source also mentioned that OU is getting true freshman Sammy Omosigho reps at the Cheetah this week as well.
***James will have more on the back end of the defense tomorrow in his write-up.
---
3 Things I Expect to See – 3 Things I Want to See | Tulsa
– Charlie S – Posted on: September 13, 2023
The Sooners head to Tulsa this week to take on the Golden Hurricane. Tulsa is 1-1 on the year as they opened the season with a 42-7 win over Arkansas Pine Bliff and lost to Washington by a score of 43-10 last week.
Below you will find three things I expect to happen in the game and three things I hope to see in the game!
---
Three things I expect to see…
1* I expect to see Dillon Gabriel have a performance very similar to what he put up against Arkansas State. Something in the neighborhood of 275-300 yards with 3 or 4 touchdowns against Tulsa. The Tulsa defense gave up 563 yards to Michael Penix and Washington last week and they had two receivers go over the century mark in (cover your eyes cause these names are familiar) Jalen McMillan and Rome Odunze. Gabriel feasts on these types of opponents and I expect him and his receivers to have a big day. I also expect the list of pass catchers to be extensive compared to last week.
2* I expect to see the linebackers for Oklahoma feast as Tulsa struggled last week to get much going through the air. Washington only had two sacks but the starting QB for Tulsa, Cardell Williams injured his hand and did not play in the second half. With that being said, I expect Tulsa to come out and try to establish the run early on and hope to shorten the game as best they can with Williams's status possibly in doubt. Danny Stutsman probably will have a lot fewer snaps than last week so his personal tackle totals will likely be down, but expect Kip Lewis, Jaren Kanak, and Kobie McKinzie to have ample opportunity to put some stats on the board.
3. I expect to see Gavin Sawchuk and Jovantae Barnes both have double-digit snap counts as the Sooners really need to get the running back room sorted out. Look, I am all about a guy like Tawee Walker and his story, but for the Sooners offense to be in top form, it helps to have an explosive running game and you have two young backs who have demonstrated they can be explosive against one of the best defenses in college football in Florida State. Walker has his role in Norman, I just do not see it as the number one back, He can play in the redzone and short yardage situations, but the Sooners need to get the young studs up to speed as they enter conference play.
Three things I want to see…
1" I want to see Jackson Arnold come into the game in the first half and run the offense before things get to the point where there is no pressure on him. If the Sooners get out to a 17-point lead, I would love to see Arnold get a couple of consecutive series to see what he can do while it is still somewhat of a game. Against Arkansas State, he came in when it was 40-something to nothing and he admitted he had no nerves because he knew he couldn't mess things up enough to put his team in any real jeopardy. Let's see him get in the game when there is some sense of doubt and you can always put Gabriel back in to pad his stats later in the game before he calls it a day.
2* I want to see more PJ Adebawore on the edge. Conference play is coming and that's when the serious business starts so the more reps and experience you can get for Adebawore, the better. Put him out there and see if the game starts slowing down for him. He has flashed at times over the first two games and I would imagine if you let him get his feet under him with a good amount of snaps, you may see him blossom right in front of your eyes.
3* I want to see the offensive line come out and have a statement game as they head to conference play the following week. The line was very good against Arkansas State and very average against SMU. Yes, I do believe they were better against SMU after the first quarter than what many believe, but they still did not play as well as they should. This game should be a leave-no-doubt type of performance. If someone is struggling, put them on the pine and bring in the next guy because this is the last tune-up before conference play, need to find that cohesion.
---
Cleanup Needed | Penalty Bug
– Charlie S – Posted on: September 13, 2023
One potential area of concern that is flying under the radar a bit through the first two weeks of the season is unforced errors by way of the yellow penalty flag.
Currently, the Sooners are tied for 101st in the country in penalties taken with 15.
The penalties are pretty evenly spread out with six offensive penalties, seven defensive penalties, one on Brent for a sideline infraction, with one I cannot account for.
Both the starting offensive tackles have two penalties each while the seven defensive penalties have been spread out between seven players.
You can get away with shooting yourself in the foot against lesser opponents, but it will be important for the Sooners to clean that up as they head into conference play.
Last week Tyler Guyton almost cost OU a touchdown with an illegal lineman downfield penalty, thankfully they were able to overcome it.
Overall OU is 122nd (out of 132) in fewest penalty yards per game as they average 76.5 yards of penalty yardage per game.
Just something to keep an eye on and hope they clean it up going forward.
---
Know Your Opponent | Tulsa – 2023
– Charlie S – Posted on: September 14, 2023
Head Coach – Kevin Wilson (1st year at Tulsa)
Offensive Coordinator – Steve Spurrier Jr (1st year at Tulsa)
Defensive Coordinator – Chris Polizzi (1st year at Tulsa)
Tulsa is 1-1 on the season with a victory over Arkansas Pine Bluff and a loss to Washington.
On Offense…
Kevin Wilson will bring a form of the Air Raid to Tulsa, but less like Mike Leachs version and more focus on the run game and pass protection. Whatever it is he is trying to run effectively, it's going to take a little time to get it up to speed.
– The quarterback position is integral in every offense and the Hurricane are in a difficult spot at that position as the first two QBs on the depth chart have already missed time this year
QB #1 Braylon Braxton was hurt in their first game and missed last week. Questionable for OU.
QB2 #7 Cardell Williams was hurt last week and missed the 2nd half. Questionable for OU.
QB3 #10 Roman Fuller has played in both games.
At the skill positions, you really have four guys of note to keep an eye on at this point.
RB #6 Jordan Ford
RB # 23 Anthony Watkins
WR #4 Marquis Shoulders
SWR #5 Braylin Presley
– Ford leads the team in carries and yards (averages 5.2 YPC) and Watkins is second in carries and has a little higher YPC average at 6.0 YPC. Neither back should be much to difficult to contain for OU, but Ford does also have 4 receptions on the year.
– Shoulders leads the team in catches (7), yards (155), yards per catch (19.4) and touchdowns (2) with a long of 80 yards.
– Presley really hasn't gotten on track after transferring in from OkState but he brings a quick twitch skillset and could prove to be elusive with his speed.
The Offensive Line has been reconstructed through the portal.
LT #57 Kai-Leon Herbert (Miami Transfer)
LG #76 Chester Baah
OC #56 Will Farniok (Nebraska Transfer)
RG #77 Bryce Bray (OkState Transfer)
RT #79 Darrell Simpson (OU Transfer)
– The offensive line has some experience on it and one particularly familiar name is former Sooner right tackle Darrell Simpson.
– Overall, they aren't all that stout though as they have allowed four sacks in their first two games and really aren't people movers in the run game.
On Defense…
Tulsa runs a 3-3-5 scheme that uses a JACK backer as a down lineman at times but most of the time he is off the ball and standing.
DE #48 Owen Ostroski
JACK # 21 Ben Kopenski
– These guys account for 3.5 of Tulsa's four sacks on the year
– Kopenski has 10 tackles from the JACK spot and Ostroski accounts for 9 tackles from the DE spot.
MLB #24 Julien Simon
WLB #40 Mitchell Kulkin
– The linebackers are ok, Kulkin has 10 tackles on the year
– Both are a bit undersized and OU should be able to use their athletic advantage to get them in some mismatches
The secondary is a bit rough. They have two interceptions on the year and two passes defended, but they are still searching for some footing as Washington absolutely lit them up in what was a pretty uninspired effort from the Washington offense.
LCB #11 Demarco Jones
LS #9 Kanion Williams
RS #1 Kendarin Ray
RCB #4 Tyree Carlisle
NB #25 Jaise Oliver
– Kanion Williams is a solid safety and he has one of the interceptions on the season as well as one of the passes defended.
– This is a group that was absolutely torched by Washington and they have issues in coverage as well as tackling as they allow a bunch of yards after catch.
Overall Thoughts…
– This shouldn't be close. OU should be up comfortably by the second quarter if they come out with a focused and serious approach to the game.
– On paper, the Sooners have a substantial advantage at every position on the field and they can take the air out of Tulsa's balloon at any point both offensively and defensively.
– This is absolutely one of those "OU vs. OU" scenarios that Brent Venables talks about and the Sooners will need to push themselves to remain focused and work to get better on every play.
– There should be a high number of participants for Oklahoma on both sides of the ball.
– Expect to see a lot of the young guys get some opportunities to show out before conference play begins next week.
---
You Know You Have Depth When…
– Super K – Posted on: September 14, 2023
You know have depth when you can lose your starting Cheetah and then lose your back up Cheetah and the guy who comes in to replace them is a fifth year senior (Reggie Pearson) who has a ton of experience and will knock and opponents block off.
And if not him, then you have a 5-star supremely talented freshman (Peyton Bowen) available.
As I said before the season, if the Sooners don't stack a ton of wins this season, it won't be for lack of talent. There is plenty of talent and depth to boot.