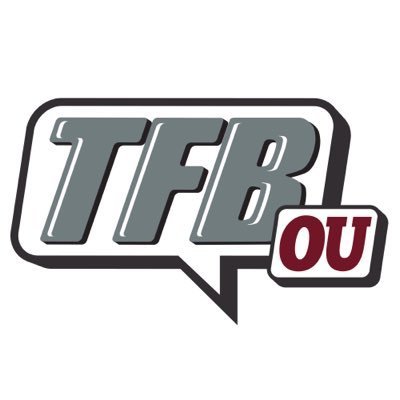 Open Post | Weekend, October 5th – 7th
Posted on: October 5, 2018
Quick Hitters | Marcus Stripling & Shammond Cooper & More
– Charlie S
*** 2019 Defensive End target Marcus Stripling tells us he will be at the OU vs Texas game. Stripling dropped his Top four earlier this week of OU, Texas A&M, LSU, and Alabama.
As we mentioned prior, Stripling is planning on officially visiting Norman for the Kansas State game later this month. We will confirm that visit as the date approaches.
In reality, we see this as an OU vs Texas A&M battle with Bama running just behind and LSU pulling up the rear.
#Sooners 2019 DE target, Marcus Stripling (@stripling_de) tells us he will be in Dallas for the Red River Shootout…

Hosted by #OU 😏 pic.twitter.com/gDfWobRjrO

— TFB Sooners (@TFB_Sooners) October 5, 2018
*** 2019 Linebacker target Shammond Cooper dropped his own Top four tonight as well
Commitment Jan 3rd @ the underarmour game 🏴 #BoomerSooner ⭕️#Illgang19 🔷🔶#MIZ 🐯#HookEm 🤘🏽 pic.twitter.com/22RFeuzNqN

— Shammond Cooper ⁷ (@Shammond07) October 4, 2018
Cooper will not be in Dallas as he has his high school homecoming game, but he is still planning on officially visiting Norman later this season. Will update you when the date for the visit is set.
*** Super K is down in Fort Lauderdale, Florida, and he will have one or two quick hitters up about 2019 running back Kenny McIntosh and 2019 defensive back Josh Sanguinetti either tonight or tomorrow.
As you can see in the tweet, Sanguinetti has plans to visit Norman later this season. That is a very good thing.
2019 University School star football players & #Sooners targets, Kenny McIntosh & Josh Sanguinetti take a break from being the players to coach up the gals…

McIntosh on OU visit, "I absolutely loved it". Then he points to Sanguinetti and says, "he will too when he visits" pic.twitter.com/mpMCzkNmaU

— Super K (@SuperK_TFB) October 5, 2018
---
Jordan Battle | Sourced Notes
– Super K
Sorry for the delay on these notes. Here are my notes from a source regarding 2019 Ohio State DB commit, Jordan Battle (Ft. Lauderdale). As you know, Battle made his way to Norman last weekend.
I am currently in Ft. Lauderdale to see, among other players, Battle and St. Thomas Aquinas take on Deerfield. So, I hope to have more from Battle, later.
Battle did tell me via text that he had an amazing time on the OU visit.
Source said…
***Was told Battle loved OU and that OU and Ohio State are now tied. One source actually said Battle was close to pulling the trigger.
***Source said that Battle's father prefers OU because of the depth at Ohio State and lack thereof at OU. However, I am told that mom seems to be somewhat partial to the Buckeyes.
***I'm told depth is working against Ohio State. However, source added, "but all those guys at Ohio State will still get drafted". The bottom line here is, as of late, OU has almost no draft production at the DB position while Ohio State is churning out early picks.
***Source also said that, because Kenny McIntosh and Jaden Davis are all so close, Kenny pulling the trigger to OU would make it that much more likely that Battle would follow suit. Again, it seems he, himself, would be comfortable with either school. As such, having two of his best friends going to Oklahoma could break the tie and give OU a lead.
---
Quick Hitter | Stacey Wilkins To Visit Arkansas + Insider Note
– Charlie S
– As we mentioned back in early September, 2019 OT Commit Stacey Wilkins is set to officially visit Arkansas in November for their game against LSU.
– As we also mentioned in early September, we do not feel like this will amount to anything in regards to his commitment status as he is very tight with both the staff and his fellow commits.
– Obviously, OU is and has been aware of the pending visit throughout the process.
– I am only putting this out there because several of you have mentioned seeing it on Twitter and such.
If you would like to read Charlie's Insider Note, please click the Donor Board link!
---
Texas Pregame | Class Is In Session
– The Professor
It's here. The Biggest game of the season is finally here. Pretty soon, Sooners fans everywhere will be popping the top on some cold beverages and arguing over how they like their Bevo cooked. They'll be gathered around a TV making fun of a certain Texas player's hair or flooding Fair Park to ensure that bystanders have a healthy dose of beautiful Crimson to offset that hideous orange.
Wherever you're planning to watch the Sooners and the Longhorns play, here are some stats and facts to get you prepared. So put on your "Beat Texas" hat and your best Toby Rowland voice because HERE WE GO.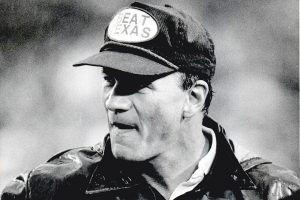 The History
The Sooners and the Longhorns have met 112 times. Texas leads the series 61-46-5. That's about where the impressive statistics for the Longhorns end.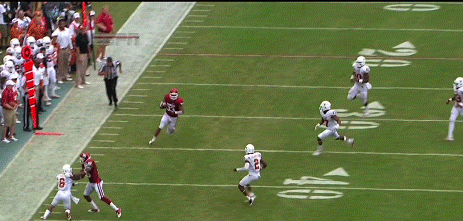 When both teams are ranked, Oklahoma leads 20-15-3.
When both teams are in the Top 15, Oklahoma leads, 15-12-1.
When both teams are in the Top 10, Oklahoma leads 8-7-1.
When both teams are in the Top 5, Oklahoma leads 5-4-1.
Oklahoma holds the largest margin of victory in the series at 52 points. They also hold the 2nd largest at 50, the 3rd largest at 49, the 4th largest at 45, the 5th largest at 42, the 6th largest at 39, the 7th largest at 38 and the two 8th largest at 35.
The Longhorns' largest margin of victory was 33 in 1941.
Bud, Barry, and Bob combined to go 29-20-2 against Texas. Stoops has the highest winning percentage at .611.
The series hit a real turning point in 1970. Before 1970, Texas led the series 41-21-2. Since then, Oklahoma leads the series 25-20-3.
The Coaches
Lincoln Riley is a wizard. I'm serious. I mean, what's the difference between what he does and what a wizard does? A wizard chants some stuff and makes magic happen. Lincoln Riley says a play and makes free safeties disappear. He probably has a secret room behind the bookshelf in his office where he works on his offensive spells.
The passing game had another insanely efficient day last Saturday. In fact, it was more efficient than any game with Mayfield, the guy that had the two most efficient seasons in the history of FBS football, ever was. I know Kyler Murray is an incredible athlete and a lot of what Oklahoma's offense has accomplished is because of him. But, I'm starting to think that Mr. Magoo could play QB for Oklahoma and he'd throw for 3 TDs and a Passing Efficiency of 200.
Tom Herman… oh boy. If you looked up "Lincoln Riley" in a thesaurus, under the list of antonyms you would find "Tom Herman."
Heralded as an offensive mind, Tom Herman has created something truly embarrassing in Austin. In a program that produced college legends like Ricky Williams, Earl Campbell, Cedric Benson and Jamaal Charles, Herman managed to create an offense in 2017 whose leading rusher 1) was a QB and 2) ran for 381 yards all season.
Outside of on-the-field problems, he's truly a gift to social media. Whether it's the sledgehammer gif, the "Some" moment at media days or openly mocking teenagers from the sideline, Tom Herman is everything the internet wants and nothing a serious athletics program wants.
The Players
Kyler Murray has been incredible. Nearly halfway through the season, he has all the passing statistics of Mayfield while also supplementing the running game. Here's a look at Murray vs Mayfield through 5 games.
As for Texas, the brightest spot according to all accounts is their defense. Their defensive backfield has a mix of athletic youth in freshman Caden Sterns, and experience in senior Kris Boyd. But just how bright is this defense?
As you can see, they aren't exactly shutting teams down. They are holding teams just to 6.7 points below their average. 6.7 points below Oklahoma's season average is 42 points. The Texas offense hasn't scored 42 points in nearly two years.
Well, hopefully, this has been informative and encouraging. And if you still have your Toby Rowland voice, unhitch the wagon and put the ponies in the barn, because this preview is finished.
---
Red River Showdown Visitors List
– Charlie S
As the designated host team, the Sooners get to play host to recruits this year.
Here are the names of those recruits which we have confirmed who will be in attendance.
2019:
Austin Stogner – 2019 TE – OU Commit
Marcus Alexander – 2019 OL – OU Commit
Arjei Henderson – 2019 WR – OU Commit
Theo Wease – 2019 WR – OU Commit
Trejan Bridges – 2019 WR – OU Commit
EJ Ndoma-Ogar – 2019 OL – OU Commit
Marcus Hicks – 2019 DL – OU Commit
Marcus Stripling – 2019 DL – OU Offer
2020:
Michael Henderson – 2020 ATH – OU Offer
Alec Bryant – 2020 DL – OU Offer
Prince Dorbah – 2020 DL – OU Offer
Jase McClellan – 2020 RB – OU Commit
Davon Graham – 2020 WR – OU Offer
Vernon Broughton – 2020 DL – OU Offer *Possible
Princely Umanmielen – 2020 DL – OU Offer *Possible
Jaxon Smith-Njigba – 2020 WR
Darius Snow – 2020 DB – OU Offer *Hoping too
Andrew Raym – 2020 OL – OU Offer
Drew Sander – 2020 ATH – OU Commit
Bryson Washington – 2020 DB – OU Offer