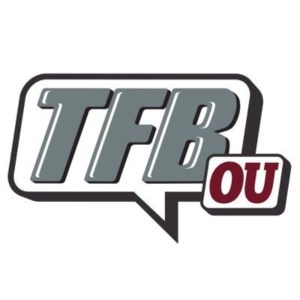 Open Post | Weekend, October 4th – 6th
Posted on: October 4, 2019
Josh Eaton | The Latest
– Super K
As you know we reported via sources that the Sooners made a big impression on Josh Eaton and his family, this past weekend.
Following his visit I noted that things are trending towards Oklahoma.
I was able to speak directly with Eaton over the phone this week to get his take. He was fairly guarded in the conversation but I was able to come away with some key things.
***Texas isn't going to give up on this fight. In fact, when I spoke with him he had just gotten off the phone with Texas cornerbacks coach, Jason Washington.
***It did seem clear that he saw something at OU both in terms of the depth chart and a "family atmosphere" that stood out to him.
"They're a big family out there. The whole community is a family. It doesn't matter if you play football or not..out there, everyone is connected no matter what sport you play, no matter if you play sports or not – it's a big family out there".
***I got the sense that Josh found a level comfort there that maybe he didn't expect. This was his second visit to OU but his first visit was a very brief unofficial visit.
***It should be noted however that Josh has spent a lot of time in Oklahoma in general given that his uncle lives up there.
***In terms of what's going to help Josh make a decision he noted that it'll be the family feeling that he gets and looking for what each school's plan is for him after football in case his NFL aspirations don't come true.
He's looking to major in sports management.
***The big question I've had is whether a final decision – whether to stick with Texas or flip his commitment – would be coming anytime soon.
According to Josh he still has visits he'd like to take before he makes any certain decision. He tells me that he will take his official visit to Texas.
He is also eying possible OVs to LSU and Miami.
***Josh says he wants to wait till February to sign. Obviously that can change but he says that's his plan right now.
***My conversation with Josh corroborated what I had heard via sources – that this one is trending strongly towards OU. However, with him taking an official visit to Texas and unlikely to make it back up to OU again, this could obviously change.
---
One on One's | Oklahoma vs Kansas
– Charlie S
The Sooners are back in action on Saturday as they take on Kansas in an 11:00 am start.
As per usual during game week, I've picked out a couple of 'One on One' matchups that interest me.
So here we go:
One on One number one:
Kansas Running Back Pooka Williams vs The entire OU defense.
No lie, this is obviously the matchup every Sooner defender who was on the field in 2018 against Kansas in Norman is looking forward to this year.
I think we are all looking forward to it as well because Pooka torched the Sooners last year in helping Kansas score 40 points (FORTY POINTS) against the Sooners. That's right, the 3-9 Jayhawks put 40 on the Sooners defense.
A reminder of how spectacular Williams was (and how inept the Sooners were) in that game:
Stat line: Pooka Williams : Kansas vs OU 2018 : 15 carries for 252 yards and a 16.8 yards per carry average with 2 touchdowns.
Now, Williams had some issues during the offseason and was suspended for a time from the program and he has had rather pedestrian stats through 4 games to this point. He hasn't even been the featured back for Kansas but that changes this week.
Heading into the season most people believed Kansas' biggest strength would be its group of running backs. However, heading into the OU game, KU will be without two of their top three options. Les Miles said on Monday that running back Khalil Herbert, who sat out Saturday's TCU loss for personal reasons, will not be available. Looks like Herbert is looking for a 4 game redshirt and then plans on transferring.
Kansas is also without third-string back Dom Williams. Williams, who has 17 carries for 35 yards this season appears as though he is also apparently taking a redshirt with plans to transfer.
So that leaves us with Pooka as the featured back for the game against OU. Through 4 games this season, Williams has a stat line that reads as: 67 carries for 308 yards with a 4.6 yard per carry average and 1 touchdown.
Throw the stats out.
The Sooners remember him running wild on them last year. You can bet Riley and Grinch have hammered that home. The Sooners giving up 250+ yards and 40 points to a woeful Kansas squad was one of the more embarrassing performances from last year.
It's a one on 31 (or however many players Grinch can run out there this week) matchup, and I would expect the Sooners have one goal above all (aside from winning) and that is to shut down the Kansas run game.
Sorry Pooka, but you brought this on yourself.
One on One number two:
Oklahoma Wide Receiver Jadon Haselwood vs Kansas CB Hasan Defense.
The Kansas defense was non-existent against TCU last week. TCU has not been an offensive juggernaut this season by any means. On paper, things do not bode well for Kansas obviously.
However, Kansas has played a bit better than years past as they are currently 2-3 with a win over an ACC upper tier school in Boston College.
Oklahoma is going to win, the question is by how much and how decisive the final score will be as the Sooners may be peeking ahead to Texas.
So there truly aren't a lot of 'sexy' matchups in this game and that is why I chose to have Haselwood and the best Kansas corner (In my opinion) as a matchup to watch.
Haselwood is on the verge of breaking out. His 6 reception performance last week was great, but his blocking was superb. He is getting more and more touches and with a big game looming, and him being a freshman, he may be less inclined to let up and I could see him having a very big game.
He was one play away from going over the 100 yard mark on what would have been a spectacular hook up with Spencer Rattler. Someday soon, he is gonna make that play.
Hasan is a guy I really like at corner. He's pretty physical and has some ball skills as he has one of the Jayhawks interceptions on the season. He is credited with 4 passes defended on the year as well. He has good size at 6'0″ and 200 lbs and while he won't be on Haselwood the entire day, I want to see Jadon and Hasan matchup.
Again, not a lot of great matchups to choose from, but I am excited to continue watching Haselwood develop.
---
New Wave 19 | To Redshirt or Not to Redshirt?
– Charlie S
Sooners have gotten a lot of the young guys from the 'New Wave 19' class on the field early this season.
We are now entering the real 'To redshirt or not' portion of the schedule as we have reached the doorstep of game 5.
Below, I have compiled a list of the entire class which I have updated in regard to their participation.
The number of games they have played can be found in parenthesis.
A player (any year) can play in up to four games during the season and still have it count as a redshirt (if they have one available). Once they step on the field for the fifth game, they are no longer eligible for a redshirt.
The Majority of the class has played in games so far. To this point, only Hicks, Alexander, and DeArman have not made an appearance and Jonathan Perkins has portaled (making up words as I go).
New Wave 19 Participation:
QB Spencer Rattler (2 GP – SD, TTU)
RB Marcus Major (2 GP – SD, TTU)
RB Rhamondre Stevenson (4)
WR Trejan Bridges (4)
WR Jadon Haselwood (4)
WR Theo Wease (4)
TE Austin Stogner (4)
OL Marcus Alexander (RS)
OL Finley Felix (3 GP – SD, UCLA, TTU)
OL EJ Ndoma-Ogar (3 GP – SD, UCLA, TTU)
OL Stacey Wilkins (3 GP – SD, UCLA, TTU)
DL Marcus Hicks (RS)
DL Kori Roberson (3 GP – HOU, UCLA, TTU)
DL LaRon Stokes (4)
DL Marcus Stripling (4)
DL David Ugwoegbu (3 GP – HOU, UCLA, TTU)
DL Joseph Wete (1 SD)
LB Jonathan Perkins (Portal)
DB Jeremiah Criddell (2 GP – SD, TTU)
DB Jaden Davis (4)
DB Ty DeArman (RS)
DB Jamal Morris (1 GP – HOU)
DB Woodi Washington (2 GP – SD, TTU)
*** One other guy I would keep an eye on following this week in regards to participation is Robert Barnes. Barnes is obviously not a freshman, but he does have a redshirt available and did not play in the Houston game, so he has one game to play with before he could opt for a redshirt.
With Barnes being the backup at NB currently, I don't necessarily see that happening for certain, but just know he can play this week without losing the opportunity to RS.
---
Lincoln Riley | Kansas | Q & A
– James Hale
Yesterday I had a chance to get the latest word from OU Head Coach Lincoln Riley before the Sooners take on Kansas in their first conference road game of 2019 with kickoff set for 11:00 AM.
JH: Your players were asked about the new Fair Pay to Play act that was signed in California yesterday and almost to a man they really didn't know what it was or cared what it was. Do you feel that most players are like your players in college football and they don't even know what all the noise is about and this new law could change college football as we know it in the future?
LR: "I know that the ones that only have one or two years left they don't care about it because they are not going to be affected by it. If you're not going to be here by 2023 at the earliest then it's not going to have anything to do with you. That's so far out in front of them that it's one of those things that those guys have not even talked it out. It's not been discussed on our team and all of us have only been asked about it on the outside. It's not been a topic among our coaches and players at all."
JH: The players all said that they had a game Saturday and weren't worried about any new law involving college football?
LR: "Good, that's what I want to hear from them. They have a lot going on right now and their focus is totally on football and class."
MEDIA: You had another player enter the transfer portal (Miguel Edwards).
"There are so many different circumstances when that happens. Occasionally a guy enters it because he wasn't asked back to the team or there was something that caused him to not be part of the team. There are times when it's their choice as they are looking for a little bit of a different situation or opportunity or whatever that is."
"I think we try to handle each case as it is. At the end of the day you are either with us or you're not and we don't, if a guy is going to leave, we certainly don't throw him out. We're not like that. We do a lot of things to keep track of them academically off the field. We have people in place in our program just to check in with them to make sure they are doing well. We're normally a factor in the process of them going to another school. We're in communication with those places and helping them to find the right place."
"They're not part of the team either at that point. The fact they enter the portal draws pretty clear lines and they are no longer part of the team."
MEDIA: It sounds like a hard line there that if you enter the portal you are no longer part of the team, so do you feel when they enter the portal is a player testing the waters or wanting to leave your program?
LR: "No, I think it is a decision to leave. I think when you get to that point you have stated your intentions. To us, that is how it is. Again, we always have to have an open mind. Just like A.D. Miller is a perfect example. He went and tested the waters a little bit and figured out that was not what he wanted to do and he came to us about coming back. I was glad that we were able to bring him back and glad it worked out."
"We draw a line at that point. You can't be in the portal and be on the team at the same time that doesn't work but at the same time we want to have an open mind about your situation."
JH: Are the players coming to you to talk to you about their situation before they enter the portal like you said you hoped that they would when this process started?
LR: "For the most part. Our guys have done a pretty decent job of that. Since the time that we have had the portal, I've had one player that did not come and tell me what his intentions were. I'm proud of how the majority of our guys have handled the process."
MEDIA: Kansas will probably not be one of the most hostile environments that you are going to see on the road this year so do you worry about your team being able to get up for the game or generate their own energy?
LR: "There are always different challenges on the road. I think for us it's more of that atmosphere is where they are. You may have a hone game where we get up a bunch of points like we have and in the fourth quarter, people are starting to leave the game. So, I don't know that we talk about the road atmosphere that much or what we feel like they will be getting into. We do try to prepare them because you don't want them to have surprises on game day. So, we try to prepare them for the stadium or any kind of different or unusual conditions."
"More for us it's another opportunity for us on the road. It's our first Big 12 game on the road this season and you guys know how much we enjoy road games. We talk more about that than any other specific condition."
MEDIA: The last time you went to Lawrence the handshake thing went down and you had Baker's crotch grab. What do you remember about the game and did you think it was funny or what?
LR: "I remember about the game. I remember it was really windy which had a huge effect on the game. Neither team had really any downfield passing game. We had a great quarterback and we still had one of those days there that you can get here."
"The incident looking back on it. We sometimes sit around and see it again or whatever and sit back and laugh about it now. It wasn't really funny at the time. It's one of those things that you get passed and I think all the guys laugh about it a little bit now."
MEDIA: Not to throw Baker under the bus but you would never expect Jalan Hurts to react that way on the field would you?
LR: (laugher). No, No I don't think so. He's a steady guy and I don't have to worry about him saying something crazy to the other team. That's fair! He's pretty even-keeled."
"So much of our focus on him is getting him ready to play each week and continuing to get him better. His situation and the timeline is still a race to get that done every single week. So, all of our energy is focused on that and I appreciate the fact that all of his energy and focus is into that as well."
JH: It sounds like he is still learning about the offense and the way OU runs its offense?
LR: "Yeah, it is new challenges for him every day. You go play in the spring, camp or whatever and no matter who you're playing against on defense you're playing the same defense every day. Now you are getting into new teams and a new coordinator each week and different things defensively. You are game-planning here and there offensively. Also, this player is out and this player is back and there are just match-ups all over the field. There's so much to it."
"It's not like he's behind and we're still trying to play catchup. We haven't even had him for a calendar year yet, and we're not even close yet. it's just working to get as good as you can each and every week."
JH: What is your offensive line situation this week, especially your depth in the offensive line?
LR: "Yeah, that is part of it. This is very similar to the 2016 season. It's very, very similar in that we had a different starting lineup every game but there is going to be a ton of benefits that come out of it. We've had a lot of guys now that have played meaningful reps and some guys have had to do it at multiple positions. That's going to make them better overall players like it did for those guys a few years ago. We continue to grow and we have enough guys there to play good. We will trot five out there that will play."
JH: Do you feel Adrian Ealy will be ready to go?
LR: "It will be close. He will have to make some serious improvements here real quick to make it for Saturday."
MEDIA: How is Kennedy Brooks doing?
LR: "He is doing well. We have been smart about it but he's dong well. There's no structural issue at all. He's all good."
MEDIA: How do you feel that Parnell Motley has grown as a player and why?
LR: "We challenged him pretty heavily after last year and it was good timing putting him with Coach (Roy) Manning coming in and Coach (Alex) Grinch. They gave him a chance to wipe the slate clean as everybody else could. I think the biggest thing for him has been maturity and consistency on-and-off the field for him. He hasn't been a guy that has gotten in trouble but he has been a guy that occasionally had a lot of distractions off the field. Distractions that were not under his control but he needed to do better and he's done a great job of that."
"Like a lot of these guys he has eliminated distractions off the field, it's made his play better. I think he's done a great job in this system and I think he's really bought into the technique and the way we expect him to play. He's played very consistently and the challenge for him is to keep doing it. There's no reason that he can't and I'm excited to see the results when he keeps having success."
"He is like a lot of guys. You get to that senior year and all of a sudden those reps are not infinite any more and he starts to realize that this thing is over pretty quick. It has been the perfect storm for him. All the changes and him being a senior, he deserves the most credit, because he has handled it the right way, and we need to keep doing that"
JH: Did you read his description of what a Grinch practice is like?
LR: "No, but I heard about it. He compared it to a movie right?
JH: Yes!
LR: "Interesting."
MEDIA: What do you remember about recruiting Rhamondre's (Stevenson)?
LR: "We got on him earlier than a lot of people did. I really liked what we saw. We sent Coach (Jay) Boulware out there and he really liked what he saw. We enjoyed getting to know the kid and I thought he fit us in every way that he could. When we offered him a lot of other people came in pretty quickly. He came up here and saw our program and he felt our offense was a great fit for him. He thought the school was a great fit, the offense, and the school was a great fit, and he jumped on board and stayed with us even though a lot of people really pursued him hard down the stretch."
"It was smooth because he was very responsible. He was very trustworthy and we always look for that in guys especially junior college guys. They're supposed to be older and they should handle their business better and it shouldn't feel like I was recruiting a 16-or-17-year-old kid. With recruiting Rhamondre we were starting to recruit a young man. Every step of the way it felt that way with Rhamondre."
MEDIA: What do you like about his running style?
LR: "His physicality shows up. He has really good feet for a big guy. In so many ways he reminds me of Samaje (Perine). I think they are extremely similarly built. They are low to the ground, have great balance and he catches the ball very naturally. He has a nice skillset and he is just going to be better and better."
MEDIA: What is Trejan Bridges like on the team?
LR: "He's a fun kid. He is high energy with a lot of personality. He's very competitive and as you have seen he is definitely a team-first guy. He is a neat kid and has a really cool family."
MEDIA: Is there a position in JUCO that you look for a little bit harder at OU?
LR: "I would say that we look for a JUCO at any position if we need a player at that position. We've had some great JUCO's in our program really in every position since I've been here. For us, number one it's us identifying a potential need and then so much is finding the right guy. I can argue that it's harder in JUCO because there are fewer guys. Not only finding the skill set but a guy that has the academic requirements, and the guy that has the maturity to come in here and into all of this and complete and understand what he is getting into."
"Recruiting is always specific but to me, with a JC guy, his situation has to be laser-focused and it has to be the right fit. It has to be so complete because anything that it's not would mean that normally we would go a different direction.
"We normally get to the point that we say we will take a JC guy if we can find the right one. We are not saying that we are taking a JC guy. We never say that no matter what we're going to take at JC guy. We do go in and say if we can find the right guy that we would love to have a JC here."
MEDIA: With JUCO programs contracting and there are not as many now is it easier to find those guys?
LR: "I don't know if there is much change. With the recruiting services, the internet and the way we can share film It has probably gotten easier as it has in high school too. Still, the fit and evaluating the fit is still very difficult to find the right guy."
JH: Where have you decided to play Trejan this week or the rest of the season?
LR: "We have decided where to play him but I'm not going to say because there's a competitive advantage for us. sorry."
(If you're on the Donor Board we told you Tuesday which side of the ball he was locked in at)
MEDIA: Is Jalen's voice okay.
LR: "Yeah it's okay and he's good to go."
---
Defensive Back Recruiting | Numbers, Watts & More
– Super K
***With Watts out (at least that's what he's told the staff but has yet to announce publicly), the Sooners are now in the market for three more defensive backs.
***Top three guys right now are Josh Eaton, Jahquez Robinson and Dontae Manning.
I think it would be safe to say that if they were making a board from scratch and thought they had an equal chance at all those guys, all three would be above Watts on their board.
***On Watts, I mentioned yesterday in the comments section that he didn't really seem solid from the beginning. As you'll recall, as early as this summer we mentioned he may decommit.
From the beginning Watts had actually only wanted to silently commit to OU. He even negotiated going public with OU by telling them he wanted to be permitted to take additional visits. He took the visits they agreed on and then took an additional trip.
I don't fault him for exploring his options. You need to find the right fit and you also need to be aware of the fact that schools move on quicker than they used to.
But I say all this to simply say that, from the beginning, it seemed like Ryan was still looking and wasn't done with the process.
***I would expect an announcement to come from him this week.
***I terms of the top three targets, OU may not land them all but they probably lead on all three right now.
***With Eaton, I believe the Sooners lead but he still has official visits to take, including his Texas OV.
***I'm told the Sooners are going "all in on Manning". He's always been a favorite of theirs and for good reason. Manning tells us he will be down for a game. TAMU appeared to be the biggest threat for him but that interest seems to have waned.
***The Sooners are very confident in their position with Jahquez Robinson. I don't know if their degree of confidence is warranted but based on our conversations with Robinson, some confidence is certainly warranted.
We'll try to dig and see when a possible decision could be coming and what other visits he may be taking.
***There are a few new names that the Sooners are looking at which we can discuss later. One, in particular, I've heard, I really like. But we're still doing a little research on the prospects.
I do think given the need to take three DBs, sending out another offer or two would be a good idea.
***I'm checking on the status of Ramon Henderson (Bakersfield, CA). As you'll recall, the speedy big cornerback made it for an official visit earlier this season. Henderson is an Oklahoma native and we do believe his family wants him at OU. But our sense is that OU wanted him to take his time. So, again, we're checking on that one.
---
The Latest | Edgerrin Cooper
– Charlie S
The other night LSU offered in-state Sooners 2020 inside linebacker commit Edgerrin Cooper and I know that caught the attention of a lot of you.
First things first, I did touch base with Edgerrin last night and I asked him how the offer affects him and OU. As expected, he said he is "Locked in with OU". I would expect him to say nothing different and you can take that for what it is.
Now, a little background on LSU. They currently have two ILB committed for the 2020 class in Antoine Sampah and Josh White.
The reality is, the offer from LSU could be based on a three-team web between OU, LSU, and Texas.
Texas is looking for an inside backer too, and they haven't given up on Josh White, who as mentioned above, is committed to LSU currently.
K wrote on the Texas side earlier this morning:
"On the Josh White front, I've mentioned for a while that Texas has continued their pursuit in hopes of flipping him from LSU. He was one of the players Herman went to see during the bye week.
This isn't necessarily anything definitive but certainly worth noting, yesterday, LSU offered in-state linebacker and Sooners commit, Edgerrin Cooper.
I spoke with a source on the OU side about it and was told that they believe this may be a sign that LSU is feeling less confident about holding on to Josh White.
When the Sooners began pursuing Cooper, it didn't seem like an LSU offer was in the cards for him. So, my read would be similar to that of the Sooners. With White, LSU has two inside linebackers committed in the class which we believe is what they are looking for.
LSU isn't going to offer an in-state player (Cooper is from Louisiana) if you aren't prepared to take his commitment. So, again, whether it's White or Sampah (their other ILB commit), it does seem LSU is concerned about losing someone."
So right now, there is some debate on where Cooper stands in LSU's eyes and that is going to be something we are digging on going forward.
I know some have mentioned that they see Cooper as an OLB, however, I do know that would not be ideal in his eyes as he is an ILB and wants to remain as such.
Regardless, as you all know, I am a huge fan of Cooper and I have been since day one. The Sooners absolutely knocked it out of the park as they identified him very early on, pursued him, and got his commitment. As I have said all along, if the Sooners sign him they will look back on that day and be incredibly grateful. I still believe that and the 'IF" just became a lot more 'iffy" and it will be something to keep an eye on.
Right now, he is saying all the right things and it could be a nothing burger in regards to where he signs in the end. However, the Sooners will have their work cut out for them if LSU goes all in.
---
For multiple daily posts, Insider Notes, Our TFB 'Pick Em' Contest, More Sourced Practice Notes, member chats with TFB staff, James Hale's Notebooks, TFB Sessions (5-minute audio talks) and much more, please check the Donor Board!