Open Post | Weekend, October 30th – November 1st
Posted on: October 30, 2020
TFB Randoms | Portal News & Suspension Note
– Charlie S – Posted on: October 28, 2020
Couple random notes for you all…
***First of all, Sooners redshirt freshman offensive lineman EJ Ndoma-Ogar has entered his name into the NCAA transfer portal.
The news was first reported by Jason Kersey on Twitter and I have been able to quickly confirm the report.
EJ played in four games for Oklahoma in 2019 and opted out due to COVID precautions prior to the opening game of the season for Oklahoma.
Great kid, wish him the best and hope he finds a good situation for himself.
***One other note I picked up is on suspended defensive end Ronnie Perkins…
Yesterday I had an update on the situation which said:
"***Late last night I spoke with a source close to the situation who mentioned that they believe Perkins will be eligible to participate this weekend along with the other two guys (Stevenson and Bridges).
***Source mentioned that they could not definitively say that it is final, but they said news could be coming out on Thursday or Friday."
In speaking with a source further today, I was offered no new information about this weekend and a decision could be made Thursday or Friday, but what I can tell you is that I am much more confident in saying even if you do not see him this weekend, you will see Perkins on the field no later than next week against Kansas.
In other words, source indicates that this is not likely to be the worst case scenario where he misses the entire year which has been discussed throughout the various channels of Sooner Nation.
---
Inside the Numbers | OU Defense vs TCU
– Charlie S – Posted on: October 27, 2020
Taking a look at the rough snap counts and a few other observations courtesy PFF stats…
Snap Count:
S Pat Fields – 49
S DTY – 44
CB Tre Brown – 43
NB Bookie – 43
LB Brian Asamoah – 42
LB DaShaun White – 40
DL Isaiah Thomas – 39
EDGE – Nik Bonitto – 38
CB Woodi Washington – 38
CB Jaden Davis – 37
LB David Ugwoegbu – 34
DT Perrion Winfrey – 33
DE Marcus Stripling – 32
S Tre Norwood – 29
DT Jordan Kelley – 26
EDGE JMT – 24
DT Josh Ellison – 20
DT LaRon Stokes – 20
DB Jeremiah Criddell – 20
DT Kori Roberson – 16
Justin Broiles – 4
Woodi and Ugwoegbu keep making gains in the snap count department, count me as a fan.
Also, once again, Pat Fields does not know where the sideline is.
Top 5 Rated Overall Defenders for the game:
1. Bookie – 74.9
2. Isaiah Thomas – 73
3. LaRon Stokes – 71.4
4. David Ugwoegbu – 71.3
5. Nik Bonitto – 69.6
I'm sure this group will get some comments…not as much as the next eye opening stat will though…
Top 5 Rated Defensive Tacklers for the game:
1. Bookie – 84.7
2. Tre Norwood – 82.9
3. DaShaun White – 80.3
4. Woodi Washington – 80.1
5. JMT – 79.3
Thought this category would really spark the discussion
Guys PFF was not kind too for overall defense:
LB Brian Asamoah
CB Jaden Davis
DB Jeremiah Criddell
---
Position Group Progress Report | TCU
– Charlie S
Wrapping up the TCU game and handing out the weekly position group progress reports! The Sooners played their most complete game of the season, and the ratings will reflect that.
I will be including the previous weeks rankings so we can all see how the units are shaking out on a week by week basis!
Let's see how things shook out against the Horned Frogs!
QB: 4* (Last week High 3*)
Spencer Rattler played his first turnover turnover free conference game this week and he put up a very impressive passing stat line which read: 13 for 22 for 332 yards for an average of over 25 yards per completion and 2 touchdowns.
I loved the way he carried himself and he threw a couple really special passes on the day and would have had a higher completion percentage if he had a little help from his wide receivers.
If I was basing the rating solely on his passing game, he would have gotten a 5* ranking without a doubt. He has special arm talent and showed a lot of maturity and touch this week.
However…
I have to take the other aspect of his day, the rushing game, into consideration and that did not go well. 9 rushes for 7 yards…and that included a 16 yard run.
He made a lot of poor decisions in the option game by keeping it when he should have given it. Those decisions could have cost the team in another game as they often stalled drives or made the conversions that much more difficult.
Maybe I am being hard on him for not at least giving him a 'High 4*' ranking, but the decision making in the option game really gets under my skin. When in doubt, hand it to the guys whose job it is is to run the ball. Reward the backs and the line. He will figure that out.
---
RB: 4* (Last week 4*)
No issues here aside from a few missed blocks.
TJ Pledger carried the ball 22 times once again (he had the same number against Texas) for 122 yards. He averaged 5.5 per carry and added one of the more impressive touchdown runs we have seen from OU this year. He was also very good in pass pro and picked up the extra man each time he was asked too. Another strong day for TJ and it appears the game has slowed down for him as he has become much more patient as compared to earlier in the season.
Seth McGowan carried the rock 11 times for 41 yards and caught one pass for 43 yards which was the first chunk play for the Sooners on the day.
Mikey Henderson caught a pass and while Jeremiah Hall didn't get any touches, he was his steady self in the blocking game.
Good day all around for the backs.
---
WR/TE: High 3* (Last week High 3*)
Almost feels criminal to rate this group as a high 3* with the performance that Marvin Mims put out there on Saturday.
Mims had a historic day for a freshman at OU as he hauled in 4 passes for 132 yards which was a 33 yard average per catch with 2 touchdowns which included a long 61 yarder. Mims had close to 200 all purpose yards on the day which was outstanding.
Theo Wease also had a good day as he caught 3 balls for 87 yards which was good for a 29 yard average per catch.
But the drops continue to kill this group as a whole. Stogner had a couple drops and Rambo let another one go off his hands on what could have been one of the more spectacular touchdown (or at the very least a highlight reel chunk play) throws that you would ever see from Rattler.
I mean…against his body, off his front foot, and he puts it there? On his hands…Rambo has to catch that.
You cannot have those drops. They just cannot continue to happen. You cannot justify it by saying 'but they made a couple catches each even with those drops'. Not acceptable, especially at OU.
Mims and Wease = 5*
Everyone else = 1*
That's how you get to your High 3*.
---
OL: 4* (Last week 4*)
Got to tell ya…I am as shocked at this rating as you all are.
While I was watching the game, I initially thought they had regressed. Truth be told, after watching the game multiple times since…I was tempted to give them a High 4*. There was not a lot to dislike about their performance. They were excellent in pass protection and they were better then they have been in the run game.
I wouldn't call the run blocking dominating…but it's getting there.
Tyrese Robinson had a silly penalty and was still not completely solid, but I think Creed, Hayes, and Ealy all played their best games of the season and Anton Harrison was out there mauling people.
The Swenson starting thing I don't get still, but he didn't kill ya and he actually played quite well on his snaps. As I watched the game live, I thought I saw him bust, but upon re-watching, I couldn't find anything major.
Chris Murray saw his first action as a Sooner in a limited role and he looked really good in the few snaps he got.
Overall…the decision making of Rattler and the play calling of Riley helped paint a different picture in real time than what actually took place on the field. I may have been too stingy with this rating, easily could have given them a High 4*.
---
DL: 5* (Last High 4*)
There it is.
Your first 5* rating of the season…for any unit.
And you all think I hate the DL
In all seriousness, I can admit I did not think they had it in them and at the beginning of the year I would have said that this group would be the last group to even sniff a 5* rating.
But here we are.
The DL started the year slowly as only Thomas looked to have a pulse in the group.
They really put things together last week against Texas though. The ends and the interior were really firing last week and while they had a better statistical outing against Texas, I couldn't give them the 5* because of a play in overtime when I saw numerous DL quit on a play.
There was no quit in them against TCU as they made life hell for Duggan and the running backs. Everyone who played seemed to flash…from LaRon Stokes to Marcus Stripling and everyone in between.
Winfrey was in the backfield as much as Duggan was and Thomas had another big game. Jordan Kelley flashed early and often and the group had the most impact as a unit in the entire game.
This includes the play of Bonitto and JMT as well.
I was worried about them having a similar letdown as they did last year following the Texas game…but there was no let down this week. Well earned 5*.
---
LB: 3* (Last week low 3*)
Another week another ho-hum outing by the LB corps.
This week, DaShaun White was the standout in my opinion as he had his most consistent game of the season.
Asamoah is the flashy guy, but he missed too many tackles (3) this week and got lost in coverage a couple times.
Ugwoegbu wasn't as noticeable as he was against Texas, but as I pointed out in the 'Film don't lie' thread, he made real linebacker reads and plays.
I like that Ugwoegbu's snap count continues to climb and this unit has potential to grow if they can play more consistently and not miss as many tackles.
---
DB: 4* (Last week 4*)
Y'all wanna yell about Bookie, I get it, but he did not have a bad day. He led the team in tackles and yeah he gave up a TD to another TE…but OU chooses to put him on the field more than most defensive players and bad match-ups happen (he had decent coverage…just too small).
Pat Fields was not an issue this week as TCU couldn't/didn't attack him. Brown was not mentioned on the broadcast and thats a good sign.
Woodi had a debatable PI called on him and Davis got beat a couple times but also had a nice PBU.
The thing that dragged the unit down a but was DTY and his missed tackle (with Broiles) on a small pass play which turned into a large pass play.
Overall, they were decent, but not spectacular. Could have given them a High 3* but I went with the 4*. May have been generous, but they were 'above average' in my opinion.
---
Special Teams: High 3* (Last week High 3*)
Mims is gonna break one soon. I feel it in my bones.
Brkic was solid on his kicks and almost nailed a long one.
Punting is still a bit of an adventure.
Kick returns was meh.
---
Insider | Sooners a Little Short Handed
– Super K – Posted on: October 29, 2020
It does appear the Sooners will be short a couple of starters this weekend.
***I'm told wide receiver Charleston Rambo and defensive back Delarrin Turner-Yell will be out this weekend.
***In place of DTY, expect to see veteran Tre Norwood. Prior to his injury that sidelined him for the 2019 season, Norwood had played both corner and safety. He's been working his way back in this season and should be able to fill in nicely for DTY.
***I do expect both DTY and Rambo to be out for the next two games – Texas Tech and Kansas.
---
Keep an eye on This 2021 5-Star Defensive End
– Super K – Posted on: October 29, 2020
As you know by now, 5-star QB commit, Quinn Ewers has decommitted from Texas. Before that, we saw Texas lose long time 2021 commit, Billy Bowman.
Up until now, 2021 5-star DE, Ja'Tavion Sanders, however, has remained solid to Texas.
In fact, I had heard, even recently, he really wasn't even entertaining other schools.
I am now hearing that that has changed. I'm not ready to say there is an imminent decommitment but it's looking like much more of a possibility.
I do believe that OU, among others, will be in contention.
---
Know Your Opponent | TTU
– The Football Brainiacs
Head Coach – Matt Wells (2nd season at Tech)
Offensive Coordinator – David Yost (2nd season)
Defensive Coordinator – Keith Patterson (2nd season)
The Texas Tech Red Raiders have a staff that are all in their second year in Lubbock by way of Utah State, where they had tremendous success in the Western Athletic Conference.
They are off to a 2-3 start, with their one conference win coming last week against West Virginia.
On Offense …
The Raiders will spend the majority of their time in 11 (3 WR, 1 TE) or 10 Personnel (4 WR, 0 TE). The OU defense excels at stopping the run. Could cause problems in regard to the TTU offense getting on track.
QB – #10 Alan Bowman started the year but has given way to #3 Henry Colombi
RB – #4 SaRodorick Thompson and #28 Tahj Brooks
– Thompson is the teams leading rusher this year with 64 carries for 350 yards (5.5 ypc) and 5 touchdowns. Thompson did get injured near the end of the West Virginia game and his status is a bit cloudy for the OU game. Have not seen any confirmation of him playing or not yet, but I would not be surprised to see him at least give it a shot against OU.
– Colombi came to TTU for his junior season following spending his first 2 seasons at Utah State. Colombi made his first start for the Red Raiders against West Virginia and had himself a day as he went 22/28 for 169 yards and 1 touchdown.
WR – #13 Erik Ezukanma
WR – #9 T.J. Vasher
WR – #86 Dalton Rigdon
TE – #15 Travis Koontz
– This one is pretty simple. Ezukanma and Vasher represent arguably one of the most talented duos that the Oklahoma Secondary will face this season. Both players are big-time downfield threats with the ability to make spectacular grabs. Ezukanma is the more dangerous player after the catch. He's a future second-day draft pick. #82 Keisean Carter also can play.
– Vasher did not play against WVU and earlier in the week Matt Wells mentioned he was 'unavailable'. Not sure if that means for this week or just for last week. So he is a question mark.
LT – #77 Ethan Carde (JUCO)
LG – #70 Weston Wright
C – #73 Dawson Deaton
RG – #56 Jack Anderson
RT – #50 Josh Burger (Wofford transfer)
– Both Tackles are in their first year as they came to TTU as transfers, with Carde coming from the JUCO ranks and Burger being a Graduate transfer.
On Defense …
Tech lines up in 3-3-5/3-4 hybrid look not too dissimilar from what the Texas Defense was doing under Todd Orlando for the past few seasons. They emphasize speed over size, Defensively. The Red Raiders lost a lot of experience off of last season's defensive unit and utilized the transfer portal in a major way (Tech signed six graduate transfers).
DE – #53 Eli Howard (North Texas transfer)
DT – #95 Jaylon Hutchings
DE – #97 Tony Bradford Jr.
– Howard and Bradford are the two guys on the DL who stand out on occasion, but overall, they are a rather pedestrian group.
– Through 5 games, the Texas Tech defense has struggled and they currently rank 89th in total defense.
– They currently average giving up 6.19 yards per play and 486 yards per game.
MIKE – #1 Krishon Merriweather (JUCO)
SAM – #6 Riko Jeffers
WILL – #17 Colin Schooler (Arizona transfer)
SPUR – #20 Kosi Eldridge (JUCO)
– Linebackers Merriweather and Jeffers are their leading tacklers
– They'll line Jeffers and #2 Brandon Bouyer-Randle (Michigan St. transfer) up on the end of the line of scrimmage when they want to bring pressure with four guys. They have had some success in generating some pressure that way.
CB – #8 Zech Mcphearson (Penn St. transfer)
S – #16 Thomas Leggett (JUCO)
S – #11 Eric Monroe (LSU transfer)
CB – #27 Alex Hogan
– Not a strong suit for the Red Raiders as they are still trying to find their way.
– Oklahoma can have success against this group, especially the Safeties, if they can protect long enough for guys to operate downfield. The Corners can get into panic mode on occasion and get lost in their assignments.
Special Teams …
K – #36 Trey Wolff
P – #31 Austin McNamara
– Both players are experienced.
Overall Thoughts …
– Oklahoma should have success in the trenches on both sides of the ball.
– The OU defensive line and edge rushers simply need to keep doing what they have been doing and apply pressure to Colombi who is not nearly as mobile as Duggan and Ehlinger are.
– I have not seen enough about Colombi to really get a feel for him, but OU could really make some noise in the defensive backfield particularly if Vasher is out. We will see how that shakes out but even if he is playing, if OU plays on the level they have over the last two games up front, they could be in position to secure some turnovers.
– Offensively, look for the Sooners to focus on establishing the run game early. The OL is rounding into form and TTU offers them an opportunity to 'eat good' and establish their domination. It will be a matter of play calling from Riley and sticking to the plan to really get the run game rolling and it is something I really hope to see.
– I would also expect to see a lot of crossing routes in the pass game as the TTU secondary is still struggling to find their footing and Rattler has the most arm talent of any QB they have seen to this point this year.
– On paper, the Sooners should win the game comfortably. We have seen that not go according to plan already this season though so it will be important for OU to stay focused and keep their foot on the pedals.
– Charlie and Darius
---
Insider | Injury News
– Charlie S – Posted on: October 29, 2020
Another player to keep an eye on who could possibly be out this weekend…
***We've heard that Sooners defensive tackle LaRon Stokes is a little banged up and is questionable to go this week.
***Should he not be able to play, we've been checking to see who might get the start. We would've expected that to be Joshua Ellison. However, we are being told that if Stokes is out they will likely slide Isaiah Thomas over to start at the 3-tech position.
---
Quick Hitter | Wide Receiver Reinforcement
– Charlie S – Posted on: October 29, 2020
Earlier this morning, Super K broke the news that Sooners wide receiver Charleston Rambo would be out for the next couple of weeks.
While the status of Trejan Bridges is still up in the air at this time, the Sooners will still likely be getting some help at the receiver position this week.
James let me know that sources tell him that they expect Obi Obialo to be ready to go for OU this week. Obialo has only participated in one game for OU to this point as he played against Iowa State.
James mentioned that Obialo has been dealing with a lower body injury.
---
Sooners Commits Twitter Storm (UPDATED 3:41 PM)
– Charlie S – Posted on: October 29, 2020
Numerous Sooners commits took to Twitter in unison and tweeted out the 'O' emoji…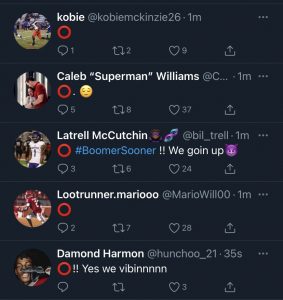 Those included in the screen grab, along with multiple other commits, seem to be signifying something…
***The commits have done this before, and the last time they did it was when Kelvin Gilliam told them he had committed to Oklahoma.
Right now, we are working on getting to the bottom of what this tweet storm signifies…will update when we get some clarity.
***UPDATE (3:41 PM): We can confirm who the commit is. Not surprisingly it's a 2021 player. The player is from this general region. We don't expect the announcement to drag out too long.