Open Post | Weekend, October 2nd – 4th
Posted on: October 2, 2020
Update on Caleb Williams | Less Lines to Read Between
– Charlie S
On Wednesday, on the Donor Board K posted this thread…
'Earlier today, Caleb Williams tweeted the following in reference to his impending campus arrival.
Based on what I'm hearing, "tomorrow" may not be quite the exaggeration it would be in a normal year but I suspect he will have more to say on that in short order.'
Thursday…on his Instagram live story (which features a short live video at Torchy's which is where the still picture in the post came from)…Caleb Williams posted these images…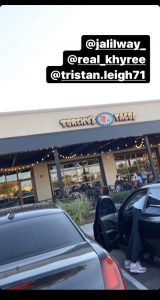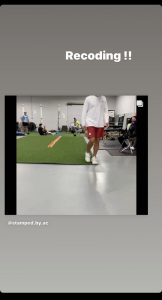 Torchy's Tacos ain't in Washington D.C.
'Tomorrow' in his tweet was pretty accurate'.
Caleb has in fact made his way back to Norman. We will let him break down his reasoning for you all on his own, but K did add an interesting bit of commentary in the comment section on the Donor Board for those interested in some more clues.
---
Position Group Progress Report | Kansas State
– Charlie S
Handing out the rankings for the Sooners position groups following the Kansas State game.
I will be including the previous weeks rankings so we can all see how the units are shaking out on a week by week basis!
Let's see how things shook out against the Wildcats and then be done with it…
---
QB: High 3* (Last week High 4*)
Looking at the stat line you see the pretty numbers…aside from the interceptions.
Rattlers day read as: 30 for 41 for 387 yards, 4 TDs and 3 INTs.
The interceptions broke down as a tipped ball, an under thrown ball where the DB made a nice play, and a bad miss on the last offensive play of the game for Oklahoma when they needed to move down field and get in scoring position.
Rattler was not the reason Oklahoma lost the game, but he may have been the reason they did not win the game at the end of the day. Sounds contradictory doesn't it?
Throughout the second half he put all those rookie mistakes we worried about on full display. Happy feet, locking on one receiver, and trying to do too much on his own.
It will get easier and he will get better. Just an unfortunate time for him to press as the OU defense was pulling the rug out from the rest of the team. Not a great day for the kid, but you still saw all the potential he offers on full display, particularly in the first half.
---
RB: High 3* (Last week High 3*)
TJ Pledger returned to the team and got the start and as expected, Seth McGowan was his partner in the backfield.
They both hit the number of carries I expected and McGowan pretty much matched the production I expected going into the game with his 13 carries for 73 yards.
Pledger also had 13 carries and he totaled 41 yards on those carries.
They both did a good job on picking up their assignments for the most part (particularly Pledger in blitz pickup) but they had to work for everything they got in terms of production as the offensive line just could not assert their dominance on the Wildcat defense.
Given what they were faced with, thanks to the OL, they both performed admirably but not spectacularly. Hence the high 3* ranking.
---
WR/TE: High 3* (Last week High 3*)
I mean…this is a tough one because I think Stogner performed at a very high level and there were 8 other guys who caught passes…but man when Drake Stoops leads the team in yards and was the only guy who got routinely open (as a true WR)…there are some issues.
Rambo had 5 receptions. You see he had 5 receptions you think he's around the 100 yard mark. You thought wrong. He had 30 total yards on 5 receptions. Rambo is a field stretcher, not a YAC guy and this is what you are going to get from him when you only use him on screens and quick outs.
Wease had 4 receptions for 43 yards…better, but by no means all that impactful in the big picture.
Marvin Mims started out hot, got dinged up and kind of disappeared. That was a blow for OU, and it shouldn't be.
The OU WR's not named Stoops had difficulties getting separation against a horrendous KSU Secondary (on paper due to injuries and depth chart issues). That should not be the case. Blame it on the kids not getting open or Riley for the play calls…whichever way you chose, it doesn't matter. OU wide receivers should have had a field day. They didn't.
---
OL: High 2* (Last week 3*)
High 2* may be generous and I'm only going there because Creed and Ealy were not terrible. They were once again not dominant by any means, but they held their own as a high 3* should.
The rest of the line was hot garbage for most of the day.
Slow, stiff, upright and penalty prone is no way to go through life as an offensive lineman son.
Swenson started at left tackle and was replaced after two series by freshman Anton Harrison who seemed to bring a bit of a spark to the unit. However, over the course of a game, his inexperience and physicality was exposed at times, as you would expect, but all in all, I would rather see him continue to get the majority of the reps than to see Swenson out there in a starting role.
I had very high hopes for this offensive line prior to the season. They were my highest graded unit. They have not lived up to my expectations, I can only imagine they have not lived up to theirs or Bedenbaughs expectations either.
Hopefully, they gel and start to point in the direction I think they can go.
---
DL: 3* (Last week 4*)
Three star may be generous for any unit on the defense so it's kind of funny that I have all three units ranked at 3*. Weird how that worked out.
But I think a lot of the reason it worked out like that is because of what I noted in the post game…OU didn't make many small mistakes, their mistakes were glaring.
The DL is the one unit you can point to and say 'eh, they weren't terrible at any point' but in turn you can also say 'they were not difference makers at any point' with the very next breath. If you're not going to run up the stat sheet as a DL against the likes of Missouri State and a cobbled together Kansas State OL…who will you do it against?
I think this is what they are. A workmanlike unit who will not dominate many teams (if any) as we have seen through the first two games. Once again the guy who did flash a bit was Isaiah Thomas, nobody else really stood out.
The RUSH guys were pretty much non-factors as well. Saw Bonitto fly around a bit which was nice, but in the second half, when OU desperately needed a play to be made, nobody stepped up.
---
LB: 3* (Last week 4*)
I could go four star here if I took Mead out of the equation.
White and Asamoah made more solid plays than they missed (yes, both missed tackles on the same play in the 4th quarter) but overall, they played solid ball.
After rewatching the game for a third time, I am even more convinced Mead shouldn't see the field again unless OU is in the victory formation.
Just no need for him to take snaps from guys like Ugwoegbu, Whitter, Barnes and Morris if they are eligible to play. That's the last word I will have to say about him.
Asamoah was consistent for the most part and White had the Sooners lone sack on the day.
Aside from that, when OU needed someone to step up to stop the bleeding in the second half, nobody stepped up here in this group either.
---
DB: 3* (Last week High 4*)
Is the 3* generous, or harsh? I don't know because there were not a ton of mistakes back in the secondary, but when they made the mistakes, they went full send.
Tre Brown…really have no explanation here on 3rd and 18 in cover 0. You have one job, stay on top of the route. You know the route, you know the call…just stay on top of him. But alas…
Pat Fields reverted back to taking some incredibly in-explainable angles to plays in front of him while also missing a few assignments from what I could tell.
Brown and Fields have been on the field for 3 years now. Those mistakes shouldn't happen. They just shouldn't.
Bookie had his ups and downs, missed some tackles but also was probably (and I mean probably) the best DB on the day in terms of positive impact.
Davis had a solid day and Woodi really looked good out there on the corner, but, upon further review, it seems like he was the guy who helped make Mead look so bad as he did not pick up the RB when Mead released him after 10 yards.
Overall, they didn't make a ton of mistakes, but they were huge when they did and…nobody in this group stepped up when Oklahoma needed a play in the second half. (Thought the tackle by Broiles was big when it happened, but it was not enough at the end of the day).
---
Special Teams: High 2* (Last week High 4*)
Punt blocked = no good ranking for you.
Return game was very 'meh' and the kicking game was perfect as usual.
Can't have a mistake on Special Teams if you want to shine in the progress report.
---
Grinch Staying the Course
– Super K
After Saturday's debacle, I'm sure many of you are wondering if there are any major personnel changes coming on the defensive side of the ball.
I have asked around and was told not to expect anything major in that regard.
Was told that after watching the film, the staff generally agreed that the story of the game was assignment sound defense with spurts of really atrocious defense.
I can't say I disagree. In fact, during the game I texted in our TFB group message…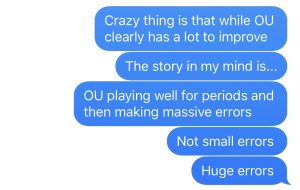 There were about five defensive plays that the Sooners paid for dearly. Those plays essentially wiped out most of the good the Sooners D had produced.
The one that comes to mind for me is the bust on the cover 3. Mead followed the running back out to the receiver split. This is, apparently, what they are taught in order to keep the pre-snap read disguised as Mead. And while, Mead played his assignment correctly, the cornerback was supposed to have deep third which would have likely prevented the TD. Instead the corner played man and left the running back wide open.
I think the reality is we really aren't going to know much about how good or bad this defense is until they play a good offense. Kansas State is not a good offense. In fact, at times, OU was able to show that. But Kansas State was the beneficiary of some really poor moments.
I am told that the message inside the building this week has been to refocus the goals. Instead of being result oriented (wins and losses), the coaches need to get players back to being focused on meeting the standard set for them on each and every play.
---
Know Your Opponent | Iowa State
– Charlie S
Game Info:
Saturday, October 3rd – 6:30 ct
Ames, IA
Stadium: Jack Trice Stadium (61,500)
Surface: Grass
Head Coach – Matt Campbell (5th year)
Offensive Coordinator – Tom Manning (3rd year, 1st was in 2016-17)
Defensive Coordinator – Jon Heacock (5th year)
On Offense …
Iowa State runs a Spread Offense with an emphasis on establishing the run game. The Cyclones have some talent in this group.
QB – #15 Brock Purdy
RB – #28 Breece Hall*
– Think of ISU QB Brock Purdy as a rich man's Skylar Thompson. The junior took over the job midway through his freshman season and has never looked back.
– #28 Breece Hall is one of the highest-rated recruits to ever sign with the Cyclones. He's the nephew of former San Francisco 49ers standout Roger Craig and his father played Running Back at Nebraska and spent some time in the NFL with the Kansas City Chiefs and Tampa Bay Buccaneers. He earned the starting job as a true freshman last year and put up a terrific stat line which read: 18 rushes for 155 yards which is 8.6 yards per carry with 3 touchdowns and a long of 75 yards.
WR-X #8 – Xavier Hutchinson JR
WR-M #1 – Tarique Milton RS JR
WR-Z #2 – Sean Shaw Jr. RS SO
TE-Y #88 – Charlie Kolar RS JR
– Kolar, out of Norman Oklahoa, is Purdy's security blanket and his return to the field following missing the Cyclones opening game was a big bonus for ISU. While he didn't put up gaudy numbers against TCU, he did have 5 receptions and will only see an expanded role going forward. He is a weapon who provides some matchup problems.
LT # 75 Sean Foster RS SR
LG #52 Trevor Downing RS SO
OC #57 Colin Newell RS JR
RG #77 Robert Hudson RS JR
RT #76 Joey Ramos RS SO
– Last week against TCU, the Cyclones put up 424 yards of total offense in their 37-34 win.
– It was a very balanced attack with 213 yards on the ground and 211 through the air.
– They only had 3 penalties on offense, so the discipline is there.
– Coming into the year, the OL was a question mark as they lost numerous starters and are rather inexperienced. They held up pretty well against TCU as they allowed 2 sacks and 5 TFLs
On Defense …
Iowa State runs a Multiple Defense that operates primarily out of a 3-down front. Iowa State will keep five DBs (hybrid Safety/LB) on the field at all times.
DE #3 JaQuan Bailey RS SR
DT #58 Eyioma Uwazurike RS SR
NT #93 Isaiah Lee RS SO
– Bailey had a huge day last week as he recorded 3.5 sacks and 4 TFL. He was a one man wrecking crew.
SLB #23 Mike Rose JR
MLB #34 O'rien Vance RS JR
WLB #35 Jake Hummel SR
– Rose led the team in tackles last week as he recorded 10 total (6 were solo)
STAR #1 Isheem Young RS FR
LCB #26 Anthony Johnson Jr. JR
FS #11 Lawrence White IV RS SR
SS #12 Greg Eisworth II RS SR
RCB #13 Tayvonn Kyle RS SO
– Eisworth is the heart and soul of the secondary. He transferred to ISU from Ole Miss and the Sooners were actually his preferred destination when he was making the move. OU missed out on an opportunity there, IMO. He is a very solid player.
– Last week against TCU, the Cyclones gave up 499 total yards.
– 400 yards came through the air, and after watching the highlights of the game, TCU left a lot on the field. TCU QB Max Duggan did not start the game, and ISU has to be thankful for that as he lit them up in the second half.
– TCU left a lot of yards and points on the field in the first half as backup QB Matthew Downing struggled a bit.
– Was really shocked to see the ISU defense have as many leaks as I saw on film. They were solid against the tun for the most part, but they need to improve their coverage if they are to hold OU in check.
Special Teams…
PT #7 Joe Rivera RS SR
PK #96 Connor Assalley RS SR
Overall Thoughts…
– Scary game for OU following the Kansas State debacle.
– On Defense, the Sooners will likely focus once again on stopping the run up front and take their chances through the air.
– Hall is a very good running back and will present an upgrade over the Kansas State running game, but I do question the inexperienced OL group for ISU which may allow OU to have some success in containing Hall.
– On offense, the ISU defense looked a bit out of sync against TCU as Duggan was able to pick them apart once he entered the game.
– Only thing that stopped the TCU comeback was a diving interception by Mike Rose for ISU as Duggan had them on the ropes.
– OU will need to tackle well in space (obviously) and not have the major busts they had against KSU (again obviously) to pull out a win here.
– Right now, OU is touchdown sized favorite. Depending on the hour, I go back and forth on how I view the outcome. The Sooners are the more talented team, will that show on the field on Saturday night? At this hour, I think it will, but ask me later this afternoon, I may not feel the same (no specific reasoning there, just an internal struggle)
---
One On One | Iowa State
– Charlie S
The Sooners will be looking to get back in the win column this week as they take on Iowa State on Saturday night in Ames, IA.
Oklahoma is coming off a disappointing loss in their conference opener to Kansas State who they held two separate 21 point leads against. Kansas State was a 28 point underdog going into the game.
Iowa State is coming into the game feeling a bit better about themselves after defeating TCU last week. However, they opened the season by getting thumped by Louisiana Lafayette and barely held on against TCU who didn't play their starting QB in the first half of their game.
Let's take a look at a couple of match-ups worth paying attention too.
One on One number One:
Sooners OL (The entire group) vs Iowa State DL
Look…this is gonna be a staple in this feature until the Sooners get it figured out.
Last week, I had one of the featured matchups as Anton Harrison vs the KSU defensive line and while he did not start (Harrison) upon his insertion into the game, things did get a little better for Oklahoma, however, putting Harrison in over Swenson was similar to putting one's finger in one hole in the damn…
Leaks sprung up elsewhere as guards Marquis Hayes and Tyrese Robinson took their own ride on the struggle bus as the game dragged on.
Iowa State is coming off a very good game for their defensive line. Cyclones senior defensive end JaQuan Bailey had 7 tackles including 3.5 sacks and 4 totals tackles for loss while fellow senior defensive end Eyioma Uwazurike contributed 5 tackles with 1 sack in the victory over TCU.
To put that performance in perspective…Oklahoma has ONE sack by a defensive lineman on the year which came from true freshman Reggie Grimes in the Sooners opener against Missouri State.
It is imperative that the Oklahoma offensive line gels and does so rapidly.
Last week, Spencer Rattler was forced into an interception due to pressure from the Kansas State line and as the game progressed you could see the young QB get a little gun shy and develop some confidence issues in his pocket protection. Rattler is good. He is going to be exceptional in the future, but right now he needs to have confidence that his line will protect him and give him enough time and space on a consistent basis, particularly early in the game against Iowa State.
Then you get to the running game. The Sooners offensive line did give their backs some opportunities to be in one on one situations with the Kansas State safeties, but not enough of them. The backs must capitalize on those opportunities, but the line must get to the point where they can impose their will on the opposition.
The talent is there, I still believe that. It is time to see the product on the field match the talent on paper and if the current group of starters cannot get it done, it may be time for Bedenbaugh to try some new faces in different places.
One on One number Two:
Sooners LB DaShaun White (and Brian Asamoah) vs ISU RB Breece Hall
Last week, the Sooners defense did a very good job against the run. They limited Kansas State to 66 yards on 26 carries which was less than 2.5 yards per carry.
Kansas State RB1 had 8 carries for 45 yards with 38 of those yards coming on ONE PLAY.
I'm here to tell you that, while Vaughn is a fun, scappy back, he is no Breece Hall.
Hall had 18 carries for 155 yards against TCU with a long of 75 yards.
The Sooners will be facing a much higher caliber back this week and they need to be assignment sound when it comes to fitting the run.
White has 5 total tackles on the year (he does lead the team in sacks with 2.5) and Asamoah has 11 total tackles on the young season. If the Sooners are to contain Hall, you very well may see both of these players match their season tackle totals in this one game. At the very least you hope to see them come close to matching those totals as that would signify, to me, that they were able to contain Hall and the Iowa State running game.
Hall will not be the only focus for the backers as Tight End Charlie Kolar will draw their attention and QB Brock Purdy can pick up some yards on the ground, but Hall will certainly be a key for both the Sooners and Cyclones.
---
Last weeks one on ones:
One on One number One:
Sooners OT Anton Harrison vs KSU defensive line
Harrison was an upgrade over Swenson. We all knew it going in and his performance did not change that. He is young, but his confidence grew as the game went on and you could see his athleticism and power on display which is going to work in OU's favor as the season progresses. Result: Harrison lost the battle on the day, but it was a step towards winning the larger wars to come.
One on One number Two:
Sooners safety DTY vs KSU QB Skylar Thompson
DTY was the wrong safety to focus on. He went out and performed well enough, even flashed at times, but by the time the meltdown of the entire defense was taking place, nobody, including DTY was able to step up and stem the tide. Result: I'll call it a win as DTY led the team in tackles, but I'll say the focus of the one on one was a loss as I should have suggested focusing on Fields.
---
Team | Quick-Hitters
– Super K
***I'm sure most of you have so far been very impressed with Seth McGowan's performance. Outside of the fumble, he's been fantastic.
I'm told the staff very much agrees and is extremely encouraged by what he's able to do so early on.
As James has noted though, there is still a feeling that the way Rhamondre was playing in fall camp, he will really raise the OU run game to another level.
I'm told that the way Rhamondre is playing, were he not suspended and were Brooks playing, Rhamondre would have been the starter.
***I know Lincoln has already discussed the suspensions but I have spoken with sources behind the scenes. And what I've been hearing is that the staff is still holding out hope that they will hear of a reversal for the suspension before next week's Texas game.
***It sounds like the Sooners are going to try to work Josh Eaton in as their fourth cornerback behind Woodi Washington who is a third.
I'm told Dennis will be on scout team. Also, have been hearing lately that DJ Graham, while he has potential as a cornerback, seems to prefer offense. So, he will likely finish the year on defense and then switch to the offensive side.
***James also let me know that HBack Brayden Willis will also miss this weeks game with a lower leg injury. Not clear on the extent of the injury at this point and right now it is likely a week to week thing but there is a possibility he could be out for an extended period of time.