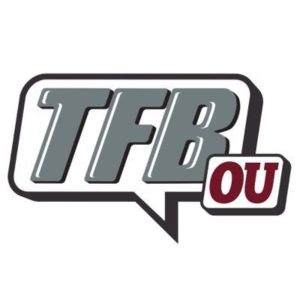 Open Post | Weekend, October 25th – 27th
Posted on: October 25, 2019
Reggie Grimes | Initial Update
– Super K
Earlier this week, I stopped by Ravenwood HS in Nashville TN to see this past weekend's visitor, 4-star DE, Reggie Grimes…
It was raining here in Nashville, yesterday but things look clear today so I may head back out to see Reggie move around at practice this afternoon.
I did speak with him and I wanted to pass along a few key updates…
***Sooners are very much in this one. So far, he's taken official visits to Alabama, Tennessee, South Carolina, and Oklahoma.
***He says he will take a final OV to FSU.
***Reggie already has a committed date set. He told me he's going to announce his decision on Thanksgiving day.
***He's apparently very close to Sooners DB, Woodi Washington. Washington hosted both he and Keshawn Lawrence.
***Here is what I found interesting. Apparently, Reggie is the one who reached out to Oklahoma. He saw the OU defense last year and this year and the difference was, obviously, significant. Significant enough that he decided to speak with the Sooners staff. Grimes was offered by OU last spring but it doesn't sound like there was a ton of contact until Reggie reached out.
***I also spoke with Reggie's mother. She ran track at Alabama. As you already know, his father played on the defensive line at Alabama. His mother, however, is originally from Nebraska and grew up a Huskers fan. So, while she used to root against Oklahoma, it's clear she has a great deal of respect for the Sooners.
***The family and Reggie really liked the visit. I like the Sooners chances.
***However, here's the issue and it's a good problem to have. There are actually other defensive linemen who are reaching out to Oklahoma. There's only one spot left and I'm not sure how this is going to play out…
More on all this later.
---
West Virginia | Position Group Progress Reports
– Charlie S
Handing out the rankings for the Sooners position groups following their game against West Virginia!
Let's get to it!
Also, I want to give a shoutout to Soonergridiron for his amazing video content. The guy is great, go follow him on Twitter.
---
QB: 5* – Last week – (High 3*)
Just when you started to question Jalen Hurts following the Texas game…he goes out and does this!
Stat line:
Passing: 16 completions on 17 attempts for 316 yards with an average of 18.6 yards per completion and 3 touchdowns.
Rushing: 10 carries for 75 yards for an average of 7.5 yards per carry with 2 touchdowns.
Hurts was one Drake Stoops dropped pass from having a 'perfect' day throwing the ball. He showed some great looks in going through his progress a bit more effectively and had several jaw-dropping throws.
There is the well-documented throw to Lee Morris which Riley praised but there was also a throw on a roll to his right where he hit Charleston Rambo on the sideline with a laser.
Nice bounce back from Texas where he had a swollen hand, and according to Joel Klatt, he was dealing with a bout of the flu the week leading up to the RRS.
In the past, I have graded the QB position based on all the QBs who played in the game…I'm choosing not to do that for this week as Hurts earned his 5* and Mordecai's drives were largely ineffective, so I'm going to pretend they didn't happen. It's my piece and I make the rules!
Seriously though…Spencer Rattler is gonna be good in 2020.
---
RB: High 3* – Last week – (High 4*)
The Sooners used the run game effectively enough when they chose to have a running back carry the ball.
The stat lines read:
Kennedy Brooks: 10 carries for 70 yards for a 7.0 yards per carry average and 1 touchdown
T.J. Pledger: 3 carries for 25 yards for a 8.3 yards per carry average
Trey Sermon: 5 carries for 17 yards for a 3.4 yards per carry average
Rhamondre Stevenson: 4 carries for 1 yard for a 0.3 yards per carry average (ouch)
I mean…they weren't much more than just guys out there against West Virginia. Don't take that as a reflection on their ability, rather a reflection on their use.
Brooks had a nice day, Sermon looked lethargic or disinterested on the goaline as OU was trying to get him a score and Stevenson never got the flow going. Very pedestrian outing for the Sooners running backs overall.
Pledger is a guy who continues to run hard every time he gets his chances and you can see Riley and Boulware have taken notice as he is becoming a guy who is finding more snaps.
I had high hopes for the running backs heading into the game as I though OU may try to feature the run game. OU did feature the run game but Hurts got 10 carries (out of 59 total offensive snaps) which takes away some opportunity for the backs.
---
WR: 4* – Last week – (4*)
The wide receivers had a very balanced day as 10 Sooners caught passes (including a couple of RBs).
The biggest notes of the day could possibly be what didn't happen…and that would be CeeDee Lamb not catching a touchdown pass and Drake Stoops not catching a ball that would turn out to be the only incompletion on the day for Hurts. Lamb had a streak of eight straight games with a touchdown reception.
Overall the stats were pretty impressive in regards to yards per catch in particular:
Charleston Rambo 4 recptions for 71 yards for a 17.8 yards per catch average and 1 touchdown
CeeDee Lamb 3 receptions for 71 yards and a 23.7 yards per catch average
Lee Morris 2 receptions for 57 yards and a 28.5 yards per catch average with 1 touchdown
Mykel Jones 1 reception for 37 yards
Theo Wease 1 reception for 34 yards
Kennedy Brooks 2 receptions for 28 yards and a 14.0 yards per catch average
Jeremiah Hall 1 reception for 20 yards and 1 touchdown
Drake Stoops 2 receptions for 19 yards and a 9.5 yards per catch average
Nick Basquine 1 reception for 13 yards
Jadon Haselwood 1 reception for 13 yards
---
OL: High 4* – Last week – 4*
The Sooners offensive line really stepped up their game last week against Texas as Adrian Ealy and Erik Swenson returned to the field and performed pretty well against the Longhorns.
This week, the group as a whole upped their game as they took another step in their evolution. Having the same unit on the field in consecutive weeks really helps the growth and development of Bedenbaugh's boys!
The interior of the line really stood out as many of you noted Marquis Hayes looking for work as he picked up that loose guy on the Morris TD pass. Was beautiful.
Hayes, Robinson, and Humprey make the Sooners interior OL one of the most formidable units in CFB and with Ealy and Swenson playing well, the group is becoming a problem for the opposition.
Swenson did a good job of keeping Hurts clean and Ealy continues to be a punisher out on the right side.
All in all a superb performance for the OL as the Mountaineers mustered one sack and 4 tackles for loss.
This talent in this group is beginning to really emerge, and while many of you look back to last years group (4 of which were drafted) this group has a higher ceiling in my opinion as the athletes are flat out better. It is Bedenbaugh's job to bring it out, and we are seeing that happen week to week.
---
DL: 4* (Low 4*) – Last week 5*
Tough to compete with their performance against Texas with the nine sacks and seemingly thousand tackles for loss.
The guys up front were not asked to have that type of game as many people were clamoring (including myself) for more pressure throughout the game.
Bottom line…the game plan didn't call for it as Grinch and Riley explained following the game.
The Sooners went from nine sacks against Texas to zero sacks against West Virginia…yet they still played at a very high level as they recorded 9 tackles for loss while not being called upon to attack the pocket as much.
The Sooners defense gave up 242 yards on the day and of that low number, only 51 of those yards were allowed on the ground. It's not like the Mountaineers didn't try it…they had 30 rush attempts to gain those 51 yards which equates to a 1.7 yard per carry average. Pretty good stuff.
Ronnie Perkins really stood out as I rewatched the game by defending the run very well. He's so consistent and his motor is always running high.
Solid outing for them once again as they did what they were asked to do very effectively.
---
LB: 4* – Last week (High 4*)
Kenneth Murray is the best inside linebacker in the country at this point. I said it. Deal with it.
You all know I was not a huge buyer in Murray coming into the season. I voiced my opinion that he would be better served by moving to the RUSH position as I didn't think he had the instincts necessary to be an effective ILB.
I'm here to tell you I was wrong (as was most everyone else)
He is playing at an absurdly high level. So much so that it is now a surprise when he doesn't make a play than when he does. He is consistent, decisive, and the heart of the OU defense which is greatly improved.
Against West Virginia, he led the team in tackles and tackles for loss. Just another impressive performance.
Now, as for the rest of the LBs…they are playing very well but Murray's level of play is casting a shadow on their play in general. Last year, everyone would have appreciated the steadiness of DaShaun White and the explosiveness of Brian Asamoah and been happy.
This year, it is a lot easier to be critical of those guys because well…they aren't Kenneth Murray.
The RUSH spot has been thrown a bit of a curveball as JMT is out for the year and Nik Bonitto and David Ugwoegbu will now man the position. Not taking anything away from JMT…but in the long run, that could prove to be good fortune for the Sooners as Ugwoegbu is a superior athlete and Bonitto seems to be getting better each week. Not wishing anything but a complete and full recovery for JMT but this could be a Wally Pipp/Lou Gehrig situation. (Baseball analogy: Pipp was the guy who missed a game and Lou Gehrig stepped in that day and began his incredible 2.130 games played in a row streak)
For the West Virginia game, White played ok and Bonitto was solid, but they just weren't Kenneth Murray.
---
Corners: 4* – Last week – (High 4*)
Tre Brown played a pretty solid game. He was tested early vertically and did a nice job in shutting it down. It was really good to see out of him.
Jaden Davis got his first official start of the season in place of Parnell Motley (who came on and played plenty of snaps) and he was tested and while he did well, he had a couple gaps in coverage that we haven't seen much of out of him to this point. Still, he played well and certainly was above just an average guy.
Motley was credited with two more passes defended and the guys at PFF love his performance this year.
All good stuff, no major busts and while they have work to do, they are still growing and evolving.
---
Safeties & Nickel: 4* – Last week 5*
Another solid outing by the backend of the Sooners defense.
While it was not as flashy as the previous week, the safeties and nickel all played at a high level.
Bookie is killing teams horizontal passing games at an insanely consistent level and Fields and DTY are filling gaps and taking improved angles as the weeks pass.
DTY impressed me with a nice ankle tackle on a swing pass which I believe went for a loss (may have been no gain or a very short gain) but the fact that he made that tackle was a sign of how far this defense has come.
Yes they are undersized and maybe they aren't a fear-inducing bunch to this point from a physical standpoint, but the first unit is out there getting the job done at a very high level. I give all those guys props for turning around what was considered a severe weakness by many (including myself) early in the season and turning it into yet another bright spot for the Sooners defense.
This will be an interesting week for this group as Kansas State provides a challenge in the form of using their tight ends very well. The last time we saw a team use the tight ends effectively it was UCLA with AsiAsi. In that game, Fields looked like a swinging gate in coverage, DTY was taking some really poor angles, and Bookie was losing the physical match up much more frequently than of late…that game should be a real litmus test for this group and I am looking forward to it.
---
Special Teams: High 4* – Last week – 4*
Brkic did what was asked of him.
Mundschau was fine.
Coverage was spectacular, no fumbles, no injuries. Solid day.
Austin Stogner recovered a blocked punt by Brayden Willis for a touchdown for the Sooners first special teams score of the year! (Was also the first touchdown of Stogners career)
---
Defensive Line | Target Breakdown
– Super K
Sooners currently have secured commitments from JUCO DL, Perrion Winfrey and 2020 HS DL, Noah Arinze.
Let's go through some of the other targets.
***Princely Umanmielen – Princely announced his decommitment earlier today. Princely reached out to Oklahoma earlier this week to find out if a spot was still available. I am told that OU is taking all things into consideration including other targets, numbers, etc. I believe they are leaning towards restarting the recruitment of Princely but I'm hoping to confirm that later this week, as things are currently still in flux.
***Deandre Butler – Butler is a JUCO prospect out of Independence Community College. Charlie has already reported on Butler. Butler visited the Sooners and has been in touch with Oklahoma for a while but no offer has been made yet. I'm told the Sooners like him and are considering making him an offer.
***Reggie Grimes – Grimes took his official visit to Oklahoma last weekend. He's a athletic high upside player out of Tennessee that we've reported on and I had a chance to see on Monday and Tuesday. My read is that the Sooners have a very good chance of landing Grimes. He has a final OV set for FSU and will announce his decision on Thanksgiving. Truth be told, I get the sense that South Carolina is actually the biggest threat. They were his first offer. He's been there a number of times. And, they have been recruiting him for quite some time.
On the three prospects above, if any one of them takes the third spot, it probably closes the door on the other two.
However…
***Alfred Collins – Collins is a guy that I get the sense the Sooners will take regardless of who is committed. They seem to love Collins and I see why. I've seen him play basketball and CJ has been out to see him a few times. I believe he has the most upside of any defensive lineman in the state of TX.
We feel that Collins is down to OU and Texas. I've been told that he spoke with Lincoln Riley earlier this week and the Sooners are cautiously optimistic. But I also know that Texas remains optimistic.
I really can't call this one right now. His ties to Texas are so strong that I would normally just say it's a matter of time before he ends up there. But I've long felt that with Alfred's temperament, he may feel like he fits in better in a place like Norman. And perhaps more importantly, OU is looking very strong and complete as a football team while Texas is starting to struggle a bit on the field.
Again, this one is too tough for me to call but I know he's a major priority for both programs.
---
Injury Update | Sooners TE Grant Calcaterra
– Charlie S
Just checked in with James who spoke with Lincoln Riley this evening and Riley confirmed the news which James mentioned this morning which was that Sooners Tight End Grant Calcaterra will not play again this weekend.
Riley did not specify the injury tonight, however, as James reported earlier, we believe he is in concussion protocol.
The Junior has missed the past two games.
Hopefully, OU is exercising an abundance of caution and Calcaterra will eventually be able to return to the field and resume his season in the near future.
---
Kansas State | The Final Word with Lincoln Riley
– James Hale
On Wednesday evening, I got the final word from Head Coach Lincoln Riley before the Sooners hit the road and head to Kansas State where OU is now a 23 1/2 point favorite over the Wildcats.
JH: I know you guys don't want to talk about numbers but your defense is now in the top 30 statistically in the country so is there a belief in your program or excitement in your program about how well the defense is playing.
LR: "Yeah, oh yeah that's fair to say. There's a good vibe about it, there's an excitement about it. Part of the exciting thing is that there's no satisfaction in how we have played. There's excitement but everybody just sees it as a climb right now because that's what it is. It's not a mind trick, it's really what it is. We're getting better and we think the ceiling is way up there and we're going to make some good progress.'
MEDIA: When you hired Alex what was it about him that told you that this was the guy that you wanted to hire to get your defense going?
LR: "First, I had a lot of people that I trusted that had worked directly with him, that had been in the fire with him, and that was a good start. Then when I talked to him I didn't really ask him or tell him what I was looking for, I was more interested in if you come to take this thing over what was this going to look like? I had a pretty good idea schematically what it looked like but I was more interested in the other stuff. His answers just fit exactly what I would have said had I started the conversation or had I ask out loud out what I wanted.
"I didn't want somebody that was just going to give me answers just because they thought that was what I wanted to hear. I wanted somebody that was about whether they were coaching at Oklahoma or anywhere else, and he was. Every part of it made sense I couldn't find anything that I didn't like about the whole situation."
MEDIA: What was it about what he said that impressed you so much?
LR: "It wasn't anything magical. It was just about the same answer that I had any time that I would get asked about the defense that it's mentality first. It's about culture and it's about the way that you play and if you do those things right then the scheme matters at some point. I wanted a scheme that we were excited about and we are about this one, but the other stuff is way more important and he believes that."
MEDIA: What are some of the other reasons why you guys have been so drastically better on third downs defensively this year?
LR: "I think we've covered better. I think we've done a good job covering people and at least making the throws competitive. Then we've had a number of guys that have been able to get pressure. Those have probably been the biggest reasons. When you can do that we've made pretty good progress in the run game. When you can get pressure and not all the time have to bring six or seven guys to get it but you can get some pressure and you can make some quarterbacks make some tough throws under pressure then I like your chances"
JH: Also, aren't you now not just counting on more than just one guy to bring that pressure for you?
LR: "Yeah, no doubt, they just can't go double one guy and know maybe the other guys can't beat you. We have a few guys that can now on defense win one-on-ones."
MEDIA: When Kliff (Kingsbury) got hired by the Cardinals people panned that hire and now he is 3-3 with not a very good roster. Is he showing that college guys maybe know what they're doing in coaching football."
LR: "He's done a great job. They've had some injury issues and a lot of turnover in the last few years and they're close to being way better than that record-wise. It's been fun to watch them here-and-there. Kyler (Murray) is getting better and getting more comfortable. I mean having a quarterback like him and a mind like Kliff's, and they have some good older experienced players like (Patrick) Peterson back there. They have some good ones there they just needed the right people to get it back on the right track. I think that Kyler and Kilff are two of those people."
MEDIA: How hard is it in recruiting to penetrate a new high school that you have not recruited before?
LR: 'The OU brand or history or whatever it is carries something when you walk into places but for a place that you haven't been to before or there's not a relationship that's established with a coach that takes work. It takes work certainly on your part to establish that trust and be able to learn all the things that you hope to learn."
"With us being centrally located and having a good program I feel like doors are open but that does not necessarily mean that you can go in there and not get it done without a lot of hard work."
MEDIA: Do you guys talk about new areas in recruiting that you want to be in or do you feel pretty comfortable how and where you recruit right now?
LR: "Yeah, I'm pretty comfortable. I'm comfortable with the places that we hit the most. It's all about going to where the players are and finding the players that are willing to come here. I think we have shown that here's not really any place that we won't go, but we have to be smart and efficient about the way we get about. That's always the give-and-take with us as we are going to get the best player we can go get the best fit for us."
MEDIA: People pay so much attention to quarterbacks for a team's success but how much does the personality of an offensive line rub off on an offense?
LR: "Yeah, they definitely do and probably the offensive line and the quarterbacks have the most influence on an offense. The quarterback is a lot of time the voice and a lot of time the O-Line is the emotional and kind of the physical leader of the group. There's more of them and they're all big (laughter)."
"It's important that they're leaders and our groups in the past have been a major presence on this team."
MEDIA: Creed has been the established guy there but talking to him he said that Tyrese (Robinson) was the vocal one and how much he liked his attitude.
LR: "That part has been good because Creed has not been very vocal. It's sometimes painful getting him to talk or talking to him because that's not what he wants to do. That's fine because you don't need everybody talking but he's more of a by example guy in the way that he goes about his business."
"Tyrese, Adrian (Ealy) and some of those guys are a little bit more vocal and you need some of that from that group."
MEDIA: Two years ago in Manhattan in a game that you eventually won 42-35 but you trailed 21-10 at the half, you had a 35-minute rain delay because of rain and lightning in the area so was that the maddest you have ever been as a coach at halftime of that game?
LR: "Yeah, I was mad. I didn't think we played very good in the first half. I didn't think we were very physical in that first half and certainly not as much as we were capable of. To have a chance to beat K-State anytime, any year and it can be any coach or any players you better do that. We weren't there in the first half and luckily we turned it around."
MEDIA: Do you remember a game where you have been that fired up?
LR: "No, I don't think so. That one is up there. That one is one of those that when you get done talking you kind of see stars for a second (laughter)."
JH: Isn't that still the challenge with them because everybody still talks about how physical they ere even with a new coaching staff?
LR: "Oh yeah, they have a new coach but it's still all the same positive traits with K-State that you remember which I think is a compliment to Coach (Chris) Klieman who has been able to continue that in his first year. I'm not surprised when you look at his track record and where he's been and what he's done."
"They're still K-State. You know what you're going to get and you know it's going to be a good hard-fought football game."
JH: They have a great stadium but it holds just a little over 50,000 but the players that I've talked to say it's one of the best environments that they will ever play in. Do you feel that way?
LR: "The crowd is fun! There are some places that you can have 80,000 and it feels like there are 40,000. It's the country club atmosphere. Kansas State is not the country-club atmosphere, it's way better. They (KSU fans) are into it. They are football people and they are rowdy. It's a fun place to play."
MEDIA: Pat Fields and Delarrin Turner Yell are players that Alex (Grinch) shows a lot of trust and faith in does that surprise you at all?
LR: "No, not really. I think they both showed some leadership traits early on and we thought they both would be pretty good players. They're both extremely steady. They're never on risk. They do everything right and they work their tail off. They do everything that you have to do to get better and they do it consistently."
"There was a clean slate when our new defensive coaches came in and Pat and 'Trouble (Turner-yell)' made an impression on our guys. They got opportunities early and they took them and ran with them. They don't act and carry themselves like young players that they are. They have done a really nice job."
MEDIA: Pat and Delarrin are good friends, as a coach can you tell what guys are going to get along and does that matter on your football team if they get along or not?
LR: "Yeah, you can tell about them because they're around each other a bunch and not just on the field. They walk into the building at times together. You just see them together a bunch…it's fun to have two safeties that are two young leaders of your defense. They do things right and they are very close."
MEDIA: Four years ago when you had that plane delay and were stuck at the OKC airport for hours did that bring your team closer together that year?
LR: "I have never experienced anything like that before, and nothing even close to that. We have had little delays here-and-there but that was the one that never ended. We were all packed into a room about this size of our meeting room here (Red Room or Adrian Peterson room). That FBA is about this size and maybe a little smaller and we were in there for a long, long time and going to get food."
"It was needed at the time. I think we were just coming off Texas beating us. We had played terrible and kind of needed a spark. For some reason that just kind of brought us together. Just being all there together with nothing that we could do for a long time just kind of galvanized us. We kind of carried that energy into the game the next day (55-0) and that momentum we rode the rest of the year."
MEDIA: "You have had a former player (Zack Sanchez) who played in that game say that he had talked to players that day that he had never talked to before on the team?
LR: "Yeah that was almost like the camp retreat kind of thing. We were stuck in there and there was nothing else to do. You can only look at your phone for so long. There was no privacy because there were bodies laying everywhere. We had a little conference room off to the side so we used part of the time for our offensive, defensive and special team meetings that we were planning to do in Manhattan. We were just shuffling in-and-out of that room. You had no personal space at all. It forces everybody to get around each other and spend time with each other."
MEDIA: 20 months ago you hired Shane Beamer and since then you have blocked three punts and I think all three are for touchdowns. Is there any correlation there?
LR: "Oh yeah, absolutely! We could not have dreamed up with the 10th assistant anything better. With that 10th assistant, we were wondering how to use it and how does it figure into our program. Special teams was the one area here that the way that the staff was set up that I needed to do a better job so I wanted to get somebody that could take over some of the special teams. Jay (Boulware) is still the coordinator and he's done a great job, but Shane has taken over a few of them. Then they work hand-in-hand with the rest of our coaches."
"No, Shane has done a tremendous job. We have done some really nice things in the return game and then obviously being able to put pressure on people in the punt return game is huge. He obviously learned those techniques and schemes from a pretty good one (Frank Beamer). He has just taken what he learned under him and taken it even further."
MEDIA: What is it about Virginia Tech and special teams because that goes back 30-years?
LR: "I think it's teaching fundamentals and finding the right players. I think it's probably no different than offense and or defense. I just think if anything they found the right guys and they teach it well. They've been creative with schemes and it has been important to them, and they are good at it. Just like we have been talking about defensively they create a mindset that this is not just a conservative thing to get the ball back, we're going to try to aggressively make plays whether it's in the return game or the block game. Shane has brought a lot of that to us"
MEDIA: With the great quarterbacks you have and have had how much do you have to watch going too far in your punt return game because with the quarterbacks that you have getting the ball to start off a drive anywhere on the field is a plus for you?
LR: "It's a factor in the game. It is, there's no doubt about that. In each matchup, it's something that we discuss and talk about so it's on our minds, but we've also been pretty good at punt returns and rushing the punter too. It's a weekly talk that's for sure."
MEDIA: Do you have any updates on Grant Calcaterra?
LR: "Yeah, he won't play this week. We want to get him through this week and then into the bye week and then we are hopeful to have him after that. We are going to use the bye with him to our advantage and give him a little bit more rest."
MEDIA: You have got sophomore Jordan Kelly back so what have you seen with him now that he's back?
LR: "He's done well. He's raw right now and rusty. He just needs work but he's strong. He's been able to really lift and he's been able to get after it. He just needs to get back on the field and get reps. It's been good to have him out there and we will start him out on our scout team and let him build his way up and see if he can earn some reps on the defense. He's a talented kid and we're glad to have him back."
MEDIA: How do you feel you are right now with Bennie (Wylie) and his staff? All the guys seem to rehab well with him and his staff?
LR: "It's operating at a high level. They do a great job of working with Scott Anderson and his crew and Tiffany Byrd and her crew, and Bennie has done a good job of helping everybody get in sync. All three of those areas are working really well together. We have good people in those areas. There's a lot of good people and there are a lot of things that go on there. They have to really be in syne and they've all done a really nice job."
MEDIA: Has Caesar (Martinez) ever run into you on the sidelines?
LR: "Yeah, he is a bundle of energy."
MEDIA: Can he help you with your punt block celebration?
LR: "Yeah, maybe he can work me out and get my vertical up a little bit."
---
More on Princely Umanmielen & Closing out the Defensive Line Class
– Super K
As Charlie noted, the Sooners did offer JUCO DL, Dre Butler. Yesterday I posted a rundown of the defensive line targets here. Since then I've been able to do some additional checking.
It sounds like the staff is continuing to work through how they want to finish of this defensive line class and balance the moving parts.
As we've said, Alfred Collins, remains a top priority and his spot is guaranteed regardless. However, one of the things OU has going for them right now is the fact that they only have two defensive line commits, and only one is a high school prospect. That's attractive to Collins. So, on the one hand, you'd like to keep that spot open as Collins as he and his family mull things over. On the other hand, you don't want to turn away a talented prospect – especially, when you've already decided Collins will have a spot, still.
The other thing to consider is that a lot of times, when you've got a JUCO player committed, you can run into risks of them finishing on time. Perhaps that is part of the thinking on offering Dre Butler (beyond his size and talent). If you land him, then you've got another older guy to come in in case one of the JUCO guys doesn't finish on time. The flip side of that is that if Butler jumps in the boat, then you can no longer take Grimes or Umanmielen.
Now, on the Princely Umanmielen front, Princely was and is very interested in the Sooners. His original commitment date was supposed to be in October. However, with the avalanche of commitments Texas received at the end of the summer, Umanmielen, I'm told, felt the need to secure his spot. He obviously has a great deal of comfort at Texas and his relationship with the players at Texas is unmatched at any other school. He spends a lot of time on campus there.
But as things have gotten…well, shaky…at Texas, he decided to open things back up. And, as we noted in yesterday's post, he reached out to OU earlier this week to inquire about whether a spot was still available.
I am told that OU is taking all things into consideration including other targets, numbers, etc. I believe they are leaning towards restarting the recruitment of Princely but I'm hoping to confirm that later this week, as things are currently still in flux.
The latest I've heard is that the staff likes Princely as a player but want to really understand how serious he is about the Sooners. I believe they are set to speak with him today but I will check with Princely or someone close to him.
My sense is Princely is very much interested in Oklahoma but it doesn't matter what I think, Princely is going to have to make that clear to OU. I don't think the OU staff is going to be willing to re-recruit him from the beginning. Princely has been talking about taking a visit to Auburn for a while and they have been pushing hard for him. His original plan was to take an unofficial to Auburn, followed by an official visit. This was scheduled even before he decommitted from Texas.
I do believe that is still the case however, I think it would probably go a long way for Princely to also make a return trip back up to Oklahoma.
In terms of talent, I think Princely has potential to be special. He is a very large athlete and the jump he's taken from his junior to senior year is exceptional. He actually reminds me a little bit of Quinnen Williams. He and Williams are both around 6'4. Quinnen was around 265 lbs coming out of high school but had big hands and a big frame. Princely has a similar build and is now sitting around 260 lbs.
They both have DE type quickness but the strength is off the charts. I personally thinking Princely will end up around 300 lbs like Quinnen and will be task to stop. He's quick all the way out on the edge. Imagine how quick he will be lined up at a 1 or a 3 tech…
On the Reggie Grimes front, I do think the Sooners lead for him. The question is whether they will have a spot for him. With him not scheduled to decide until late November, I don't know that they will – as his spot remains contingent on Dre, Princely and Alfred.
Lastly, on the Collins front, nothing has changed since yesterday's note. I will just add that I'm told the Sooners are going to try to continue speak with him and see if they can find out something more definitive in the near future – at least get a sense of a timeline (which he currently isn't divulging or perhaps doesn't know).
---
For multiple daily posts, Insider Notes, Our TFB 'Pick Em' Contest, More Sourced Practice Notes, member chats with TFB staff, James Hale's Notebooks, TFB Sessions (5-minute audio talks) and much more, please check the Donor Board!