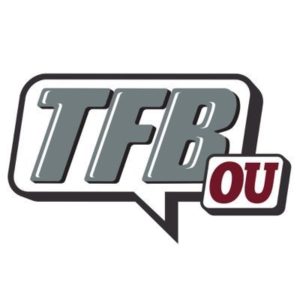 Open Post | Weekend, November 8th – 10th
Posted on: November 8, 2019
Alfred Collins | Update
– Super K
Sooners continue to target 2020 DL, Alfred Collins.
He's been a tough read. As CJ mentioned after visiting Collins' school, we feel confident that his decision has come down to OU vs. Texas.
Trying to get a sense of which way he is leaning has been tough. One of things we are watching for is whether he plans to take a return visit to Oklahoma.
Collins has been pretty guarded. Both OU and Texas have home games this weekend. I asked him if he has plans to attend either game to which he answered that he didn't know yet.
I followed up by asking his mom if they plan on attending either of the final two OU home games. She said that the family is still discussing that but hasn't made a decision.
She also said there is no date set yet for a decision in regard to a commitment.
This one has become a tough read because both staffs seem fairly confident, though I will say that at one time the Texas staff was certain they would be landing Collins. Now, I get the sense they are confident but a little less certain.
Collins being a UT legacy obviously makes this very difficult. What seems clear to me is that Collins is torn and that is something that last spring one wouldn't have expected with such strong ties to UT.
We do believe that after the season there will be staff changes at Texas. Additionally, there are some players inside and outside the program that have been negative recruiting Texas. I know some of that negativity has reached pretty far. Even Bijan Robinson's mother (out in AZ) mentioned to me they'd heard rumors of players wanting to transfer, etc. So, it's not unlikely that Alfred may have heard things, as well.
Collins has completed his official visits so there really isn't any new information that he needs to take in. So the delay in making a decision or even setting a decision date tells me that this is simply a case of him not knowing what to do.
---
News From the Portal
– Charlie S
I know this is very vague but I just wanted to give you all the heads up that there will most likely be some Portal News coming in the very near future.
We are aware of one player who plans on submitting his name to the NCAA Transfer Portal and he may, in fact, have already done so.
---
Haleuva lot of Recruiting Notes | Thursday, November 7th
– James Hale
*** Recently OU received a verbal commitment from 2021 defensive end Ethan Downs (6'4, 240) of Weatherford, Oklahoma.
Back in the spring many of us that cover recruiting were wondering why OU had not offered Downs. He started as a sophomore and showed great athletic ability. A versatile athlete that can play at a number of position went to the Oklahoma Football camp this past summer with the hope of making an impression on the Sooner coaching staff.
Downs was sick that Saturday that he went to the camp but still he was the best player in the camp and despite having to throw up a time or two he was the leader in every drill and with the coaches eyes on him he earned an offer from the Sooners within the next couple of days.
"I had been to several camps and several games at OU," said Downs. "It seemed like every time that I went there I got better. Sometimes it was learning something new or just getting more comfortable in the atmosphere. I was getting bigger, faster and stronger each summer and being able to excel at this camp just bought me improved parts of my game that I could bring back to my high school and apply to college ball."
"At that particular camp, it was iffy whether or not I could even go or not. I had a lot on my mind and I didn't feel very good. I wanted to participate pretty badly because a lot of my friends that were going to be in the camp from neighboring towns and from my school that I felt comfortable with. I always joke around with these guys and it was like a playful competition."
"It wasn't like we have these hard drills and we have to push through them it was more like having fun competing against each other showing everyone what we got. Coach (Calvin) Thibodeaux and Coach (Ruffin) McNeill were putting me through all those drills and I made it a mission to lead off every drill. I guess I was doing pretty well because a couple of times they would have me demonstrate the drill or go first in a new drill so they could work the drill off of me."
"Even though I was sick I felt good about how I did at the camp and I had a chance to talk to Coach Thibodeaux and Coach Alex Grinch before I left and I got the impression that they were going to offer me soon. They offered a few days later and my family was really happy to hear that and it was a matter of time before I was going to commit to OU."
Downs committed to the Sooners on October 9th and he hasn't looked back since.
"It's still kind of shocking to say that I'm an OU commit and to own it," said Downs. "It's a privilege and it's my dream and it's a great opportunity when I get a chance to live out my dream. That's something that very few people get a chance to do."
As a kid Downs always dreamed of being an Oklahoma Sooner.
"I was actually born in Wichita Falls, Texas," said Downs. "Both of my parents grew up in Oklahoma and we were OU fans from the beginning. It was a dream of mine to play at Oklahoma and play on TV and have my family support me. OU was a place where I could play for my family."
Weatherford is 7-1 on the year and 5-1 in district play and Downs is not only playing defensive end he is being used all over the field.
"At the beginning of the season my coaches had in mind to almost use me as a distraction," said Downs. "Teams always key off where I am and what I do and this year at defensive end when I'm on defense they never run to my side. They always run to the other side and that always upsets me because I don't get to show off at all.
"They always know where I'm at on the field. So, they have moved me around and plugged me in at positions where I can be a force to be reckoned with. For me to get some action on defense they have lined me up at inside linebacker and from there, teams can't run away from me because I'm in the center of the action. On offense, I play tailback, tight end, and wildcat quarterback."
Up to this point Downs has not done much in recruiting to help put tougher the 2021 class but he wants to start soon.
"I'm not quite into the social media and Twitter as I should be," said Downs. "To contact those guys you almost have to be. I'm trying to get more comfortable with the social media side of things and reaching out to guys and I have texted a couple of those guys or have tried to reach out to them on Twitter."
"I'm trying to learn new faces and once I learn their faces I will recognize them so I need to learn their faces. So, yes I'm going to get involved in helping put tougher the 2021 class and I hope the 2020 class is going to be a great one too."
OU has only three commitments in the 2021 class but the three are such strong players that the class is currently ranked ninth in the country according to the 247Sports Network.
Five-star quarterback Brock Vandagriff (6'2 1/2, 199) of Bogart (Prince Avenue Christian School) headlines the class and joining him is one of the elite receivers in the 2021 class in four-star Cody Jackson of Richmond (Foster), Texas. Then you have the four-star defensive end in Downs and this class is off to a very good start.
*** In the state of Oklahoma OU has early offers out to 2021 three-star cornerback A.J. Green (5'11, 180) of Tulsa (Union) and 2022 four-star athlete Gentry Williams (5'10, 160) of Tulsa (Booker T. Washington), Oklahoma. OU loves Williams as a corner as well and both athletes have a strong interest in OU early.
*** Four-star 2021 defensive tackle Melvin Swindle (6'0 1/2, 290) of Oklahoma City (Heritage Hall), does not have an offer yet from Oklahoma but Iowa State, Texas Tech, Oklahoma State and Kansas have offered early. I believe OU will be offering soon.
*** Javion Hunt (6'0 195) of Midwest City (Carl Albert) is the top running back for 2021 but does not have an offer from OU. Currently, he has an offer from Arkansas, Iowa State, Minnesota, North Texas, Ole Miss, Texas Tech, Tulsa and UCF to name a few. It will be interesting to see if OU views Hunt as a national recruit because OU can always get in on the best running backs in the country.
*** 2021 Three-star safety Kendal Daniels (6'4, 186) of Beggs, Oklahoma has a lot of interest in the Sooners and OU has offered him. Daniels can really run and has the size that OU covets in the secondary. Baylor, Iowa State, Nebraska, Texas Tech, Kansas, Arkansas, and Colorado have offered as well.
*** OU has offered the top running back in the country for 2021 in Camar Wheaton (5'11, 190) of Garland (Lakeview Centennial), Texas. Wheaton has an offer from OU and every other major power in the country and OU went by his school recently during their off-week.
*** 2021 Four-star defense end Shemar Turner (6'3 1/2, 260) of Desoto, Texas has already been to OU a couple of times and has a solid interest in the Sooners. Texas is also in the picture along with Texas A&M, TCU, Oregon, Oklahoma State, and Kansas State to name a few.
*** OU is very much in the running for 2021 three-star defensive end E'maurion Banks (6'4, 260) of Wichita Falls (Rider), Texas who been to Norman a couple of times. Oklahoma State is very much in the picture along with Baylor, Texas and Texas A&M.
*** One other name I picked up in the 2020 class which OU is also working to get into the picture with is 2020 three-star defensive end Derrell Bailey Jr. (6'6, 255) of Greenback, Tennessee who is currently committed to Virginia Tech. From the sound of things, it appears he is beginning to think that he committed way too early. He is a name to keep an eye on.
Updated: Charlie
*** Touched base with James and he let me know he was able to confirm that the plan is for 2020 DB Dominick Hill to take his official visit. Hill is currently committed to South Carolina.
As K reported last week we had heard the visit was possible:
***South Carolina DB commit, Dominick Hill. I've heard Hill may take a visit to OU for the Iowa State game. He's definitely a big guy but I'm not finding verified speed times on him. Additionally, on film, he strikes me as a little stiff for Big 12 cornerback.
However, we are hearing that if the Sooners do land Eaton and Manning, then they may end finishing the class with a JUCO defensive back. I think the important thing will be whether they can find one who really is an upgrade over what is currently on campus.
Earlier this week it appeared the visit was off, but according to James' OU sources, they are still expecting him to make it in.
---
One on Ones | Iowa State
– Charlie S
The Sooners are back in action on Saturday as they take on Iowa State under the lights in Norman!
As usual, during game week, I've picked out a couple of 'One on One' matchups that interest me.
So here we go:
One on One number one:
Brock Purdy vs The Sooners Secondary
Iowa State (5-3) is coming to Norman following an upset loss to the Oklahoma State Cowboys their last time out.
In that game, Cyclone quarterback Brock Purdy threw the ball 62 times. Yes, you read that correctly, he threw the ball 62 times.
Of those 62 pass attempts, 39 were completed to his receivers and three were completed to the Oklahoma State squad. The young QB had a rough second half as all three interceptions took place late in the game including one which was returned for an Oklahoma State touchdown.
Through eight games, Purdy has matched last years interceptions thrown total with seven.
So you think I am down on the kid, right? Wrong. Purdy has been asked to throw the ball a lot more this season and in turn, the Sooners will face a test of a much different kind than they faced versus Kansas State.
His yards per pass are down a bit, as is his rating, but his completion percentage is up and he is on pace to surpass his 16 touchdowns from last year as he already has 15 this year.
Purdy is going to throw it around and the Sooners secondary will have to be ready. With the uncertainty around DTY right now, things could get dicey.
The way Purdy throws it around should also offer the Sooners some opportunities to secure some of those prioritized turnovers. OU has not recorded a turnover in their past four games and they absolutely need to change that during 'Championship November' if they hope to run the table and have any shot at the playoffs.
Purdy has distributed the ball very well as he has six offensive players who have over 10 receptions on the year. The wide receiving corp is led by Deshaunte Jones (5'10" 180) who has hauled in 52 catches.
Another weapon at Purdy's disposal is Norman's own Charlie Kolar. The 6'6″ tight end is really athletic and he has hauled in 34 passes with 5 touchdowns so far this season. He provides a mismatch for the Cyclones that the Sooners will have to answer for.
Purdy can also move around a little and he is a gritty runner and very heady player all around. Purdy is going to test the Sooners secondary, it will be interesting to watch how the defensive backfield responds.
One on One number two:
Sooners Left Tackle Erik Swenson vs His Assignment
The Sooners left tackle position has been oft-talked about and pretty much pinpointed as a 'weakness' by just about anyone who has cared to watch guys in the trenches.
Grad transfer RJ Proctor started game one versus Houston and lasted about one half and then Swenson came in.
Swenson has been a mixed bag for the most part with the high point of his season coming as he returned from a two-week absence against Texas and put forth a gutsy performance which really did seem to lift the entire OL unit.
The following week the Sooners took on West Virginia and the OL looked a little less cohesive but the Kansas State outing threw the left tackle spot back in the spotlight as Swenson did not have a good game at all.
When I wrote the 'Progress Report' for the Kansas State game, I said: 'I'm going to try and be as gentle as possible here…but Erik Swenson looked like he didn't belong on the field for UCO let alone The University of Oklahoma. Brutal. In my opinion, that was perhaps the worst game I have seen an OU offensive lineman have during Coach Bill Bedenbaughs tenure.'
I still feel that way.
While Iowa State does not possess the same type of defensive line that Kansas State does, they do have some quality players upfront but the linebackers are the real concern as Iowa State sends guys from all over the field and it will be paramount for the Sooners offensive line to identify their assignments and execute their responsibilities.
Against Kansas State, Swenson appeared to be lost in his assignments at times, particularly early in the game. Turning one way while the pressure was coming from another way is never a good look.
I'll be watching to see how Swenson performs mentally. Physically, he is what he is and you get the good and the bad of a left tackle who is not quite up to the level that you have all become accustomed to athletically at OU. He can get the job done, he has done it before, just need to see it more consistently.
---
For multiple daily posts, Insider Notes, Our TFB 'Pick Em' Contest, More Sourced Practice Notes, member chats with TFB staff, James Hale's Notebooks, TFB Sessions (5-minute audio talks) and much more, please check the Donor Board!