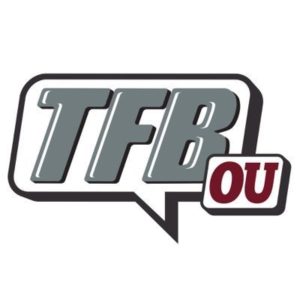 Open Post | Weekend, November 4th – 6th
Posted on: November 4, 2022
Sooners Offer JUCO DB Kendel Dolby
– Charlie S – Posted on: November 2, 2022
Yesterday the Sooners offered JUCO DB Kendel Dolby (5'11 180) who is currently at NEO.
Aside from the OU offer, Dolby currently holds offers from Washington State, Oklahoma State, Missouri, Boise State, Houston and Kansas among another half dozen or so.
He officially visited Washington State earlier this season.
I caught up with Dolby in the wee hours of the morning and he let me know that he has been in communication with the Sooners for about two weeks.
Dolby said coach Venables and the defensive staff told him they were very impressed with his film. Dolby said the Sooners view him as a safety prospect.
Following the offer, he quickly set up a visit to Norman for the Bedlam weekend on November 19th.
My quick take on this one after talking to him a bit…if OU pushes, they have a very good chance of landing him.
---
Safety Room | Why the JUCO Offer Makes Sense
– Charlie S – Posted on: November 2, 2022
Following the recent offer to JUCO safety Kendel Dolby, I wanted to take a deeper look at the potential safety room for OU in 2023.
Once I looked at the status of the room, the offer makes a ton of sense.
***Key Lawrence, Billy Bowman and Damond Harmon should be back but Key can technically leave. (3)
***Justin Harrington has one more year and Robert Spears Jennings is a guy who has flashed. (2)
***Jamarrien Burt is a guy who has worked at both corner and safety so the question is, where does he land? Does he stay in Norman? Could he be a portal guy? All questions which will be answered in due time.
*** OU will lose Trey Morrison and Justin Broiles as their eligibility expires.
***OU will likely lose Bryson Washington to the portal as it has been 3 years of nothing for him.
***Jordan Mukes has been working at Cheetah and Jayden Rowe has been working at corner. Of that pair, I think Rowe would likely be a guy that 'could' eventually end up at safety, but they seem to want to make corner work with him. Mukes has been working all season on the scout team as the Cheetah and has bulked up.
***Right now OU only has one safety prospect committed in Eric McCarty. (1)
***OU is still working to flip Peyton Bowen.
***So OU has at least five safeties coming back (assuming Key stays), a toss-up in Burt, and one freshman in McCarty.
Y'all don't need a reminder of how thin the safety room has been, but here it is…
At one point this season OU felt they needed to move Woodi Washington to Safety in a 'break glass in case of emergency' type of situation.
The Washington temporary move shows you how thin things can get very quickly.
The JUCO route is a good option to fill depth as the chances of bringing in an impact transfer at safety, when you have Key and Bowman penciled in, is rather low.
The JUCO route gives you an opportunity to bring in a hungry kid who is not a guy that is leaving another program because he felt slighted or is looking for an easier path to playing time. If you're not getting an impact safety from the portal, it is a good way to go, in my opinion.
So with OU bringing in McCarty and hoping to add at least Bowen to the mix with a flip, bringing in a guy like Dolby makes a lot of sense.
If things worked out where OU closed on Bowen and landed Dolby, they would likely have at least eight safeties in the room for the '23 season.
---
Sooners Offer DJ Hicks' Teammate
– Super K – Posted on: November 3, 2022
This offer was somewhat expected as the Sooners had recently opened lines of communication with 2023 TAMU LB commit, Daymion Sanford (Katy, TX).
Sanford is teammates with 5-star TAMU DL commit and major Sooners target, DJ Hicks.
When the interest in Sanford first started, I reached out to Hicks to ask him about Sanford and DJ told me that Sanford is "one of the best linebackers I've ever played with."
I've already noted that I expect DJ to make a visit up to Norman at some point this fall and I wouldn't be surprised if he and Sanford make the visit up together.
However, I'll work to confirm that, shortly.
As I said before, the Sooners aren't going to let up on the Hicks recruitment especially because there are folks around Hicks that would prefer he end up at OU.
And again, Sooners just need to continue to show improvement on the field and preferably continue fielding that 4-man front. Harder to pitch to a DL when there are less DL on the field.
---
Paying off the run Game Success
– Super K – Posted on: November 3, 2022
The Briles offense is known for wanting to run the ball and hit you deep. The Sooners have had some success running the ball but the deep attack has been spotty and was nearly non-existent last week against Iowa State.
It's a basic set up in football. You run the ball well. Safeties start to bite down and then you take your one on one shots.
But after the game I commented to Charlie that I'd like to see the Sooners take more intermediate route shots. I noticed some of you (saw Deake mention it) noted something similar.
I very much agree.
We all love the long ball but Lebby's first half running success is going to turn into second half woes in the run game if he can't make the opposing team pay.
One of the (easier) ways you can do that is by finding the spots behind the linebackers. It's not just safeties that you manipulate when you're running the ball well. Linebackers are heavily impacted.
You saw the Iowa State backers begin to really play down hill in the second half, making it extremely difficult for OU to find space in the run game.
Would really like to see the Sooners use some intermediate stuff, even some isolated slants or double slants to keep those linebackers are on edge and ensure that they can't just pin their ears back against the run.
---
Know Your Opponent | Baylor – 2022
– Charlie S – Posted on: November 3, 2022
Dave Aranda – Head Coach – 3rd Year – 1 Big 12 Championship
Jeff Grimes – Offensive Coordinator – 2nd Year
Ron Roberts – Defensive Coordinator – 3rd Year
The Baylor Bears enter the game against OU with a 5-3 record on the year. They are currently 3-2 in the conference. On the season they have lost to BYU, Oklahoma State, and West Virginia. Truly a Jekyl and Hyde team that has played very well at times and very poorly at other times. Sounds familiar…right?
On offense…
Under Grimes, the Bears run a 'wide zone scheme'. The wide zone scheme is based on horizontal motion by the offensive lineman, allowing them to stretch the field in a certain direction and create gaps for the running backs to read the field. The plan is to stretch everybody out and open up the play action in the passing game as well.
QB – #12 Blake Shapen (RS SO)
RB – #29 Richard Reese (FR)
– Shapen is a first year starter who supplanted Gerry Bohanon who helped lead the Bears to the 2021 Big 12 title…in the spring. He has had some struggles and made some typical mistakes that a young QB makes, but he does throw a nice ball when he is in his groove. He's completing 67% of his throws, has thrown 5 picks, and been sacked 15 times thus far. He is not much of a running threat, but they do have a nice package for backup QB Kyron Drones (#15) that brings the QB run game into play.
– Reese is a true freshman workhorse. He averages 5.2 yards per carry and he has 12 touchdowns on the season so far. He has a capable backup in Qualon Jones (#28) but Reese has almost a hundred more carries than Jones.
WR #16 Hal Presley
WR #6 Gavin Holmes
WR-SL #80 Monray Baldwin
TE #6 Ben Sims
– Sims is the Bears leading receiver with 26 catches on the year.
– Presley has 22 catches on the year as does Gavin Holmes who also happens to average 21 yards per catch.
– Baldwin has fewer catches, with 16 receptions, but he, like Holmes, also averages over 20 yards per reception.
LT – #76 Connor Galvin SR
LG – #65 Micah Mazzccua RS SO
OC – #66 Jacob Gall GR/TR
RG – #63 Grant Miller
RT – #58 Gavin Byers
– This is a good offensive line. Not as good as last years line, but they are a solid unit. They do struggle at times in pass protection, so the Sooners could have some success in getting pressure on Shapen…as evidenced by the 15 sacks he has taken. But the OU defensive line recorded their first sack in Big 12 play last week, so they haven't been lighting the world on fire…hopefully they find some success here.
On defense…
The Bears are multiple on defense, but for the majority of their snaps they line up in a three-man front which often incorporates a JACK backer. They will run a 2-4-5 scheme at times, but the three-man front with big man Siaka Ika lined up over the center is where they really do their best work.
DE – #96 Cole Maxwell
NT – #62 Siaki Ika
DT – #95 Gabe Hall
JACK – #55 Garmon Randolph
– Ika lining up over Raym is definitely going to be a One on One matchup to keep an eye on. He is such a big and strong player that he causes havoc and demands extra attention. Limiting 62 is definitely a key to this game for OU.
– Hall (3.5 sacks) and Randolph (3 sacks) are their pressure guys and they feed off of the success of Ika in the middle.
– In Baylors losses to OkState and West Virginia, both of those teams had success (over 160 yards rushing) on the ground so it will be important for Lebby to try to establish the run for the Sooners.
MLB – #5 Dillon Doyle
WLB – #2 Matt Jones
– The backers are not playing quite as well as last years group and there is no real hybrid threat like Jalen Pitre from the past, but they have put up some decent stats with 38 and 36 tackles respectively.
LCB – #3 Mark Milton
S – #20 Devin Lemear
S – #4 Christian Morgan
RCB – #11 Lorando Johnson
STAR – #13 Al Walcott
– The secondary is an active bunch…they have recorded 7 interceptions on the year across the unit and Morgan leads the way with a pair of picks.
– Walcot leads the team in tackles with 48 and Lemear is their highest-graded-out defensive back. They play fast and take some chances, so there is some opportunity there for some big plays…if the OU receivers can catch the ball this week.
Overall thoughts…
– At first glance, and in typical fashion, this matchup comes down to who will win the strength-on-strength battles. OU's strength is their offensive line to this point and Baylors is their defensive line. As I mentioned above, if you want to watch a key to the game, just pay attention to the middle of the line when OU has the ball as Ika will frequently be lined up directly over Raym. If Raym can find some success in one on one matchup against Ika, that will relieve a lot of pressure on the OU OL, but I believe, at least initially, OU will scheme a bunch of combo blocks and doubles on Ika. It is imperative for the Sooners to address the elephant in the room and that elephant is named Ika because if he gets going, he opens up the ends to have some success in rushing the passer.
– The other matchup that will really play a large role in the outcome of this game, in my opinion, is the exact opposite…OU's defensive line against the Baylor offensive line. The Baylor offensive line has been 'OK' this year…as has the Sooners defensive line…which brings us to the matchup that may have even more of an impact on the game than what I talked about above. This could come down to which 'ok' unit has a better day and wins their battle. Right now, based on the last few weeks, I think the Baylor offensive line could stymie the Sooners pass rush which has been largely non-existent, but I do think there is a chance for OU to have a good number of tackles for loss.
– Bottom line…while the Sooners are a slight favorite, this feels like a game that could go a number of ways, most of which I don't feel like result in a tight game. To me, it feels like whoever wins the battles mentioned above will likely win by a couple of scores. Right now I like that to be OU, but it's only Thursday…so my feeling could change by the time kickoff happens.
---
Sourced | More on DJ Hicks & Visit Possibility
– Super K – Posted on: November 3, 2022
As you know, we've mentioned numerous times that we expect DJ Hicks to make it up for a visit.
We have received a note from a source indicating that both Hicks and his teammate and recent 2023 LB offer, Daymion Sanford are expected to be in town for the Okie State game.
As you know both are committed to TAMU. Also, for those of you who missed it in the comments section of our earlier note, Hicks did tell me that he and Sanford are friends and if possible they'd like to end up at the same school.
Sooners need to finish strong on the field. If they do that, they should see a nice close on the recruiting class.
---
Visitor List – Baylor
– James Hale – Posted on: November 4, 2022
Unofficial Visitors
While the Sooners will not be hosting any official visitors this weekend, they will have a handful of unofficial visitors at the game:
Commits scheduled to be on campus:
DB Jacobe Johnson
OL Josh Bates
QB Jackson Arnold
RB Kalib Hicks
Other unofficial visitors expected on campus:
'25 DB Devin Sanchez – Houston, TX
'24 OL Casey Poe – Lindale, TX
'25 TE Davon Mitchell – Allen, TX
'24 OL Blake Frazier – Austin, TX
'25 TE Nate Roberts – Washington, OK
'24 RB Caden Durham – Duncanville, TX
Couple of added notes:
***EDGE Colton Vasek is NOT expected to be in Norman this week, and according to this source, he was never supposed to be in town. Source noted that Vasek has film on Saturday mornings and it would be difficult to make the drive to Norman due to his team obligations. Bedlam is his scheduled visit.
I know there were rumblings about him planning on being in Norman this week, but again, according to this specific source, that was not in the plans as his high school team takes priority.
***Jackson Arnold continuing to get on campus is always a good thing and to this point, he has made the majority of the home games this year. Arnold is an active recruiter and his presence gives the OU staff a boost when dealing with these unofficial visitors both from the '23 class and future classes. Plus, you never know who from Denton will jump in the car with him and make it to campus.