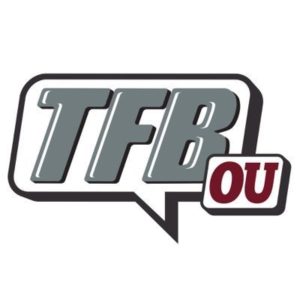 Open Post | Weekend, November 3rd – 5th
Posted on: November 3, 2023
Quick Postgame Thoughts | Kansas
– Charlie S – Posted on: October 28, 2023
The Sooners lost to Kansas 33-38 on a rainy day in Lawrence, Kansas.
***On a day when Oklahoma found its running game, they could not get out of their way in the passing game and the clock management and play calling were downright offensive.
***Gabriel chose not to throw the ball downfield, and while everyone wants to point at the horizontal passing game, it does not all fall on Lebby, the QB had chances to go vertical and he had guys open, he just chose not to take his chances for one reason or another.
***OU was gashing the Jayhawks running North and South but then Jeff Lebby would dial up one of his coveted WR sweeps and try to run East and West…which basically amounted to coaching malpractice as it was obvious the money to be made led in the middle of the field for the OU running game.
***It is incredibly alarming that Tawee Walker, a JUCO Transfer Walkon running back is the ONLY back in DeMarco Murray's room who has shown the consistent ability to produce numbers and be effective in this offense. The offensive line does not go out there and say 'Tawee is in, we are gonna block differently and better'.
***Defensively, the Sooners struggled with their tackling and had some bad coverage busts. Something that has plagued them in recent games and it did not get better today.
***Jaren Kanak had a rough day and Kobie McKinzie came in and gave a nice account for himself and then Danny Stutsman was hurt and Kip Lewis came in and played well….so competitive depth paid off in this instance.
***OU came out unfocused and undisciplined as they totaled 11 penalties for 101 yards. Some of those penalties were questionable, I agree with you, but the simple things like false starts (by wide receivers no less) and delays of game were just unacceptable.
***The Sooners lost two fumbles and threw a pick-six on the first offensive series of the game. They did not protect the ball well and they paid for it.
***While OU did record 2 interceptions of their own and recover a fumble as well, they left at least 3 picks on the field and didn't capitalize on their turnover opportunities.
***Perhaps the most disgusting instance of ineptness on the day came with around two and a half minutes in the game when Ethan Downs intercepted a pass to give OU the ball with the lead in Kansas territory. OU ran no offense, just rushed into the line and took no time off the clock on the first three downs and then they lined up to go for it on 4th and 4 and a WR false started. A simple pop pass or a quick hitter there seals the victory for OU as Kansas was selling out to stop the run.
***The defensive line had a strong game and they did a good job containing the Kansas offense for the most part, but they got little help from the back end in regard to tackling and they had their share of misses as well in that respect.
***Oklahoma did everything they could to lose this game. They succeeded and the result does not fall on any individual player, and the blame encompasses the coaching staff as well.
***My biggest takeaway is that the offense was neither elite nor effective as it was constructed. From play calling to personnel decisions to focus and game awareness, OU was hamstringing themselves all day on a day when the offensive line played very well. This was one of the poorest coached and executed game plans, particularly on the offensive side of the ball, that I have seen. Nobody shall remain unscathed on this film when they go back over it.
***This was all too familiar to last season and while OU still has all their tangible goals in front of them, the outlook sure is a lot grimmer than it was at 11:00 am this morning. So many missed opportunities and self-inflicted wounds from both the players and the coaching staff.
---
Sunday Brunch | Identities and Relationships
– Charlie S – Posted on: October 29, 2023
The Sooners lost their first game of the season yesterday as they fell to Kansas by a score of 33-38.
This was a complete team loss. There is plenty of blame to go around which covers every aspect of the team. You had missed tackles defensively. You had mind-numbing penalties. You had shoddy special teams play. You had poor time management. You had unexplainable personnel decisions. You had multiple dropped potential turnovers. The list goes on.
What you really had was a complete clown show.
However…the main complaint, and a very understandable complaint at that, is the seeming lack of any offensive identity.
I am here to serve up brunch and tell you there is not an offensive identity problem in Norman. I am of the opinion that there is an offensive relationship issue between the Quarterback and Offensive Coordinator which is that the pairing has maxed out and to a certain extent, run its course. Sometimes each party in the relationship needs to look in the mirror and figure out their responsibilities. I am not saying Lebby and Gabriel do not like each other or get along, rather I am talking about the OC/QB relationship in regard to play calling and what offense the team can/will run.
The Sooners offensive scheme is one you are very familiar with as Oklahoma fans. The OU offensive identity, in theory, is the very offensive identity that caused you all so much heartburn year in and year out when Art Briles was running it at Baylor and his offenses were terrorizing the Big 12, including the folks in Norman.
Jeff Lebby runs the very same Briles offense…it is simple, you watched it for years. It is based on spacing and 3 things…
1. Accurate deep balls.
2. Quick and decisive passing game.
3. Aggressive downhill run game.
The very nature of the wide-spread offense is designed to make an opponent pick their poison. The wide spreads manipulate the safeties and isolate the corners thus giving the offense the numbers advantage which the Quarterback quickly takes into account and executes the play accordingly.
In their heyday, Baylor was either going to gash you in the run and if you brought the safeties in then they would hit you with the quick game which placed your corners in very vulnerable positions. It was a pick your poison and so long as you had the right personnel to execute the offense, it was as close to being unstoppable as any offensive scheme in recent memory.
The defense dictates what the offense is going to do and one of the beautiful things about it is, that they know they are conceding something, it is up to the Quarterback to take what is given, over and over again.
If the safeties slide inside, Briles would use the quick passing game over and over and over and over again. Mike Stoops knows that all too well. So do Sooner fans.
If the corners play press man with the safeties in the middle of the field to support the run, the call is to hit one of the wide receivers deep. It is not rocket science.
If the safeties slide out into coverage, you rip the vacated middle of the defense with gashing runs of 6-7-8 yards over and over and over etc.
You get the picture.
The issue in Norman is two fold…the Quarterback may know this system inside and out, but he doesn't have the arm strength and accuracy and quick trigger processing skills to run the offense to its capacity. This is not a knock on Gabriel, it is just a reflection of who he is athletically. He does not have the big arm to overcome some hesitancy and timing issues. He doesn't have the gifted arm to consistently beat teams deep and hit his receivers in stride allowing them to 'score from far'…and Jeff Lebby knows these things about his Quarterback, and this is where the relationship issues emerge. This is where Jeff Lebby needs to figure it out and have a come-to-Jesus meeting with himself cause he created this situation and he needs to have a path out of it.
The problem with the offensive identity that OU is trying to develop and create is…when you cannot effectively execute two of the three main principles on a consistent basis, you appear to have no identity. It affects everything from the run game to the passing game to play calling. Or…in other words, your identity is just 'Yeah, thats a crappy offense'…which is closer to what OU is right now than the identity that is created with the Briles offense. You can point to all the statistical data you want about the offense being ranked this or that…tell me what you see with your eyes.
Early in the season, OU was airing it out against some inferior opponents. OU is not even trying to throw deep with any regularity when they face a team with a pulse. We saw it with SMU, Cincinnati, Texas, and heck, they barely tried against UCF and Kansas.
The inability or hesitancy to stretch the field impacts the quick game when sometimes it takes Gabriel too long to get the ball out, it looks clunky and it puts the ball in jeopardy which was displayed as Kansas got a pick-six on the first drive of the game.
Let's use that pick six as an example of the relationship and trust issues. Gabriel had Nic Anderson up top to his left. He had Stogner in the backfield to his right. He had Stoops in the slot to his right and Farooq on the outside to the right. It was 3rd and 2. Farooq was the 'easy' answer here as he was running a 5 yard stop and OU only needed two yards. However, Gabriel was locked on to him and late with the pass with a long throw and not a lot of pace on it…because he really just doesn't have a ton of pace in his arm. The corner jumped the route and returned it for a touchdown. Meanwhile, at the top of the screen, Nic Anderson immediately got inside position on his man as he was running what looked like a post route and there was no safety inside as Kansas walked them down into the box. Something Ganriel surely noticed pre-snap, but he was fixated on moving the chains and getting the first down and took a chance on the play that should have been an easy completion. If Gabriel, who was under no serious pressure until he held the ball so long looked at Anderson and put the ball out front in a 10 yard box Anderson walks into the end zone.
Why didn't Gabriel throw it (or even look at) Nic Anderson? Did he not believe he could make that throw? Did he not believe Lebby wanted him to try? How is a guy with so many starts in college football so hesitant at times? Where is the trust?
Jeff Lebby dialed up the right play. The wide receivers executed it correctly. Dillon Gabriel made a mistake, I get it. It happens. But the fact is he blatantly telegraphed where he was going and then he was late… that's not a good recipe.
Dillon Gabriel is not a quarterback with an elite skillset. He is a gutty player who uses a little of this and a little of that to be effective enough to make the offense go. Lebby is not the play caller or designer of an offense (he is the caretaker of Briles' offense in this case) that is more conducive to a quarterback with Gabriel's skillset. Right now, the OU offense is playing within a box, a self-imposed box. They have to figure out a way and take some chances to break out of that box. It's really not all that complicated…they need to resume taking those deep shots in order to expand the box they have confined themselves in.
Yesterday, Kansas was basically in cover zero…if you can't complete a ball in that situation, that has nothing to do with your OC. It is a question of whether you can throw it and whether you believe you can throw it. Oklahoma only attempted 5 passes over 10 yards yesterday, the other 16 passes were in a 10 yard box. Now, if the OC is telling you not to throw it, well that's a whole other box of crayons to unpack, but by the looks of the routes the OU receivers are running free on, I don't see how Lebby is specifically telling Gabriel not to throw the ball deep. Again, where is the trust level here?
It is also a situation where we can recognize that Lebby makes some really really strange calls. Mismanaging time, going away from something that works. He makes some painful calls with sweeps and east-west mumbo jumbo. We also need to recognize that he knows that the triggerman he has is not ideal for his offense and he has to try to figure out different ways to make things work. But the bottom line is he has to run his offense cause it is what he knows. We can also recognize that Gabriel is a solid quarterback who is more of a game manager than a playmaker. Somehow they have to figure out how to make this box they have created for themselves larger.
Going forward, It's not going to be perfect, but you have to go out there and repair this relationship in order to create that identity. You have to go out and attack teams. You have no other choice. If you throw a pick or two in the process, you're gonna have to live with that cause you have to stretch the field.
While OU has not been prolific in hitting the deep passes, they have been effective at times. It may look ugly with some underthrows, but more often than not, they are getting it done when they have attacked.
This situation that the OU offense finds themselves in is not something you all should be surprised by. Following the Cincinnati game, in the Sunday Brunch | Skyline Chili Ain't It post I wrote:
"But the bottom line is, as long as Dillon Gabriel is the QB, you know what you are going to get and there is enough of a track record to take that to the bank. Gabriel is not a guy who will go out there and elevate the offense at this point in his tenure. It is what it is. I'm not gonna reiterate my call for Jackson Arnold as that is not in the cards from what we have seen. However, going forward, it would be best to adjust expectations to expect a tooth-and-nail game in the vast majority of Big 12 conference games because the past and present tell us that is what a Jeff Lebby offense which is run by Dillon Gabriel is going to get you when the Sooners play a team with any teeth defensively."
We are still here. Right at that same point. Texas, UCF, and Kansas were all one-score nail biters with only Iowa State being a breather. For those who say "Jackson Arnold wouldn't have made a difference", I say…we do not know this, and we will likely not be finding that out at this point this year, so that's not a defense or a supporting statement…it's just what it is.
It almost feels like the Sooner offense is playing not to lose rather than playing to win the game. I don't think there was a more stark example of what I mean than how the OU offense went about things following Ethan Downs's fourth-quarter interception yesterday.
After the Downs interception, the offensive playcalling was inexcusable. Jeff Lebby noted after the game that he just was looking to get Kansas to use all their timeouts. Downs picked the pass off and OU took over with 2:23 left in the game. The Sooners preceded to 'run' five plays (three runs, a penalty, and a punt) for a total of negative two yards which took a whopping 18 seconds off the clock. Thats on Lebby.
Just trying to get Kansas to use all their timeouts? Are you freaking kidding me? This is the University of Oklahoma Football program…go out there and sweep the leg. Finish that game off with a score and turn out the lights in Lawrence for Pete's sake.
Did Lebby make those play calls because he somehow came to the conclusion that he would miraculously be able to run against a nine-man box and pick up a first down? Did Lebby not trust his quarterback enough to run real offense there and put the ball in the air against a nine-man box…or at least present the threat that he may pass the ball?
One thing is certain, you're not gonna win by trying not to lose. Another thing that is certain…it's gonna be Jeff Lebby and Dillon Gabriel as the two guys who are either gonna figure it out or go down swinging because OU does not have another experienced QB ready to go. That is s story for another day though.
The Sooners had the run game going yesterday, for the first time in a long time. The Kansas safeties were in the box…not just slid over to the middle, they were basically lining up 6 yards off the line of scrimmage with no fear of getting beat deep. OU didn't even try. That is not okay. That is not the identity of this offense.
OU can fix this. It may be ugly, it may not look pretty, but they still can run the table, still make the conference championship game and make a New Year's six bowl game, and if something crazy happens, maybe even the playoffs. Who knows. But one thing I know is that this QB/OC relationship needs to find out what their identity is in order for the OU offense to get closer to realizing what their identity is. It's pretty simple…the offense needs to be more aggressive and try to stretch the field. If not, the box will continue to get tighter.
I don't think Dillon Gabriel is a bad QB. I don't think Jeff Lebby is a bad OC. Right now, it feels like the relationship is having a somewhat toxic impact on the effectiveness of the OU offense. Find some common ground before it is completely too late in regard to how to run the offense.
Some people may read this and say 'Dillon Gabriel is not the biggest worry offensively for Oklahoma'. Thats fine. Some people may read this and say 'Jeff Lebby is not the biggest worry offensively for Oklahoma', That is fine as well. Just tell me…what is the biggest worry for Oklahoma offensively in that case?
---
Why This Scheme | A Reminder
– Charlie S – Posted on: October 29, 2023
***One thing that should not be lost on anyone…Bent hand-picked Lebby and his style of offense based in part on his own experience going against the scheme.
***This system was one that Venables found the most difficult to defend. This is the system that Brent wants to run on offense because he knows, firsthand that it is nearly impossible to defend effectively when executed well.
***Venables knows how difficult it is to defend when run properly and by the right personnel as he struggled against it during his first stint in Norman (Briles) and while at Clemson (Babers and Syracuse).
***The key being 'executed well'. Right now OU is not executing it well and they are not even running it as advertised as Lebby is trying to add some twists based on the personnel he has right now.
***Whether it is Lebby or someone else down the line, I don't think it is a foregone conclusion that this scheme will be leaving Norman anytime soon.
---
Position Group Progress Report | '23 Game 8: Kansas
– Charlie S – Posted on: October 30, 2023
Checking out how the position groups performed in the Sooner's loss to Kansas. Coming into the game, OU was a substantial favorite over the Jayhawks.
This will be the eighth progress report of the season. I will include the previous week's ranking at the top of each position group's report.
Let's see how things shook out against Kansas.
---
QB: 2* (Last week 3*)
We can talk about play calling and weather and cosmic forces all we want, but the bottom line is, on Saturday in Lawrence, Kansas, Dillon Gabriel did not play up to the level necessary as the quarterback at the University of Oklahoma.
There were plays to be made but Gabriel was unable to get anything going in the passing game for Oklahoma despite having his share of opportunities with wide receivers who were open.
Gabriel did have three rushing touchdowns on the day, and that is a positive, but the early pick six seemed to have made him gun shy and he only attempted four downfield passes, two of which came on the final drive including a Hail Mary attempt from the 23 yard line. How weird is it to say OU tried a HailMary from only 23 yards out?
Over the last two games, the Sooners have only two completions on balls thrown over 20 yards in the air. Dillon Gabriel and Jeff Lebby have to get on the same page and somehow come up with a way to stretch the field.
RB: 4* (Last week 3*)
Tawee Walker earned himself at the very least a high 4 star ranking, likely a 5 star day on any other day.
But the rest of the running back room was not good and when they had their opportunities, they just were not effective in any way shape or form.
Walker had a career day as he ran 23 times for 146 yards which was good for a 6.3 yard per carry average and he had 1 touchdown.
He didn't even get the start…Gavin Sawchuk did. Gavin Sawchuk also had the fewest reps in the running back room and Jovantae Barnes came off the shelf in the second half and had more carries than Sawchuk and he looked pretty rusty on his carries.
Sawchuk had 6 carries in his 15 snaps and Barnes had 5 carries in his 18 snaps.
Wide receiver Jalil Farroq had 5 carries which included a costly turnover.
This room's production (or lack there of) and the rotations DeMarco Murray employs continue to be some of the more head-scratching situations we have seen in Norman in a long time.
WR/TE: 1* (Last week High 3*)
Not a lot of opportunity for the wide receivers coupled with some mind-numbingly bad penalties equates to a very low score.
Little-used Brenen Thompson had the highlight of the day with a nice play on a badly thrown deep ball which went for 39 yards on the last drive to give the Sooners a chance to put the ball in the endzone at the end of the game.
Drake Stoops had four receptions on the day to lead the Sooners in receptions.
Jalil Farooq and Gavin Freeman had identical lines with each being credited with 3 receptions which went for 11 yards…3.7 yards per reception and as you know, most of those were shovel passes or passes behind the line of scrimmage.
OL: 3* (Last week High 2*)
The offensive line, physically, played a really good game.
Mentally, with costly penalties, they put some daggers in the offensive flow…what little flow there was.
In my opinion, the Sooners were most effective when they had Jacob Sexton at LT, Cayden Green at LG, Andrew Raym at C, McKade Mettauer at RG, and Tyler Guyton at RT.
Guyton did have a couple bad misses and it was likely his most uninspiring effort of the season, but he still was solid for the most part.
The line did a really good job in pass pro and they probably had their best run-blocking day of the season which largely will go unnoticed as aside from Tawee, the running backs left a lot…a whole lot…of yards on the field.
But, you can't have the costly penalties that contribute to the offensive malaise.
DL: High 3* (Last week 5*)
One big bust on losing the EDGE does not paint the full picture of another solid effort from the defensive front.
I will say, while the defensive line did a good job, they did not have one of their better outings in regard to production on the day, but they were not the reason for the ineptness of the defense at times. You have to have help from the guys behind you sometimes and they really didn't get a ton of help from the backers and the defensive backs.
Felt like Laulu, Terry, Lacey and the gang were all 'solid' and steady on the day.
It was not a great day for the ends, but I felt like Rondell Bothroyd had his moments and while Ethan Downs didn't have a great all-around day, he did make a great play on the interception which could have (should have?) ended the game for Oklahoma.
Bottom line…they were not the defensive problem.
LB: 2* (Last week High 3*)
Danny Stutsman was the better of the pair of starting linebackers and when he went down for the second half, Kip Lewis stepped up nicely in his absence.
Jaren Kanak, who was a captain on the day, really had a rough go in every aspect. He struggled in coverage and was poor in tackling. PFF credited him with 4 missed tackles on the day, I think they were being generous. Kanak started out so poorly that Kobie McKinzie saw action at the earliest part of a game I can recall this season as he went in to give Kanak some pine time.
To my surprise, Kobie was only credited with 10 snaps, felt like a lot more, but he did have a nice play on a pass break up on a 3rd down conversion attempt by Kansas.
OU has a lot of work here ahead of Bedlam and Ollie Gordon next week.
No word on Stutsmans injury and I would not expect a definitive answer either way as OU is not going to want to tip their hand, but I think you can expect to see a lot of Kip Lewis next week either way at the WILL. As for the MIKE spot…Jaren Kanak has got to get it figured out or Venables has to find another answer because this has become an ongoing theme…waiting for things to click for Kanak.
Cheetah: 4* (Last week 4*)
Dasan McCullough needs to be on the field more. Period.
He played a really strong game in coverage, against the run, and he was the best tackler on the day for Oklahoma. He only played 31 snaps though as OU looks to keep him out of harm's way in the pass defense.
Kendel Dolby was solid on the day and he had a big play on the tip that landed in Billy Bowmans hands for an interception.
So I am not complaining about Dolby…just looking for a way to get more snaps for McCullough as he is a menace, particularly against the run.
DB: High 3* (Last week 1*)
Really more of a story about what could have been instead of what it was at the end of the day.
I felt like the safeties played their best game in quite a while. Billy Bowman reverted back to the good Billy Bowman and it looked like he broke out of his funk as he was better in coverage than he had been recently and he was solid in tackling. That tipped interception could have been a huge play if things finished out as they should have for OU, but alas, it was still a good play.
Key Lawrence…man…dude could have ended the game with that potential pick as he had nothing but green between him and the endzone. Sigh. Lawrence had some early issues with wrapping up, but I felt like he got better as the game went on. That dropped interception will haunt him for a while.
Reggie Pearson got kicked out for trying to stop a guy from scoring. Go figure. That was a bunk call.
Now, Kani Walker is gonna catch heat for the last drive, but overall, he played a pretty solid game. It just sucks that when you make a mistake or are just a little out of phase, you get exposed in front of everyone.
Woodi was ok, got away with a few loose coverages, but overall he was fine.
ST: Nebula (Last week 1*)
This is getting old.
Cannot turn the ball over on special teams and have it be an adventure anytime you are on the field.
Once again the not-so-special special teams.
---
Gut Check Time
– JY – Posted on: October 30, 2023
I became an Oklahoma Sooner fan in 1986 when I was about 9 years old. The first thing I remember about being an OU fan was out on the playground when we were playing football (tackle was still allowed back then) at recess and guys were pretending to be Jamelle Holieway, Lydell Carr & Keith Jackson. I didn't know who any of those guys were, but the Sooners had just won the National Championship against Penn State, and the whole state was buzzing about it. As I got more interested in it, I was shocked and just in awe of how something so cool and excellent could be just an hour away from my home. Growing up out in the country in the 80's, everything seemed like it was a million miles away, and even now as I'm older it seems like I still have a little of that residually in my mind. Like everyone else at the time, you got only 3 channels, NBC, ABC, and CBS, so the only exposure I had to college football was through Channel 8. John Walls was the sportscaster and as I grew older I won a few t-shirts picking games off of him in the "I whipped Walls" competition if you guys remember that. Even now when I go to games or see a famous person, I question if the whole thing is real. Seeing it on TV and then in person are two completely different experiences, so to a degree, I was a bit insulated from everything living out on State Highway 48.
My favorite player and the whole reason I began playing football was Brian Bosworth. My mom bought me a sports illustrated subscription, and I became a Sooner-a-holic if you will. When we got back out on the playground that's who I pretended to be. My family was big into hustle and effort. Playing hard and being tough wasn't a choice, it was an expectation. My sister was two years older than me, and as I watched her play basketball, aunts, uncles, grandparents, and all would always be yelling from the stands to hustle and get your hands up, etc. Playing with borderline maniacal effort was the standard. Naturally, I picked Bosworth as my favorite player because he was everywhere. It seemed like he made every tackle, and man I thought he had cool hair. But he played with reckless abandon. I can still hear the announcer Keith Jackson say "Brian Bosworth, the 240-pound Junior from Dallas, Texas." He played so hard and fast, so that's who I wanted to be.
After living out of state most of my adult life, Oklahoma Football has been a source of pride for me when people ask where I'm from. Wearing an OU hat around KC, Phoenix, or even NYC and Chicago when I lived there, I would always get an occasional BOOMER!!!! from someone, and much to my ex-wife's chagrin, you know what happened next! As time has gone on in the last almost 40 years of being a fan, a phenomenon occurred in and around Norman when the Sooners were winning or had the chance to be special. No offense to Oklahoma State and their fans, but the Sooners are really the only game in town. Oklahoma State has had a few good teams here and there, but at the end of the day, Oklahoma Football is King. In Oklahoma, the sun sets, the sun rises, and people live and breathe Crimson and Cream. Simply put the Sooners represent excellence for many of us including myself. Losing a game like what happened this past Saturday in Lawrence is the exception more than it is the rule, and when the Sooners aren't excellent it's a problem. The best of the best players play there, and the best of the best coaches coach there. Just to say you played at Oklahoma puts you in a different stratosphere than 99.99% of all people who ever strapped on a helmet. I know that many of you revere the Sooners in the same way I do, so for many of us, it is inexplicable, inexcusable, and downright borderline blasphemy for the Sooners to ever come out flat, scared or lackadaisical. I can't fathom how in the world it's possible to contain your emotions wearing that Crimson helmet with the OU on the side.
With all of that in mind and the backstory being laid, during those 37 some-odd years of watching Oklahoma Football, I've come to hope that they're counted out, disrespected, or forgotten. Because it seems like over that time, no matter who the head coach is or who the players are, the Sooners can't shake overconfidence. They've been the greatest team in college football history according to many on ESPN a couple of times, but in my lifetime 1985 and 2000 are the only pelts that have been hung on the wall. Back to my point about being the only game in town, I can't imagine what it's like for these guys to be bombarded by ESPN, Twitter, Facebook, Instagram, Fox Sports, Local news stations, and just walking around campus and having everyone talk about you in such high regard, Coaches included. Now take that and pile onto it after a win like Texas, and everyone on God's green earth thinks you're the greatest thing since sliced bread. That game was the first time I can remember in YEARS when the Sooners came out and played like their hair was on fire. Granted there were still mistakes, a blocked punt, missed field goals and other mistakes, but at the end of the day, the team played like it was a gosh-danged emergency. Like K said in his post this morning, Rocky was willing to die to win, and the Sooners played with that kind of urgency that day.
Since then, they just haven't. Same guys, the same jerseys, same helmets, but the urgency just hasn't been there. I'd wager had they played with the same effort and sense of urgency against UCF and Kansas that they did against Texas, they'd be 8-0 & #3 right now. Still, I remember thinking how they could go on a roll after that Texas game until I realized they had a bye week. Deep down in my guts, I thought that having a week off to hear about how great they played and that they were going to win a National Championship now, and everyone and their dog was already looking at hotel rooms for the Big XII championship and looking at where the first playoff game would be played etc. could prove to be the notorious rat poison that Nick Saban warns about. Along that same line of eloquence, my dad used to call it "gettin' the big head." Admittedly, I re-watched that game a few times, and in the past couple of weeks if I needed a pick-me-up, I'd just watch Mr. McIntosh's highlights of the game on youtube. While all of us fans can get away with basking in the glow of a Cotton Bowl win, the players and coaches cannot. We're all fans who can enjoy the games and the results way more than the kids who actually play them. K said it this morning, in a nutshell, this loss could be the best thing that has happened to them, a serving or now two of humble pie can be just what the doctor ordered. Now we'll have to wait until the paint's dry before we can determine it, but I truly believed after the scare UCF put into them that it would be a wake-up call for the whole team that they needed to get their crap together.
Needless to say, it wasn't.  Don't look now, but Oklahoma State is 6-2 and would like nothing more than to end the Bedlam series with a win. That's followed up by 5-3 West Virginia, 5-3 BYU and 4-4 TCU.  The last four games are shaping up to be the toughest stretch of the year, and you're gonna get each of those teams' best shots.  If the Sooners don't get their stuff together, I can see a loss on Saturday and potentially one more.  This version of the Sooners, team 129, is a lot like Rocky.  When they're pissed and hungry, they can play with and beat anybody.  When they're content and intoxicated by the wine of their press clippings, they're average.  At the end of the day, they need a gut check.  An Old Fashioned, full pads every day hard ass week of practice that makes the players question their life choices.  If they have as much character as everyone says they do, they should bounce back and kick the absolute dog crap out of Oklahoma State this weekend.  They should be mad, embarrassed, disappointed and a litany of other emotions about how they played.  Hopefully, Coach Venables looks em dead in the eye and tells em "You ain't been hungry since you won that belt!" He should have that same conversation with Lebby, but that's another write-up.  After Danny Stutsman's speech about how Oklahoma only fears God, and Texas fears Oklahoma, it's time to put up or shut up.  Are you going to be a team that sets the table for what could be a special era in Oklahoma Football history, or are you going to point fingers and make excuses?  If the Sooners are able to channel all of that pain and disappointment into their performance from here on out, they'll steamroll everyone left on the schedule.
---
Plenty of Blame To Go Around
– Charlie S – Posted on: October 31, 2023
After watching the game against Kansas again, there is one thing that is clear. There was plenty of blame to go around…this team needs to get past it.
***OU scored 33 points which was only one touchdown less than OkState and Texas scored on Kansas and it was in inclement weather. Texas and OKstate are the two highest-scoring teams against Kansas this year.
***Where the offense messed up is that they gave them a touchdown with the pick six…which you can hardly put on Lebby.
***The defense had plenty of opportunities to get additional turnovers. They were part of the problem.
***There were some missed tackles. Some blown coverages, and not enough pressure on the day.
***On offense, the run game was working so there was no reason to go away from it, but there was also no need to try to run so many sweeps and cute plays.
***But for those complaining about the lack of a vertical game over the past two games…the route combos are there. All you need to do is watch the pick-six against Kansas to see that there are vertical routes built in on most plays. Lebby cannot go out there and throw the ball. Granted, OU did not even try to throw the ball all that often against Kansas, and they didn't need to really, but when they did, they didn't get near enough bang for their buck.
***After watching the first series, did Lebby dial it back a bit as he saw Gabriel was struggling? Maybe, but he was focused on running the ball and OU was doing that very effectively.
***If there is a case where the wide receivers are not open, that blame goes to Emmett.
***If the offensive line collapses before the quarterback has time, that blame goes toward Bedenbaugh.
***If the running backs fail to pick up their pass pro assignment, that blame goes to DeMarco.
***Jeff Lebby is not out there telling Dillon Gabriel not to throw the ball deep on plays he calls with vertical routes built in. Even if he was, nobody besides Gabriel and Lebby would know this, including every other offensive player and the coaching staff as they likely would not be too pleased.
***Yes, Lebby made some key bad decisions and when that is coupled with some bad QB play, you get the result you got on Saturday. The goalline formation on the drive after Downs's interception was on Lebby. That entire drive was brutal play-calling.
***However, when pass plays have been called over the past two games, the opportunity to take deep shots has been there…and guys have been open.
The bottom line is…
***I may not be the biggest fan of Dillon Gabriel as a quarterback, but Dillon Gabriel needs to be a huge fan of Dillon Gabriel and he needs to trust who he believes he is and take some chances and stop overthinking things. OU has better athletes than anyone on their schedule, including UCF and Kansas. You have to allow those athletes to make plays at some point.
*** Oklahoma needs to attempt to stretch the field, sometimes this means throwing it up and letting the receivers try to make plays on the ball. They have had success in that regard quite often. OU has to get back to that and Gabriel is the guy who has to step forward and take some of those chances.
*** After all, if you are only throwing balls to guys who are open, they ain't gonna be open by the time you throw it in many cases, so trust yourself and trust the guys you have at receiver to go out and make some plays.
***I am not absolving Lebby at all in this equation, he needs to get better with his situational play calling and his game awareness. I am pointing out that there is plenty of blame to go around right now and the Sooners need to get on the same page and come out with a different mindset on Saturday.
***I expect the Sooners to come out Saturday and throw the ball around the yard to start the game and I expect there to be wide receivers who are open…OU needs to simply hit on a few of those plays and things will start feeling much better and the offense will start to become more functional.
---
Turn em loose!
– JY – Posted on: October 31, 2023
I consider myself a bad golfer at best, and heck that may be a little bit of a stretch. The best club in my bag will always be the pencil, although the foot-wedge comes in at a close second. At any rate, I love hitting my driver aka the big dog. Bein a big dude, I get a hold of one every now and then. When I can get a hot streak going, I can get some rookies next to me at top golf givin me oohs and ahhs. Unfortunately, I've never been on a date with a hottie when this happens. I've almost knocked a couple over the net, but even still, that's not anything to brag about considering it's only about 225 to the net I believe. At any rate, when I get on the course when I do get to play I know all the slang, even though I'm horrible. I'm stellar at burning cigars and knockin back a good scotch I smuggled in as we navigate the links, and one of my favorite things to say is…"Gotta let the big dog eat!"
I'm a firm believer in leadership whether it's as a play caller or as a manager which to a degree is a play caller, you gotta figure out what your people do really well. Once they do that, you have to get out of the way and let em do it. I'm also of the belief that one of my core functions in leadership is to remove any and all possible obstacles that indecision and confusion may provide. Offensive linemen as a group are the slowest position group on the field. There may be an exception or two here or there individually, but if position groups got into footraces, the offensive line is gonna lose and most likely be last on most teams.
When I was playing 25 years ago, on occasion when we'd be gashing a defense you'd hear them say "sh%% they're fast." Granted in that same footrace scenario everyone we played could outrun us too. Still as a group, the way we got faster and nastier as a group was knowing exactly what we had to do. When we were confident and secure in what we had to do, man we could cut it loose & play fast, physically, and aggressively. On the flip side of that, when we were confused or not sure exactly what we were doing, it was really difficult to play free and nasty. You see that to a degree with Coach Venables defense now in year two.
Teddy Lehman said it on his and Gabe Ikard's podcast, of which I'm a huge fan, that he HATES, the RPO game. I couldn't agree more. For you civilian types, RPO stands for Run-Pass-Option. On any given play the QB has a series of reads they go through that dictates to them that they can either:
Hand the ball off–Most of the time to a dive back
Keep the ball and run it themselves.
Pull the ball and throw it to a receiver.
Some people have labeled it as the modern-day triple option, and to a degree it is. Still, on any given play as an offensive lineman, you're not sure if you're run blocking or pass blocking. The downfall of this is that if you're being aggressive as an offensive lineman when QB decides to throw it. You've fired off, hit that double team, and as you're coming off your combo block or duo block as some call it, climbing up to the linebacker you get whistled for illegal man downfield. Offensive linemen have zero idea whether it's run or pass. To me, the worst thing about it is that neither do your receivers, backs, or QB. At its core, it's taking what the defense gives you on a given play, but in my mind it's too circumstantial. I want to line up and dictate to the defense what we're doing. That's just the way I'm wired.
I wonder sometimes if it's the football god's sick joke that they made me a Sooner fan and Chiefs fan knowing full well who calls the plays for both offenses. I'm not sure if Lebby fancies himself as a budding Andy Reid, but both of them are interesting studies. Brilliant, innovative, intelligent, and so on. Both are former offensive linemen, and you'd think they'd lean more toward the downhill run, counter, power, inside/outside zone and just mashing people. Alas, every weekend I'm found yelling at my TV screen just line up and run the gosh damn ball!!!!!!! Far too many plays are a screen pass, a swing pass, a jet sweep or something that goes laterally when if you'd just let your big dogs eat, on either team more often than not you'd have teams beat into submission midway through the 2nd quarter.
For the Sooners, the starters for them could start on most of the teams in the Big XII. Talent isn't the issue with this offensive line. I'm of the opinion that they're being handcuffed by an offense that at its core apologizes for what it's trying to do. As an offensive coordinator, Jeff Lebby shouldn't be meek about anything. He has STALLIONS at every position. I really think that if he'd go old school and just call a run play or pass play in the huddle, the guys would be more confident and nastier in trying to execute. These guys didn't just come to Oklahoma and forget how to be good football players. If you let em play, they'll become dominant football players.
I get it, as a play caller it's tough sometimes trying to figure out what to do. Still you can't waffle from being a passing team this week and being a running team the next. It's almost like you worry about what the other team is doing TOO much rather than trusting that your guys can do it against anybody. Nic Anderson, Drake, Gibson, Thompson, Stogner all STUDS. Call some plays for slingin it without the run read and see if the added time that Gabriel has to process the play without thinking run at first simplifies things for him. Hand it off to Sawchuk on an Outside Zone, Toss, Sweep or Counter, and see how fast he looks then. If every play is a dive or that damn zone read, how hard is it for a defense to prepare for you? I can't imagine the frustration some of these guys have to be going through knowing they can make a difference given the opportunity.
Hopefully, Venables will step in and make Lebby stop being too cute.  You're at the gosh damn University of Oklahoma!  Be a man, have some testosterone, and turn them boys loose!  Stop trying to outsmart the other team!  Go into it with the mentality that if stuff goes sideways before kickoff and the whole thing is a street fight, we're gonna whip every shred of your ass!  You've recruited the baddest players on ten toes!  Let them be who they are!  Let them play press man!  Blitz the hell out of em!  Run it down their throats!  Throw the deep ball, and for God's sake, stop calling the jet sweep on 3rd and short!
---
Know Your Opponent | Oklahoma State – 2023
– Charlie S – Posted on: November 1, 2023
Head Coach – Mike Gundy – (3-15 in Bedlam Games)
Offensive Coordinator – Kasey Dunn (4th season as OC)
Defensive Coordinator – Bryan Nardo (1st season as DC)
The Pokes are 6-2 on the year and 4-1 in Big 12 conference play. Oklahoma State owns victories over Central Arkansas (27-13), Arizona State (27-15), Kansas State (29-21), Kansas (39-32), West Virginia (48-34), and Cincinnati (45-13). Their losses came to South Alabama (7-33) and Iowa State (27-34).
On offense…
The Pokes come into the game with an offense that has evolved into a power running team with phenom Ollie Gordon and his arrival on the scene boosting the passing game to a competent level. Senior citizen Alan Bowman, who collects social security I believe rather than NIL is not a dynamic quarterback, but with the ascension of the running game, he has become serviceable. Overall they are ranked 39th in total offense (429 YPG), 55th in passing offense (244 YPG) and 30th in rushing offense (188 YPG). But those numbers do not tell the current state of the Pokes offense, they are all about the run over the last 4 games and they have been running it well.
QB #7 Alan Bowman
RB #0 Ollie Gordon
TE #16 Josiah Johnson
– 271 vs Cincy. 282 vs WVU, 168 vs Kansas, 136 vs KSU – Those are Ollie Gordons stats running the ball over the last four games for the Pokes. All which were victories.
– On the season Gordon has 141 carries for 1.087 yards with an average of 7.7 yards per carry and he has 10 touchdowns on the year. He is d a n g e r o u s.
– Bowman…likely the least effective QB OU will face this year, but Gordon has opened up some things in the passing game for him and he can be competent enough to hurt you if you sell out completely on attacking the running game. He has 141 completions on 246 attempts for 1,580 yards which is a 57.3 completion rate. He has thrown 8 touchdowns and 5 picks and has been sacked 4 times.
– Josiah Johnson has 12 receptions on the year, but he is a big part of the run game as he has been a very effective blocker.
As usual, the Pokes have a solid group of pass catchers. While this group may not be as heralded as past groups have been, they are pretty good, especially the starters.
WR #5 Jaden Bray
WR #10 Rashod Owens
WR #80 Bennan Presley
– Presley is the security blanket out of the slot in the passing game and he has 39 receptions and averages 8.2 yards per catch with 5 touchdowns
– Bray and Owens each have 27 receptions and a touchdown
– There's that man again, Ollie Gordan is also effective out of the backfield and he has 21 receptions on the year and averages about 10 yards a pop
Normally, I would say the offensive line isn't all that good…and on paper, they are not, but they have found their jam of late.
LT #71 Dalton Cooper
LG #73 Jason Brooks Jr
OC #66 Joe Michalski
RG #74 Preston Wilson
RT #61 Jake Springfield
– Dalton and Brooks are guys who transferred into the program on the left side and they are guys who are better in the run game than against pass pro for the most part (as is the rest of the line).
– The rest of the starters are all redshirt seniors who really are physically limited to a degree, but they have found some great cohesion and are having a lot of fun out there paving the way for Gordon.
– Truly an overachieving group of late, but still not what I would consider to be even one of the better lines in the Big 12
On defense…
The Pokes roll out a 3-3-5 defense under their new defensive coordinator Bryan Nardo. They aren't very effective at this point of the season as they rank 109th in total defense and average giving up 409 yards per game. They are 101st against the run as they average giving up 170 yards a game on the ground. OkState is 90th against the pass and they average allowing 239 yards per game through the air. Lots of yards to be had for the Sooners if they get their offense together.
DE #96 Kody Walterscheid
NT #93 Collin Clay
DE #94 Anthony Goodlow
– Goodlow leads the defensive linemen in tackles with 26 and his running mate #93 Nathan Latu is active as well and he has 18 tackles and a pair of sacks.
– Clay and Walterscheid tend to eat a lot of blockers and allow the very solid linebacking corps to make some plays behind them.
As I mentioned, this is a really solid and active linebacker group and it is the source of most of the havoc the Pokes defense generates.
WLB #30 Collin Oliver
MLB #4 Nickolas Martin
SLB #1 Xavier Benson
– Martin is having a great year as he leads the Pokes in both tackles (83) and sacks (5). Really big development for the Pokes after they lost Cobb to USC last year.
– Oliver is second on the team in sacks with (4) and he continues to be an effective pass rusher and all around defender.
– Benson is a guy I really like and he is starting to come into his own. This is the Pokes best unit on the defensive side.
The secondary is still a developing group and they have had their moments in regard to being able to turn the ball over as this group has seven picks on the year.
Rover #5 Kendal Daniels
CB #2 Korie Black
FS #7 Cameron Epps
BS #9 Trey Rucker
CB #3 Cam Smith
– Epps has been the most active in turnovers as he has three picks on the year to go along with 29 tackles.
– Kendal Daniels has really emerged this year as he is second on the team in tackles (64) and he has a pick and a sack to his credit. He lines up all over the place and is making an impact in most games.
Overall Thoughts…
– I mean…sometimes they are as easy to analyze as they appear to be…that is the case with this Bedlam matchup.
– OU will either contain Gordon and have the opportunity to put enough points on the board to pull away from the Pokes…or…they will not be able to contain Gordon and this turns into a shootout where the OU offense HAS to respond each and every time they have the ball.
– There is not a lot to talk about besides that. Oklahoma has better talent at every position aside from the running back room. Even though the OkState linebacker crew is dealing right now, the OU linebacker corp is deeper and, again, on paper, more talented. OU has the better QB, the better receiving corps, the better OL, the better DL, the better secondary players.
– OU has to stay away from the penalties and beating themselves.
– Now, I am not taking it for granted that the OU defense will be able to stymie the red-hot Gordon, that is very much in question with Stutsman's injury situation and Kanak's apparent regression…but that is the one and only real key to this game if OU comes out focused and aggressive offensively.
– Dasan McCullough could have a huge role in this game.
---
Huge Weekend Ahead
– Super K – Posted on: November 2, 2023
This upcoming weekend will likely determine a lot in terms of the upside opportunities for multiples teams. So, let's get into it…
***Alabama vs. LSU – While LSU has two losses, someone from the SEC is getting into the playoffs. So, I'd guess with a win against Bama and ultimately an SEC championship berth, LSU will have their shot to play their way into the playoffs.
Alabama, with only one loss and a good one at that, definitely has a path. A win here and they have fairly smooth sailing into the SEC championship.
These two teams are opposites. Bama has a talented but wobbly offense and an excellent defense. LSU has a talented by wobbly defense and an excellent offense.
A Bama win helps the Big 12 and OU as Texas has the head to head against Bama.
I'm picking Bama in this one.
***Texas vs. Kansas State – Huge game for both teams. The loser finds themselves needing chaos for any chance to make it the Big 12 championship.
Texas is loaded with talented, a lot of which is leaving so if they're going to make a run, this is the year to do it.
If Maalik Murphy isn't stifled by the KSU defense, then I think Texas can win fairly comfortably.
But, KSU is always sound and good against the run, so if this turns into a case of Texas trying to rely too heavily on the run game, KSU could win this one close.
Picking Texas in this one. But given the unknown at QB, not a ton of confidence either way.
***USC vs. Washington – This is a night game. Should OU win earlier in the day, the Sooner fans will find themselves in the uncomfortable position of rooting for Lincoln and the Trojans.
As of late, Washington has been flirting with danger. Their offense has at times been stifled but USC's defense isn't exactly reliable.
Wouldn't imagine this being a defensive battle. If USC is going to win, I'd guess it would be a shootout. Like Penix and Washington, Lincoln's offense has stalled a bit lately.
Really tough pick here. Could either see USC getting beat pretty badly or a close high scoring game to USC. I don't like Washington's interior line.
So, I'll go USC but not a lot of confidence either way.
***OU vs. Oklahoma State – This will define the upside on OU's season. A loss isn't devastating as a the Sooners will have a real chance to finish out the season 10-2. Before the season, most folks would've taken that. It would be a big improvement over last year and give the rationale Sooner fans a sense that things are moving in the right direction.
But for the Sooners to keep their Big 12 hopes alive and a possible run at a playoff spot, they need this win.
Okie State has a stationary QB. And while they have a run game, when the Sooners are playing well, they're great against the run. I think they got all their missed tackles out, these past couple weeks.
I know Brent talked about wanting to take shots down field but the Sooners don't want to start taking shots, just to take shots. Still, I think you'll see a more aggressive attack.
Great weather for this game.
I'm picking the Sooners in this one.
---
One On One's | Oklahoma vs. Oklahoma State – 2023
– Charlie S – Posted on: November 2, 2023
The Sooners head to Stillwater for a Bedlam matchup as they come off their first loss of the season.
Oklahoma is 7-1 on the year (4-1 in conference) and they truly let one slip away last week in Lawrence.
The Pokes are 6-2 on the year (4-1 in conference) and they are currently riding a four-game winning streak that Ollie Gordon and their running game have largely fueled.
Let's take a look at a few 'One on One' matchups that could go a long way in determining the outcome of this game!
---
One on One Number One
Oklahoma Linebacker Jaren Kanak vs. Oklahoma State Running Back Ollie Gordon
I mean, there is only one place to start when we talk about important 'one on one' matchups in this upcoming contest and that is the OU linebacker/oSu running back matchup.
While the participation status of Sooners starting WILL linebacker Danny Stutsman is up in the air due to an injury at this time, we know that the tackling status of starting MIKE linebacker Jaren Kanak has been shaky of late. Kanak has been charged with nine missed tackles over the past three games, and I believe those stats are generous. He has been struggling.
If Stutsman is limited or cannot go, his production on the field can be adequately addressed by Kip Lewis, but Kanak will have to assume a larger portion of the communication among the defense and that is just another item on his plate.
Ollie Gordon has been a revelation for the Pokes and he is among the NCAA leaders in yards, yards after contact, receptions out of the backfield, and forcing missed tackles. Kid is good. He is not superhuman and the OkState line is not great, particularly if they get out of sync due to disruption, so there will be plays that are there to be made.
Kanak has to make them.
It will be important for Kanak to not get sucked into the trash and to keep the tight ends and offensive lineman hands off him and make his fits. Once he fits his assignment, Kanak has to wrap up and finish the tackle opportunities because if he doesn't, and Gordon shakes him around the line of scrimmage, it is off to the races for the Pokes running back.
Bottom line…Jaren Kanak has to focus on doing his job and doing it better than he has of late. He needs to be one of 11 who just go out there and do their jobs.
One on One Number Two
Oklahoma Quarterback Dillon Gabriel vs. Oklahoma State Rover Kendal Daniels
Aside from one minute and 15 seconds over the course of the last three games, Sooners quarterback Dillon Gabriel has struggled in the vertical passing game. We can debate the reasons for the struggles, but in large part, the Sooners offense has been playing in a 10/15 yard box which consists of five yards behind the line of scrimmage and 5/10 yards beyond the line of scrimmage. It is almost like the Sooners offense is acting like they are running self-imposed red zone stuff all the way down the field.
Daniels is a guy who is going to line up all over the field. He will be in coverage at times, he will be in the box at other times, and he will be on the EDGE at times. The goal for OkState is to have him be Gabriel's antagonist on the day. Daniels will be one of the first keys that Gabriel takes note of when he lines up to receive the snap.
Gabriel is going to have to find a way to at least attempt to stretch the field by going vertically. Now, it is never a good idea to just come out taking shot after shot vertically if it is not working, but Gabriel and offensive coordinator Jeff Lebby need to come up with an effective plan to loosen the defense up.
The Oklahoma State defense is not an overwhelming unit, there will be opportunities for some chunk plays. Gabriel will be using Daniels as a key to determine what defense he is facing.
One thing I would keep an eye on is OU using a receiver out of the backfield (or a running back) in a one-on-one matchup with Daniels. When was the last time we saw Oklahoma hit a back (or WR out of the backfield) on a wheel route down the sideline?
The bottom line is that the Sooners are going to be calling on their QB to give them more than just game management at this point. They have to. Brent Venables had a pointed message about the lack of shots taken by the offense of late. He said the opportunities have been there. Gabriel and Lebby need to capitalize on some of those opportunities and get this offense back on track. After all…there are hashtags that need to be adhered to…#DimeTime and #ScoreFromFar…
One on One Number Three
Oklahoma vs. Oklahoma
One could say that OU beat OU last week, and it would be difficult to argue with that statement.
The missed tackles are one thing that you cannot have, the clock management and in-game personnel decisions are another thing…but the mind-numbing penalties at the most inopportune time are just not acceptable.
Oklahoma had 11 penalties for 101 yards against Kansas.
Yes, yes, I know some of those penalties were nonsense, I get it.
But the false starts, offsides, and earned personal foul penalties are things that need to go away.
Again, Venables has been saying this since the end of last season…OU beats OU far too often. Need to clean that up.