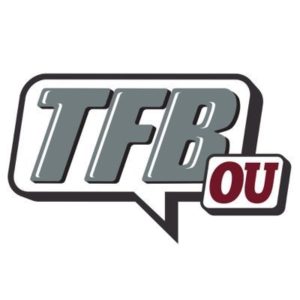 Open Post | Weekend, November 30th – December 2nd
Posted on: November 30, 2018
JY's Early Thoughts
– JY
Like many of you I was pretty worked up most of the day Friday about the West Virginia game.  I knew the Mountaineer offense was going to be the best that the Sooners had faced all year long.  I was talking to mama bear about it leading up to kickoff, and I said that the Sooners would probably win if they could score with West Virginia.  She said I think you're thinking about it wrong.  When I asked what she meant, she said that West Virginia was probably more worried about scoring with the Sooners than I realized.
Honestly, I'd never thought of it that way.  It calmed me down a great deal, and as I watched the game and then several others over the weekend I gained more of an appreciation of how good Oklahoma is offensively as well as the Big XII in General.
I watched the Ohio State/Michigan game, Auburn/Alabama and then Notre Dame/USC.  Throws that Murray and Grier were making all night long and making them look easy, other QB's at marquee schools were really struggling to make.
When Auburn picked up the Stidham kid from Baylor, I thought with all of that "SEC Speed" and a QB who could make some throws, that Auburn would be much better than they have been.  Granted the d line play is better in the SEC, but there were some throws I saw him miss Saturday that would have made that game against Alabama a heck of a lot closer if not tip the scales the other way.
The Patterson kid who QB's for Michigan is no doubt a good player, but he struggled a great deal as well as the QB for Notre Dame.  USC was wearing Notre Dame out in the first half.  Had it not been for those two first half turnovers, I think USC wins that game handily.  Their speed was just too much.
Before I get too far off in the weeds my point is that while Big XII defenses aren't as good, the QB play in this league is astronomically better.
As I went back and rewatched the OU/WV game, those two guys were making throw after throw look easy.  I'm a big body language reader, and there were throws Murray was making that had the DB's for West Virginia hopping mad.  Go back and watch the DB flip out after Kyler dropped that dime in there on the 3rd and 10 to Hollywood late in the 3rd quarter down the right sideline.
The DB was fuming mad and noticeably frustrated.  The Sooners just kept coming and coming and coming.
While the Defense gets a ton of negative press, the one thing about this entire team that no one talks about is how resilient this team is.  There was a point mid-way through the fourth quarter where West Virginia gave up.  The Sooners simply broke their will.
It wasn't until about 5 minutes to go when the Mountaineers scored again that they had any juice left in them.  The Sooners let em hang around, but made clutch plays when they had to ice the game.
What I'm getting at, is that with this offensive line, a healthy Sermon, Brooks and Pledger, I believe after watching all of the teams the Sooners may face in the playoffs that they can hang with any of em.  And beat any of em.  First, though they have to get past Texas.
Taking a look back at the Texas game, there were two things that stood out to me.  The first thing is that Oklahoma had two crucial turnovers that set up Texas on the plus 25 yard line.  The second thing was that I just didn't think that the Sooners gave great effort defensively.
Thirdly, Texas came ready to play.  After hearing the no defense narrative and having every goal the Sooners started the season with intact, I have no doubt that Oklahoma will come ready to play Saturday emotionally and physically.
Don't want to get too long-winded on this one, so I'll cut off there.
---
2020 Offensive Lineman Geirean Hatchett | Post Visit
– Super K
Coach Bedenbaugh continues to bring in top-level talent on the offensive line and he's looking to continue that trend with 4-star 2020 offensive lineman, Geirean Hatchett (Ferndale, WA). Hatchett has been an early target for the Sooners.
Hatchett has already visited Oklahoma a number of times. In fact, this past Bedlam game was Hatchett's fourth visit!
It should come as no surprise that Hatchett's interest level in Oklahoma is quite high. Part of the reason for that is because Hatchett has ties to the Sooner state.
"My grandfather actually grew up in Oklahoma all his life. I've still got a lot of family down in Oklahoma so getting down there is also a chance to visit family".
Hatchett's grandfather is originally from Elk City, OK. And, the Sooners threw their hat in the ring for this talented grandson of an Oklahoma native early on.
"Oklahoma was my first division one offer. One of my grandfather's best friends knows coach Cale Gundy and through that connection, I was eventually able to get in touch with coach Bedenbaugh. Once I made it down there for my first visit, they offered me."
Hatchett made his first visit to OU's campus for last year's West Virginia game. Since that first offer from the Sooners, Hatchett has picked up a number of offers from elite programs including offers from Washington, Stanford, Notre Dame, Ohio State, Michigan, and others.
Hatchett has already made it to a number of schools for unofficial visits including USC, Alabama, Ohio State, Michigan, Oklahoma, Washington, Texas, Texas A&M, TCU, Stanford, Cal, and UCLA. But other than in-state Washington, he's visited Oklahoma the most.
Athleticism and size run in Hatchett's family. He happens to be the son of a former college football player.
"My whole family is very tall. Mom's side and dad's side are tall. My dad played college ball for Western Washington which is a DII school here in Washington. He got me started playing football at an early age. I was playing tackle by nine."
Having a father who played ball, Hatchett was able to pick up extra help in his technical development.
"Dad has always helped me with anything I needed in terms of technique or help on the offensive line. When I played early on I was always an offensive lineman…I loved college football so much that I wanted to play and fortunately, Oklahoma was the first school that made sure that would happen".
Moving forward, Hatchett says he will drop a top five in very near future. We fully expect the Sooners to make the cut.
Geirean says he will then likely take all of his five official visits in the spring and commit sometime soon after that.
Despite OU's success and family ties, Hatchett is still an in-state prospect for Washington but he says distance isn't likely to play a factor.
"No, distance from home doesn't really matter. I don't care too much. It's not a big deal to me and not really a big factor for my parents either. They just want me to go somewhere I'm happy".
---
Quick Hitters | 2019 Wide Receivers & Defensive Back
– Charlie S
*** As we have mentioned, Sooners will be out to see 2019 JUCO (College of the Canyons) wide receiver Brandon Pierce early next week (Monday). Pierce is sending in his transcripts and with the staff already planning on visiting him, you would think it wouldn't be too long until that offer is extended. Pierce is planning on officially visiting OU sometime in the near future as well.
*** Super K was able to touch base with 2019 OkPreps (Millwood) wide receiver Demariyon Houston. Houston is committed to Texas and at this point, he said that the Sooners have not been in touch with him recently. Now, with the Arjei Henderson decommit being so new, and the staff preparing for the Big12 Championship game, things could happen down the line if OU chooses to pursue him, but as of right now, there has been no contact to speak of.
*** We were in touch with some sources on the OU side Wednesday morning based on a tip from James Hale and we reported on the Donor side that the OU staff remained in close contact with Jeremiah Criddell and they felt that the Sooners were still very much in play. There was and still is actually quite a bit of confidence around the then Oregon commit from some on the Sooners side despite what he said following his recent visit to Oregon. In the note, we mentioned that it was something to keep an eye on going forward.
It didn't take long as on Wednesday evening, Criddell decommitted from Oregon…
God has my back….. pic.twitter.com/rNpBjDSUpA

— J4 (@JayCriddell) November 28, 2018
We will see what we can find in regards to his actual timeline and let you all know when we have something.
---
TFB Talking Point | Big 12 Predictions Review
– Ryan Lewis
Way back in August, The Professor (aka Blinkin Riley), Charlie, and I shared our predictions for the 2018 Big 12 football season. Let's see how those predictions look now:
PREDICTIONS AND RESULTS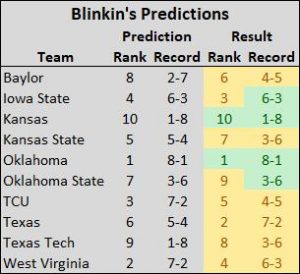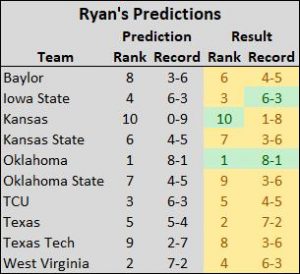 Predictions by team are on the left columns, while the actual result is on the right. Correct predictions are highlighted in green, while incorrect ones are highlighted by yellow.
THOUGHTS
– Baylor exceeded expectations; it was undeniably a good year for Matt Rhule and company.
– Iowa State also exceeded expectations. What's crazy is that, if not for a puzzler against TCU, they hit 7 conference wins. Another good season for the Cyclones.
– Kansas got one conference win – that's a good season for the Jayhawks, even though it led to the firing of David Beaty.
– Everyone had modest expectations for Kansas State; they managed to somehow undershoot them. It was a rough season for the Wildcats, resulting in no bowl for the first time since the 2009 season.
– Oklahoma finished exactly as expected – one loss against a team they certainly could have beaten. With that said, it's hard to go undefeated in conference play.
– Even with the expectation of a rebuilding year, this was a rough season for Oklahoma State. If not for very surprising upsets of Texas and West Virginia, the Cowboys would be missing a bowl for the first time since the 2005 season.
– TCU had a shockingly disappointing season; the Horned Frogs needed a season finale upset of oSu just to make a bowl.
– Texas, as much as it pains to admit, had a good season. Although they won several games by the skin of their teeth, they did finish with 7 conference wins, only one shy of their conference win total over the past two seasons.
– Texas Tech was about on pace for expectations, resulting in no bowl game and the firing of their head coach.
– West Virginia had a good season, but it's impossible to not think that it could have been even better.
All that remains now is to see if the Sooners win the Big 12 Conference Championship game, as all 3 of us projected would happen.
What sticks out to you about this Big 12 season?
---
Quick Hitter | Arizona Quarterback Kahlil Tate
– Charlie S
– I know some of you have asked about Kahlil Tate and any chance OU gets involved there…
– Spoke to a source, asked if Sooners plan on kicking the tires on Arizona Quarterback Kahlil Tate who announced he would be transferring.
– Source simply said "No."
– That about sums that up.
---
Pregame Big 12 Championship Game | Class Is In Session
– The Professor
The chance to avenge a loss doesn't come along very often in football. And I imagine the chance to avenge the only loss of the season is rarer still. Oklahoma has that chance on Saturday. It's been all too easy for Texas fans to simply bring up that fact that they won this year any time the trash talking begins. With that in mind, let's give you some ammunition for some serious pre-game trash talking.
For this lesson, I'm just going to go through some stats from Oklahoma and Texas' season as well as a bit of recent Red River Shootout history. So let's get to it.
The Stats
The Texas offense isn't quite as embarrassing as it was last year, but from Oklahoma's point of view, there really isn't any difference. Oklahoma has 7,005 yards of offense to Texas' 4,970.
In fact, if Oklahoma only played three quarters every game, they would still have more total offense at 5,635 yards.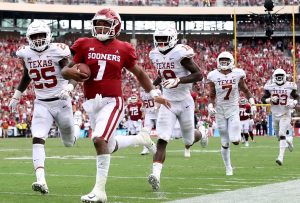 Texas is gaining 5.53 yards per play this season. If Texas had gained 250 additional yards in each of their 12 games this season on the same number of plays, Oklahoma would still be gaining more yards per play than the Longhorns.
Despite attempting more passes per game, Texas still averages 61.1 fewer passing yards per game than the Sooners.
Despite attempting more rushes per game, Texas still averages 107.91 fewer rushing yards per game than the Sooners.
Texas has given up 302 points this season and scored 380.
Oklahoma has given up 394 points this season and scored 604.
Oklahoma is running just 9.7 plays per touchdown this season.
Texas is nearly taking twice as long to score with 19.1 plays per touchdown
Oklahoma has more Offensive First Team All-Big 12 players this season than Texas has had since 2010.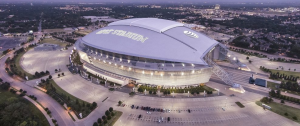 Texas is averaging just 3.85 yards per rush this season. That's good for 96th in college football.
Oklahoma is averaging 6.97 yards per rush this season. That's the best in college football.
People say that the Texas defense is much better than Oklahoma's, and there's truth to that. But, consider this. Oklahoma is gaining 2.91 more yards per play than they are giving up.
Texas? They are actually giving up 0.05 more yards per play than their offense is gaining.
Oklahoma is scoring 0.330 more points per play than they are giving up.
Texas? They are scoring just 0.065 more points per play than they are giving up.
Oklahoma has 1,841 rushing yards on 1st downs this season.
Texas has 1,877 rushing yards in total this season.
Texas is 54th in college football in total offense, despite being 19th in number of offensive plays.
Oklahoma is 1st in college football in total offense, despite being 106th in number of offensive plays.
That's it for this lesson. Now you have the stats to educate 'Horns fans as Oklahoma is righting a wrong on the field