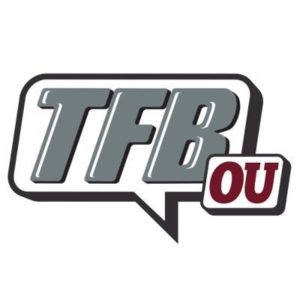 Open Post | Weekend, November 23rd – 25th
Posted on: November 23, 2018
2021 Linebacker Kendrick Blackshire | In Person
– CJ Vogel
Easily one of the most impressive physical specimens I have covered this year is 2021 linebacker Kendrick Blackshire out of Mesquite Horn High School.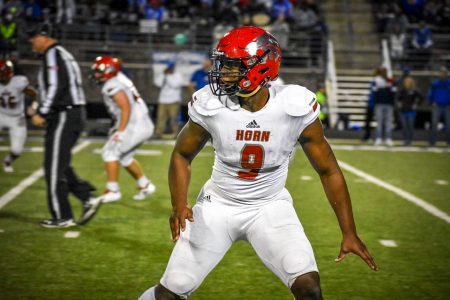 Blackshire is every bit of his 6-foot, 2-inch, 250-pound frame. For a kid that size, he has tremendous speed in route to the ball, however, I would have liked to see a higher motor at times from Blackshire, but I believe that will come as he matures.
The massive linebacker was quite influential in Horn's 41-34 upset victory over 8-2 Temple in the first round of playoffs. Blackshire was a key component in causing a fumble from Temple QB Jared Wiley in the second quarter.
Recruiting
The recruiting process is still in the real early stages for Blackshire, however, he has made visits to Oklahoma, Texas A&M, Oklahoma State and is fresh off a trip to Georgia. Not to mention a trip to the Texas-Oklahoma game in Dallas. But Blackshire is still a ways away from coming to any sort of decision.
"Probably during my junior year I'm going to post my top five, then I'm going to wait a little bit and then I'm going to commit," said Blackshire after the game.
Obviously, Oklahoma is already doing work behind the scenes in this recruitment and Blackshire is loving the attention from the Sooners' coaching staff.
"I love the coaching staff. The environment, everybody there, the whole program," said Blackshire. "It's like a family there. Coach [Lincoln] Riley, he's young and talkative. Every time I call OU it's something different."
Blackshire mentioned Riley's Jordan shoe collection as something that really made the 35-year old offensive wizard stand out amongst other coaches.
The defensive coaching shakeup probably won't be much of an impact when it comes to Blackshire's interest in Oklahoma. He did say the Sooners' staff was scheming him as an inside linebacker.
"It don't matter, I'm a football player. Wherever you want to put me, it don't matter."
For the time being, Blackshire will focus on the remainder of his season and Horn's run in the playoffs. He was slated to visit Austin this past weekend, however, those plans fell through with a sickness in the family.
At the moment it appears the Sooners have been the most in-depth relationship with Blackshire but that may change once the big dogs from the SEC and Big 10 start knockin' at the door. In fact, he did say a trip to Tuscaloosa is in store for after the season.
---
TFB Short | Defense in the Big 12 | Thoughts From an NFL Coach
– Super K
Last week on my way to Baton Rouge (I know I still owe you all my write-up on Tyrion Davis) I was talking to a friend who coaches in the NFL. We talked about OU's defensive struggles and that led us to talking about the Big 12, in general. It was a long conversation and I was driving so it was tough to take notes but here a few things I remember us talking.
Talk about the spread attacks in the Big 12 and the innovation on offense.
"That crap is hard. The spacing is just tough. It's tough, I'm telling you. It's hard to defend all that space. Even at this level it's hard. The sh*t is hard. At this level you can at least hire the best personnel. And you see what's happening now at Kansas City (note: we had this conversation before last night's game) when you have that scheme and the right players. It's coming to the NFL and it's going to be a struggle to stop".
We talked at length about what we thought were the essential personnel needs of a team against these spread attacks. We both agreed, and it's not secret that you need…
1) You have to have at least one elite defensive linemen and preferably more. If you're going to try to protect your cornerbacks, you're going get outnumbered in the box. And, now that the QB run game has become so much part of the offenses, you're sometimes outnumbered by two players!
2) You have to have elite cornerback play. The better your outside guys are, the better you can be through the middle of the defense. You don't need to protect those guys as much with rolled coverage or two high safety help.
It's absolutely a recruiting issue to begin with. But even the beginning point of that is talent identification.
There were three cornerbacks drafted in the first round last year: Denzel Ward (Ohio State), Jaire Alexander (Louisville) and Mike Hughes (UCF).
Their ratings in high school according to Rivals? Three stars. Every one of them. And, no please don't turn this into a discussion about stars don't or do matter. I'm just pointing out that identifying talent is a key element to being able to recruit.
The other key element is obviously development. The first cornerback drafted in the second round of the draft was a 2-star kid named Josh Jackson that Iowa pulled in out of Dallas. How many folks missed on him? Plenty. But how many folks would've developed him anyway?
So, 5-star or 2-star, you have to have the coaches who can develop these guys. I went out to Jacksonville, FL to see 5-star cornerback, Fred Davis. Davis is elite. Absolutely elite. His instincts and range are off the charts. I watched him pick off like five passes in practice. He has a great personality. He absolutely has the potential to be a draft pick and in my opinion, he is rated appropriately.
You either get players like Fred Davis and develop them or you find players like Fred Davis who are maybe out of position or from small schools or under the radar for whatever reason and you spend the time developing them.
It's more difficult to find underrated defensive linemen but you can absolutely develop them, meaning you squeeze the most amount of physical and technical potential that you are able too. And in the recruiting process, you recruit body types, attitude and raw athleticism but you have to have the eye to distinguish between what is wrong because teaching needs to happen, and what is wrong because the person simply wasn't given the gift at birth.
One of the things I love about this video of Pete Golding from UTSA is what is talking about. Notice he isn't talking about scheme. He's talking about players as individuals and their individual development.
---
Quick-Update | Jeremiah Criddell
– Super K
After his official visit, things were looking pretty good with Oregon DB commit, Jeremiah Criddell. Based on my conversations with someone very close to Criddell, he preferred OU as a school but was going to wait and see what happens with the staff.
The latest I heard this morning from the same source was, "He is going to Oregon. Not taking any more visits".
Short and bitter.
Bottom line is that without any certainty about who is or isn't going to be on the staff, there are going to be guys who may like OU and Riley but they'll want to wait and see how things play out.
In the case of Criddell, while there are a lot of ties to OU and I'm told he believes he can come in and play right away, he has a lot of ties to Oregon as well and more importantly, he knows who his coach is going to be.
---
Pregame West Virginia | Class Is In Session
– The Professor
Oklahoma travels to Morgantown Friday to play West Virginia in what is the most important game so far this season for the Sooners. A win and the Sooners are headed to Arlington to play for their fourth straight Big 12 title. A loss and Oklahoma goes to someplace that can't attract tourists on their own to play in the [Advertisement] [Advertisement] Bowl presented by [Advertisement]. This game will feature the best and probably the second best offenses in the Big 12.
It's likely to be a high-scoring affair, Oklahoma seems to know nothing else. Let's start the lesson.
The History
Right now I'm enjoying some Black Ridge Small Batch bourbon. West Virginia is known for moonshiners. I think that's a pretty good analogy for the two programs. On the one hand, you have West Virginia, program that has been known to sometimes beat the hell out of teams. They are rough and unrefined, but they get the job done.
Alternatively, you have Oklahoma. The smooth, refined, aged program that has been to the top of the football world. Football connoisseurs debate the subtleties of the brand's history and accomplishments.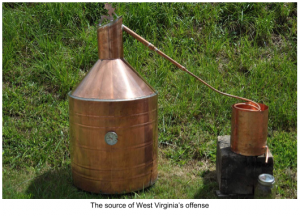 Oklahoma and West Virginia have met 10 times and Oklahoma leads 8-2-0. Oklahoma has won the last six. In fact, the Mountaineers have not beaten Oklahoma since they joined the Big 12. West Virginia has also never beaten the Sooners in Morgantown.
The Sooners and Mountaineers have met only once when both teams were ranked in the Top 10. That was in 2016, and Oklahoma won that game by 28 points.
The Coaches
Dana Holgorsen might be one of the most overhyped coaches in football. People often talk about the success he has had at West Virginia but does that success really exist?
Holgorsen is in his 8th season as head coach for the Mountaineers. During that time, he has had two 10-win seasons and only has four seasons with more than seven wins. He is 2-4 in bowl games, and he's only finished the season ranked in the AP Top 25 twice.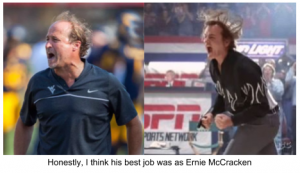 The Players
Two pre-season Heisman favorites square off on Friday. Kyler Murray has 3,310 yards, 34 touchdowns, and six interceptions. Will Grier has 3.325 yards, 33 touchdowns, and eight interceptions. Neck and neck, right?
Well, Murray has gained his on 69 fewer passes. Also, Murray has 10 touchdowns and 739 yards on the ground. Sorry, Will, maybe next year. Oh…right.
Look for Oklahoma to go with the ground game early and often. West Virginia has several injuries among their linebackers, and with this O-Line crew, expect both the backs and Murray to have success running the ball.
Kennedy Brooks continues to put up crazy numbers, averaging 9.9 yards per carry. That leads college football among rushers with at least 80 attempts. In fact, Brooks is ahead of second place by over a yard per carry.
That's it for this lesson. Now, I hope you enjoyed your Thanksgiving. And remember, there is just as much tryptophan in chicken as there is in turkey. The reason you're sleepy is because you just ate a ton of food, you're probably in an old person's house with the thermostat set to 85 degrees and you're watching the Lions play football. See you next week!
---
NewWave19 | Updating The Board
– Charlie S
Class to this point: 18 commits
Class size potential: 25 commits
Class size prediction: 22 commits
Quarterback: 1 – Done
Spencer Rattler
Runningback: 1 (Would like 2)
Marcus Major
Targets: Tyrion Davis (LSU commit), Rhamondre Stevenson (JUCO)
(As we have been reporting Davis recently told Super K that such a visit will occur in December. As for Stevenson? We expect him to visit in early December and things are trending well between him and the Sooners.)
Wide receiver: 3 – Once upon a time we thought this was done at 3…
Trejan Bridges
Arjei Henderson
Theo Wease
(Could potentially take one more IF the player is a can't turn down type such as Jadon Haselwood. We know the Sooners have remained in contact with him, just hard to gauge how hard they will push. Also could potentially check into signing a JUCO such as Brandon Pierce who we discussed here recently should they have the space for him.)
Tightend/Hback: 1
Austin Stogner
(Depending on how the staff felt about on development of the Hbacks throughout the season, you may see a spot open up for a player like Keon Zipperer or recent OU visitor and Baylor commit Logan Compton)
Offensive Line: 5 – 6
Marcus Alexander
EJ Ndoma-Ogar
Stacey Wilkins
Finley Felix (JUCO)
(Danielson Ike, Evan Neal and JUCO Myron Cunningham are the three most realistic high profile targets at this time. Neal and Cunningham both recently visited and had very positive things to say about OU as we have reported. Neal will be a battle with Bama till the end and Cunningham plans on taking one more visit, to Arkansas in early December, before announcing. Right now I would say the Sooners lead with Cunningham and for Neal they are even-to-slightly-behind Bama and Bama still is getting a visit from Neal. Ike has continued to speak about visiting Norman, but has yet to make it in)
Defensive Line: 5 – 6
Derek Green
Marcus Hicks
Kori Roberson
Joseph Wete (DL/OLB)
(The Sooners just lost JUCO DE/Edge Jacoby Jones who decommitted recently and I would not look for that relationship to ever be rekindled as he appears close to committing to Texas. OU hosted Marcus Stripling and David Ugwoegbu recently and are in good shape with both as Ugwoegbu has called OU his outright leader and Stripling has waited to the point where he may have limited options. The Sooners have also offered JUCO Keonte Schad (Minnesota commit) and are hoping to get him on a visit prior to signing day. Should they get the recent Gopher commit to visit, there is a good chance they could swing that one towards OU)
Linebacker: 1 *Maybe 2
Jonathan Perkins
(Shammond Cooper keeps talking about visiting but it still appears OU is in no hurry here and Marcel Brooks is the only other realistic option in regards to 'targets' at this time)
Defensive Back: 4 *maybe 5
Jaden Davis
Jamal Morris
Woodi Washington
(Jordan Battle (tOSU Commit) and Jeremiah Criddell (Oregon Commit) have both officially visited recently are still in play for OU and as we reported, K just had an update on Criddell and it looks like they are close to being completely out of it based on the uncertainty surrouncing the DC position. Other names to keep an eye on are Cam'ron Kelly (Auburn Commit) and Chris Steele who OU is still very much in play for.)
Needs: At least one more OL, DB, DL.
Wants: Two more OL, possibly another DL (6 total) and perhaps one more LB