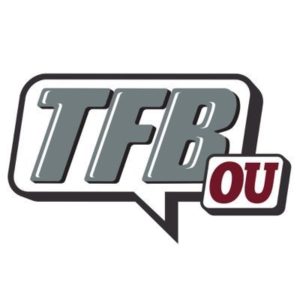 Open Post | Weekend, November 22nd – 24th
Posted on: November 22, 2019
Official Visitors | TCU
– Charlie S
The Sooners take on TCU under the lights on Saturday night in Norman and we have confirmed a trio of names who plan on taking official visits to Oklahoma.
*** As Super K mentions below, 2020 cornerback Kendall Dennis (6'0 174) out of Lakeland, FL is planning on taking the trip.
*** 2020 LB Shane Whitter (6'0 222) out of Burlington, NC is scheduled to take an official visit to OU as well.
Whitter is currently committed to Wake Forest and K has confirmed with his high school coach that the Sooners have done what other programs (such as Mack Brown at North Carolina) have not been able to do, and that is to catch his eye enough for him to take a visit.
*** Another new name which K was able to confirm is 2020 JUCO DB Justin Harrington. Harrington is listed at 6'3″ 214. The Bakersfield College defensive back is a native of North Carolina.
His film shows his length and athleticism and even if he is 6'1″ or 6'2″ as opposed to the listed 6'3″, he is a guy who you could project being very useful and versatile in the Sooners defensive scheme whether it be at corner, nickel, or even safety.
---
Kendall Dennis | Visiting Sooners
– Super K
After this weeks offer, many of you were asking where things stand with 2020 CB, Kendall Dennis (Lakeland, FL).
I did go see Kendall a couple of times last week but I'll be honest, I didn't go into great detail with him about recruiting. The Sooners had been in touch a bit but it didn't appear they were going to offer.
But I went to the school because a) I loved his film enough that I just wanted to see him live and b) Arian Smith was supposed to take a visit.
What Kendall did tell me was that he was taking an official visit that weekend, which he did. He also said he was working on setting up an official visit to Tennessee.
The visit to Nebraska was his first official.
It looks like the Sooners will get his second OV. He let me know this morning that he's working on setting one up for this weekend.
I don't know if there is any chance he may jump in the boat but it would be great to a) add a talented Florida DB with that kind of speed and ball skills and b) put some pressure on some of these other DBs who are dragging their feet.
---
Quick Hitter | Chandler Morris
– Charlie S
As I have mentioned, I have been in pretty regular contact with 2020 QB Chandler Morris.
As you know, he is the son of former Arkansas Head Coach Chad Morris and he recently decommitted from the Razor Backs.
I mentioned last week that Morris and OU have remained in loose contact and Morris mentioned that he was not sure what his next steps would be:
'…in regards to where things stand between OU and the QB offer…Chandler told me he hasn't thought too much about where he is going or what his plans are going forward. He did say he loves Coach Riley and the entire staff and they have remained in touch."
With the Sooners having their last home game of the season this Saturday against TCU, I checked in with Morris to see if he planned on making it up to Norman for the game.
He told me "I'm not gonna make it to Norman this weekend. Hoping to get up there soon though!"
So for those of you asking, it doesn't look like he will make it to Norman for a game this season, however, he did mention that he and OU are still talking.
---
Justin Harrington | Weekend Visitor
– Super K
As Charlie noted the Sooners will host JUCO DB, Justin Harrington (Bakersfield College), this weekend.
Last night, I spoke with Justin to get some background information from him ahead of his OV.
***He's certainly the size OU is looking for in the secondary. He tells me he stands 6'2 and 3/4'' flat footed! He says he currently weighs 207 lbs.
***He's fast. He's very fast. His father was apparently a professional sprinter. His mother was an all conference 100m sprinter for Fresno State. So, he has serious genetics.
***On film, it's pretty clear he's a hitter. He's hitting guys hard but he's hitting guys clean. The Sooners need more of those. They have to have some guys that can come in and push or overtake the current DBs, especially in the interior.
***The Sooners haven't offered yet but he's hoping that will happen this weekend. I'm not a big fan of the JUCO route but given this young man's size and speed, I think he's a good bet.
***I especially like that he will finish JUCO in December and be on campus in January. That gives him the whole spring to learn the defense.
***So far he's taken an official visit to Oregon State. He has an OV to Oklahoma State scheduled for December 13th. He's also considering an OV to Houston.
***I asked him if an offer this weekend from the Sooners would prompt a commitment. He said his plan is to wait till December signing period but he didn't rule out the possibility of a commitment. However, he did note, again, that he already has an official visit scheduled for Oklahoma State.
---
Shane Whitter | 2020 LB | Weekend Visitor
– Super K
As we noted earlier this week, the Sooners will host 2020 Wake Forest LB commit, Shane Whitter for an official visit, this weekend.
***Whitter is a North Carolina native…as is 2020 JUCO DB Justin Harrington who is also visiting this weekend.
***I spoke with Whitter's head coach, coach McGill (Walter M Williams High School) who said that Shane has been committed to Wake Forest for a while. Wake Forest was his first offer. He said, however, North Carolina and other programs have come calling but Shane has "flat out told them no"…
***But, as his coach put it, "When OU comes knocking you have to take that seriously".
***It sounds like the Sooners have actually been watching Shane for a while. Coach McGill said that coach Odom was actually out in North Carolina to see Whitter in the spring. That visit was followed by two visits from coach Grinch.
***Apparently the Sooners had let coach McGill know that they were very interested in Shane but they were monitoring their situation with Edgerrin Cooper (not sure what this push for Shane may mean about Cooper).
***Coach McGill describes Shane as "an explosive player. He plays all over the field on both sides of the ball". He said Shane is 6'1 230 lbs (I told y'all they're built different in the Deep South) and clocked a around a 4.5 laser timed 40. You don't need me to tell you, that's moving!
***Interestingly, coach McGill also noted that Shane's father is 6'6. So, at only 17 years old, you wonder if Shane still has some growing to do.
---
Quick Hitters | CeeDee & Latrell Neville Updates
– Charlie S
Couple of notes of interest for you this evening…
*** First we will start with an update on Sooners wide receiver CeeDee Lamb's status for Saturday's game…
Spoke to James and the update is…there is no update. James tells us Riley told him that CeeDee's status will be decided later in the week as nothing has changed with his questionable status at this time.
James' inclination is that he will go…but once again it looks like we will all find out for certain following kickoff unless Riley makes an announcement prior to the game one way or another.
*** Second, K was in touch with 2021 wide receiver target Latrell Neville (6'3″ 195, Missouri City, TX) and Neville let him know he may be in town for the game on Saturday but it is not a certainty as he has a basketball tournament this weekend.
With that being said, it sounds like he still is very close to making a commitment in the very near future. As K mentioned last week we are not 100% certain where he fits in with OU's plans for wide receiver recruiting in the 2021 class…but with the potential visit and the looming commitment, this is one to keep an eye on.
---
One on Ones | TCU
– Charlie S
The Sooners are back in action on Saturday as they take on TCU under the lights in Norman!
As usual, during game week, I've picked out a couple of 'One on One' matchups that interest me.
So here we go:
One on One Number One:
TCU DT Ross Blacklock vs Oklahoma C Creed Humphrey
Creed once again finds himself in my spotlight as he faces another tough assignment this week in Ross Blacklock.
The 6'4″ 305 lb Blacklock is having a very good junior year: 35 tackles (24 solo and 11 assists) and 3.5 sacks. He is quick off the ball and draws a ton of double teams. He is joined on the line by several really good players which allows them more access to put pressure on the opposing quarterback.
Humphrey drew a tough assignment last week against Baylor and James Lynch and after a rough first quarter, he picked up the level of his game and played very well as the OU offensive line leaned on the Baylor front from the second quarter on and put up some impressive stats against what was considered the top defense in the Big 12.
Humphrey will be tasked once again with the bulk of duties in regard to slowing down and minimizing Blacklock's influence on the game. If Creed is able to take him on one on one, the opportunities for the Sooners offense will be there as the rest of the offensive line, HBs and TEs will be able to focus on the rest of the Horned Frogs aggressive front.
One on One number two:
Oklahoma MIKE LB Kenneth Murray vs TCU QB Max Duggan
Duggan is a freshman, and it has shown a bit in his decisions and passing. Personally, I think he is going to be really good for the next couple of years, he just isn't there right now. But he will get there.
One thing he can do to break down a defense very well is using his legs. The kid has little fear and has some decent speed and a little wiggle in him as you can see in the tweet below:
Meanwhile…over the past three or four weeks, Sooners linebacker Kenneth Murray has looked more like 'pre 2019' Kenneth Murray than the first seven games of 2019 Kenneth Murray. In other words, we are seeing a ton of missed opportunities. Whether it be over pursuit, missing his gap, losing his assignment, or poor tackling.
Murray will likely be charged with 'spying' or keeping tabs on Duggan as the Sooners defensive line should have some success in creating some pressure which could set Duggan loose.
Murray HAS to trust the call and play assignment sound and fundamentally correct football. If he doesn't, you could see Duggan having a big game on the ground.
Murray did play better the second half of the Baylor game (aside from the play where Motley chased down his miss and caused the fumble) but I did see some good adjustments on his part as the game went on. His first half performance…woof. Great film for coaches to teach their players how not to play inside linebacker.
Kenneth…just trust the call…don't try to step into the phone booth and emerge as superman…cause that ain't happening.
---
For multiple daily posts, Insider Notes, Our TFB 'Pick Em' Contest, More Sourced Practice Notes, member chats with TFB staff, James Hale's Notebooks, TFB Sessions (5-minute audio talks) and much more, please check the Donor Board!