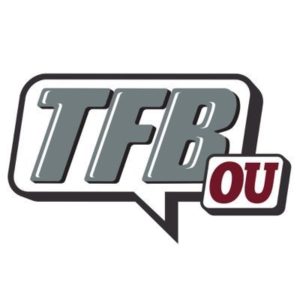 Open Post | Weekend, November 1st – 3rd
Posted on: November 1, 2019
Defensive Back Targets | Talent Search
– Super K
As I've previously noted, the Sooners have been looking to add three more defensive backs to this class.
The three primary targets have been Joshua Eaton, Dontae Manning and Jahquez Robinson.
We mentioned yesterday that it is looking like Robinson has indeed reaffirmed his commitment to Alabama.
The good news, however, is the Sooners are very confident in where things stand with Manning and Eaton.
Also, it's worth noting that while Robinson has the size Oklahoma has been looking for, he doesn't have the verified speed, Grinch covets.
Eaton and Manning are bona fide sprinters.
Currently the Sooners lack both size and speed in the secondary. And, even in places where they have speed, they don't have fluidity. As high school athletes, Eaton and Manning appear to be major talent upgrades.
There are a few additional high school targets that Oklahoma has remained in touch with…
***Tennessee DB commit, Jimmy Calloway. One of our SE partners spoke to Calloway recently. OU did offer Calloway but it doesn't sound like they are pushing particularly hard for him just yet.
***Tennessee DB commit, Keshawn Lawrence. I saw Lawerence in person last week – heck of a player btw! I think he really liked the OU visit. His family liked it, as well. The distance is a potential issue. Additionally, Tennessee is selling him and the other in-state kids on being the class to turn things around at Tennessee. With Tennessee starting to play better, that case is getting stronger and stronger.
***South Carolina DB commit, Dominick Hill. I've heard Hill may take a visit to OU for the Iowa State game. He's definitely a big guy but I'm not finding verified speed times on him. Additionally, on film, he strikes me as a little stiff for Big 12 cornerback.
However, we are hearing that if the Sooners do land Eaton and Manning, then they may end finishing the class with a JUCO defensive back. I think the important thing will be whether they can find one who really is an upgrade over what is currently on campus.
Earlier this week, the Sooners offered JUCO DB, Ronald Williams Jr (Hutchinson CC). I wouldn't be surprised to see an additional offer or two go out.
Again, I think the question is whether they can find JUCO DBs that they believe upgrade what's currently on campus.
If not, one of the other high school targets that I believe the Sooners are looking at is Kendall Dennis (Lakeland, FL). Dennis is around 6' tall and ran a 4.40 40 at the Opening.
I haven't seen Dennis in person but on film, he looks like the best of the bunch. If you're talking about adding speed and fluidity – he does that. If you want to add some size – he isn't a 6'2 guy but he's a 6'0 guy which is bigger than guys like Brown and Davis.
And if Grinch wants guys who actually get turnovers…well, WATCH THIS…
---
Jahquez Robinson | The Latest
– Super K
Apologies, I meant to have this note to you all earlier today and then a follow up note, as well. I had a personal matter to attend to this morning.
As you know, the Sooners hosted 2020 Alabama DB commit, Jahquez Robinson on an official visit, earlier this season.
The visit went extremely well. Charlie and I both got in touch with Robinson and received great feedback. It seemed like a flip was inevitable.
I had also heard via a source that Robinson was a candidate to perhaps be replaced in the Alabama class. So, everything was pointing towards the Sooners landing Robinson.
I am told that Alabama has decided to solidify their commitment to Robinson and that has been reciprocated.
I never say never because Saban is constantly evaluating. However, Robinson not only announced he was now 100% to Alabama but sources indicate that he has also let other staffs know.
That's the not so good news. I'll have an additional write up on the defensive backs situation with what will hopefully feel like some better news.
---
Kansas State | Position Group Progress Reports
– Charlie S
Handing out the rankings for the Sooners position groups following their game against Kansas State
Let's get to it…
QB: 4* – Last week – (5*)
I know I'm going to get push back on this ranking, and I am okay with that because when a guy puts up close to 500 yards of offense himself, he's more than just an average guy…
Hurts Stat line for the day:
Passing: 19 completions on 26 attempts for 395 yards with an average of 15.2 yards per completion and 1 touchdown.
Rushing: 19 rushes for 96 yards with an average of 5.1 yards per carry and 3 touchdowns.
In a victory, that is a 5* ranking.
Yes he did have the fumble and yes he didn't look super decisive as he didn't notice a couple of wide-open targets prior to deciding to tuck it an run, but he got little help from his offensive line.
In my opinion, he was also hampered by the play calling, but he still turned in a good performance and that's what this feature is about…ranking the performance.
RB: 2* – Last week – (High 3*)
I was tempted to just put 'N/A" as Kennedy Brooks and Trey Sermon got a combined six carries.
Sermon carried 3 times for 9 yards and Brooks carried 3 times for 2 yards.
Not a great sample size obviously but to muster 11 yards on 6 carries…I have no other way to rank that performance.
As you know, I keep waiting for the running backs to be more involved in the game…at this point, with four games left in the season, it doesn't look like that will be the case.
Part of that is the low snap count the offense has been having from game to game and another part is…Jalen Hurts is the featured running back as well as quarterback. There is no other way to put it.
I could get into the way it affects the offense as a whole, as the non-use of the running backs has an obvious effect on the play-action game…but the Sooners lead the country in offensive production…
At any rate…I believe this is my first 2* ranking for any position group on the season, if you continue reading, you will realize it wasn't the last one.
WR: High 4* – Last week – (4*)
Once again, the Sooners wide receivers had a terrific day and once again they were led by CeeDee Lamb.
Without the drop-interception by Rambo, this would probably be a 5* ranking.
The stats were impressive with 5 receivers averaging better than 20 yars per reception.
Stat line:
CeeDee Lamb 5 catches for 135 yards with an average of 27 yards per reception and 1 touchdown
Nick Basquine 2 catches for 83 yards and an average of 41.5 yards per reception
Charleston Rambo 4 catches for 82 yards and an average of 20.5 yards per reception
Lee Morris 2 catches for 47 yards and an average of 23.5 yards per reception
Brayden Willis 1 catch for 22 yards
Trey Sermon 2 catches for 15 yards and an average of 7.5 yards per reception
Drake Stoops 1 catch for 5 yards
Jeremiah Hall 1 catch for 1 yard
Now…loved the play with Basquine…but…why wouldn't you use Trejan Bridges there who may have had a better chance to score on that play?
I'm nitpicking here though as the wide receivers had a great day, including Basquine.
OL: 3* (Low 3*) – Last week – High 4*
Creed, Hayes, Robinson and Ealy were 'OK'. They had their faults and they also had some good moments. They were very 'average'.
I'm going to try and be as gentle as possible here…but Erik Swenson looked like he didn't belong on the field for UCO let alone The University of Oklahoma. Brutal. In my opinion, that was perhaps the worst game I have seen an OU offensive lineman have during Coach Bill Bedenbaughs tenure.
The offensive line made the Kansas State defensive line look like an award-winning group. I am here to tell you, the Kansas State defensive line will not win any awards.
Get beat up front, lose games. That's how it goes.
DL: 2* – Last week low 4**
Texas game…the Defensive line showed out and got a 5* ranking with 9 sacks and a ton of tackles for loss.
West Virginia game…defensive line didn't get a sack, but the game plan was different and they were still effective.
Kansas State game…what the heck happened.
Q Overton flashed a couple times and Gallimore made a big play late in the game but other than that…yikes, they were bad.
Kansas State beat them up and wore them out. Ronnie Perkins played the run well early, and I noted that on Twitter, but as the game wore on, the Sooners DL had no answers. None.
This Kansas State team scored 12 and 13 points against Oklahoma State and Baylor…12 and 13.
The game was lost in the trenches, on both sides of the ball for OU and it reflects in the rankings for sure.
LB: 1* – Last week (High 4*)
Flashback to last weeks rankings where I said:
"Kenneth Murray is the best inside linebacker in the country at this point. I said it. Deal with it.
You all know I was not a huge buyer in Murray coming into the season. I voiced my opinion that he would be better served by moving to the RUSH position as I didn't think he had the instincts necessary to be an effective ILB."
That, my friends, did not age well. At all.
What the heck was that? Missing fits, missing tackles, missing in action…
That tape is perfection if you are trying to teach kids how not to play linebacker.
DaShaun White had a few plays where he looked like a linebacker…but Murray, Jones, Bonitto, and Uqwoegbu were all very much off their game.
The RUSH linebackers struggled all day to set the edge and the guys in the middle were constantly getting caught in the wash or completely missing their fits. It was just a rough, rough day all around.
What caused them to be so bad throughout the entire game is the real question I have. Again…the Kansas State offense is by no means a juggernaut. The linebackers were absolutely lost. After watching the game again, reading what Coach Cody Alexander said, watching JY's Trench Warfare…I still have no reasonable explanation for it.
That my friends, is the first 1* ranking I have given out…and I seriously didn't think I would even get to a 2* on the year. Go figure.
Corners: 2* – Last week – (4*)
In my Sunday Brunch, I said Tre Brown had a nice game.
I was also wrong on that upon the rewatch. Brown made some plays on balls but was pretty off in coverage and tackling looked somewhat optional.
Parnell Motley got kicked out early for kicking a Kansas State player. He deserves zero stars for that deal and it will be interesting to see what the 'punishment' for that will be. Betcha he doesn't start against ISU…unless…
…Jaden Davis carries over his performance from this weekend as he had a really rough day.
Only half-joking there, because I feel that Motley has no business starting the next game following his undisciplined and selfish act of getting tossed for something so flat out stupid.
I remember the Baylor game a few years ago where they (Baylor) was tormenting and baiting Cale Kelly throughout the game. They were taking cheap shots on him, pushing him down late…and all he did was stand his ground and eventually they (Baylor) got flagged multiple times for unsportsmanlike conduct. Parnell wasn't spat on like Samia was against WVU back in the day (I totally endorsed his meltdown)…he was handled roughly and kicked the player right in front of the ref. Dumb.
Also found it weird that Grinch only dressed three corners…but this is a players ranking, not coaches.
Woof all around.
Safeties & Nickel: 3* – Last week 4*
Pat Fields played well.
That's about it.
Bookie had a rough day in both coverage and run support. I didn't get the off coverage that OU used all day while in the zone. Really weird to watch.
DTY was largely absent even before he got injured and Broiles seemed to be giving max effort out there but still…the backend of the Sooners defense didn't have a great day.
Special Teams: 3* – Last week – 4*
Brkic is nails! Sooners found themselves a kicker they can trust. Good for him.
Mundschau was a bit less than good…had some sketchy punts.
Kickoff overage, which has been a strength, was off. Pledgers fumble was a kick to the nuts. No injuries on ST so that was good.
So, Brkic's performance lifted them to a 3*.
Otherwise, special teams also had a forgettable day.
---
Lincoln Riley | Notes & Quotes | Bye Week
– James Hale
Today I had a chance to hear from OU Head Coach Lincoln Riley. Coach Riley is the lone representative to talk to the media this week as the rest of the players and coaches will not be talking to the media at all following the Sooners 48-41 loss to Kansas State.
MEDIA: Do you have an update on Delarrin Turner-Yell (concussion) and Grant Calcaterra (concussion)?
LR: "Both are doing well. We are going to reevaluate Calcaterra here through the week. We have no update on him. Delarrin is doing well. We are not to the point where we have to make any decisions but he's dong well."
MEDIA: So far at practice, have you seen some of the bounce-back that you saw from your team the past couple of years after a loss?
LR: "We have had a good start to the week. I think our team knows what we're capable of, so there's a lot of belief and confidence in the room. There's also a harsh sense of reality that we have to go play that way too. Having the ability is one thing, and we have done it the majority of the year, so there is definitely a lot of things that we have to improve on. We have to have a healthy respect for what it takes to win, any game, especially on the road. Also a healthy respect on what it takes for us to play our best ball."
"That's hard! Our margins are slim. When you win a lot of times you make a lot of those plays by that much (fingers spread less than an inch) and then when you don't win, and case-in-point the other day, it was probably, we have not had many losses here, but I would say in this one we probably had more difference-making plays in the game that we didn't make."
"I mean there was one, and I know you say that every time that you don't win, but this one has more than I can remember. If we make one more on any of the sides and we had so many golden opportunities to do it and then not make it. You have to learn from it and it has to be something that galvanizes the team. It has done it in the past. We know the blueprint and we know exactly what it takes to do it, but we have to put that in action with this team. This team has to take it forward and we have gotten off to a good start with that."
MEDIA: Did you have it in your mind if you had scored at the end of the game if you would have gone for one or two?
LR: "I had a pretty good idea strategy wise but I won't say what. We had a pretty decent plan. There were two pretty good trains of thought there. I felt good about us getting the two-point conversion but also had all the momentum in the world too. Conventional wisdom says on the road a lot of times people say go for two. I think too, that it is more of a momentum deal too and we obviously had a ton of momentum at that point."
"I don't know if we really could have gone wrong, but we did have a plan going in yes."
MEDIA: Is there anything that you can bring from 2015, 17 and 18 that might help this year's team?
LR: "I think it's all in the approach in the team. Games like that either rip you apart or they bring you closer together. A lot of times there's no middle ground. It's one of those deals with coaches, players and everyone involved all of us have to be willing to look into the mirror and ask what do I have to do better for this team to play at its elite level. Then everybody has to take action on that and consistently take action. It's not just one bye week or just the next game. It's got to be consistent here through the end."
"You have to believe in yourself first and not listen to the outside who's going to tell you how sorry you are. You have to believe in yourself and your capabilities which I believe our team does. Then you have to go put it into action and do better. We're going to do everything that we possibly can to get to that."
MEDIA: Is your message to your team just to keep doing what you are doing and things will work out? Is it that simple?
LR: "No, there's a lot of messages from a game like that. I think you have to be ready for the kind of games that you're going to get down the road from good football teams. Watching our team I don't know that we were as mentally prepared to go handle that for a four-quarter game. That responsibility is ultimately mine. They have to be ready for the kind of fight that it's going to be on the road."
"Then you have to understand the momentum swings of the road and how do you handle it. That was the first real road atmosphere that we have been in this year. At times, at the end of the game, we handle it well and at the beginning, we handled it well. Certainly, in the middle there and especially the third quarter that was the one that you just look at we had so many missed opportunities."
"You have to understand when a team gets momentum and a whole crowd behind them, and a great road atmosphere and all that you have to understand what it takes to dig yourself out. You have to find energy and we had that. You also have to do your job and do it within the context of what we're doing on all three sides of the ball from a scheme standpoint. We did not do a good job of that on Saturday specifically in the third quarter."
MEDIA: Is it good for you to have this open date right now so you can pick yourself up a little bit?
LR: "Yeah, it is what it is. I guess to us there are positives of both. Part of you can't wait to get back on the field and play somebody else. Then there are also things that we need to do better as a team. There're some guys that it will be good to get healthy and there're some guys that need some reps here during the week to be ready for this closing stretch. So, there are certainly some advantages, so we're just going to look at it from the positive and have a great week."
MEDIA: Jalen (Hurts) is carrying the ball a lot and how many times is he carrying it on his own or on a designed option?
LR: "There is a little bit of both. We have done a few runs with him that have been pretty successful for us this year, and that can be pretty tough to defend. Then certainly, he has had a couple of times, like specifically in the second half the other day, when you get behind and you have to throw it some against the clock they know it and you know it and you're going to have some opportunities to run and maybe pop some positive plays there."
"I don't know percentage wise, as it's hard to put a number on it honestly, but there's a little bit of both. In reality, they have both been pretty effective."
MEDIA: Why do you think Saturday's defensive performance was so different than the first seven games of the season?
LR: "To me, it's two things. The defense has to get the ball back one way or the other and if you don't create turnovers and you don't get off the field on long yardage there are not many other good options for a defense. We haven't gotten turnovers the last four games but we have done a tremendous job of getting off the field. So, in some ways, we have offset that by getting a ton of three-and-outs and being extremely good on third down."
"Not getting turnovers puts a strain on your defense. You have to play at such a high level when you're not getting turnovers because it forces you to go out and execute multiple plays in every single series to stop people. Against us, so many people are aggressive offensively that a lot of times if you look at the number of times that we have gone for it on fourth down versus what people have tried to go against us it's a huge disparity. So, a lot of times you don't just have to defend three downs you have to defend four."
"So, obviously there are two answers. We have to get turnovers. Probably the biggest difference in the game the other day was there was some quality ball played by both sides. Both offenses and both defenses played some quality ball, but the biggest difference was Kansa State was able to take advantage of our missteps and we didn't take advantage of theirs. We drop a ball and they make a play on it. They made a couple of big plays in big moments that we didn't make."
"Their quarterback (Skyler Thompson) played fantastic but he hit us in the face with the ball twice and we don't catch it. Those are the big plays I'm talking about. The ball is on the ground and they get it. The ball is on the ground on the kickoff and they get it and those are big opportunities for them."
"For us defensively we have got to get off the field and we have got to get turnovers. Obviously, if we can do both that is when you play at an elite level."
MEDIA: How is Trejan (Bridges) handling what happened to him Saturday?
LR:" "Trejan is fine. Trejan did exactly what we told him to do. Trejan is fine. He's doing a good job for us as we have put him on special teams and he has done some good things offensively. I want to get him more involved. He is a real talented kid."
"I will be honest we practiced that on-side here for a long time and I don't know if we've ever executed it as good as we did there in the game. No, Trejan is great."
JH: As far as the replay itself goes how does it feel to be in a game where if they go to a replay they are not always going to be able to look at all aspects of the play that happened in the game?
LR: "Is it what it is. There's a lot of positive about it. I think that sometimes new situations come up in it like this and shows some areas where the system needs to get better. Especially, on game-changing plays at the end where we have a chance to take a look at the whole picture and you hate that we miss those."
"Again, that's not what got us beat. Obviously, if we have the ball we will have a chance to win it but we had plenty of other opportunities for that game to not come down to a call that could go either way."
MEDIA: Today the NCAA ruled that players could start getting paid for their likeness what do you think about the ruling today?
LR: "I think that the ruling is not surprising. I think it can be a positive thing but it will certainly be interesting to see how it's all put together. To me, that's the bigger question. How do you put it together? How do you maintain amateur status among the players and keep the integrity of college sports? I think they have a little bit of time to do that but it will be very important to the future of this game and the future of all athletes and everybody involved with it how it's put together. We are venturing into the unknown there."
MEDIA: Is there room for the input from the coaches there or is it just for the ADs and school presidents?
LR: "No, I think there will be some. A lot of coaches have been apart of it for along time. I'm sure this it's going to take everybody. With student-athletes we have taken a lot of steps over the last few years for their well being and trying to continue to make things better. We want to continue to do that. I think it's something that we can't tunnel vision on. We have to look at all sides because once we go down this road you don't go tack."
MEDIA: Do you see issues of disparity of earning among your football team when maybe the quarterback is making a $1,000 dollars on something and your left guard is only making a $100 dollars?
LR: "It will be interesting and in that way, it will be a little bit more like the pros in some ways. It will be interesting if they try to make it uniform for all players or if it's based on your notoriety? There is a lot of stuff that a lot of people have to work through. I'm glad I don't have to do it."
MEDIA: With the bye week how important is it to not just harp on what a team did wrong but also what they did right?
LR: "Yeah, there's definitely some of that from that game. In reality, most teams when they get down by 25 or whatever it was, they would completely shut it down. Most teams aren't capable. So, there will be another game this year where we will get down and we will have to come back and win it. That's just the reality of it. There's definitely fight there."
"I told the team the other day. These things always go back and forth. You go win 60-to-20 and everybody thinks you are the greatest team ever and you go back and watch it and there's a ton wrong. It's never as good as you think it is and the flip side it's never as bad. There's still a ton of positives from this team from these first games, and even from the game the other day."
"So, we have things we are doing well and things we are excited about. We have to keep going and we have to take a hard look at all the things that we have got to do better and specifically address them."
MEDIA: How well did your offensive line play in the game?
LR: "We did some good things. We did. We had a couple of breakdowns in some key moments that hurt us. They are a talented front. A couple of times we got beat just one-on-one as guys in the right spot and all that. Give their guys credit they beat us a few times. I thought we held in there and did some good things. It's kind of like the rest of our group. We were up and down. They certainly played well enough to give us a chance to win."
MEDIA: What did you think of the game that Gabe Brkic had and talk about his role and how close that kicking competition was with Calum Sutherland?
LR: "He gave us a chance the other day. He may have been our best player on all fields. He did a tremendous job. Those were big kicks and they were not easy kicks. There was either some distance or some pressure moments. He did a tremendous job. I had a lot of confidence there at the end to be able to kick that and try to make it a one-score game. He was fantastic."
"The competition early was really close. It was. I think both of those guys did a good job and we also had a desire to try to spread those jobs out a little bit. Gabe has just come on and he's been a little bit of a gamer. He does well in practice but he gets into a game and has a good way about himself. He has a lot of confidence."
MEDIA: Has there been any developments in the Sutherland case?
LR: "As far as I've been told the process is still being played out."
MEDIA: Did you regret kicking at least three of the four field goals that you did because you had fourth and short on all of them and normally you would consider going for them or just go for them?
LR: "No, the first one I thought was pretty obvious. We had a good drive and I thought was well within his range. I didn't think much about the first one. The second one before half that one was really obvious. Then the one at the end of the game I did have some indecision about that one. We were down there and it was a fourth and very makable and I had used the timeout five, six or seven seconds later than I should have. I did have a little bit of indecision about that one. We had a fourth-and-three down there on the left hash."
"I thought about those two a little bit. I did try to gauge how the game was going at that point. Really, most of those field goals until the last one we were either up or it was a close game one of the two. I didn't second guess them after the fact"
MEDIA: Do you have any change to the bye schedule?
LR: "Yeah, we got after it the last two days. We will get after it tomorrow and then practice Thursday morning. Then we will get our guys out of here. We've modified the practices a little bit just knowing that the last time we did this was after week three and this was a little bit later in the season. We have been modifying a little bit for where our team is at but no significant changes."
MEDIA: On the pass that got intercepted I'm not sure I have seen the final passer scramble around to eventually find an open guy like (Nick) Basquine did. Would you rather the non-quarterback just take off and run instead of trying to scramble and find somebody to throw to downfield?
LR: "No, those deals for us there's some trust involved. He had a couple of options on that play and he made a great decision. (Charleston) Rambo has played well for us all year. It was disappointing because obviously to end up in the other teams hands. If you look a the tape CeeDee (Lamb) is over on the left side to make a block and Lee Morris is on the left side to make a block. I would say that there's a better than 50-percent chance that if he catches it he probably scores. Then everybody is saying it's the greatest play they have ever seen."
"It was set up well and he made a good read. He made a good throw. It was just one of those plays that happen."
MEDIA: Are you the coaches going to be busy recruiting?
LR" "Yeah most of our coaches will get out of here on Thursday morning. Part of the reason why we practice on Thursday morning is so our coaches can get out. Some of our coaches will not be at that practice because they will get out and get in place because we have to hit these two days hard. This calendar on the back end is really different this year. Everything is a week later. The whole bowl season combined with signing day and all that's going to be interesting. So, we have to get a lot of work done and some of these guys that we've been following we're excited to get out and see. We will be all hands on deck from Thursday on out on the road."
MEDIA: What would you say has led to your team after a loss coming back and winning at the end?
LR: "The overall desire to improve or a constant hunger to improve, and the desire to win a championship. We've put ourselves in that position again going into November. We're right there where we want to be. We've got some great opportunities right there against some really good football teams starting with Iowa State here. That's what November ball is about. You get tired of doing it, You get tired of all the workouts and all the things you do. You get tired of the grind but you are excited to play your very best ball. That is where we have to be."
MEDIA: What have been your thoughts on Spencer Rattler at practice?
LR: "He's done well. He's done a few things with us and has done a nice job on the scout team. That's been good for both him and our defense getting to face those guys with a lot of reps every day. Like a lot of our guys, he's in our developmental lifting so he's getting a pretty aggressive training session as well. He's progressing well and just getting better and better."
MEDIA: You guys have had some shocking losses and regrouped?
LR: "Remember this! Every loss at OU is shocking. Bob (Stoops) told me that the other day and he's right. Rarely do we ever play a game where we are not favored and rarely do we ever play a game that everybody in the world doesn't expect us to win. So, they're all shocking, trust me."
MEDIA: Yeah, but this one is rare because you have decided that players are not going to be available to media so are you looking at this loss a little differently?
LR: "It's just the vibe of this team a little bit and not in a negative way at all. I think in each and every one of these you try to decide what's going to be best for this team in that moment. This team has had a lot of attention and a lot of new things coming at them. I just feel like in a few different ways some with the practice schedule and some with the media schedule that we just needed a week to catch our breath."
MEDIA: With Spencer's natural ability does he make the defense better on the scout team?
LR: "He's doing a good job for them. He can make some good throws in tight windows. He's competitive and he's done a good job leading that group there. It helps to have a really good scout team quarterback. We have had a few of them around here over the years that have made us better. He's certainly done a really good job."
MEDIA: Is it better for him to be on the scout team that sitting around holding a clipboard?
LR: "Oh yea, live reps with a live rush coming at you is better. Coverage by good DBs and tight coverage and competitive moments are good for him. Our defensive practices are extremely competitive right now. No, every one of those that you can get for those guys is good. That rush doesn't feel like that one in high school. Those DBs cover a little bit differently than they did in high school. It was great for Tanner (Mordecai) last year, it was great for Kyler a few years ago and it was great for Baker a few years ago. It makes a world of difference for those guys."
JH: It was a strange game because of the number of carries for the running backs. Do you hope to get back toa more balanced running game in your offense in the next few games?
LR: "Yeah, you hope that you can come up with a few more plays to get it done. You hope that you're not in any more situations there at the end where you have to play catchup. No, we have some really good backs that we want to continue to get involved. We got several players that we want to continue to get involved in."
"When you are popping off 50 plays a game and you have a quarterback that's the kind of runner that we have right now the carries are going to take a little bit of a hit. It's just a matter of numbers."
JH: Teams have been able to control the tempo against you so can you force the tempo in your favor in the future?
LR: "No, not necessarily. Like a lot of these other games when we get off the field defensively and we don't have three-and-outs offensively it's our advantage. We can't force how teams are going to play against us. We have to go play our game."
MEDIA: You get a night game for Iowa State, how big of a relief is that for you?
LR: "Yeah, we are excited about it. I would imagine our fanbase is pretty excited about it too. It's great for recruiting and it's great to just change it up a little bit. We are looking forward to playing under the lights as there is still never anything like that. I would imagine Norman, Oklahoma next Saturday at 7:00 PM is going to be rockin. We can't wait."
MEDIA: Four of your players made national semi-finalist today for the Maxwell and the Bednarik. What does that mean for your players and your program?
LR: "They have done a good job. Those guys have all been good leaders for us. They're good players that have done things the right way. It's fun to see kids that do things the right way and get some honors. When your team does well and it's kind of the same approach with the individual awards here when your team does well you will have guys gets some individual honors. Hopefully, our team can continue to do well and more nice things will come for our guys."
MEDIA: When you called the trick play with Nick Basquine did you know right away that was going to work? Was it when your player purposely fell?
LR: "We thought it had a chance. There were a lot of things that had to go well to make it happen. We did a good job on the protection end and then on the exchange end there was a decent degree of difficulty with that one. They did a good job with it."
MEDIA: How has Caleb Kelly look for you now that he is back at practice?
LR: "Yeah, he has looked great. He's close. He's fully cleared and doing some nice things. We are progressing him up. Being full cleared and ready to play are two different things. He's been doing a lot of things with us for the last few weeks. and is getting better quickly."
MEDIA: Is he still part of the media (Kelly is a media major and while he was injured he helped the student TV station do interviews with OU players).
LR: "We will see. I told him that would be the one rule that when he was back on the field that he can't play both sides of that."
---
CeeDee Lamb is climbing the Record Book
– Ryan Lewis
OU records and stats via Soonersports.com – all others via sports-reference.com
The Sooners have had their fair share of star receivers. Mark Clayton, Ryan Broyles, Sterling Shepard, Dede Westbrook, Marquise Brown, and several other OU players are among the best receivers to play college football this century. CeeDee Lamb is the next in line in that talented group of wideouts.
FRESHMAN YEAR
Lamb started making his mark in his first year on campus. Even after injuries and sharing the field with a Mackey Award winner (Mark Andrews) and a 1,000-yard receiver (Marquise Brown), his numbers put him in the OU record books for freshmen.
(Record holder / next closest in parentheses – freshmen records only)
Receptions: 46 – Tied for 2nd with Broyles and Clayton (Kenny Stills – 61)
Yards: 807 – 1st (Stills – 786)
Receiving Touchdowns: 7 – Tied for 1st with Andrews (Broyles – 6)
SOPHOMORE YEAR
CeeDee hasn't slowed down since then. The star receiver put up a 1,000 yard season in 2018, despite again sharing the field with the first-round draft pick Brown. After just two seasons on campus, here's how Lamb stacked up in the OU record book.
(Record holder in parentheses)
Receptions: 111 – T19th (Broyles – 349)
Yards: 1,965 – 11th (Broyles – 4,586)
Receiving Touchdowns: 18 – 11th (Broyles – 45)
(Side note – if that doesn't show how dominant Broyles was, I don't know what will. The dude has borderline unbreakable receiver records at a school where every season has a star receiver or two.)
TODAY
Now, after just 8 games, CeeDee has climbed a little higher.
(Next up in parentheses)
Receptions: 147 – 10th (Antwone Savage – 157)
Yards: 2,781 – 5th (Juaquin Iglesias – 2,861)
Receiving Touchdowns: 29 – 3rd (Mark Clayton – 31)
2019 has seen Lamb already climb up the ranks in all three categories.
HOW HIGH CAN HE GO?
Some of those Broyles records seem wildly unbreakable. However, Lamb still has room to grow. If we assume that 2019 is his last season in Norman (which seems likely) and that he keeps up his 8-game pace through 14 games, here's where he might stack up.
(Next up in parentheses)
Receptions: 174 – 6th (Iglesias – 202)
Yards: 3,393 – 3rd (Shepard – 3,482)
Receiving Touchdowns: 37 – 2nd (Broyles – 45)
That's way, way up the record book after just three seasons – many of the guys at the top of those lists had four seasons.
Another OU record he could be looking at is receiving touchdowns in a season. If he keeps up his current pace, he'll finish the year with 19 touchdowns, which would be the most single-season touchdown receptions in school history (Westbrook had 17).
Now, just for a moment, let's say that he were to come back for the 2020 season and that he were to keep up his 2019 averages. Lamb would get dangerously close to sweeping the three categories.
(Record holder / next closest in parentheses)
Receptions: 237 – 2nd (Broyles – 349)
Yards: 4,821 – 1st (Broyles – 4,586)
Receiving Touchdowns: 57 – 1st (Broyles – 45)
COLLEGE FOOTBALL RECORDS
Just for fun – let's say that he did stay through 2020 and ended with the numbers listed above. Lamb would land pretty high on the NCAA record books.
(Record holder)
Receptions: 237 – T108th (Zay Jones [East Carolina] – 399)
Yards: 4,821 – 3rd (Corey Davis [Western Michigan] – 5,278)
Receiving Touchdowns: 57 – 2nd (Jarrett Dillard [Rice] – 60)
That would be… umm… pretty wild. Not climbing too high on the receptions total is the perfectly acceptable downside of averaging 18.9 yards per catch so far. Again, it's not particularly likely he stays for another season, but this does show how good he has been.
All these stats aren't an end-all, but they certainly give respect to a guy putting up serious numbers in an incredibly talented OU offense. Regardless of where he ends up in the record books, Lamb will go down as an all-time great receiver and hopefully enjoy a long and successful NFL career.
---
Quick Hitters | Riley Set to Visit Major Targets
– The Football Brainiacs
Charlie and Super K contributed to this post
*** Charlie touched base with Sooners 2020 defensive line target Alfred Collins who let him know that Sooners head coach Lincoln Riley will be down his way to pay him a visit this weekend.
Collins, obviously, is a priority target for OU and sending Lincoln in will undoubtedly make that clear to Collins and his family.
*** Super K was in touch with Sooners 2020 defensive back target Joshua Eaton earlier and he will also be seeing the head coach this weekend as the Sooners are putting in a lot of work on their priorities during the bye week.
We continue to feel very good about where OU stands with Eaton and getting a visit from Coach Riley will only serve to enhance OU's appeal.
---
For multiple daily posts, Insider Notes, Our TFB 'Pick Em' Contest, More Sourced Practice Notes, member chats with TFB staff, James Hale's Notebooks, TFB Sessions (5-minute audio talks) and much more, please check the Donor Board!