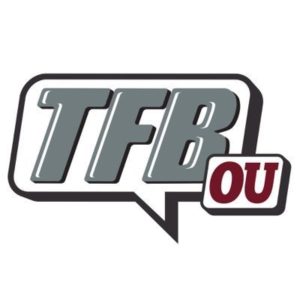 Open Post | Weekend, November 18th – 20th
Posted on: November 18, 2022
Bedlam Visitor List | Working List on Wednesday | Updated Thursday
– Charlie S – Posted on: November 16, 2022
This weekend marks the final chance of the '23 cycle that the Sooners will be able to host recruits for a gameday atmosphere.
Below is a list of visitors we have confirmed who are planning to visit Norman for Bedlam this weekend:
***We will start with the '23 guys you already knew about:
'23 DL Ashton Sanders OV – Uncommitted (November 1st)
'23 DL DJ Hicks OV – Texas A&M Commit (November 3rd)
'23 LB Daymion Sanford OV – Texas A&M Commit (November 3rd)
'23 EDGE Taylor Wein – Uncommitted (November 8th)
'23 JUCO DB Kendel Dolby – Uncommitted (November 2nd)
'23 OL Cayden Green – OU Commit (November 15th)
'23 QB Jackson Arnold – OU Commit (November 15th)
'23 DB Peyton Bowen – Notre Dame Commit (November 15th)
'23 WR Anthony Evans – OU Commit *Possible* – (November 15th)
***Here are some of the other guys who have indicated they will be visiting:
'23 RB Kalib Hicks – OU Commit
'23 OL Logan Howland – OU Commit
'23 OL Heath Ozaeta – OU Commit
'24 DB Eli Bowen
'24 DL Nigel Smith – Uncommitted (Already reported)
'24 DL David Stone
'24 DT Owen Waffle (Logan Howlands teammate)
'24 OL Harrison Utley
'24 DB Dax Collins
Updated: Thursday
'23 RB Daylan Smothers – OU Commit
'24 RB Stacy Gage
'23 OU WR Commit Anthony Evans let me know he will not be able to make it due to the scheduling issues we spoke about earlier in the week. Night playoff game just prohibits the travel.
***Reminder…this is not the entire list, we will add names as we confirm them and undoubtedly some will not be able to make it.
---
A few Notes on the OU NIL Situation
– Super K – Posted on: November 17, 2022
Recently, I have made a few notes in the comments section regarding the OU NIL situation but with the recent announcement, I feel it might be constructive to put some of that together here.
***As I have previously mentioned, the NIL workings behind the scenes at OU have not been particularly robust.
***You'll recall that last spring, it was announced that the players would be getting 50K annually. We had heard that was supposed to begin in August. It never did.
***There have been some initiatives that have begun and some players are making a little money here and there.
***But ultimately there has been a lack of organization by large donors on the scale needed.
***Part of that is because of the changing rules. The NCAA continues to put out new rules and I know (and you know) that this causes OU to be a lot more cautious in these matters.
***The other part of this though is that when you have a bunch of initiatives doing essentially the same thing, it doesn't build a pot of money large enough to make big things happen.
***And while the university is very limited in how they can be involved, they also can't push donors to give the athletic department all the money. If OU wants these NIL collectives to thrive, some of that money is going to need to go to these initiatives. That will be the case at least until there is enough regulation to where these collectives are less and less important.
***I think up until now, Brent had been recruiting so well, it didn't seem important. And I think if the Sooners had been winning, it probably wouldn't be as important.
***But there were some booster behind the scenes that felt that with some of the on field struggles, it might be a good time to get a little more organized on this front. And to be fair, as I've previously said, some of these same folks had tried under Lincoln's regime but weren't met with much hospitality. I don't really blame Lincoln or the athletic department though given how early on that was and how rapidly things were changing.
***I had recently mentioned that this group has been working behind the scenes to bring the right people on board and as you know, earlier this week, that group announced an initiative to collect at least 3 million dollars.
***Again, this is what has been needed. It's not simply about creating one off opportunities for kids on campus to put a little money in their pocket. There needs to be a large pot of money to create a broad base initiative that impacts any student athlete that comes through OU's doors. That's the only way, as far as I can tell, that it will make any difference in recruiting.
***It isn't enough for Brent and co to be able to say, hey here's a few guys that make a little pocket money. It needs to be broader and more consistent than that. I think this new initiative can help them get there.
***Having said all that, there's still nothing quite like winning and NFL development.
---
Know Your Opponent | Oklahoma State – 2022
– Charlie S – Posted on: November 17, 2022
Head Coach – Mike Gundy (18th Season at Oklahoma State)
Offensive Coordinator – Kasey Dunn (12th Season at Oklahoma State, 1st with an OC title)
Defensive Coordinator – Derek Mason (1st Season at Oklahoma State)
The Oklahoma State Cowboys are 7-3 (4-3) heading into Bedlam. The Pokes are 2-2 in their last four games which started with a win over Texas, followed by losses to both Kansas teams, and last week they came from behind to beat Iowa State.
On Offense …
The Cowboys are a Spread Offense and almost every play has an option built into it based on what the defense is giving you on each particular snap.
QB –#3 Spencer Sanders* OR #12 Gunnar Gundy
RB – #20 Dominic Richardson
– Sanders is everything for the Cowboy Offense and we've watched him make slight progress each season in his 4th year as a starter. He is a true Dual-Threat, with the ability to do big-time damage both through the air and on the ground with his legs. He has stated he will go against Oklahoma, and we expect him to at least give it a try despite dealing with an injury.
– If Gundy ends up having to be the guy behind Center, then obviously that changes things in a major way. The Cowboys will almost assuredly play conservatively with him and try to prevent him from turning the ball over.
– Richardson is the bellcow and has over 100 more carries than the next Back on the roster (Sanders is the second leading ball carrier for the Pokes with 90 carries on the year). They are unproven behind him, with Sanders essentially serving as the other primary ball carrier with designed QB runs.
– Last week against Iowa State, the Pokes had 244 total yards of offense and only 57 on the ground.
WR – #9 Bryson Green
WR – #80 Brennan Presley
WR – #17 John Paul Richardson OR #8 Braydon Johnson
TE – #38 Jake Schultz OR #90 Braden Cassity
– The WR group is one of the best in the Big XII and they do an outstanding job of getting all 4 guys involved in the offense. Presley (30), Richardson (22), Johnson (20), and Green (16) all average over 3 receptions per contest, which make it difficult to lock in on one guy from a Defensive Gameplan standpoint.
– Johnson and Green are both averaging 19.9 ypc and 16.4 ypc, respectively. All four guys can hurt you. The TEs job is to block in this offense.
LT – #76 Caleb Etienne
LG – #68 Taylor Miterko
C – #74 Preston Wilson
RG – #70 Hunter Woodard
RT – #61 Jake Springfield
– I view this group as below average as a whole, but these guys are all grown men heading toward their mid 20s. They are better in the run game than they are in pass protection. The Cowboys remedy that by having built-in outlets for Spencer Sanders to make decisions about where the ball should go on almost every play call.
– Their starting LT from last season, Cole Birmingham, injured his knee in the spring and was lost for all of this season. JUCO transfer Caleb Etienne is massive at 6'7 330+, but he has had his ups and downs this season. Miterko is the other new face on the left side.
On Defense …
The Cowboys will be in a 4-2-5 look for pretty much the entire contest outside of short yardage situations. Despite having a new Defensive Coordinator after the departure of Jim Knowles, the Cowboys appear to have tried to keep everything as similar as it has been to previous seasons as possible.
DE – #89 Tyler Lacy AND #94 Trace Ford
NT – #99 Sione Asi
DT – #93 Collin Clay
DE – #9 Brock Martin AND #30 Collin Oliver
– All Seniors (aside from Clay who took over for Brendon Evers who opted out earlier this season) in the starting lineup with outstanding depth at the DE positions. Tyler Lacy is more of an odd front fit, but plays End for them. These are grown men up front for the Cowboys and they've played a lot of ball.
– Oliver was the Big XII Defensive Newcomer of the Year last season. He and Trace Ford are their best pass rushers. Oklahoma will get a steady dose of both explosive edge players on obvious passing downs.
MIKE – #1 Xavier Benson
WILL – #0 Mason Cobb
– I expected OSU to take a major step backwards at LB after losing Malcolm Rodriguez and Davon Harper to the NFL this past spring. There hasn't been much of a drop off statistically, but their impact is not as significant from play to play. Still a good pair.
– Cobb leads the team in tackles and Benson, who is a Texas Tech transfer, isn't far behind. These guys are athletic and cover ground.
CB – #2 Korie Black
BS – #5 Kendall Daniels
FS – #18 Sean Michael Flanagan
SS – #25 Jason Taylor*
CB – #7 Jabbar Muhammad
– Redshirt Freshman Kendall Daniels had a coming out party last week against Iowa State and was named the Big 12 Newcomer of the week for his efforts. Daniels forced two turnovers and had a game-high 10 total tackles, including 1.5 tackles for loss.
– Taylor has 4 interceptions on the year, Daniels has 3, and Harper has 1. Muhammad has the only interception from the corners room on the year and the Sooners could find some success on the outside if Gabriel can get the ball to his receivers.
Overall Thoughts…
– Over the last two weeks against Baylor and West Virginia, Oklahoma beat Oklahoma. If things stay the same, this week could be another example of OU beating OU.
– On defense, with Spencer Sanders likely back behind center, the Sooners face a true dual-threat QB. Those are words that send shivers down most OU fans spines, as well they should. OU has been notoriously bad defensively against dual-threat QBs as they have not shown the ability to be consistently assignment-sound and disciplined.
– Sanders wasn't all that willing to run last week in his limited time against Iowa State (3 rushes for 6 yards) but I would imagine he will be more active this week against OU which likely means he will put up a 20-carry 150-yard day…I kid…sort of. Regardless of how willing he is to run, the Sooners have to prepare like they expect him to be 100% and play assignment-sound and disciplined defensively.
– Just the threat of Sanders pulling it down changes the effectiveness of the entire offense. Suddenly the receivers become more of a factor and the secondary could be tested.
– But their offensive line stinks and OU should be able to get pressure from their front four as well as when they dial up some additional numbers. OU should be able to get a bunch of tackles for loss here.
– Offensively the Sooners should have some success as long as they don't shoot themselves in the foot repeatedly. Prior to the Iowa State game (ISU has an inept offense) opponents had scored north of 30 points in 5 consecutive games against the Pokes and you SHOULD be able to write the Sooners in for going above that mark as well.
– While their front 7 is good, their aggressiveness does cost them some big plays in the run game and the secondary can be suspect in coverage at times.
– Bottom line, this is another very winnable game for Oklahoma…as were the last two weeks and we saw what happened there.
– This will be about Oklahoma vs Oklahoma and if the Sooners come out and play undisciplined, have a bunch of stupid penalties, have some busts defensively and can't catch the ball…this one could get away from them again. I wouldn't touch placing a wager on the outcome of this game. If they play a clean game with few penalties and are in synch offensively…it could be a fun last game on Owen Field for the 2022 season. Who knows…we will all see how it goes together.
---
One on One's | OU vs Oklahoma State – 2022
– Charlie S – Posted on: November 17, 2022
This week the Sooners are home to take on Oklahoma State in a primetime Bedlam matchup!
The Sooners are coming off back-to-back losses and the Pokes won a squeaker last week against Iowa State.
Oklahoma comes into the game with a 5-5 record and they are 2-5 in conference play.
Oklahoma State enters the game with a 7-3 record and they are 4-3 in conference play.
Let's take a look at a couple 'One on One' matchups that could go a long way in determining the outcome of this game!
---
One on One Number One
Oklahoma Right Tackle Wanya Morris vs OkState Defensive End Collin Oliver
I could easily substitute Brock Martin, Tyler Lacy or Ben Kopenski in place of Oliver for the Pokes, but he is having the best season of a really good group of defensive ends for the Pokes.
Oliver has 5 sacks, Martin has 4.5, Koepnski has 3.5 and Lacy has 3 for a very active and effective pass rush.
However, it is Oliver that has caught fire and leads the team in QB hurries, by a wide margin, with 24.
Wanya Morris…yeah he has had a rough last few games as he has looked a bit off and has been giving up more ground than we saw from him earlier in the season. I would not be shocked to see Tyler Guyton run out there if things get off to a shaky start with Wanya.
Morris needs to use his length to his advantage and do a better job with his footwork, which he is completely capable of, all day because not only is the Pokes defensive front talented, they are deep and relentless. You have four very talented pass rushers and there will be few, if any plays off.
Defensive end is the one place the Pokes have an advantage and Wanya is the guy who is charged with protecting Gabriels blindside. Will be one to watch.
One on One Number Two
Oklahoma Linebacker Danny Stutsman vs OkState Quarterback Spencer Sanders
Simple and obvious.
To be fair, I am not 100% positive that Stutsman will be the guy charged with spying or covering Sanders on the majority of snaps. It could very well be DaShaun White at times as well as Ugwoegbu, but it will be imperative for Oklahoma that Stutsman plays his assignments soundly as I have to believe OkState will feature the QB run game.
Just do your job.
If OU can minimize the effectiveness of the QB run game, they take away a huge advantage that Oklahoma State likely thought they would have coming into the game.
You would also force a QB with an injured arm into throwing the ball more and as we all know, Sanders does have a tendency to get loose with his throws and provide the opposition with some turnover opportunities.
Please…all the linebackers…just do your job and do not try to be the hero on every play and wind up overpursuing or shooting the wrong gap because you think you can get home.
Just do your job…my community begs you.