Open Post | Weekend, November 13th – 15th
Posted on: November 13, 2020
Position Group Progress Report | Kansas
– Charlie S
Checking out how the position groups performed in the Sooners dominant win against Kansas. The game played out as it should have for OU against a lesser opponent as the Sooners demolished Kansas.
I will be including the previous weeks rankings so we can all see how the units are shaking out on a week by week basis!
Let's see how things shook out against the Jayhawks!
QB: High 3* (Last week 5*)
Spencer Rattler was just a little more than 'average' on the day. His stat line read: 15/27 for 212 yards with 1 touchdown and one interception.
Rattler turned the ball over for the first time since the first half of the Texas game…but it really was not all his fault. As you will see later in the week (most of you have already seen it) Charleston Rambo quit on the play and Rattler got picked. It happens.
However, after things going so well for Rattler over the previous 2 and a half games, it felt (and looked) like Rattler came out a bit cocky against the Jayhawks. I described it in the postgame notes as 'cavalier' and I believe that to be accurate following my first rewatch. There was no sense of urgency early and it looked as though the young QB expected things to come easily.
We have seen Rattler bounce back from 'less than ideal' performances and come back better. I suspect he won't fall prey to the same malaise again as the season plays out.
He suffered a hip injury in the game but right now, it seems like that won't be a big issue going forward and according to Riley, he should be fine for Bedlam. We will keep an eye on that situation.
---
RB: High 4* (Last week High 4*)
Rhamondre Stevenson has entered the chat…and he quickly took back the title of RB1 as we expected following his first game back against TTU.
Stevenson rushed 11 times for 104 yards which is a 9.5 yards per carry average and he added 2 touchdowns on the ground. He also caught 4 passes for 60 yards.
TJ Pledger had 7 carries for 36 yards an d Seth McGowan and Mikey Henderson shined on their limited amount of carries. Marcus Major had 3 carries for 3 yards, but he did add a reception which went for 24 yards.
Jeremiah Hall was steady in the blocking and protection game and he also pulled in two passes.
As a group, the Sooners had another 200 yards day on the ground and things continue to look better by the week for the group.
Could have given them a 5 star, but I think there is more in there for them and I'm waiting to see that on display.
---
WR/TE: High 3* (Last week High 3*)
Man talk about 'rinse and repeat'. I feel like this is a scheduled rating.
Jadon Haselwood made his return to the group and he got his first catch of the season (33 yarder) and to be honest with you, that was the highlight of the day for this group for me.
Marvin Mims and Austin Stogner had touchdown catches but once again, the Sooners wide receivers took points (Wease) and yardage (Stogner) off the board with untimely drops.
With the repeated 'High 3*' rankings…I'm at the point where I believe this is what they are as a group.
Mims can be a dynamic playmaker at times…but that's about it. Perhaps Haselwood's return lifts the entire group over the last 3 games of the regular season, but the group as a whole has been a bit of a disappointment.
Rambo looks disinterested and unengaged, Wease has dropped more touchdown passes than he has caught (at least 4) and Stogner, while making some big plays, has not been very consistent. Nobody else has done much of anything of note.
Too many dropped passes and not enough stellar blocking at this point. Feels really weird describing an OU wide receiver room this way, but it is what it is.
Rhamondre Stevenson was your second leading receiver against Kansas (in terms of yards). That's pretty telling in my opinion.
---
OL: High 4* (Last week 5*)
I may be being a bit stingy here with just a 'High 4*' rating…but as you all know, the OL is the group I came into the season with which I had the highest expectations for.
Look, they did what they were supposed to do, but it just didn't 'feel' like a 5* effort. Ealy got a holding call against him, which was a pretty weak call and the backups played very well.
They just didn't 'look' as dominant against Kansas as they did against TTU.
I have only done a quick 're-watch' at this point, and I will have the 'Film Don't Lie' out later this week, and I may be proven wrong, they may have deserved the complete 5* rating.
Felt like Swenson and Hayes had good games and Tyrese looked good as well. Just didn't get the same domination vibe from Creed this week.
I will say Andrew Raym caught my eye a few times in the second half, looking forward to watching this group closer.
---
DL: 5* (Last week low 5*)
Three weeks in a row with a 5* rating for this group and the week prior to the streak, they got a high 4* which easily could have been a 5*.
This group as a whole, is the best unit on the team at this point, and it's really not up for discussion.
The OU defensive front paved the way for 9 sacks and 11 tackles for loss.
Nik Bonitto had 3 sacks on his own and Ronnie Perkins was named the PFF defensive player of the week in all of college football.
According to PFF, Perkins has been OU's best defender since he returned to the field against TTU and I have no reason to debate that.
Winfrey didn't play in the first quarter, but Jordan Kelley, Kori Roberson, and Josh Ellison were more than fine in his absence and Isaiah Thomas had another impressive outing.
Do not take this the wrong way, when I say this as it is not a slap at Thibbs, but man Jamar Cain's impact continues to show up of the DE's and RUSH guys. He has really done a great job coaching his guys up to the point where he has not only good depth, he has quality depth. When Brynden Walker and Reggie Grimes are out there balling as freshmen, you know you're on the right track.
Very impressed with Kelley and Roberson's development inside and that is credit for Thibbs for sure, but man, these ends/rush guys are having a HUGE impact.
---
LB: Low 4* (Last week 3*)
Actually liked what I saw on the quick re-watch more than liked what I saw while watching the game live.
David Ugwoegbu got the start and played some solid ball and flashed a few times and Asamoah looked better than he did against Texas tech in regards to playing under control and being assignment sound for the most part.
DaShaun White continues to be a bit quiet, but it was really encouraging to see freshman Shane Whitter out there making some plays. As I mentioned in the post game, yeah, Whitter got caught out of position a couple times, but he also made a huge stop on a 4th down try by Kansas as he let his athleticism and speed take over and he simply beat the Kansas player to the line of gain.
Jamal Morris also got some run and he recorded a couple tackles at linebacker and he actually caught my eye on special teams. His continued development could be a nice surprise for the Sooners.
---
DB: 4* (Last week High 3*)
Let me start by saying, for a guy who has desires to potentially flip to the offensive side of the ball, DJ Graham is a damn good young corner.
Graham got a ton of snaps against Kansas and he looked like the best corner on the team at times. Very good in coverage and very impressive tackling in space. Roy Manning should be recruiting him hard to stay in his room.
Tre Brown and Bookie each picked off a pass which is always welcomed. Bookie actually played another very good game as he made an impact in coverage as well as pressure.
Woodi and Jaden weren't really tested much and Fields and Norwood each had a few missed tackles, but nothing egregious.
Jeremiah Criddell still looks a bit hesitant at times, but he's coming a long and things appear to be slowing down a bit for him as his snap count continues to increase.
Solid day all around for the secondary.
---
Special Teams: High 2* (Last week High 2*)\
Brkic was fine.
PR and KR were nothing to write home about.
Punting was atrocious again. Have to wonder if there will be some open tryouts over the bye week, if nothing else to give Mundschau a little kick in the pants.
---
Mario Williams | Update
– Super K – Posted on: November 10, 2020
A couple sourced notes here on 2021 elite WR, Mario Williams. The more I watch Spencer Rattler, the more exciting it is to imagine what he can become. But often it seems like he is limited by the Sooners current crop of wide receivers. Guys like Marvin Mims have been a bright spot and Mims will only get better (he's actually been playing through the season with a bit of a nagging injury).
But it becomes more and more obvious that OU needs a lot more help at WR if they're going to make a run next year.
With Trejan Bridges status for this season (and perhaps even part of next season) still unclear, they're going to need someone else to step up and help Mims.
***Mario Williams has the potential to be the guy. He gives the Sooners something they've been missing for the past year or two that Marvin has helped with – the right combination of speed and quickness.
***I have long been a bit concerned about the prospect of Williams ultimately staying in Florida. UF has continued to recruit him hard and the fact that he was never actually able to visit OU added to that concern.
***However, after speaking with a source close to Williams, it sounds like he is still fully locked in with the Sooners.
***Additionally, while it's not a certainty yet, I'm told Mario is at least trying to finish up high school early. If he's able to do so, he may be able to enroll early and go through spring ball. Again, it's still an uncertainty but I'm told he is trying.
---
Tristan Leigh | Quick Update
– Super K – Posted on: November 10, 2020
As you know, Sooners are in hot pursuit of 5-star OT, Tristan Leigh. Leigh visited Norman this past summer.
***We continue to feel good about the Sooners chances in this one.
***Rechecked with Leigh's mother on whether they're still considering taking an additional trip to Norman. She says that is still under consideration and they'll start making decisions on any final self-guided visits after this weekend.
***My suspicion is that the two visits to keep an eye on are OU and Ohio State.
---
2022 DB Jarred Kerr Talks Interest in OU
– CJ Vogel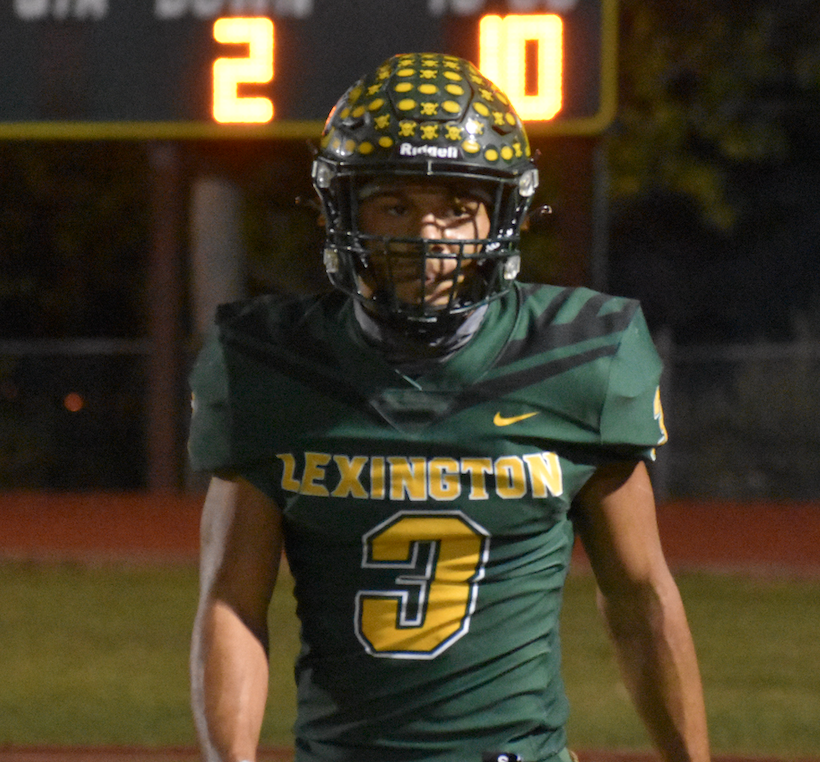 On Friday, I made the trip out to Lexington to see 2022 DB Jarred Kerr in action. Kerr's recruitment has already started to pop off with 19 offers already under his belt.
Kerr was absolutely magnificent in Lexington's 47-12 victory over Clifton. The three-star athlete forced a fumble, collected two INT's (one was a pick six that was called back), had a number of massive hits and blocks and made some acrobatic catches offensively as well. Kerr was everywhere. Everywhere.
In terms of his recruitment however, Kerr is still open to anyone and everyone giving him attention at the moment.
"It's still pretty early for me," Kerr said in regards to the state of his recruitment. "I'm still going to have offers coming in I'm pretty sure, so for right now I am still waiting for everything to come in. Then I'll have a decision early-ish since I am graduating early."
Oklahoma offered Kerr on August 29, the same day as Texas and a day before Texas A&M. While the regional offers are all in for Kerr, some of the big national powers have just started throwing their hat in the ring. The Sooners have reached out, though may be playing behind a few schools for the time being.
"We've only been on the phone three times," Kerr said about Lincoln Riley. "He texts me 'good game' and stuff like that every weekend."
On October 13, Kerr took a virtual visit with the Sooners and said it went well. He said Riley "gained some points" on the visit with a joke he made. The relationship between the two of them is still very much growing.
Kerr added that he is being recruited at safety which is what I expect him to play at the next level. It is interesting to note that he is being recruited on both sides of the ball by a number of schools, he said Texas Tech offered at both WR and S.
"That Speed D, that's one of the things they were talking about when they were recruiting me."
One thing that really stands out to Kerr about the Sooners is the fan base. He mentioned the faithful Sooner following as a big positive in terms of how he views the Sooners.
Kerr has not been to Norman before, though he is very interested in making the trip in the near future. He added he hopes to visit Texas, Baylor, Oklahoma, Michigan State, Ohio State and Cal once Covid-19 clears up.
In terms of a commitment time table, Kerr said he wants to have made a final decision right before his senior season, or very early into his senior season. Again, keep in mind he will be an early enrollee, so his recruitment may be sped up a bit compared to most.
For now, I won't label anyone a leader in this recruitment, but there are a lot of signs pointing in the direction of Texas. Who knows what is going to happen with the coaching staff after the season, but for now they have a nice inside edge for Kerr.
The allure of the Sooners has certainly piqued his interest as well. The hype around Alex Grinch's Speed D will play a big role in Kerr's overall decision making moving forward.
---
Kelvin Gilliam | Quick Visit Update
– Super K – Posted on: November 12, 2020
As you know, Sooners landed a nice defensive line prospect in Kelvin Gilliam (Highland Springs, VA).
But Gilliam committed to the Sooners sight unseen and the overtures from other schools haven't stopped. In fact, he just recently picked up an offer from Notre Dame.
Good news for the Sooners is that according to Gilliam a visit down to Norman is in the works. It would obviously be self guided but it looks like it is happening.
---
Thinking Out Loud | Marvelous Marvin Mims
– Charlie S
Everyone is aware of the success that Sooners true freshman wide receiver Marvin Mims has had to this point of the season.
You've seen the long touchdowns and the important chain moving receptions, You've seen the competitive catches and the ability to make defenders miss in the open field.
Mims hasn't been perfect, he had a poor game against Texas Tech where he had 3 drops including a potential long touchdown that was laid right in his hands. But aside from that game, he has been nails.
But where would the Sooners be without him is my question?
OU started the year in a hole personnel wise in the receivers room. They knew they would be without All-American CeeDee Lamb who took his talents to the NFL and is now staring for the Dallas Cowboys.
The Sooners knew they would be without two other important pieces at the outset of the year as Jadon Haselwood was injured and Trejan Bridges was suspended.
The thought was that veteran Charleston Rambo or second year stud Theo Wease would battle to pick up the baton and carry on the legacy of Sterling Shepard, DeDe Westbrook, Hollywood Brown, and CeeDee as the next great 'Wide Receiver One' to emerge out of the OU wide receiver factory.
That didn't happen. That still has not happened. I think it likely is not something that will happen at this point as Marvin Mims has emerged as 'The Next Guy'.
***Mims stat line reads as such: 25 receptions for 418 yards which is good for 16.7 yards per catch and 7 touchdowns.
***Mims is tied for second on the team in receptions with TE Austin Stogner (one behind Wease who has 26)
***Mims leads the team in overall touchdowns with 7 (Rambo has 2 and Wease has 0)
***Mims is second on the team in yards per reception at 16.7 (Stoops, who has 9 receptions leads the team at 16.9)
***Mims leads the team in receiving yards with his 418 (Stogner is second with 410)
With three games left in the regular season, it is clear that Marvin Mims is the Sooners most valuable receiver.
Rambo has struggled most of the year. Early on, it looked like he was being used in a manner which was not best suited for his skill set as he was thrown a bunch of quick passes in the hopes that he would be able to makes some guys miss and rack up the yards after catch. That plan didn't work as Rambo rarely could shake the first defender. He has also not shown the ability to take over a game with contested catches and sure hands in the redzone as he has dropped multiple potential touchdowns.
Wease on the other hand has shown the ability to take the quick passes and turn them into chunk plays. He really looked like he was breaking out against Texas when he had 8 catches. The fact that he has yet to score a touchdown is not something the OU quarterbacks are responsible for. He has been targeted plenty and has dropped at least 4 potential touchdown passes off the top of my head.
The Sooners also brought in grad transfers Theo Howard and Obi Obialo in the off season to offset the loss of CeeDee, Lee Morris, and Nick Basquine. Howard was thought to be the most likely to have a large impact as he was a highly coveted recruit back in the day and had a pretty successful career at UCLA. However, Howard was hurt in the spring and just has not looked to be fully recovered to this point and it is showing on the field.
If someone had told you before the season that true freshman Marvin Mims would have more touchdown receptions at this point in the season than Austin Stogner, Charleston Rambo, Theo Wease, and Theo Howard COMBINED…chances are you would have called them crazy and continually piled on in their mentions on the board.
I know I probably would have.
Will the return of Jadon Haselwood impact Mims' stats? I doubt it. Mims has established himself as the go to guy and the most dynamic play maker in the receiving corps. If anything, Haselwoods return will likely take some pressure off of Mims in respect to the defense focusing on him and his numbers could actually increase.
Mims has been a very bright spot in a room which has pretty much been underwhelming to this point of the season. For a kid who was a late add to the 2020 class, he has proven to be indispensable for Oklahoma.
Again, I ask, where would Oklahoma be without him?