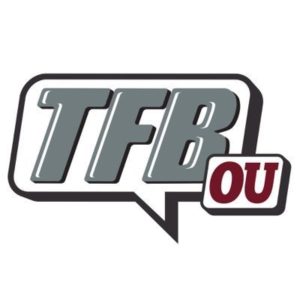 Open post | Weekend, May 26th – 28th
Posted on: May 25, 2023
Update | '24 OL/DL Eddy Pierre-Louis
– Charlie S – Posted on: May 19, 2023
Earlier this week, I noticed that the @StoopsBros Twitter account retweeted a tweet that indicated that OU had sent a coach down to see Eddy Pierre-Louis the OL/DL who attends the same high school that Sooners LB singnee Lewis Carter went to (Tampa Catholic).
Pierre-Louis made a lot of noise about his affinity for OU early on in the process, but things never really progressed much past an offer and some communication.
I'm not really sure how to categorize this one other than by saying…both OU offensive line coach Bill Bedenbaugh and defensive line coach Todd Bates stopped in and saw Eddy.
I asked Eddy where things stood with OU and if they were still in consideration for a visit and he said "Yessir, coach B and coach Todd Bates just came through to see me. I talk to them a lot."
When I asked him which side of the ball he preffered, he said "It doesn't matter to me. I love to pull but I also love to chase people down."
He is a big man who actually can chase guys down…
As far as where things actually stand…I would be a bit surprised if an OU visit does come together, just feels like a recruitment where OU is keeping their toes in the water, but they are aware of the landscape around this one with NIL and proximity.
I did find it interesting that the Sooners sent both Bates and Bedenbaugh down there to see him, but that can also be rationalized by knowing that Tampa Catholic just produced an OU signee and they typically have a lot of talent coming through on a yearly basis.
Either way, just something to keep an eye on and if anything comes together, we will pass it along. I do think if OU gets more involved, it would be on the offensive side of the ball.
---
Quick Hitter | '24 OL/DL Eddy Pierre-Louis Locks in Official
– Charlie S – Posted on: May 25, 2023
Wanted to follow up on last week's note (HERE) and pass along that last night Sooners OL/DL target Eddy Pierre-Louis let me know that he has locked in his official visit with OU for the June 9th weekend.
Once again, he reiterated his excitement in regard to the visit and was really focused on getting to hang out with coach Bedenbaugh.
Not gonna lie, I thought it was a bit of a stretch that this one would come together, but it does appear that big Eddy will get his chance to see Norman!
---
Late Night | The Curious Case of Laine Jenkins
– Charlie S – Posted on: May 19, 2023
Earlier this evening, some of you asked about rumors around JUCO DE Laine Jenkins and his status as an OU commit after reading about it on Twitter. We did some digging and a source tells Super K that OU no longer recognizes Jenkins as a commit ad they have rescinded their scholarship offer.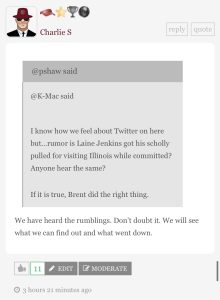 So, the curious case of JUCO DE Laine Jenkins and OU appears to have come to a conclusion just as rapidly as it came to fruition.
Source said that Jenkins told them that his mother wanted him to visit Illinois. The source added that OU was not happy about that situation but Jenkins did not want to go against his mother's wishes and as a result, the Sooners did rescind the offer.
In addition, the source mentioned that while Miguel Chavis was eager to make the offer to Jenkins after seeing him in person, initially, Brent Venables needed some convincing to allow the offer to be made based on Jenkins's lack of experience,
Based on all of that mentioned above, and how it has played out with the Illinois visit, we are of the opinion that this is likely the end of this recruitment for OU. We are checking to confirm this is the case, but this was in fact a situation where OU pulled the offer based on the recruit's actions.
---
What Happened With Xadavien Sims
– Super K – Posted on: May 20, 2023
Now that Sims has announced his commitment, I can tell you a little bit more about what we had heard and why he had him trending Oregon.
***First, keep in mind that Sims isn't an in-state recruit. Some folks are taking this a little harder because they perceive Sims as an in-state guy. Yes, he lives in Durant but he moved to Durant from Texas, fairly recently. Caden Durham currently lives in Texas but I consider him an in-state recruit given he's from Oklahoma. Yes Xadavien is literally in-state and Caden is literally out of state but for the purposes of recruiting, it's the ties to the state and the university that, in my estimation, matter.
***There was a time when Xadavien was trending towards Oklahoma and it's why, as I mentioned last week, Sooners sources were confident. But I told you all that Oregon wasn't just confident, they were adamant. It became pretty clear to me that the Oklahoma staff was behind on their intel…
***Back when I first put a trending pick in for Xadavien to Oregon on Friday, May 12th, (HERE) I had received information from someone inside the building at Oregon. I was told that on Xadavien's second visit to Oregon (in late April), he had given Dan Lanning and the staff a silent commitment. So, basically, Oregon had wrapped this up three weeks ago but Oklahoma didn't know it.
***When I heard the info, it all made sense. He goes to Oregon once in April. On his return from the first trip, Xadavien's people begin telling folks that he's going to take his official visits and then announce a commitment after the visits.
***Then a week or two later (the late April visit), he goes right back to Oregon for a second unofficial visit. He returns to Durant and about a week after that moves his commitment timeline up and announces he will be committing on May 20th. And, will still take official visits in the summer.
***What would be the rush, I thought, to commit to Oklahoma before the visits? They don't have any DL commitments and very few defensive commitments at all. So, why feel any pressure to do so especially considering he hadn't been back to Oklahoma since the first half of March? Meanwhile, he had not only come off back to back visits to Oregon but Oregon has been picking up recruits left and right. They have a ton of momentum now and they're recruiting a number of DL with a highly rated interior guy already in the boat.
***So, the information we received from inside the building at Oregon (that Sims had silently committed) made a lot more sense than the confident vibes we got from inside the building at Oklahoma.
***About a week and a half ago, I posed a question – would this be a Summer of George or a Cruel Summer (HERE). Still plenty of targets left and this isn't the way the Sooners wanted to start off the summer. But, keep in mind that no matter what happens, Oklahoma and Brent Venables are going to have a chance to play the season. And recruiting on a winning season during the season is going to be a lot easier than doing what they're doing now – recruiting on that 6-7 record.
---
Sourced Note | Where Things Stand Between OU and Xadavien Sims
– Charlie S – Posted on: May 22, 2023
While I know this may be a topic some of you don't really want to hear about as '24 DL Xadavien Sims announced his verbal pledge to Oregon the other day, I felt we needed to provide additional clarity to the community on where things stand going forward…because there is a scenario where 'going forward' with Sims is a thing.
***As I mentioned over the weekend, I am very proud of the way the community conducted themselves following the announcement. Based on our reporting, you all were aware that this likely was not going to go OU's way and you were all prepared for that.
***Despite the social media fervor generated by accusations of deceit and whatnot, as we have mentioned previously, this was not a very dramatic recruitment. Oregon was in the lead since he silently committed to them back in late April and OU was the chaser, not the chasee.
***Following the decision, we spoke with different sources (K, James, and me) and none of us picked up a sense of outrage from our OU sources. It's recruiting and again, we were never told that Sims or anyone in his camp told OU they were committed to the Sooners.
***The sources we spoke with throughout the process did indicate that OU felt good at one point as we noted in previous writeups. However, they started to realize that Oregon's push on the latest visits was going to be the difference.
***Bottom line is, sources indicate OU isn't reacting the way portions of the fan base are portraying. In fact, it is very likely that OU will revisit the Sims recruitment down the line once some of the newness of the Oregon commitment wears off. We would not be shocked to even see opportunities for additional visits both to OU and from OU staff arise down the line.
***He is a name that we will keep tabs on as the cycle progresses and this note may be something to look back on one day in the future.
---
Bryant Wesco | Sourced Update
– Super K – Posted on: May 23, 2023
Sooners already have two talented wide receivers in the boat in Zion Kearney and KJ Daniels. They're looking to add a third and it's no secret that their top target has been Bryant Wesco.
The Sooners have felt good about where they stand with Wesco for a while and based on what I've heard I believe that was justified.
However, as you know, Wesco recently set up his official visits and it did not include Oklahoma. Wesco has visited OU on multiple occasions and has a great relationship with Emmett Jones so when we heard he wasn't taking an OV, we really didn't want to jump to any conclusions.
I have been checking with sources around Dallas and I am starting to hear that the two teams emerging in this one are now TCU and LSU. I am still checking around on this but the totality of the information coming in is becoming hard to ignore and I don't get the sense OU is the slam dunk they perhaps once were.
Fortunately, again, OU already landed two talented commits and they have some backup targets to Wesco identified, one of them being Ashton Bethel-Roman out of Missouri City, TX. So, if things go their way with Wesco, great. If not, they have a plan.
But for now, I'd temper expectations on this front a bit.
---
Kobe Black | Visit
– Super K – Posted on: May 23, 2023
Just a quick note here on 5-star 2024 DB, Kobe Black. Black hasn't gone public with his visits yet but we think the Sooners are going to get an official visit.
CJ is checking with Kobe to confirm but we've heard enough from people around him to think it will happen.
Still don't know how strong the Sooners chances are in this one. But I'm a little more optimistic about their chances than I once was. I'm working on getting a better feel for it.
---
Sooners Offer '24 Legacy Tight End
– Charlie S – Posted on: May 23, 2023
The Sooners have extended an offer to '24 legacy tight end Cooper Alexander.
Alexander (6'4 220) out of Washington, Oklahoma, is the son of former OU tight end Stephen Alexander.
He currently holds around a dozen offers which include offers from Colorado, Stanford, Iowa State, and Duke. Smart kid to be holding the Standford and Duke offers.
If you recall, the 24K Tight End Big Board (HERE) was pretty weak for the Sooners at the time I posted it and much of their focus has been on the potential reclassification of Davon Mitchell, who has yet to see that process come to a completion.
I like this offer and we expect OU to be right at the top now that they have thrown their hat in the ring.
---
Sourced '24 Safety Notes
– Charlie S – Posted on: May 24, 2023
The Sooners have one commitment in the boat at the safety spot in Jaydan Hardy and right now we expect them to try to take one more for sure with the possibility of adding 2 additional guys if it is the right guys. In this case, any third safety would have to have the potential to play some cheetah along with safety.
As you know Michael Boganowski is a guy who is right at or near the top of the Sooners wish list and he will be back in Norman shortly. Mykel Patterson McDonald, the local guy, has been to Norman frequently and OU continues to recruit him, but he is planning on taking some officials this summer so right now, that one will go on a bit.
So there are a couple under the radar guys I wanted to mention to you all. Our guy CJ was out and about recently and he caught up with '24 DB Dontae Carter (6'1 175) out of Cibolo, TX who mentioned that he has been in recent contact with the Sooners. Carter holds around 20 offers which include offers in the last month from the likes of Nebraska, Washington, Texas Tech, Baylor, and Missouri. Will keep an eye on this one.
Another guy to potentially keep an eye on is Wake Forest commit Andy Jaffe (6'0 175) out of Clearwater, Florida. Jaffe is currently committed to Wake Forest but he does hold a Sooners offer and I have had a source indicate that OU has been quietly putting in some work here and a visit from Jaffe is not out of the question.
CJ really liked what he saw from Carter and Jaffe's film is a lot of fun to watch. With Hardy in the boat, the Sooners do have the luxury of being very picky when it comes to closing out this safety class and it's nice to see them continue to turn over rocks and continue to recruit guys that they like.
---
Follow-up on Bryant Wesco
– Super K – Posted on: May 24, 2023
In case you missed it, yesterday, I had a sourced update on Sooners wide receiver target, Bryant Wesco. You can find that here.
As I mentioned in the note, I'm starting to hear a lot of TCU and LSU talk for Wesco. A few weeks ago, Wesco to OU seemed to be a forgone conclusion. I don't know if it's because his sister recently transferred out of OU or if other schools have just closed the gap, but based on what I've heard, things have tightened up quite a bit.
Wesco has a number of official visits set up and there was some concern that he had not set up an official to OU (though he's obviously been on campus a ton anyway). But I was told, yesterday, that he is working on setting up a visit to OU in July.
However, the same source did mention that it's their belief TCU and others have indeed closed the gap significantly.
I'm not ready to make a trending pick but as I said yesterday, I think this one is going to be tougher than most initially thought.
The prevailing thought here in Texas is that Wesco and Hudson are the two best WRs in the state. Hudson is likely headed to Texas Tech.
As we previously noted, we are told that Emmett likes Ashton Bethel-Roman out of Ridge Point HS (Missouri City, TX), as well. And he's the WR we believe the Sooners will go after if Wesco doesn't come through.
I haven't seen Bethel-Roman yet but I hear good things. He camped with Emmett last summer and was impressive.
---
Others In Line with Our Positioning On Nwaneri
– Charlie S – Posted on: May 24, 2023
Just want to point out something K mentioned nearly two weeks ago that others are starting to realize…
On May 11th buried in his Cruel Summer vs. Summer of George post (HERE), K actually put a trending pick in for Williams Nwaneri. He gave the edge to Tennessee by the slightest of margins. Here is exactly what he wrote…
"The prevailing thought with 2024 5-star DL, Williams Nwaneri is that he's down to OU and Tennessee. With Nwaneri, you have his ties to OU through Caden Green and his high school coach who is a former Sooner. But his high school coach is also tied in with another former Sooner, Josh Heupel. And, Tennessee has more on the field momentum based on last season's results. If you had to make me pick a direction right now, based on what I've heard, I'd give it to Tennessee 51/49 but it's basically a coin flip and could go either way."
This morning, 247Sports Steve Wiltfong said the following on where he thinks things are currently with Nwaneri…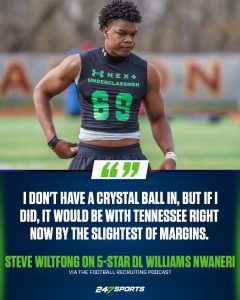 They line up exactly with K's thoughts from a couple weeks ago.
Just to be clear, OU still has their opportunities to flip this back in their favor which is why the trending pick margin was so slim.