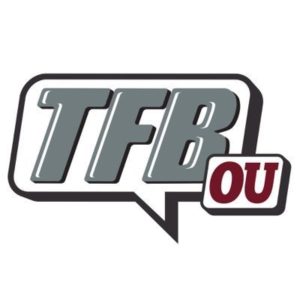 Open Post | Weekend, May 19th – 21st
Posted on: May 19, 2023
Quick Hitter | '24 LB Tyanthony Smith
– Charlie S – Posted on: May 15, 2023
Just want to note I touched base with '24 linebacker Tyanthony Smith (6'1 205) out of Jasper, Texas over the weekend and he let me know that he is planning on officially visiting OU in June.
The dates he told me are June 19th-21st which is the Monday following the 'ChampUBBQ event'.
The Sooners linebacking recruiting is a bit of a puzzle right now as top targets Peyton Pierce, Peter Pesansky and Drew Woodaz are already committed elsewhere but Smith has been a priority for OU from the jump so getting him in for an official is a good sign.
---
'24 Linebacker Easton Baker
– Charlie S – Posted on: May 15, 2023
Back on May 5th, '24 linebacker Easton Baker (6'1 212) out of Tooele, Utah announced he received an invite to take an official visit to Oklahoma.
Earlier today he tweeted out his official visit schedule and it includes a trip to OU for the ChampUBBQ on June 16th.
I touched base with Easton earlier today to get a little background in regard to where things stand between he and OU.
Easton tells me that he and OU have been talking for a couple weeks now and he noted that Coach Roof is doing a great job getting to know him and his family. Says the communication is impressive.
I asked him if he held an offer from OU at this point and if he just didn't report it yet to any of the services and he said the offer is coming 'soon' which would lead me to believe it will come either prior to the visit or during the visit in a face to face setting which tends to have a big impact.
Needless to say, Easton is very excited about his trip and he mentioned that OU "loves his speed and physicality".
Film looks good…is what I would describe as a 'Venables looking linebacker'.
---
Not Done at DB | Notebook
– Super K – Posted on: May 16, 2023
Sooners have two DBs in the fold. In the 2024 class, the Sooners, thus far, have had their success at the WR and DB position. Obviously their hoping to get a DL in the fold this weekend to spark some moves up front.
After checking around, I want to pass along a few DB related notes…
***First, I spoke to a trusted source out in AZ – someone very very tied in there. He raved about the Sooners CB commit, Jeremiah Newcombe. He thinks OU got a real steal there.
***OU made 2024 DB offer this past weekend to a player at a school OU had some success at last year. The Sooners offered 2024 ATH Jameer Grimsley out of Tampa Catholic. You'll recall Oklahoma landed 2023 LB Lewis Carter out of the same school.
The Sooners offered Grimsley as a DB but they did so knowing he is a very talented WR as well. Based on what I saw on film, I really like the offer.
I did check in with someone over at Tampa Catholic and was told Grimsley absolutely will visit. Don't have a date just yet.
***Also, it does look like the Sooners want a bigger DB class that we had initially been told. They're still hot on the trail for in-state DB Devon Jordan (Union). They're working on 2024 Cali DB, Marcelles Williams (St. John Bosco). They're still working on TX DBs, Eli Bowen and Kobe Black.
***So, generally quite a few targets here and I'm told they're trying to get them all back in for visits in June.
***We've already noted that we believe Marcelles Williams is down to OU and USC. I feel even more confident about that. Could go either way. In speaking to a source out there who is close to Marcelles, it's pretty clear that when they visit OU this past spring, it was just a visit to cross off the list. But the visit had a massive impact so it'll be interesting to see if the follow-up visit can push them over the edge.
***I still don't feel great about OU's chances with Black. I mentioned back when he visited earlier this year that I don't get a great vibe around that one. Still feel the same. But OU is still working on things and they do have a good relationship with the family.
***Generally, the Sooners are in a pretty good spot for some excellent targets with two already in the boat. So, I think this should be another good back-end class.
---
Caden Durham | Sourced Update
– Super K – Posted on: May 16, 2023
Sooners 2024 RB target, Caden Durham posted an impressive 10.53 in the 6A Texas state 100m which was good enough to give him the bronze.
As you all know, Durham plays at Duncanville but is originally from Oklahoma. And, there has been a lot of buzz about LSU making a push in his recruitment.
I spoke to a source in the know about it and this is the gist of what I was told from this particular person's perspective…
***Was told dad has a fairly strong preference for Oklahoma. I get the sense he's solidly in OU's corner.
***Was told mom is more hands off and wants Caden to make the decision.
***Was told Caden is the one who seems to be driving the interest in LSU. That isn't to say he isn't interested in Oklahoma. But it's to say that the impression I'm getting is if that if it weren't for Caden having serious interest in LSU, this would be forgone conclusion.
***Visits should decide this one and I gather it'll be pretty straight forward. Family and proximity favor the Sooners so they just need to get Caden to 50/50 and it should swing OU's way.
---
Why the JUCO DE Take? | Sourced
– Super K – Posted on: May 16, 2023
Been working the phones and here's what I've got for you on the newest commit in JUCO DE, Laine Jenkins.
***Why the lack of playing time at stats at Butler Community College? Was told Jenkins didn't arrive from his previous community college (Dupage) until last August. So, he didn't get a ton of burn because he didn't have time to pick up the scheme.
***I am told that the sense is the kid is an absolute freak of an athlete with tremendous upside…
***Apparently someone from Butler tipped off a staff member at OU and they went by and watched the kid move around and were impressed. Basically, they feel like with some time develop, the kid can play on Sundays.
***Because certain academic requirements, I'm told OU didn't have a ton of competition. In the Big 10, a number of an institution can't take a high school non-qualifier. And the SEC had a class requirement that couldn't be met.
***He is expected to arrive in Norman this summer.
***My sense is the staff didn't take him to necessarily play right away. He has three years of eligibility left so I'd really look at this more as a kid with a lot of upside who they think they can develop into an elite pass rusher.
***In a sense I'd just look at this as a replacement for a high school DE. With them missing on Kellen Lindstrom and in a dog fight for some other DEs, this takes some pressure off of them and gives them a kid with as much or more upside, in their minds.
***Laine did take his official visit this past weekend and it sounds like everything is wrapped up.
***After hearing the background on why the Sooners made this move, I'd say it's a good one. They weren't looking for a JUCO DE. It just came together and made more sense given Lindstrom's decision to go elsewhere.
---
2024 DT Name to Know
– Super K – Posted on: May 17, 2023
A quick note here, sounds like the Sooners are working on 2024 Louisiana DT, Jowhar Franklin Jr. (John Curtis High School).
He does hold an LSU offer but I imagine they've got a ton of guys on their board so the Sooners making a move here could end up being a good idea.
Jowhar did tell me that he does plan on taking an official visit to Oklahoma this summer.
So, while Bates has some pretty clear targets, he's working other angles, as well.
---
Xadavien Sims | Follow-up
– Super K – Posted on: May 17, 2023
As you know, the Sooners are hoping for a big recruiting win this weekend as 2024 in-state DL, Xadavien Sims (Durant) will announce his decision. He will be choosing between OU, Vanderbilt, Oregon, Michigan State and TCU.
Last Friday (HERE) I put my trending pick in at 60/40 for Oregon.
Some of you have I asked why I think Oregon may be leading here especially given the fact that everyone in the OU market seems to be picking the Sooners.
There are a number of a reasons, however the biggest reasons are as follows…
***I did speak to a source on the OU side and they did sound somewhat confident in where they stand with Sims.
***However, the issue is that last week, I got word from a source in the building at Oregon and they seem adamant, not just confident. That doesn't mean they're right but they just seem a little too sure of themselves for me to discount it.
***Even still that might normally put me at 55/45 Oregon but when you add to it the two recent visits that Xadavien has taken to Oregon…
***When you add to it that he was originally planning on announcing after his OVs this summer and then moved the timeline up post Oregon visits…
***And when you add to it that he is telling staffs that he still plans on taking OVs in June (knowing OU doesn't permit that)…
***All that and a few other things led me to the 60/40 advantage Oregon.
***So for now, I'm standing pat at my original 60/40 Oregon.
---
Big Board | 24K Interior Defensive Line
– Charlie S – Posted on: May 18, 2023
Continuing the roll out the class of '24 Big Boards.
Today we will take a look at the Interior Defensive Line board.
You can find the Running Back Big Board HERE.
You can find the Wide Receiver Big Board HERE.
You can find the Offensive Line Big Board HERE.
You can find the Tight End Big Board HERE.
You can find the Safety Big Board HERE.
You can find the Cornerback Big Board HERE.
You can find the Linebacker Big Board HERE.
---
When you take a look at the Sooners Interior Defensive Line Big Board, the waters can be a bit murky with respect to deciphering between IDL and EDGE. For instance, some services list Kellen Lindstrom, who was a target for the Sooners and recently committed to Tennessee, as an IDL while we viewed him as an EDGE. So there may be some crossover here and some guys may show up on the upcoming EDGE Big Board (like Lindstrom).
One thing that is not murky is the number of targets Todd Bates has on the radar, some of which are among the most coveted kids in the country at any position.
Below you will find a list of 32 recruits who either hold OU offers or who are on the radar for the Sooners:
---
Joseph Jonah-Ajonye – Oak Ridge (Conroe, TX) – 6'4 255
Jeremiah Beaman – Parker (Birmingham, AL) – 6'4 265
Aydin Breland – Mater Dei (Santa Ana, CA) – 6'5 290
Charleston Collins – Wilbur D. Mills (Little Rock, AR) – 6'4 250 – Arkansas Commit
T.A. Cunningham – Miami Central (Miami, FL) – 6'5 265
Jowhar Franklin – John Curtis (New Orleans, LA) – 6'4 300
Kamarion Franklin – Lake Cormorant (Lake Cormorant, MS) – 6'5 265
Ted Hammond – St. Xavier (Cincinnati, OH) – 6'5 258 – Michigan Commit
Kavion Henderson – Leeds (Leeds, AL) – 6'2 250
Terrance Hibbler – Holmes County Central (Lexington, MS) – 6'3 305
Eddrick Houston – Buford (Buford, GA) – 6'3 255
Caleb Mitchell Irving – Parish Episcopal School (Dallas, TX) – 6'2 255
Jayden Jackson – IMG Academy (Bradenton, FL) – 6'2 300
Alex January – Duncanville (Duncanville, TX) – 6'4 325
Artavius Jones – Blountstown (Blountstown, FL) – 6'3 280
TJ Lindsey – Bryant (Bryant, AR) – 6'4 270
LJ McCray – Mainland (Daytona Beach, FL) – 6'6 260
Dominick McKinley – Acadiana (Lafayette, LA) – 6'5 290
Tyler Moore – Luella (Locust Grove, GA) – 6'1 270
Williams Nwaneri – Lee's Summit North (Lees Summit, MO) – 6'5 250
Deyvid Palepale – Hempfield (Landisville, PA) – 6'3 288
Peter Pesansky – Jesuit (Tampa, FL) – 6'3 265 – North Carolina Commit
Xavier Porter – Tampa Catholic (Tampa, FL) – 6'2 265
Hevin Brown-Shuler – Pace Academy (Atlanta, GA) – 6'4 290 – Clemson Commit
Justin Scott – St. Ignatius (Chicago, IL) – 6'4 310
Xadavien Sims – Durant (Durant, OK) – 6'3 275
Nigel Smith II – Melissa (Melissa, TX) – 6'5 260
David Stone – IMG Academy (Bradenton, FL) – 6'4 270
Champ Thompson – Meadowcreek (Norcross, GA) – 6'3 275 – Clemson Commit
Benedict Umeh – Avon Old Farms (Avon, CT) – 6'5 260
Amaris Williams – Clinton (Clinton, NC) – 6'3 260
Omar White – Valdosta (Valdosta, GA) – 6'3 307 – Colorado Commit
---
Right off the bat, there are a handful of names that jump out to you. Recruits that OU is in a good position with, but those same recruits are by no means 'locks' at this time as they are highly coveted by every program around the country and there are visits and trips that need to play out.
Joseph Jonah-Ajonye, Williams Nwaneri, Nigel Smith, and David Stone are names that are at the top of the 'want' list for Oklahoma. That much is certain. OU is in a good position with each of them, but again, there will be blood drawn in order to win every one of those battles. A clean sweep of those targets would represent the best OU IDL class in a long, long time, and perhaps the best ever. While the odds of that happening (a clean sweep) is not extremely likely, it can not be discounted. At the very least OU needs to land a couple of these targets as they prepare to move into the SEC.
As far as their recruitments go, OU is expecting to host each of these guys in the near future for official visits. Following the visits, you will start to get a clearer sense of where things really stand, but we will have a couple of updates on them in the coming days and weeks.
Then you look at guys like Xadavien Sims, Dominick McKinley, Jowhar Franklin, TJ Lindsey and Alex January.
Sims is announcing his choice this Saturday, and right now, we have him trending slightly to Oregon. McKinley is a Louisianna kid who holds an LSU offer and that never bodes well. Franklin is a guy K just mentioned recently, and that is a rather new situation for the Sooners and it is still developing. Lindsey is a guy who has been to Norman but things are pretty quiet around him and OU right now but he did mention to me back in March that OU could be getting an OV from him. January is going to Texas at the end of the day in my opinion. So overall, this second group is a tough road for OU at this time. Again, it is recruiting, so things can change at any time, but this group would be considered a stretch for the Sooners.
There will be additional guys of interest and should some of the targets start coming off the board, the Sooners will pivot and turn up the heat on other targets.
The Sooners will lose 3 players due to them exhausting their eligibility following the '23 season. Isaiah Coe, Jordan Kelley, and Jonah Laulu are all set to play their final year this season. With that in mind, right now we are working under the impression that the Sooners will be looking to take at least 3 interior guys and that number could bump to 4 for the right guy(s). Put it this way, they will not turn away any of their top four targets should they want to make their way to Norman.
---
Big Board | 24K EDGE
– Charlie S – Posted on: May 18, 2023
Continuing the roll out the class of '24 Big Boards.
Today we will take a look at the EDGE board.
You can find the Running Back Big Board HERE.
You can find the Wide Receiver Big Board HERE.
You can find the Offensive Line Big Board HERE.
You can find the Tight End Big Board HERE.
You can find the Safety Big Board HERE.
You can find the Cornerback Big Board HERE.
You can find the Linebacker Big Board HERE.
You can find the Interior Defensive Line Big Board HERE.
---
The last Big Board for the 24 cycle is the EDGE board.
Throughout the '22 season, the EDGE room was problematic for the Sooners on the field as they struggled to get any consistent pressure on the opposing quarterback which was bad enough, but then they also struggled mightily at times to set the edge against the run.
In the offseason, Oklahoma went out and brought in an influx of new talent to the room. OU added Rondell Bothroyd and Trace Ford through the portal and they added 5* recruit PJ Adebawore in addition to underrated Taylor Wein.
Recently, OU picked up a commit from JUCO Laine Jenkins who has yet to sign anything binding him to OU and vice versa, but if things go as planned, he will join the program in the summer.
Below you will find a list of '24 recruits who either hold offers from Ou or the Sooners have interest:
---
Dakyus Brinkley – Katy (Katy, TX) – 6'3 220
TJ Capers – Columbus (Miami, FL) – 6'2 230 – Louisville Commit
Sterling Dixon – Mobile Christian School (Mobile, AL) – 6'3 211 – Alabama Commit
Wyatt Gilmore – Rogers Senior (Rogers, MN) – 6'4 240
Jaylen Harvey – Quince Orchard (Gaithersburg, MD) – 6'2 235
Anelu Lafaele – St. Louis (Honolulu, HI) – 6'3 222
Kellen Lindstrom – Glendale (Springfield, MO) – 6'5 235 – Tennessee Commit
Tyclean Luman – Norland (Miami, FL) – 6'3 239
Tycoolhill Luman – Norland (Miami, FL) – 6'3 239
Danny Okoye – NOAH Homeschool (Tulsa, OK) – 6'4 241
Caleb Redd – DeSmet (Saint Louis, MO) – 6'4 215
Jayshawn Ross – Liberty North (Liberty, MO) – 6'4 220
Elijah Rushing – Salpointe Catholic (Tucson, AZ) – 6'6 235
Colin Simmons – Duncanville (Duncanville, TX) – 6'3 225
Dylan Stewart – Friendship Collegiate Academy (Washington, DC) – 6'5 235
Loghan Thomas – Paetow (Katy, TX) – 6'3 210
Naki Tuakoi – Fremont Senior (Oakland, CA) – 6'4 222
Zina Umeozulu – Allen (Allen, TX) – 6-4 / 210
Owen Wafle – Hun School (Princeton, NJ) – 6'3 290 – Notre Dame Commit
Solomon Williams – Carrollwood Day (Tampa, FL) – 6'3 250
---
Following the '23 season, Bothroyd and Stripling exhaust their eligibility and when you take the addition of Jenkins into consideration, the Sooners are likely looking for 2 EDGE guys at most this cycle.
With that in mind, you look at the list and nobody really jumps out to you right now as being guys that would be considered to be leaning to OU. Some services consider Williams Nwaneri as an EDGE player, and while he could pay some on the EDGE in certain situations, I view him as a DT in a 3 man front and a DE in a 4 man front.
There are a number of guys that OU is in solid position with, like Gilmore, Brinkley, Thomas, and Ross. Kellen Lindstrom would have been in this category and OU was in a good position for him, but ultimately, Tennessee got the verbal commitment. We will monitor if OU continues to recruit him aggressively.
Then there are a number of guys that OU is working to get in a better position with like Danny Okoye, Zina Umeozulu and Caleb Redd. You'll recall earlier in the offseason that I mentioned that I wouldn't sleep on Umeozulu and OU despite his brother being at Texas. Yes, that would still be considered a longshot, but he will be in Norman again here in the near future so OU is hanging around.
Feels like Sooners EDGE coach Miguel Chavis will have a solid class and he is working hand in hand with Todd Bates to bring in guys who can be multiple. I have to say, this is one room where I don't think there is a need to fret as Chavis has done some really solid work since his arrival and Taylor Wein was an absolute steal late in the cycle last year.
---