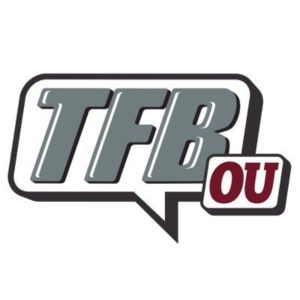 Open Post | Weekend, March 6th – 8th
Posted on: March 6, 2020
Quick Hitter | Spring Game Adds A Big Official Visitor
– Charlie S
*** Checked in with Sooners priority 2021 wide receiver target J.Michael Sturdivant and he let me know that he has locked in his official visit to Norman for the spring game (April 17th-19th).
Sturdivant visited Norman back on February 1st for a junior day and he received his offer while on campus…
Following the visit, I reported that I felt like an official visit was likely…
"I feel like the Sooners are in a very good spot here and after speaking with him, I would expect OU to get an official and that would (and likely will) put OU way out front."
Sturdivant continues to receive offer after offer (just picked up an Ole Miss offer this morning) and he is no longer a 'hidden gem' in the recruiting world, but as of right now, he told me he does not have any additional official visits set up this spring.
Nothing has changed in my opinion as I still feel like the official visit will probably give the Sooners a huge lead which may in fact turn out to be insurmountable for everyone else.
We will be back out to see him prior to his visit, but it is very good news that he has already locked that trip in!
---
Post Visit Update | 2022 TE Trent McGaughey
– Charlie S
The Sooners hosted 2022 Tight End, Trent McGaughey, out of Pearland, TX last weekend for an unofficial visit.
The 6'3″ 220 lb athlete already holds close to two dozen offers which include offers from Florida, Auburn, and LSU.
This was his first trip to Norman and when I asked him what stood out about the trip, he said "The whole environment stood out to me the most". He added "I didn't know Oklahoma was like that when it comes to facilities".
Trent went on to tell me that the visit exceeded his expectations and one other high point for him was getting to meet Sooners TE coach Shane Beamer. McGaughey said "That was my first time meeting him in person and hes really a great guy and coach".
We talked a little about where OU would use him on the field and he said: "There's both some tight end and halfback in my game and in the film room, Coach Beamer was showing me how they use the tight ends in different ways".
While McGaughey does not yet hold an offer, he feels like the Sooners are close to offering him and he is expecting the staff to visit him this spring.
We talked a bit about the success of the tight end position in Norman and he was well aware of the track record. We also spoke about the depth chart which and the potential wealth of talent OU has at that position in general and Trent said "The depth chart doesn't concern me. I'll just play hard and everything will work itself".
He has a very busy spring visit schedule as he let me know he is heading to LSU this weekend and has plans to get to Florida, Oregon and Texas in the works.
He did not rule out a return trip to Norman for a practice, but it all depends on his schedule and how things shake out with the other trips and spring ball.
---
Update | 2021 DE Nathan Rawlins-Kibonge Visiting
– Charlie S
*** Sooners will get a visit from 2021 defensive end Nathan Rawlins-Kibonge out of Portland, Oregon for the Spring game weekend…
(Shoutout to the Twitter account '@SoonerCenter' for alerting me to this tweet btw)
*** I checked in with Nathan and he let me know it will be an official visit.
*** The 6'7″ 240 lb athlete currently holds over a dozen offers from the likes of USC, Washington, Miami and Arizona State
*** It is the Arizona State offer that came into play for Oklahoma as new OLB/DE Coach Jamar Cain was recruiting Rawlins-Kibonge while he was a member of the Sun Devil staff.
*** I asked Nathan about his relationship with Cain and he said "It's a great relationship. I love him as a coach! He keeps it real and doesn't really care about your feelings".
*** As the discussion continued, I asked Nathan if the interest in OU stems from his relationship with Cain and he confirmed it did, and he also confirmed that OU had not been in contact with him prior to Cain arriving in Norman.
*** Right now he is focused on a handful of PAC schools with OU being the outlier of the group. He said he is very high on OU and is looking forward to the visit and I asked him what the draw to OU was besides Cain and he said "I've just always liked the program".
Will have more on him down the line, but thought it was pretty interesting hearing about the impact Cain could be bringing to Norman with the way he recruits.
---
TFB Randoms | Caleb Williams
– Charlie S
Earlier this week, Annie Hanson Tweeted this out…
Obviously, what she is referring to as 'Big Plans' is the fact that the Sooners are hosting 2021 QB Caleb Williams who just happens to be OU's top priority at quarterback for the 2021 cycle and the number one quarterback in the country according to some in the industry…
We were down in DC to see Caleb last week, and K will have more on that for you in the near future, but I reached out to him to get his reaction to that social media campaign coming out of Norman.
I asked Caleb if it was a bit overwhelming, having perhaps the greatest QB developer of this generation in Lincoln Riley have his staff create that type of social media message…
Caleb said "It's pretty sweet…not overwhelming".
Got to appreciate that!
---
Quick Hitter | Latrell McCutchin & Andrew Mukuba
– CJ Vogel
I stopped by Austin LBJ HS this afternoon to meet up with two of the top defensive backs in the 2021 class, Latrell McCutchin and Andrew Mukuba.
** Coming off a visit to Norman last weekend, the Sooners are clearly gaining a lot of momentum in the recruitment. McCutchin even called the weekend an "unforgettable experience."
When asked for a top five, McCutchin left off Texas despite living in the Austin area for over a decade. He added that he camped with the Longhorns for three straight years but interest was just never fully there.
With OU being the assumed leader for McCutchin, it makes the Sooners' fight for 4-star teammate Andrew Mukuba all the more easier. After all, McCuchen said the two talk about playing together at the next level quite often.
"I would say that we're planning on playing together at the next level," McCutchin said. "I look at that guy like a brother. That's somebody that I could play with forever."
*** As for safety Andrew Mukuba, who joined McCutchin at OU last weekend, his recruitment is more open at the moment. Mukuba mentioned OU, Texas, LSU, Arizona and Arizona State as schools that are after him the hardest.
Mukuba will be back on campus for the Spring Game with Latrell McCutchin. He plans to visit LSU on March 14 and Texas for the start of their spring practice.
When I asked Mukuba if he felt the same about playing with McCutchin at the next level, he said that was the plan. Which certainly favors the Sooners.
---
Update | Weekend Visitors
– Charlie S
*** As you all know, the Sooners are set to host 2021 quarterback and OU priority target Caleb Williams (6'2″ 209) out of Washington DC this week for an extended unofficial visit but he is not the only target making his way to Norman over the course of the next few days.
*** As Super K mentioned back in late February the Sooners would be getting a visit from 2021 DL Shemar Turner (6'3″ 260) out of DeSoto, TX…
"***Also, 2021 4-star TX DL, Shemar Turner (Desoto) tells me that he plans on visiting the Sooners sometime in March. It's possible it will happen this weekend but still not sure. If not this weekend, then look for him to be up when spring ball gets going in March.
The Sooners were trending strong for Turner back in the fall but since then Texas has taken the lead. So, this upcoming visit will be an effort to stem the tide and get the Sooners back in pole position.
As we've talked about before, it's hard taking defensive linemen out of the SEC territory so when you've got a chance at this level of an athlete on the defensive line in the DFW area, you have to make it count."
It appears that this weekend is the weekend as sources tell James the Sooners are indeed expecting him to be in town.
As K said when he reported the visit, Turner's visit to Norman will give OU the opportunity to re-establish themselves in the race for his signature.
*** One other name we are hearing that OU expects to make it to Norman this weekend is 2022 athlete Gavin Sawchuk out of Littleton, CO.
The Sooners are recruiting the 5'11" 175 lb Sawchuk at running back and they offered him back in mid-January.
Sawchuk holds over a dozen offers early on in his recruitment, which includes offers from USC, Oregon, Ohio State, Michigan, and Notre Dame among others.
While much of the focus at running back in the 2022 class has been on the mutual interest between Raleek Brown (5'7″ 165) out of Mater Dei in California…one look at Sawchuk's film shows you enough to see why OU is in pursuit of the speedster.
*** Sooners 2020 cornerback signee Josh Eaton also tweeted out that he will be in Norman this weekend.
---
The Latest | McCutchin Talks OU Visit
– CJ Vogel
As I mentioned yesterday, I visited LBJ High School in northeast Austin to meet up with the top corner in Texas, Latrell McCutchin and teammate Andrew Mukuba.  Both are coming off a weekend visit to Norman that sent the Sooners storming up their top schools list, especially for McCutchin.
"It was an unforgettable experience," McCutchin said prior to an offseason workout at LBJ HS Tuesday afternoon. "I really enjoyed it."
"I enjoyed how I bonded with the coaches and stuff like that. Just building a relationship is the biggest thing now."
McCutchin decommitted from Alabama on March 1 and is now doing his due diligence of being on the market again. However, the Sooners' coaching staff is doing a great job of making him a clear priority.
"The whole defensive staff, Coach (Roy) Manning, Coach (Alex) Grinch and Coach (Lincoln) Riley," said McCutchin when asked who he was able to connect with during his time in Norman.
Defensive coordinator Alex Grinch told McCutchin he valued his ability to play anywhere in the secondary, though told him his primary goal was to have him at an outside corner spot, as expected.
"I think development is going to be the biggest thing that plays a role in my recruitment," McCutchin said. "(My decision) is going to depend on how I feel like the coaches can work with the kids they have before I get there."
For now, McCutchin said his top five would consist of OU, Alabama, Virginia Tech, Florida State and Ohio State. Though keep in mind he is adamant about being able to play with teammate Andrew Mukuba at the next level.
**** "I think OU has a pretty good shot at both of us."
He said he wants to make a decision before the start of his senior season. At this point OU has to like where they sit with McCutchin.
---
Quick Hitter | Sooners Adding Walk On Wide Receiver
– Charlie S
*** Sooners are adding some speed and experience to the wide receiver position as former Texas Longhorn receiver Davion Curtis will join the OU squad as a walk-on.
*** Curtis is listed at 6'0″ 191 lb receiver who signed with Texas out of Temple, TX in 2016. He redshirted his first year at Texas and saw limited action in 2017.
*** He didn't really seem to take to Tom Herman's staff when they came in and following the 2017 season, he left Texas and headed to Tyler JUCO for the 2018 season where he caught 21 passes for 351 yards.
*** After one year at Tyler, he transferred to McNeese State for the 2019 season where he caught 16 passes for 161 yards.
*** With the Sooners low numbers at wide receiver and the uncertain status of Trejan Bridges and Theo Howard for the beginning of the season, Curtis is a nice addition to the program.
---
TFB Randoms Notebook | Recruiting Bits
– Charlie S
Have a few little notes here I figured would be best served in a 'Randoms' post for y'all…
*** First, as we first reported yesterday, the Sooners are set to host 2022 running back Gavin Sawchuk out of Littleton Colorado.
I touched base with him as you know to confirm the visit, and during the discussion, I asked him if he had any connection to OU and what he was looking for out of OU on the trip. Gavin said "I'm just excited about the whole experience. I haven't been to Norman before, but some family friends of mine went to school there and I have heard a lot of good things".
OU has a real chance to jump into this recruitment with both feet here this weekend.
*** Touched base with 2021 Edge Landyn Watson (6'3″ 245, Hutto, TX) who recently tweeted out that he would be in Norman on April 10th.
If you recall, back in January I checked in with Watson and had this to say…
'Watson is a 6'3 230 lb edge player who would likely fit in at RUSH initially and he likely would grow into a defensive end down the line much in the same vein as Ronnie Perkins.
Watson does not yet hold an offer from Oklahoma, but he did let me know that the Sooners recently stopped by his school to check in with him (Coach Beamer was the coach who dropped in).
He is likely to make his way to Norman at some point this spring should communication continue to pick up with OU and I would not be surprised to see an offer extended if/when he makes it to Norman.
For those of you who remember Alec Bryant from the 2019 cycle, Watsons offer list currently and recruitment closely resembles his in the fact that he currently does not hold offers from the big regional schools (OU, Aggie, and Texas) but has close to 20 offers from around the country which includes offers from LSU, Notre Dame, Penn State and Washington.'
In speaking with Watson this week, once again it is clear to me that he remains eager to pull in an OU offer and I think this spring evaluation period will be monumental in regards to those aspirations. If OU pushes in the spring, things could move rather quickly.
Watson is a kid who, in my opinion, would likely not hesitate to lock down a spot if he were offered by either OU or Texas and it may come down to a scenario of who (if either) pulls the trigger first with an offer. Again, very reminiscent of the Alec Bryant recruitment and as you know, he would up at Virginia Tech as those offers never came and LSU dropped him right before signing day. I still believe he is OU/Texas caliber and his is a recruitment I will continue to keep an eye on.
*** Next, I checked in with 2021 linebacker Trenilyas Tatum (6'2″ 208) out of Jonesboro, GA, who unofficially visited Norman earlier this year for a junior day.
Following that visit back in January, I wrote…
'This weekend was a success for OU in regards to doing what they needed to do with an elite recruit out of SEC territory. Sooners linebacker coach Brian Odom and the staff did well in getting him to take a visit on his own. Now it looks like they did a great job with the unofficial and are likely to be rewarded with another opportunity to host Tatum for an official visit.'
While speaking with him this week, Tatum tells me he is still working on finalizing plans to get back up to Norman for the Spring Game. I asked him whether it would be an official visit or an unofficial visit and he is working on that as well.
Any visit is a good visit, however, if he takes another unofficial to Norman…that would say a lot.
*** Finally, last night the Sooners extended an offer to 2021 defensive back Kamari Lassiter (5'11" 165) out of Tuscaloosa, AL…
Lassiter holds more than a dozen offers which includes offers from both the power programs in his state including the hometown Crimson Tide.
So…typically you would think of this offer as a courtesy offer…but why would you make a courtesy offer for a kid who is not super highly rated? (by a courtesy offer I mean a program just throws out an offer to kind of say 'yeah we see you kid and you are, in fact, really good' while knowing nothing generally comes of it).
I touched base with Kamari and his mother, and somewhat to my surprise, they seem generally interested in taking a visit to Norman.
Lassiter tells me he and his mom are working on plans to finalize a visit for later this month or sometime in April.
We will have further communication with the Lassiters, but I did find it interesting that the wheels are in motion for a potential visit at this point.
Gonna have to dig with our Bama sources to see where things stand as one would assume, should Bama be truly in pursuit of him, that it would be an uphill battle to say the least for OU.
However, you never know what is going on with a kids situation until you dig a little deeper, which is what we plan on doing.
---
For multiple daily posts, Insider Notes, Our TFB 'Pick Em' Contest, More Sourced Practice Notes, member chats with TFB staff, James Hale's Notebooks, TFB Sessions (5-minute audio talks) and much more, please check the Donor Board!