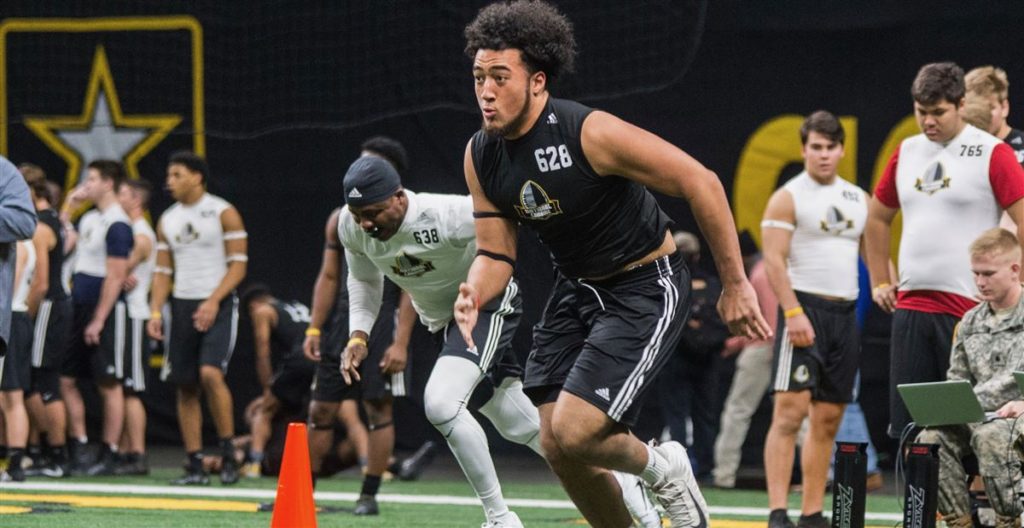 Open Post | Weekend, March 23rd – 25th
Posted on: March 23, 2018
Image via 247
– Stacey Wilkins: We have covered 2019 Camden (Fairview HS) Arkansas offensive lineman, Stacey Wilkins, pretty extensively. As such, there isn't much we, and you all, didn't know about the star Arkansas preps offensive lineman.
Recently, I spoke with Wilkins and he informed me that his head coach, Jeremiah Monden, is originally from Oklahoma. I quickly called Coach Monden to find out where he grew up and was told Noble (OK), just outside of Norman, was his hometown. Monden has visited OU, among other schools, with Wilkins.
When I spoke with Monden, he admitted to growing up an Oklahoma football fan, but that he also was an "oddity" as he is an Oklahoma State wrestling fan, as well. I asked Coach what he though about Wilkins' recruitment. He said, "Stacey has an idea of the 2 or 3 schools he really likes (naming top schools soon). He also knows what he is looking for in a school and offensive line production." Interestingly enough, when I spoke with Wilkins, he said he would be visiting OU for their spring game on April 14th.
The spring game will be Wilkins' second visit to OU and it will be another unofficial visit. Wilkins will come up with his head coach and the rest of the Camden Fairview staff and they will get the opportunity to sit through some team meetings, learn some offensive schemes, etc. This is huge as Wilkins also has plans to take an official visit to OU at some point.
My Take: The connection with his coach has paid off for OU. The more the star OL visits Norman, the better. Oklahoma looks to make a bigger jump in their recruitment when most already feel they have a slight lead, or are right there, with Arkansas. Wilkins also said he will take an official to Texas as well. With connections to Arkansas and Ole Miss in his family, along with Oklahoma, I'd expect those three to be big contenders for him. Texas is the other school which I feel OU is competing with, so as we draw closer to the start of football season, we should see things begin to really narrow down for Wilkins. – (Brandon)
---
– Marcus Stripling: The Sooners have been working on 2019 Mayde Creek (HS) defensive lineman Marcus Stripling for quite some time. Stripling continues to blow up on the recruiting scene and has several schools that he is very interested in.
I spoke with Stripling recently and he said he plans on visiting OU, Texas, Texas A&M, Ohio State, Alabama, and Georgia in the near future. Stripling actually had an official visit lined up to OU for the spring game, but had to cancel it. That said, Stripling says he will "definitely be taking an official to OU during the season." Stripling has a solid relationship with the OU staff and that could play a huge role.
A source on the OU side tells me that Stripling continues to tell them he has them high up on his list, but there is also some reservation on their part as he has yet to make a return visit to OU, and has canceled on a couple of occasions. With that in mind, Oklahoma has started to really pursue other players and has since landed Kori Roberson, who also hails from Houston area.
My Take: Stripling says he spends nearly every weekend in College Station. He also said he plans on visiting Texas this weekend. Oklahoma, being six to seven hours away, has been a difficult trip for him to make. This reminds me a lot of Leon O' Neal, where he continually visited A&M because of the ease with which he could make the trip.
If I were a betting man, I would say that OU has a shot here, but with Stripling around the A&M program so much, it will be really hard to beat out the Aggies. That said, if he does actually take an official to OU, it could be a game changer and make it really hard for him and his decision. As we have told you, he was silently committed to OU at one time.
Patience is going to be a virtue with Stripling. Will OU have enough patience to wait it out with him is the real question. – (Brandon)
---
– Earlier this week, 2019 DE Justin Eboigbe, Forest Park, Georgia, tweeted out his top 10 list
Top 10 pic.twitter.com/UPPMb79xed

— Justin Eboigbe (@JustinEboigbe) March 21, 2018
I was able to get in touch with him to find out a bit more about his recruitment.
Justin is being recruited by Coach Thibodeaux as a Defensive End. He is 6'5″ and 261 lbs. He told me "I talk to the DL coach (Thibbs) pretty often. He tells me what he sees me doing in their system and wants me to come up for a visit." When I asked about the possibility of him visiting, he said "I'm going to try to get out there this spring, maybe summer".
He went on to say that his next visit, whenever it occurs, will be to Florida. I asked if Florida would be considered one of his leaders and he said they are.
While his top 10 list is peppered with the usual suspects who are typically in on elite players, should a visit to Norman take place, there is some history with OU going into SEC country of late and pulling out a few gems. I plan on catching up with Justin down the road to see how the visit plans are moving along. – (Charlie)
---
– Just a quick note here: We previously reported that elite 2019 John Bosco HS ( CA) DB, Chris Steele, was set to visit OU officially for the Sooners spring game in April.
I spoke with Steele and he stated that not only was he visiting OU, but his teammate, 2019 DT Suaava Poti, was taking an official visit to Oklahoma with him. We had written about Poti several months ago, but him taking an official was somewhat thought of as a long shot. It no longer seems that way.
We are actively reaching out to Poti to get a more in-depth update. Hopefully, will have a full write-up later this week. Either way, this is very good news for Oklahoma.
As far as Steele goes? Well, an interesting note that I got was that Texas was "probably not" going to get an official visit from Steele. He named OU, Louisville (April 6th), FSU, Miami, and Penn State as schools that he will likely take officials to later on this spring.
He plans on having a decision by September 27th, but will not announce publicly until the Under Armor All American Game in January. – (Brandon)
---
– Caedan Wallace: We haven't heard a lot about 2019 Princeton (NJ) offensive lineman, Caedan Wallace, when it comes to Sooners offensive line recruiting. That's not to say he isn't a major target. Wallace holds offers from Michigan, Tennessee, Auburn, and Clemson, to name a few. He is widely considered one of the top interior lineman in the nation for the 2019 class.
I caught up with Wallace and there seems to be a lot of things that could go the Sooners way here. For one, he isn't originally from New Jersey. Wallace tells me that he moved to NJ after living right outside of Atlanta. New Jersey is getting hammered with a ton of snow at the moment, and that led Wallace to say, "I gotta escape this weather. It's six months of 30 degree temperatures here."
The weather isn't the only factor in play for the star offensive lineman. Wallace, as noted above, grew up outside of Atlanta, so he is "a fan of living near a major city while in college." The fact that Norman is so close to one of the top 25 most populated cities in America is not lost on Wallace. He noted that OU has talked to him about the closeness of Norman to OKC.
All of those positives have led Wallace to schedule an official visit to Oklahoma for the Sooners spring game. Wallace says that his relationship with OU offensive line coach, Bill Bedenbaugh, is a "strong one" because they talk "every day." Wallace went on about his interest in OU and his relationship with Bedenbaugh, "Oklahoma is a great school with a great football program and Coach B continues to coach and put out really good offensive lineman."  Wallace noted that he speaks with Lincoln Riley on a weekly basis as well. Riley visited Wallace back in January and OU has since been one of Wallace' top schools.
Oklahoma Official in April?️ #BoomerSooner

— special cäe #73?☠️ (@caedanw) March 20, 2018
With Oklahoma getting an official, I asked which other schools he had plans to visit. So far, Wallace has three officials lined up, with Oklahoma being one on April 13-15. LSU and Penn State will close out the month of April for him. Wallace stated that he has no timetable on a decision. That could very easily mean that he will wait and schedule two more officials, or he could be playing it by ear and see how he feels after each visit. – (Brandon)
---
– I recently had the opportunity to catch up with the Sooners 2019 TE commit, Austin Stogner, Plano, Texas (Prestonwood Christian).
Initially, I wanted to get Austin's reaction to being chosen to participate at "The Opening Finals" after his dominant display at the Houston Regional. However, prior to getting into discussing "The Opening", the easygoing young man shared some pretty cool information about his family, football history, and goals.
Dream come true… #GOTOPEN ✅ pic.twitter.com/WTQjrwwFl2

— Austin Stogner (@austin_stogner) February 27, 2018
Austin comes from a football family. His father Brad, and his two uncles all played collegiate football at Baylor. As a matter of fact, his father was a Tight End for the Bears. With that history with Baylor, I asked Austin if he ever felt a push to give Baylor a serious look as a potential college destination. Stogner told me "No sir, my parents supported my decision."
We talked about his athletic history while growing up. Austin played basketball up until a couple of years ago, and has been playing football since second grade. As we were talking about his youth career, he told me he played running back when he was younger. Austin also was proud to inform me that "We beat Theo Wease' team for the championship in the sixth grade."
When I brought up his connection to OU, and how the Sooners let him know they were interested in him, Austin said "Coach Gundy asked me to call him one day. While we were talking he told me that they would like me to come up for a visit. Two weeks later, we head up there and that's when the offer happened. Coach Gundy and Coach Riley brought me into the office and offered me a scholarship."
Prior to heading to "The Opening" in July, Stogner will be taking his official to OU. He will use his official for the Spring Game weekend. I asked him about the timing of the official and he said "I wanted to take it in the spring since the fall is so crazy with my schools games. It just seemed like a better time to take my official". I was also able to confirm that Austin will be enrolling early, and plans to be on campus next January.
In regards to being selected to participate at "The Opening Finals", which will be held at "The Star" in Frisco (very close to his home), Austin seemed very humbled and gracious. He stated "Being chosen to go there, it is like a dream come true. I used to sit at home in the summer and watch those guys on TV with the Elite 11 and 7-on-7 games. Really, like a dream come true".
The most impressive part of my conversation with Austin came as we were wrapping up. I asked him what his goals for his senior high school season were. He was very quick to answer, saying, "I want to win another state championship. We are really hoping to repeat this year." That in itself is a very mature response. However, what really impressed me was when I asked him about his personal goals. He, again, was quick to answer, saying "I just want to play the best ball I can to help my team win. I don't want to put any numbers on it or anything, I just want to help my team reach our goals."
I can't help but believe that having a 6'6" Tight End, with a team-first mentality, will only help the Sooners reach their own goals. Sooner fans should be very happy with the player, and the person. – (Charlie)