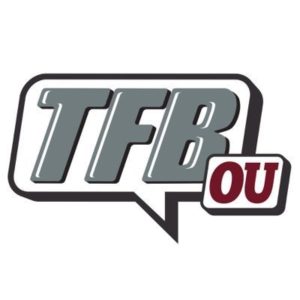 Open Post | Weekend, March 1st – 3rd
Posted on: March 1, 2019
Notebook | 2020 OL Turner Corcoran
– Charlie S
The Sooners hosted 2020 Offensive Lineman Turner Corcoran out of Lawrence, Kansas, for another unofficial visit this past weekend for their junior day.
If you aren't familiar with Corcoran yet, you haven't been following 2020 recruiting very closely as this was his and his families third unofficial visit to Norman in the past seven months. While each trip has been a success, they have each been different and unique.
The initial visit was for the Champ U BBQ. As you know, the Sooners invite a very select group to the BBQ and Turner was among the underclassmen invited to attend. The family made the drive out for the weekend and came away very impressed. Aside from having the opportunity to meet Coach B and Coach Riley on that visit, one of the highlights was when Turner's squad won the hotly contested scavenger hunt trophy, which he still relishes to this day. Shortly after the visit, Turner put out his list of top schools which at the time included OU, Ohio State, Notre Dame, Nebraska, Kansas, Kansas State, and Oklahoma State.
The next trip to Norman was in September for the Army game. Visiting on a weekend for a game was obviously the focal point of that visit. And while Turner and the family really enjoyed the atmosphere of the game and spending more time with the coaching staff, another meeting left a lasting impression on Turner as he bumped into former Sooners QB and Heisman Trophy winner, Baker Mayfield…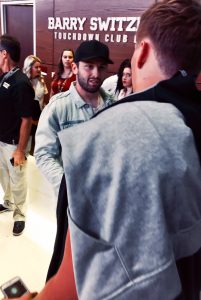 In regards to that meeting, Turner said: "Here is a guy, who had Orlando Brown blocking for him at OU…calling ME a 'Big man'…it was kind of surreal".
The visit for the Army game further solidified the Corcoran's feelings about the Sooners and they were already making plans as to when they would get back to Norman. They were hoping to make it to another game later in the season, but Turner's High School team went deep into the playoffs and he was injured as well (meniscus which he has fully recovered from and is currently participating in basketball) which made scheduling a visit nearly impossible. So the visit would have to wait until the spring.
That brings us to last weekend when the family got in the car and headed south on I35 for the four-hour drive from Lawrence to Norman. The Corcoran's actually took a different approach this time as they stopped in Guthrie and spent the night both on the way in to town, and on the way back. Seems like they are testing out their preferred method of travel to Norman, no?
As for the visit this weekend, when I asked Turner what stood out this go-round, he said "It was great, as they always are. We went to the basketball game and while at the game I sat and talked to Kyler Murray and Orlando Brown which was really cool as I really look up to Orlando and the things he has accomplished already."
When I asked him what else stood out, Turner told me "I also got to watch some film and talk scheme with B which is such a great opportunity. And as always, spending time with Coach Riley is great. They are always so welcoming, you feel like you are part of the family whenever you are there".
I was interested in the time he spent with Orlando Brown. I asked him to share what they spoke about and Turner said "Spending time with Orlando was huge. We talked about life in general, what's going on in my life and what he's doing in the offseason. We spoke about his college recruitment and how he was committed to Tennessee and was a late add to the Sooners class. He was so grateful for the way things turned out and that was clear to me. We also spoke about how the transition to the NFL from college in Oklahoma was easier for him than the transition from High School to college because of how well prepared he was by the staff in Norman."
As for the message from Coach Bedenbaugh, it was pretty clear. "Coach B is always straight up. He was talking about the depth chart at OU and how it sets up perfectly for me to come in and succeed. He also spent a lot of time talking about life after the NFL if I was fortunate to make it that far and how OU would prepare me for that. He also spoke a lot about Creed Humphrey and how much of a leader he has become at such a young age. I didn't really get to spend time with Creed because he had some obligations at the hospital, but I did get his number and plan on connecting with him when I get back to Norman in the spring."
Recruitment
Yep, you heard that right "When I get back to Norman in the spring". Turner wasn't speaking of the spring game, the plan is for the family to get back to Norman sometime in March or April to catch a practice or two. Unofficial number four.
While it is obvious that the Sooners are still very much in the hunt, and possibly out front, for his commitment, Turner has also visited other schools multiple times. He has a busy spring schedule planned with spring practices at Neb, KU, and KSU. He will also be attending the Ohio State Spring Game which falls on the same date as OU's spring game, unfortunately.
As for a Decision timeline? Turner told me he would like to commit in the summer. He is not positive that he will do it then and may wind up going to midseason but he is not expecting to be pulling a hat on signing. Each of his visits set to this point in the spring are unofficial and he is not sure when, or even how many, official visits will take place.
Mom's Take:
Turner's mom, Shannon, was gracious with her time and shared her reflection on yet another journey to Norman,
I asked her about the difference in the visits, she said "There was nothing very different with this visit but what is always so impressive is that they're so well organized. It's all so well thought out, even considering the weather – how it will effect getting from point A to B & how to do it the best way possible for their recruit families. I do think this is a huge part of what makes each visit so great – they've fine-tuned their process to such detail that it's nearly impossible to find room for improvement."
When we started talking about the staff, Shannon said "The staff communicates so well among themselves and with the recruits and their families. We always know what's going on and what's happening next. The staff is impressive – very friendly, well spoken and professional. They always address recruits and family by name and are able to recall prior visit conversations & details. I know they meet a lot of people but they must love what they do to make it look so easy!"
As for how she views what OU could do for her son, she said "There are so many things in place academically – you would literally have to not try, or try to fail, in order to not be successful! Coaches are aware of the player's weekly academic expectations (tests, deadlines, etc). The strength coach called player names after Saturday's workout to hold them accountable for missed or tardy classes, missed meals and treatments, etc.. Then they had a short "family meeting" to discuss their situation (we weren't privy to that meeting – it appeared to be 'supportive peer pressure to do better' because even those not called out participated in the meeting but that is purely my interpretation."
As Turner mentioned, there was an increased focus on life after football. Shannon said, "There are networking opportunities – internships, mission trips, etc. These situations set students up for future success through professional contacts and personal enrichment. One day, the guys will play their last game – as a parent, I pray my son will take advantage of every opportunity offered. He knows there are no guarantees, but he will always have his education and experiences to make him the man he will eventually become to set him up to move forward in life. OU would certainly set him up for future success".
I always am interested in what the Sooners do better than other schools when it comes to visits. Shannon replied by saying, "The biggest "Pro-OU" factor? I can't say any just one thing, it's the "whole ball of wax". The people, academics and support system, and the Football program stands for itself with proven success on the field. Proximity is a hidden gem though for me though too. I would love to be able to go to every game & visit whenever his schedule allows."
My Take:
In talking with Turner, I get a sense that those schools mentioned above are his final five. OU, Ohio State, Nebraska, KU, and KSU and it is my feeling that the order I wrote them in is where they stand in regards to their chances of landing the talented offensive lineman.
Turner does have connections to Nebraska as his basketball coach is a big supporter of the school and his mom, Shannon, was a volleyball player at Kansas. However, I would keep an eye on the Ohio State visit for the Spring Game as the largest obstacle in the Sooners way.
One last thing. Turner was still on campus when Lincoln Riley flashed the eyes on Twitter signifying an OU commitment (Mikey Henderson). I asked him if he noticed any change in the staff when the eyes went out and he said "Charlie, first off I can tell you it wasn't me! But the staff didn't change at all, they really can't as they are always juiced. The staff is full of smiles and intensity at all times so when Coach Riley flashed the eyes, there was no real indication of anything different."
The Sooners are in a very good position here and there is some work left to do, but they are certainly hitting all the right notes with Turner and his family.
---
Quick-Hitters | Weekend Visitor & Willie Tyler
– Super K
***2020 LB and Sooners offer, Josh White (Cy Creek) re-confirmed that he will visit Oklahoma this upcoming weekend. It was a little strange to us because we are under the impression that most of the staff will be out of town. But all we can go on right now is what Josh tells us.
With Texas having offered tonight look for Sooners stiffest competition to come from OSU, Baylor, Texas and LSU.
***I checked in with 2019 OT, Willie Tyler (Iowa Western). By way of reminder, he's the JUCO offensive tackle that was expected to graduate next December but was able to take enough course work to finish this May and enroll in the summer.
Coach Bedenbaugh has been in touch with the big man and he says he spoke with Bedenbaugh and, "the visit is pretty set in stone".
If the official visit materializes it will be for March 8th. I would imagine that the reason the visit hasn't been fully locked in is due to the fact that OU feels like they can get grad transfer, RJ Proctor.
As Charlie mentioned earlier today, Proctor is scheduled to be in town on March 8th, as well. So OU may be looking to try and push Tyler back.
---
Catching Up With DJ Graham
– Charlie S
*** Just a quick couple notes as I caught up with 2020 Sooners commit Davon Graham earlier this week. Graham committed to the Sooners back on February 5th and while his commitment was big for OU, he kind of got lost in the shuffle with the transfer portal madness, new coaches on the road, and the second signing day.
*** I asked DJ how he was feeling now that the rush from his commitment has worn off and he has settled into the life of being committed. DJ said "The weight is definitely off my shoulders! Man what a relief", he added, "My mind is clear!"
*** I asked him if he was working to build the class and do some recruiting and he said he has indeed. DJ said he was working on two guys he is close with, in particular, 2020 DBs Jalen Kimber and RJ Mickens (Mickens does hold an OU offer and there is some interest on the OU side as I mentioned previously).
*** As for Davon? He is ready to get back up to Norman and will be up this spring. He is not sure as to when he will take his official but he is deciding between the spring game and a few different games during the season.
---
Updates | Insider Note + Brady Ward & Brynden Walker
– Super K
***Wednesday evening I spoke with recent visitor, 2020 offensive lineman, Brady Ward (Mobile, AL).
I'll have a full write up on him but a couple of highlights from our conversation.
– It was clear that one of the big draws to Oklahoma is the fact that OU has not only developed great offensive linemen but in particular, the Sooners specialize in developing big offensive linemen – a la Orlando Brown. And, Brady Ward is a big man.
– Ward has upcoming visits to Clemson and Alabama. He holds an offer from Clemson but not from Alabama.
– His father played at LSU and he has obviously visited LSU many times. Something that stood out to me though was Brady said he will attend LSU's camp this summer. So, it sounds like LSU still wants to see him in camp.
– Ward says he will likely be back to OU for an official this spring.
Again, I'll go through my recording and type up my full update later but that should be enough to chew on for now.
***An in-state guy to keep an eye on is 2020 DE/OLB/TE, Brynden Walker (Bishop McGuinness).
Walker picked up a Texas offer today. I spoke to him and he mentioned that OU has been in touch with him the past couple days. He said coach Thibs reached out earlier this week.
Walker also said he attended a number of OU games this past season and had some communication with OU but it sounds like it's really just started this week.
He's around 6'2 240 lb athlete and the son of a former NFL and LSU DB.
If the Sooners pursue him further then we'll bring you more.
If you would like to read Super K' 'Insider Note' please check the Donor Board.
---
2020 CB Josh Eaton | Update
– Super K
I spoke with 2020 CB and Sooners offer, Josh Eaton (MacArthur HS, Houston), recently.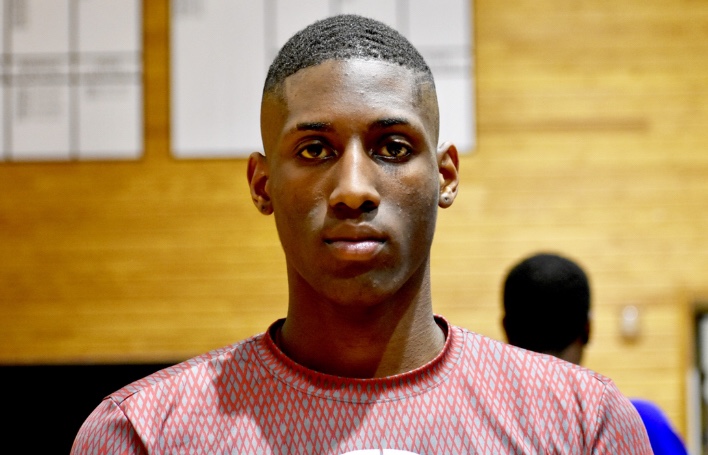 Eaton is one of my personal favorites in this class. He's a sprinter, he plays multiple positions on the field at a high level, he plays multiple sports at a high level, he's got good size and even better length, plenty of bounce, good bend and COD, and he's a high character kid.
I'm not quite done with my evaluation on him yet. Still waiting to see him cover live. But the essential tools are there.
***Eaton has taken recent visits to Texas, LSU and is on a visit to Texas A&M today.
***Eaton grew up a bit of an LSU fan. His family on his mother's side is from Louisiana. That LSU visit really stood out to him he said, "I had a lot of one on one time with coach Raymond and he broke down everything, every coverage, every defense".
***He's taken back to back Texas visits and said, "Honestly, Texas is a good place. They made me feel like I was home". He also spoke highly of Texas DB coach, Jason Washington, "He's awesome. He's real and funny. I did a film session with him, too, and I was able to learn things sitting with him that I can take with me".
***Eaton's initial plan was to visit Oklahoma last weekend but he ended up going back to Texas with his 7v7 club. But he told me, "With OU I want to get up there in the spring to have a one on one visit and go with my family. I've got an uncle that lives up there so we always have a place to stay".
***Yes, that's right, Eaton's uncle lives in OKC.
***Eaton has been in regular communication with the OU staff and Eaton has assured them he will make it up on a visit. I think having Eaton on campus with his family is going to pay dividends for OU.
***Josh says he is not in a hurry to make a decision. He wants to take unofficial visits this spring then do official visits in the fall.