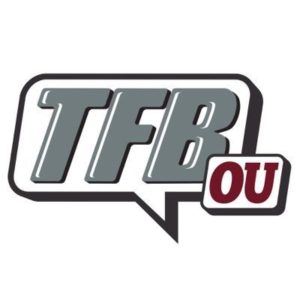 Open Post | Weekend, March 13th – 15th
Posted on: March 13, 2020
Post Visit Update | 2022 RB Gavin Sawchuk
– Charlie S
Caught up with Sooners 2022 running back offer Gavin Sawchuk (5'11" 175, Littleton, CO) who unofficially visited Norman last weekend from March 6th to 8th.
Sawchuk made his first visit to Norman with his family in tow (his father is Kevin who wrote the tweet) and they were not disappointed at all.
Following the trip, Gavin let me know "The visit was really good. I enjoyed my time out there".
When I asked him if there was anything about the trip that surprised him or stood out to him, he said, "One thing that stood out was that while I always knew Oklahoma was an amazing program, I was able to see the numbers behind their program and that was really impressive."
He added "Another thing that stood out was just being able to meet the coaches and talk to them. I really enjoyed hanging out with them."
When I asked about Sooners new running back coach DeMarco Murray, he said "He was really cool and very humble. When I would ask about his career, he would share it, but it wasn't something that he just put out there on the spot".
While it is very early in the recruiting process for him, it sounds like the Sooners made a lasting impression and they have a chance to be a real factor in his recruitment going forward. Sawchuk said, "I was really impressed with everything they had to offer, so I definitely consider them in the running."
Signing day for the 2022 class is a long way off, but the initial feedback from Sawchuk suggests that the Sooners, led by DeMarco Murray, will have additional opportunities to impress Gavin and his family down the line.
He will be one to keep an eye on along with Raleek Brown for the running back spot in that class.
---
Fast Five | First Spring Practice | Sourced Notes
– Super K
***As you know, the Sooners began spring ball, yesterday. Never a ton of stuff to take away from the first day or two as the Sooners aren't yet in pads. But, did hear a few things worth passing on.
***New comers on defense, first name we heard was Perrion Winfrey. Sounds like he is beginning spring ball as the 1st team NG. Obviously, where guys start out during the spring doesn't mean that is where they will remain. But again, as of now, looks like Perrion is getting the first shot at replacing Gallimore.
***New comer name I heard on offense was Marvin Mims. Source noted, "Mims is damn fast. His speed translates and he 'gets it', it seems".
***Was told Tre Brown didn't practice, yesterday. Doesn't sound like it's injury related and doesn't sound like it's anything long term. I expect him to be back at practice, soon.
***When Brown returns, something to keep an eye on his Norwood and Brown potentially starting on the outside with Davis finding a spot to start inside. This possibility will probably be looked at for both Norwood and Davis. They're both guys the staff trusts outside but can also compete right away for an inside DB spot. My guess though, is Jaden will play that cross trainer roll in order to help Norwood's draft stock.
***In his place Davis and Norwood were your starters. Don't know yet how much Norwood is able to do right now.
To read the rest of this article, please check the Donor Board
---
Quick Hitter | Bryce Foster Post Visit Update
– Charlie S
Checked in with Sooners 2021 offensive line target Bryce Foster (6'4.5″) out of Katy, TX who made his way to Norman earlier this week to catch the Sooners opening Spring Practice
*** When I asked him what he took away from the last-minute trip, he told me "I loved the intensity of it. It really showed me that they have something they want to prove to the world".
*** He added "I got to meet Cody Ford and Orlando Brown also. I thought that was cool to be able to speak with them a little bit and put college and NFL in perspective."
*** The fact that Ford and Brown were on campus, and their connection to Coach Bedenbaugh, was not lost on Foster either. He said "It makes an impression on me. It shows how they still feel comfortable and how much they enjoyed playing for him and how it was a positive experience for them.
Sooners are certainly doing everything they can do in this recruitment and as I mentioned yesterday, it feels as though it is starting to pay off by giving them a legitimate shot at a coveted recruit who many (including myself) felt it would be a forgone conclusion that he would be heading Texas A&M where he is a legacy.
To be clear, there is still a long way to go here, but OU is pushing all the right buttons right now with Foster.
---
Back From DC With Some Good News
– Super K
As you all know, I was in the DMV area couple of weeks ago. I took a quick trip over to Europe (personal) and then returned to the DMV area this week to see more players.
I had seen Caleb Williams a couple of weeks ago – during my initial time there.
I'm now back in TX but on my return time in DC, I heard some encouraging news regarding Williams that was floating around.
I'll just say that I feel very good about this one for the Sooners. I know some of you were hoping for some Lincoln Riley eyes last weekend but the lack of the emoji doesn't mean much in this case. We respect that Williams is going through his own process. So, I'll leave it at that.
---
Big 12 Announcement | Boarding Up The Windows for Now
– Charlie S
…and OU made it Official…which was already known through the Big 12 notice, but…
On the Spring game, Sooner AD Joe Castiglione says 'OU spring game cancellation remains a possibility. The game's date could also be moved back.