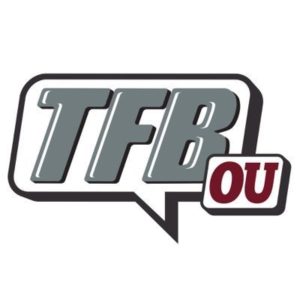 Open Post | Weekend, March 10th – 12th
Posted on: March 10, 2023
Recruiting Updates | Tuesday, March 7th
– Super K – Posted on: March 7, 2023
***First, as Charlie mentioned, source on the TCU side tells me that they feel like the Sooners offering Michael Hawkins' younger brother took TCU out of the top spot.
I did follow up with said source last night to find out if they plan on offering the younger brother.
Was told, "Right now, I don't know. We are kind of waiting that out."
I had previously been told that Sonny doesn't like to "negotiate" so there is a chance TCU will just move on. Most Sooner fans are accustomed to that, as well. IMO, Bob and Lincoln were not the types to offer one player to get another.
***As you know, the Sooners hosted 5-star CB, Kobe Black (Waco Connally) this past weekend.
I should have a better sense of how things went later today.
But what I did want to mention is that going into the visit, I'm told the Sooners had a lot of ground to make up.
Sounds like schools like LSU, TAMU, Ohio State and a few others have his attention. Source I spoke with said going into this visit OU was sitting outside Black's unofficial top six.
So, should find out if they made a big move or not.
***A player to keep an eye on though is 4-star DB, Corian Gipson out of Lancaster.
I believe Gipson hit a 10.7 100 recently and some folks in Texas believe he is the most athletic of the big time DBs in Texas, this cycle.
I was told he has some major interest in the Sooners. Alabama is probably the team the Sooners will be fighting for in this one.
---
'24 LB Drew Woodaz Post Visit | Update
– Charlie S – Posted on: March 7, 2023
The Sooners played host to '24 LB target Drew Woodaz (6'3 200) out of Tampa, FL (Jesuit) last weekend. It was the second trip for Woodaz to Norman as he visited last November.
Woodaz is a guy that Sooners head coach Brent Venables is very familiar with. In fact, the entire Woodaz family is well versed on Venables as his brother, Wade, was recruited and signed by Clemson during Venables' last cycle with the Tigers.
Following his most recent visit, Drew mentioned that the love and fan support is something that has stood out to him each time he has visited Norman.
One interesting note that I picked up from him was in regard to a coach that stood out. That coach would be Sooners GA James Skalski. Skalski was a standout linebacker at Clemson under Brent Venables during his six-year playing career. Woodaz said "His knowledge about the game is ridiculous and we really bonded together for our first time meeting in person".
Woodaz seems to be a personal target for Brent Venables and that is not lost on the player and the family.
This one is going to come down to a battle between Clemson and OU and Woodaz will be back in Norman as he told me he will 'definitely' be taking an official visit.
Film:
---
Sooners Offer '24 LB Khmori House | Planning to Visit
– Charlie S – Posted on: March 7, 2023
Last night the Sooners extended an offer to '24 linebacker Khmori House (6'2 205) out of Bellflower, CA (St John Bosco).
I caught up with House this morning and he was quick to let me know he was in the process of setting up a visit. House said "I plan on getting out there during the spring, I just don't have the exact date yet".
Interestingly, House has a connection to OU as he went on to say "I have a friend, Ashton Sanders that committed to OU. We grew up in the same city".
I mentioned that Sanders was getting some strong early reviews about his work ethic and ability.
He added, "Ashton's a dawg! If it's up to me, I'll be down there to see him whenever, just have to wait on a good time but I can't wait to check things out".
He is obviously excited about the offer and he spoke highly of Coach Roof. House told me he has not yet spoken with Venables, but that should change soon and he is looking forward to that.
---
Quick Hitter | Recruitment Over for 2024 LB Davhon Keys
– CJ Vogel – Posted on: March 7, 2023
2024 Aledo linebacker Davhon Keys has announced his recruitment has come to a close.
Following a weekend trip to LSU, it is my understanding that is the likely destination for the talented Aledo prospect.
Oklahoma was in the thick of this recruitment for a good while, but had softened their approach since the beginning of the 2023 calendar year. I am of the belief the defensive staff opted to look elsewhere at the linebacker position for the 2024 class.
Look for Ty'Anthony Smith, Payton Pierce and Justin Williams to remain atop of the Sooners big board at the position from the state of Texas.
---
TFB Randoms | KJ Daniels & Shon Stephens
– Charlie S – Posted on: March 8, 2023
Couple random notes I wanted to get out for you all on this fine Wednesday afternoon…
***Sooners wide receiver coach Emmett Jones has become quite active and quite cryptic out on Twitter…as an example…
Now, many of you have asked if this is about a commitment and, in particular a commitment from last weekend's wide receiver visitor, KJ Daniels.
What I can tell you is Super K checked with a source last night and was told Daniels has not committed to anyone at this time.
Following K talking with his source, I reached out to Daniels and asked him to clarify his timeline for me and he replied by saying "Maybe signing day or sometime in the fall, I'm not sure".
This does not mean that OU is not in a good spot for the speedy receiver and I expect him to take an official to OU, but according to a source and him, he is not committed at this time.
***In responding to some continuing questions about potential transfer portal target CB Shon Stephens (West Liberty) as I mentioned in the comment section of a couple of posts yesterday as well as late last week, there really is nothing there to talk about at this time.
Stephens told me again yesterday, and reiterated it this morning, that he has not spoken to anyone at OU aside from his former teammate, Justin Harrington.
This morning, James spoke to a source at OU who also indicated that OU is not currently actively pursuing him.
Does he have interest in OU? Absolutely, he told me he would love to play for the Sooners. But to this point, the only connection between him and OU is a follow from Brent Venables on Twitter and his former teammate telling him he should come play at OU.
Again, if something changes, I will update you all, but for right now, this one is on the back burner at the very best.
---
Quick Hitter | Tovani Mizell
– Charlie S – Posted on: March 8, 2023
***Sooners '24 RB target Tovani Mizell has announced his decommitment from the University of Georgia.
Mizell is fresh off a visit to Norman for last weekend's Junior Day which he really enjoyed and following his visit I caught up with him and reported the following HERE.
'He went on to tell me that Coach Murray and Coach Lebby also stood out and he noted that the trio of coaches kept instilling in him that he was a top priority for Oklahoma.
Bottom line…sounds like the defending national champions have a legit threat on their hands in this recruitment and the Sooners are squarely in this thing. Depending on how the dominoes fall at running back, I would not count out the Sooners in this one unless a couple guys jump in rather quickly.
DeMarco Murray has a lot of great options right now and before too long, there will be some urgency for some of these guys to jump on board if they want to be Sooners.'
OU is in a very good here at this time, and again, it will likely come down to who pulls the trigger first for the Sooners at running back.
---
Recruiting Updates | Defensive Line | March 9th
– Super K – Posted on: March 9, 2023
***Sooners recently offered 2024 DL, Caleb Mitchel Irving out of Dallas (Parish Episcopal).
Irving didn't make it up to Norman this past weekend but tells me he is trying to make it for the spring game.
***Also, Sooners offered 2024 DL, Artavius Jones (Blountstown, FL). I think this one is worth noting in particular because it continues to demonstrate a trend – namely that coach Bates has changed his strategy.
Last year, I was critical that when it came to DL recruiting, Bates didn't cast a wide enough net. I know some of you felt the same.
Bates and the Sooners felt they were in a good spot for one or two highly coveted prospects and when those didn't come through they were caught a bit flat footed.
Well, credit where credit is due, Bates has absolutely responded. This cycle, they are casting an extremely wide net. Very reassuring given how in the past when it came to DL recruiting sometimes it just felt like the Sooners kept doing the same thing over and over and getting the same result – one ore two late JUCO signees.
***It's especially noteworthy because in this cycle the Sooners actually have location advantages for multiple top defensive linemen in the class – Williams Nwaneri (Lees Summit, MO), David Stone (in-state), Nigel Smith II (Melissa, TX), Xadavien Sims (Durant).
With Nwaneri the Sooners have his former teammate and the head coach at Lees Summit is an OU guy.
So, it would be easy for the Sooners to sit back a bit and count their chips. So, again, impressive that they are being very aggressive on the DL recruiting front.
I know in speaking to a source that they know they need to improve significantly on last year's DL class. Having said that, they do seem happy with with way Leblanc and Ashton have looked early on.
---
Big Board | 24K Running Back
– Charlie S – Posted on: March 9, 2023
Time to start rolling out the class of '24 Big Boards.
We will start with the runningback board.
The Sooners have extended 10 offers at this point at running back in the '24 class:
---
Anthony Carrie – Carrollwood Day (Tampa, FL) – 6'0 185
Caden Durham – Duncanville (Duncanville, TX) – 5'9 180
Stacy Gage – St. Thomas Aquinas (Fort Lauderdale, FL) – 5'11 200
Jordan Lyle – St. Thomas Aquinas (Fort Lauderdale, FL) – 6'0 180
Tovani Mizell – DeMatha Catholic (Hyattsville, MD) 6'0 195
Nate Palmer – Decatur (Decatur, TX) – 5'11 180
Jeremy Payne – Hightower (Missouri City, TX) – 5'10 170
James Peoples – Veterans Memorial (San Antonio, TX) – 5'10 192
Xavier Robinson – Carl Albert (Oklahoma City, OK) – 6'2 218
Taylor Tatum – Longview (Longview, TX) – 5'10 195
---
There could be some additional offers, including an offer to Jerrick Gibson (IMG, Bradenton FL) 5'10 200 should he make an unofficial to Norman this spring.
The most fascinating part about this particular Big Board is that…there really are no targets that are 'off' the board already.
DeMarco Murray is cooking right now and I think you could put at least four of these guys (on March 9th) in the 'OU leads for' category. (Mizell, Robinson, Durham, and Peoples) and several others have OU in their top groups at the very least.
We are working under the assumption that OU would like to take two running backs this cycle as they are not scheduled to lose any backs after the season due to exhausting their eligibility.
One interesting possibility is with Xavier Robinson…does he project as a straight up running back for OU, or can they pull him into the class as an athlete and figure it out later which would allow for Murray to take two additional backs? Robinson is a guy who could play multiple positions on both offense and defense.
I am of the opinion that the running back class could be settled before summer camp concludes.
---
Update | '24 RB Tovani Mizell – Timeline
– Charlie S – Posted on: March 9, 2023
Wanted to pass along a couple notes from my continuing conversation with Sooners '24 running back target Tovani Mizell.
***As you know, Mizell decommitted from Georgia following his trip to Norman last weekend.
***I previously reported on Sunday, March 5th that Mizell told me he would 'Definitely be taking an official visit to OU'. He reaffirmed that earlier today.
***While I know there is a lot of excitement and high expectations surrounding the decommit from Georgia being generated out there on the mean streets of Twitter and other places, right now, according to him, it does not sound like there will be a quick flip to Oklahoma.
***Mizell tells me he plans on taking additional visits to other schools as well as Oklahoma.
***He told me that he does not have a commitment timeline right now and when I pushed him a bit on that topic he said "More than likely, I will be choosing by early fall".
***So as we pump the brakes a bit on the instant gratification, I want to remind you all that OU is in a very good spot here while also being in a very good spot for several other running backs in the class.
***I still maintain that OU could very well have their running back class locked up before the conclusion of summer camp.
---