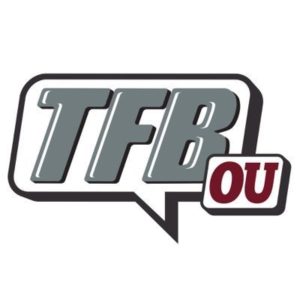 Open Post | Weekend, June 3rd – 5th
Posted on: June 3, 2022
How Good Will the Sooners be? | Part 2
– Super K – Posted on: June 1, 2022
As I said in part 1, I'm basically expecting this Sooners team to stream roll everyone on their fall schedule.
I accept that even a really good team can have a really bad day and as such have a fluke upset. But OU is, in my opinion, going to be so good that a close game or an upset is going to feel like fluke.
The reasons are not particularly complicated.
***I'll start by reminding everyone that despite the various issues that we know existed under coach Riley (and we've laid those out) he was winning and nearly made it back to the Big 12 championship even this past season.
***So, as we go through this exercise, keep in mind that we aren't comparing elements of what the program is or will be under coach V to a program he inherited that went 6-6 or anything. We know the Sooners have been winning a lot so whatever the Sooners were, if coach Venables can keep it the same or improve in areas, it's pretty easy to surmise he will win.
***But what the outside world doesn't know or isn't considering is once you get past Riley's name and look a little closer, you'll see that despite the wins, there was so much room for improvement in the foundational things that make good football programs.
I know it's early but here's my take…
The foundation…
***Culture – under coach Riley, this was falling apart and falling apart fast. Sure the Sooners were winning but for how much longer. Players were getting arrested off the field and appeared unmotivated on the field. Many players would have left if Riley stayed as well.
Coach Venables OU culture > Previous OU culture
***Nutrition – this wasn't coach Riley's fault. He tried to get a chef for the players but that didn't happen. Coach Venables made it a stipulation so he got it. But with the previous staff there was also a cultural issue in this regard to nutrition. The players weren't even showing up for required meals.
Coach Venables OU nutrition > Previous OU nutrition
***S&C – we've written about this extensively. Once upon time players would transfer to OU and find the S&C program at OU far more challenging than at their previous school (remember DGB stories?). Under Riley's tenure the Sooners weren't getting bigger, faster or stronger and the discipline and culture in the S&C program – no bueno.
If nothing else changed but the players get bigger, faster and stronger (and they are) that would likely be enough to make the Sooners way better. And the great thing is, Schmitty has evolved since leaving OU. He's added to his brain trust.
Schmitty 2.0 built > Previous OU nutrition
On the field…
***Run game – Under the previous staff, the run game was absolutely falling apart. Meanwhile, coach Lebby was running the ball better than anyone else in the SEC with less talent than he currently has at OU.
So in a lesser conference with better talent, coach Riley was having less success running the ball.
You do the math.
Lebby run game > Previous OU run game
***Quarterback – Riley was known as a quarterback guru but we aren't talking about Baker or Kyler. Those two are long gone. So in this comparison, Riley's bread and butter doesn't look great. He had a lot of instability at the QB position last year. Spencer got pulled and Caleb had some amazing plays but wasn't always stellar in the pass game.
The wide receiver development had fallen off so much, so, that could've played a role. But in terms of production, I think OU is going to be more than happy with what they get out of Dillon Gabriel. Nothing I've heard from inside sources indicate there is going to be any drop off in the passing attack and in fact, just based on the anticipated improvement of the run game, the pass game should open up.
Lebby pass game > Last year's OU pass game
***Defense – need I say anything?
Coach Grinch certainly didn't leave the cupboard bare. But, man, the development was falling off fast.
I think this is where you are not only going to see massive improvement, but you're going to see a defense that is able to absolutely suffocate most of the offenses they face. And I say "most" only because I think there is going to be a learning curve. But the downhill attack, the back end disguise, you'll see a lot of sacks and a lot of turnovers.
I'm predicting OU will definitively have the number one defense in the Big 12. And, even if everything is equal, the defensive improvement along will, in my opinion, be enough to make the Sooners nearly unbeatable on their 2022 schedule.
So, I'm predicting the Sooners will take the Big 12 championship. I think they're going to need to add some talent to win it all but should the Sooners make it to playoffs this season, they'll put a better fight than the previous staff.
---
Quick Hitter | Sooners Offer '24 LB Davhon Keys
– Charlie S – Posted on: June 1, 2022
The Sooners sent out a couple offers during their camp today, and one was to '24 LB Davhon Keys out of Aledo, TX
Keys received the offer while on campus for the camp. He told me Coach Venables asked to see him during the lunch break so he went up to the office and that is when he got the OU offer.
He said the camp had a lot of energy and he loved how OU ran it.
CJ has seen him numerous times and is a big fan of Keys.
We will catch up more with him down the line, but it's cool to see kids earn their offers while showing out in front of the staff. I expect at least one more to be announced.
---
Update | Jaybron Harvey Official Visit Note
– Charlie S – Posted on: June 2, 2022
The Sooners have been hosting '23 EDGE Jaybron Harvey (6'3 215) out of Durham, NC on an official visit which began on Tuesday and is wrapping up today.
Spoke to a source who was around Harvey periodically throughout the visit and the source said 'He's a good looking kid physically and he was very, very attentive and soaking everything in'.
Source went on to mention that Harvey spent some time taking in the camp setting yesterday and looked like he was laser-focused on what Coach Chavis and Coach Venables were doing every minute.
The last thing I wanted to note, prior to getting Harvey's take (which may take some time as he is set to begin his official to North Carolina tomorrow, is that source said 'He and Chavis looked like they have been lifelong buddies with the way they were interacting'.
That last note is important for us in regard to covering recruiting going forward as we really had no idea how aggressive Chavis and OU has been in his pursuit of Harvey. Sounds like OU has been doing work in the shadows here and I think that is pretty cool.
So it sounds like OU made a very positive impression. Will it hold up to the coming visits (North Carolina, South Carolina, and Louisville) for Harvey? That remains to be seen and we will work to get his take on the visit once things slow down a bit for him.
---
Sourced Team Notes | Stepping Up | Leaders Emerging
– James Hale – Posted on: June 2, 2022
Summer workouts get underway this weekend under strength and conditioning Coach Jerry Schmidt, and the true leaders of the program will have to step up to lead the team through it. The following guys are names who I have heard that are stepping forward to grab the leadership reins at each position:
Quarterback: There is no question that Dillon Gabriel (6'0, 205) is the true leader of this position and of this team. Gabriel did what great quarterbacks do; he walked right onto campus after transferring in from UCF and introduced himself, and then started leading the team. He will organize all 7v7 days and drills and will be in complete control of the team this summer.
Running Back: Senior Eric Gray (5'10, 209) is another that is not only the leader of the running back group but one of the best leaders on the team. Sounds as if Eric really stepped up in the spring as a leader, and the coaches couldn't say enough good things about him. Gray has been around a little bit and now is the old-head in the running back room that the others look up, and the rest off the offense does too.
Offensive Line: It may be surprising that the name I hear most often associated with the leader in the offensive line is California senior transfer McKade Mettauer (6'4, 303). Transfers usually just look to settle in and compete for a starting spot. Mettauer did all that, but he took charge of the offensive line unit in the spring that saw a revolving door at center due to injury and a lot of competition across the board. Guys can get down in situations like that, but Mettauer always had the rally cry and made sure every player was up and putting forth a good effort at practice.
Wide Receiver: This group is typically a DIVA position, and most players are team guys, but they work on their own or into their own world. Junior Theo Wease (6'2, 201) and senior Drake Stoops (5'10, 192) are two guys that always try to lead by example, and both are starting to get into it as well verbally. Both have been reluctant to lead because Wease did not play last year, and Stoops has primarily been a backup, but the players know who they are, and both players are very respected on the team.
Tight Ends: Senior Brayden Willis (6'4, 237) has been around a while, and has worked his way into a leadership role. He has played behind Jeremiah Hall for the most part but has carved out a role for himself and made some big plays during his career. Willis is another that will lead his group but will also be a great leader for the whole offensive unit.
Defensive Tackles: Senior Jeffrey Johnson (6'2, 203) was a captain at Tulane, and leading is what he does. The first day he was on campus, he took charge of the defensive line group and was a fiery leader during practice and teamwork. That's hard to do when you are stepping into a new program, but the team knows Johnson played well in a narrow loss to OU last year, and the team respects him.
Defensive Ends: Sophomore Ethan Downs (6'5, 259) has worked his butt off and now is a starting defensive end. Other players have started to follow his lead and have tried to match his work ethic. Downs leads by example as much as he does by word, but he is an excellent combination of hard work ethic, energy, and verbal leadership. His teammates noticed his work ethic and appreciated it, and they will look to him for guidance next year.
Linebackers: It would be easy to say sophomore Danny Stutsman (6'3, 234) here because he is so vocal and engaging, but senior DeShaun White (6'0, 224) has already played a lot of football at Oklahoma and is willing to share anything he knows about the position. It's always team-first with White, and it's hard to be that way sometimes when you are always competing and being pushed for a job. OU has a talented and a deep linebacker group, and White will have to work every day to maintain his starting job, but that doesn't matter to him; he will answer any question even from the number two behind him.
Cornerbacks/Nickel: Senior Justin Broiles (5'11, 190) has been a leader since the first day he has been on campus. That is not easy to do when you have never been a true starter. Even now, he is in a battle with North Carolina senior transfer Trey Morrison (5'9, 189) for the starting nickel job, but that doesn't stop Broiles from helping any DB or linebacker that needs help. Broiles will be very active at the summer camps this week, working with the high school players, and if a player wants to get coached up Broiles will help him do it. Broiles does anything the team needs to win, and if that means playing on special teams, or learning all three DB spots, then that is what Broiles is going to do.
Safety: Junior Key Lawrence (6'0, 224) made a conscious decision this past spring to become the defensive leader. He played great, was physical and engaging, and the rest of the defense took notice, loved it, and started following him. The coaches love that, and they want a safety to step up and be a leader. They could not say enough good things about Lawrence this spring. Pat Fields did that for the last three years, but its Lawrence's turn now, and he gladly took that responsibility in the spring.
Kicking Game: Senior Michael Turk (6'0, 228) is a great teammate. Kickers are a rare breed that often stays to themselves and do their own thing. That is not Turk, who has his own U-Tube channel and often invites teammates on it. He could have come out and probably would have ended up in the NFL Draft last year, but loves being in college and decided to take advantage of his Super Senior year. He works and helps every kicker on the roster and is always willing to share any knowledge he has on punting or kicking.
I think OU has a talented football team going into the summer and a team that will compete for the Big 12 and College Football Playoff this year, but on the surface, it doesn't appear OU has a lot of upperclassmen talent the NFL is real fired up about. ESPN's Mel Kiper came out with his first Big Board for the 2023 NFL Draft, and the lack of Sooners was surprising. He had no Sooner among his top 25.
He did have junior Marvin Mims (5'11, 179) as the tenth best wide receiver next year. Do any of us really believe that there are ten better wide receivers than Marvin Mims? He had junior offensive tackle Anton Harrison (6'5, 309) ranked seventh among offensive tackles, and I am good with that. Harrison has NFL talent. Turk was ranked the seventh-best kicker among the group and the fifth-best punter. If there are five better punters than Turk, this will be a great year for punting in college football.
No Gabriel, Gray, Wease, Mettauer, Johnson, White, David Ugwoegbu, Woodi Washington, or Key Lawrence on that list, and I am sure they are surprised about it. Another motivational point for most of the upperclassmen to push them through the summer.
One thing is for certain though, the leadership on this team under Brent Venables is something that is happening organically. There will be no players thrust into a leadership role without earning it on their own. The days of manufacturing leadership in Norman are gone and the program will be better off for that.
---
2025 SOC LB Kelvion Riggins Thrilled With Sooners Offer
– CJ Vogel – Posted on: June 2, 2022
There was plenty of talent at the Sooners first camp of the summer Wednesday afternoon, including 2025 South Oak Cliff linebacker Kelvion Riggins.
Riggins was a big contributor in South Oak Cliff's run to the state championship last fall and has been someone on my radar for quite some time. In fact, Riggins had been looking to get up to Norman several months ago before finally making it to campus the first weekend of April.
Yesterday, Riggins participated in front of coaches during the Sooners' prospective camp and came away earning an offer.
Riggins told me after the entire day "went great."
"Coach Venables took me up to his office after the camp," Riggins said. "I felt the conversation lead up to (an offer) but I was still surprised."
Riggins, who has had OU very high on his mind prior to the offer was pretty thrilled with the offer. One of the biggest standouts about his time with Coach Venables was his intensity.
"Coach Venables is full of passion and energy," Riggins said.
Right now, there is still plenty of time remaining in this recruitment but I would be surprised to not see the Sooners in contention at the end of the day. The immediate plan for Riggins is to continue camping and seeing schools. Next up is the TCU and SMU mega camp, plus visits to Tennessee and Penn State.